Green chile scalloped onions
Spring is always a late arrival in New York. While I've been hearing about people in Texas enjoying the bounty of bluebonnets over the past few weeks, it's remained cold and lifeless up here in the North. This week, however, the temperature rose and as I walked down the street I saw that the trees were finally in bloom. At last.
While the signs of a new season have been slow to arrive, due to the miracle of transportation we can now get produce from just about anywhere in the world. There is an argument for eating locally, but when it's been cold and grey for the past few months and the farmers market is still only selling the same tired apples and winter squash, you take what you can get. So, when I saw a huge display of Texas sweet onions at my grocery the other day it was cause for celebration.
Texas sweet onions, also known as Texas 1015s, were developed in the 1980s by some onion-loving Aggies. They are related to other American sweet onions such as the Walla Walla of Washington and the Vidalia of Georgia, but I believe that Texas sweet onions are the best. And my store must also agree, as the display was prominently placed. I grabbed as many as I could.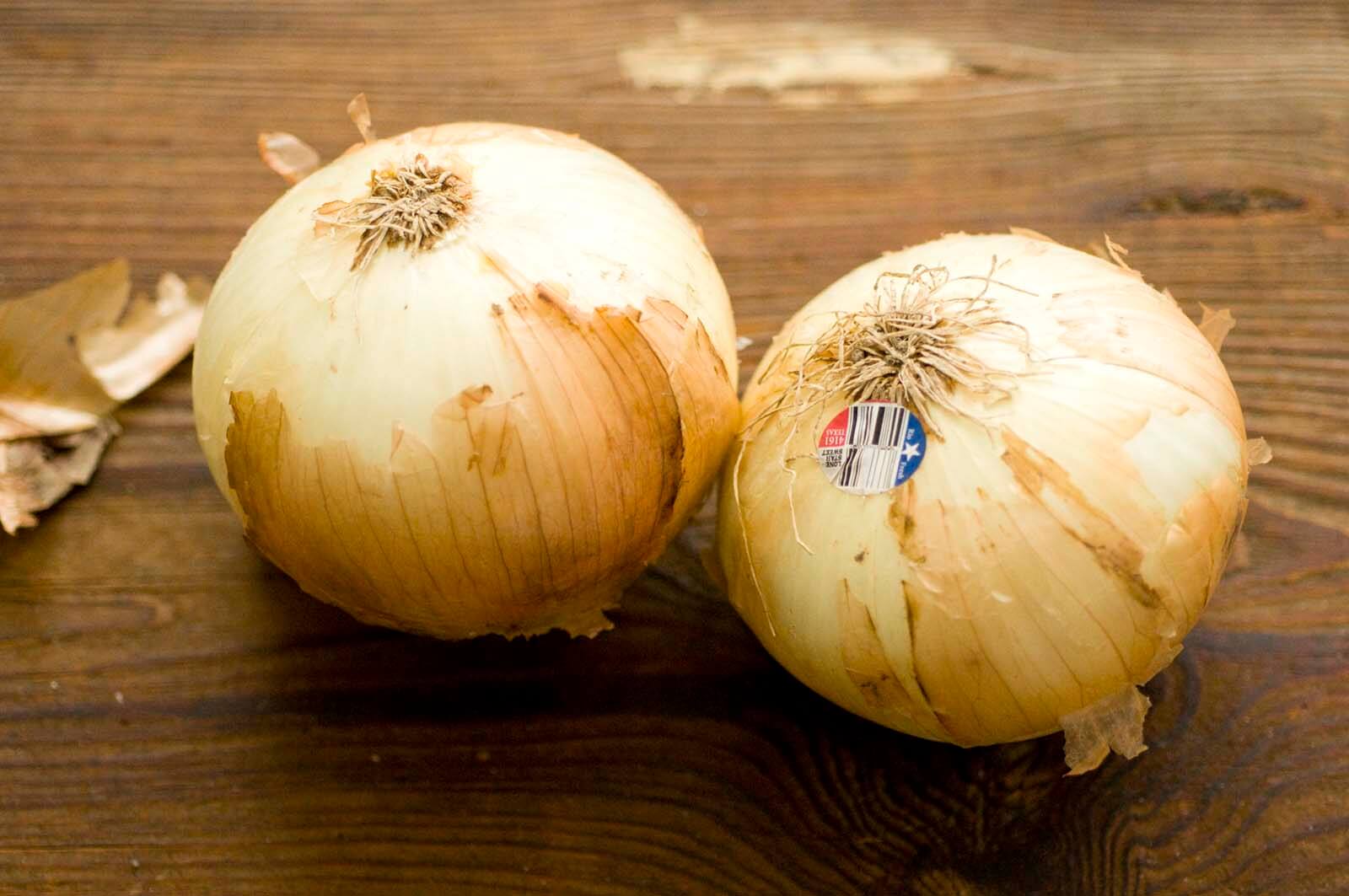 My grandma used to grow onions back when she kept her garden, and they have long been family favorites. We slice them into salads, sprinkle them on top of enchiladas, and batter and fry big, wide onion rings. These are all fine applications, but as I was doing some research I came across a series of scalloped onion recipes in Texas newspapers from the early 1900s. The gist of each story was that scalloped onions are a mighty fine addition to the springtime table.

The classic scalloped dish involves baked sliced vegetables nestled in a creamy sauce that's topped with cheese and/or crumbs. There are endless variations, which makes it easily malleable, and scalloped onions follow the same path. For mine, I adapted a recipe from a 1929 edition of the Cass County (TX) Sun, which had you cover lightly cooked onions in cream sauce along with handfuls of cheese. For a bit of heft, a topping of cracker crumbs was layered on top.
Using this as my guide, I took my batch of spring onions and after slicing them, I gently sautéed them in butter until they were tender. Their flavor is delicate, so to keep from overwhelming them I seasoned them only with salt, pepper, and a hit of cayenne. To update the recipe, I added green chiles for a Texas-style pop. Traditionally a sharp cheddar cheese was used in scalloped onions, but I went with the creamier sweetness of Monterrey Jack combined with heavy cream. Finally, I layered crushed buttery round cracker crumbs on top, which brought the whole dish together.
To be honest, I wasn't expecting much and I admit it isn't the prettiest thing. But taste is what's key and these green chile scalloped onions are spectacular. The soft onions and piquant chiles are nicely complimented by the cheesy filling and it's quite addictive once you start eating.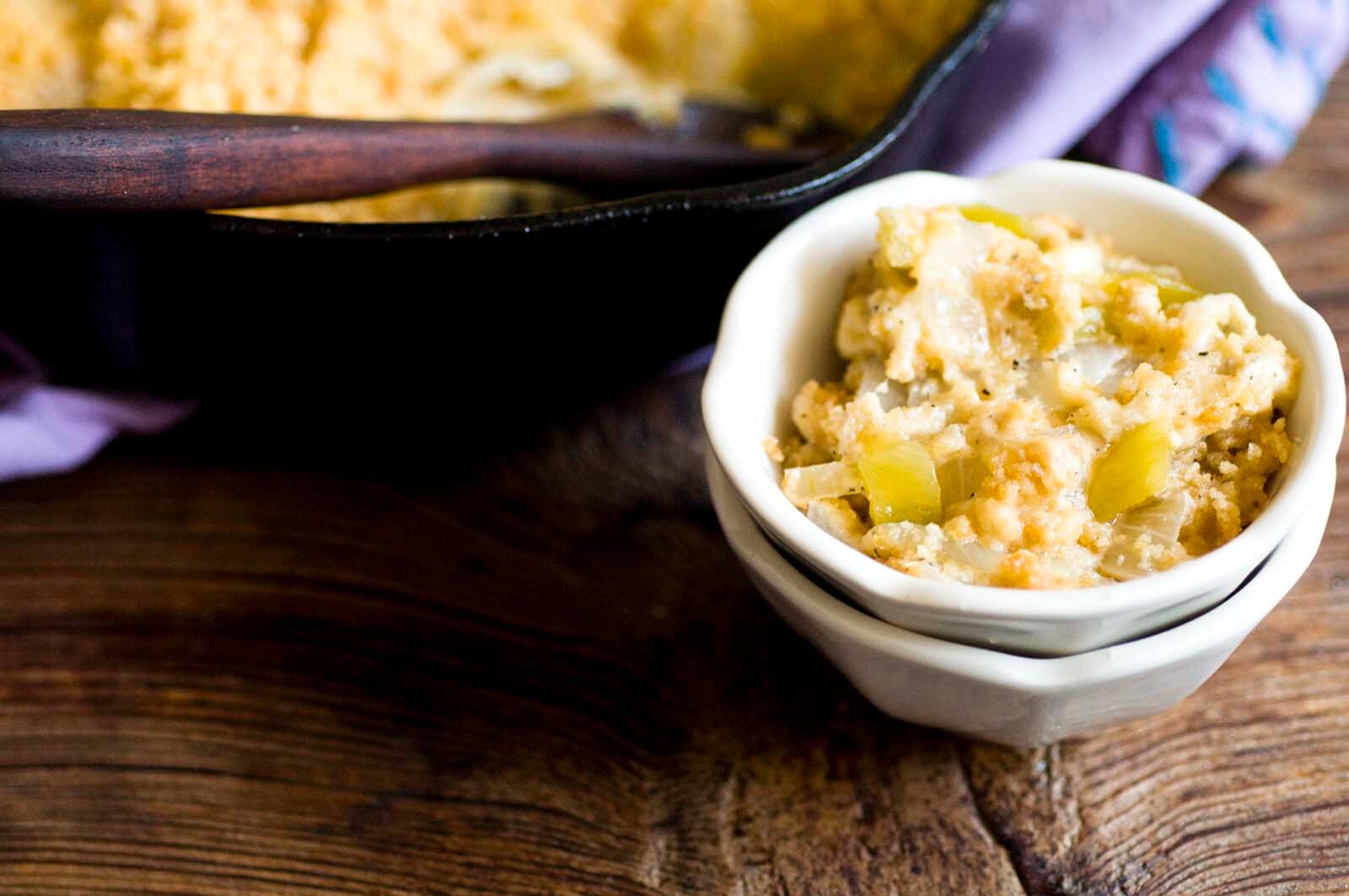 If you're a fan of onion dishes, such as onion rings or onion dip, you will love this simple yet sublime casserole. While it doesn't taste exactly like either, its inherent sweet onion qualities are charming and present. And the cheese, cream, and crackers holding it together make it a comforting must. It's appropriate for any spring feast as it goes well with ham, brisket, and lamb, though it's so delicious I could eat it on its own. A fine spring treat, indeed!
Green chile scalloped onions
Ingredients
2

tablespoons

unsalted butter

2

pounds

(2 or 3 sweet onions) such as 1015 or Vidalia, cut into slivers

1/2

teaspoon

kosher salt

1/2

teaspoon

black pepper

Pinch

cayenne

4

ounces

canned diced green chiles

½

cup

heavy cream

4

ounces

(1 cup) Monterey Jack, shredded

1

cup

finely crushed buttery round cracker crumbs
Instructions
Preheat the oven to 375° F.

Melt the butter in a 10-inch cast-iron skillet on medium-low heat. (If you don't have a cast-iron skillet, use a regular skillet but also lightly grease a 2-quart baking dish.) Add the onions and while occasionally stirring, cook until softened, reduced, and just beginning to brown, about 10-12 minutes.

Turn off the heat and season with salt, black pepper, cayenne, and green chiles. Taste and adjust seasonings. Stir in the heavy cream and Monterey Jack until well combined. If using a cast-iron skillet, evenly layer the crushed crackers on top of the onions. If using a baking dish, transfer the onions to the dish before layering the crumbs on top.

Bake uncovered for 20 minutes or until lightly browned and bubbling. Serve warm.
Notes
Green chiles aren't in season yet and are hard to find in New York, which is why I went with canned. But if you have access to fresh ones you can substitute 2 Anaheim or Hatch chiles, roasted, peeled, and diced for the canned diced green chiles.