Pumpkin chipotle cornbread
One fall day, I had my cousins over for Sunday dinner. They plan was for them to arrive after the Cowboys game and as it was crisp outside, I made a batch of chili. There was also some pumpkin puree in my refrigerator, and so I made a batch of cornbread enhanced with the orange squash. For a hit of heat and smoke, I threw in some chopped chipotle chiles, too.
The Cowboys won and my cousins were in good spirits. While the days were now shorter and dinner was served with little light outside, the bowls of spicy stew and the cheery hue of the skillet of pumpkin chipotle cornbread added plenty of warmth to an already joyful evening. It was a fine night and we promised to repeat this new tradition often.
At the time, I was still in New York and for some reason, getting together with people there was always a challenge. City dwellers are busy and most don't have cars, so traversing the five boroughs can be a challenge. So, while my cousins and I had the best intentions to meet often for a family dinner, we only managed to repeat this experience a few more times before I returned to Texas.
When I moved back home, I figured that since I now had a car it would be easier to meet with my family. And while I do see them more frequently than I did when I lived across the country, there are still many miles between us and so dinners are not as regular as I thought they would be.
It's not ideal, but it does makes each occasion special. I don't take my family or my time with them for granted, and so on a recent visit, as we sat outside in the cooling air and darkened sky, enjoying plates of enchiladas, refried beans, and guacamole, I thought back to that previous fall evening with my cousins in New York, and I appreciated each moment spent with those whom I cherish.
Now that it's October, I'm entering the time of year where I keep my stove and oven busy. In my kitchen, you'll usually find a pot of beans or chili simmering, a brisket braising, or perhaps a skillet of biscuits baking.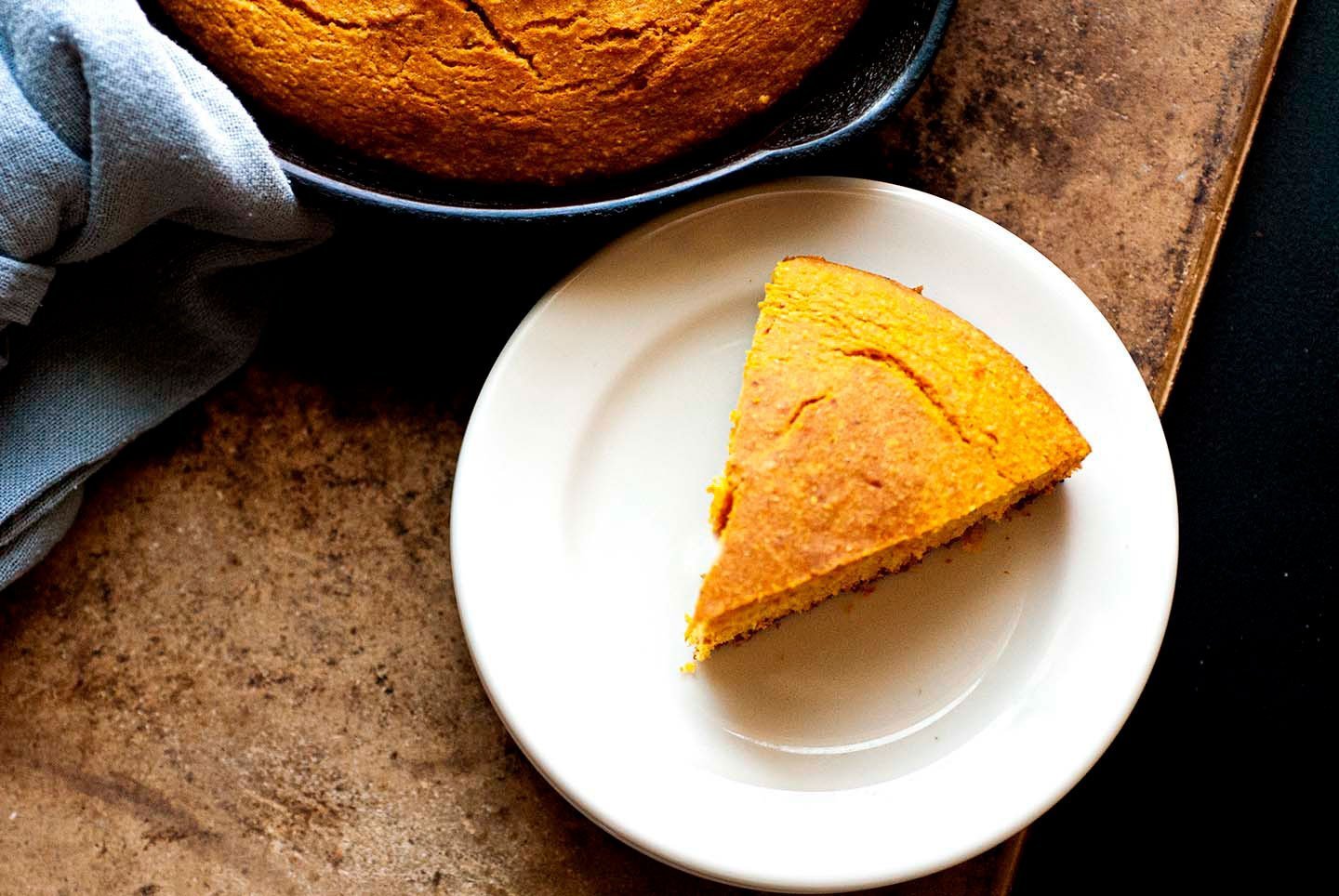 Pumpkin season has also arrived. And while dishes that use this festive squash can sometimes border on parody, a pumpkin chipotle cornbread is welcome and delicious. It's tender, moist, and has just enough lift to bring brightness into these shortened days. And right now, we can use all the life and light we can get.
—————
Would you like more Homesick Texan? Well, I've started offering additional recipes for paid subscribers to help with the costs of running the site. While I'm not taking anything away, if you'd like to support Homesick Texan and have access to exclusive, never-seen-before subscriber-only posts, please consider becoming a member; annual subscriptions are as low as $25. Thank you for reading, your consideration, and your support!
—————
Pumpkin chipotle cornbread
Ingredients
1/4

cup

bacon drippings or vegetable oil

1 1/2

cups

yellow cornmeal

1

cup

all-purpose flour

2

teaspoons

baking powder

1/2

teaspoon

baking soda

1

teaspoon

kosher salt

2

large eggs, lightly beaten

1 1/2

cups

buttermilk

1/2

cup

pumpkin puree

1

canned chipotle chile in adobo sauce, finely chopped
Instructions
Preheat oven to 450°F. While the oven is heating, put the bacon grease into a 10-inch cast-iron skillet and place it in the oven while the oven preheats.

Meanwhile, mix together the cornmeal, flour, baking powder, baking soda, and salt. Whisk together the egg and buttermilk and pour into the dry ingredients. Add the pumpkin puree and chipotle chile, then stir until smooth and well combined.

Take the cast iron skillet out of the oven and pour the hot oil into the batter. Stir until well combined.

Pour the batter back into the hot skillet and bake for 18-20 minutes or until the top is lightly browned and an inserted knife comes out clean. Serve warm.