The other day while shopping in the fresh tortilla section at Central Market, I noticed each package was warm and steamy, a marker of just how fresh the tortillas were.
While I typically stick with their basic tortilla (or perhaps the butter ones if I'm feeling especially flush, along with the Hatch chile variety when they're in season), I saw additions to their line-up I hadn't seen before. There was a multigrain flour tortilla, a mixed tortilla, made up of half corn masa and half wheat flour, and a bacon tortilla.
That's right. Bacon.
Now, in my second cookbook, The Homesick Texan's Family Table, I included a buttermilk bacon-fat tortilla, which is a fine wrapping for all your taco needs, though that tortilla only contained bacon fat and not bacon bits. These tortillas at Central Market, however, were spotted with dark red pieces of bacon, giving the tortilla an almost-festive look.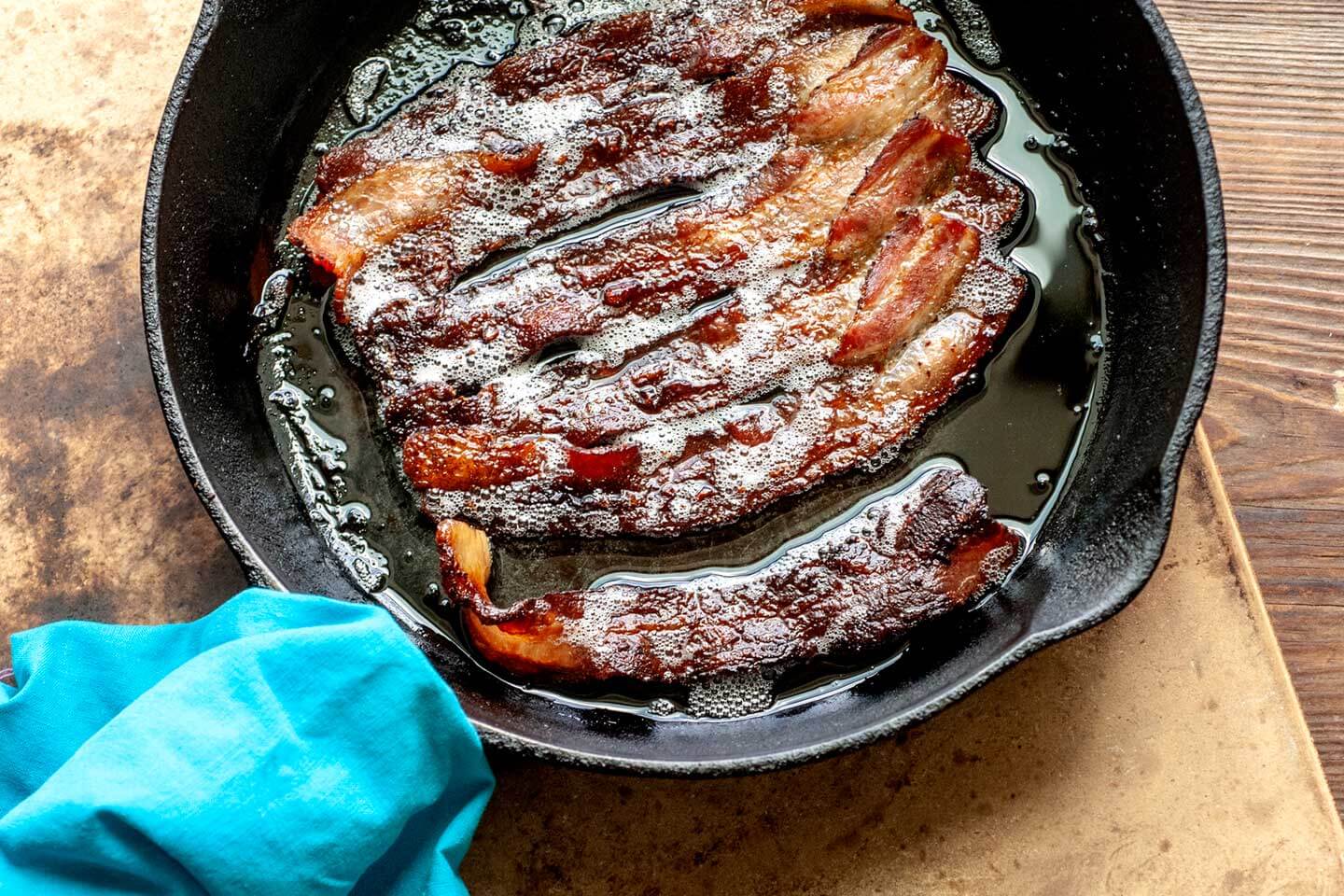 For some reason, I declined to buy them on that trip. (Strangely enough, after having to make my own flour tortillas for so long it's still strange for me to have access to such abundance.) On my next visit, however, I was determined to pick up a pack.
As I made my way to the tortilla station, I looked at all the varieties available, but noticed they weren't there. I spoke to the women working behind the counter, and she told me they were sold out of the tortillas de tocino (with tocino being Spanish for bacon) for the day. I asked when they'd return and she shrugged and said maybe tomorrow.
While I didn't go back for a few days, when I returned to the tortillas, it was the same story—they were sold out of the bacon tortillas. Clearly, I needed to arrive earlier! Though I did have all the necessary ingredients at home to prepare my own, so I decided to try that instead.
The basic flour tortilla dough is the same I used for the Hatch chile flour tortillas, another riff on a Central Market/HEB bread. Though for the fat, along with the oil I included bacon grease, and instead of chiles, I included finely chopped cooked bacon instead.
The dough comes together easily with the biggest challenge rolling out the tortillas into circular shapes. Though this dough is quite pliant so with a little practice, roundish tortillas will come to you quite fast.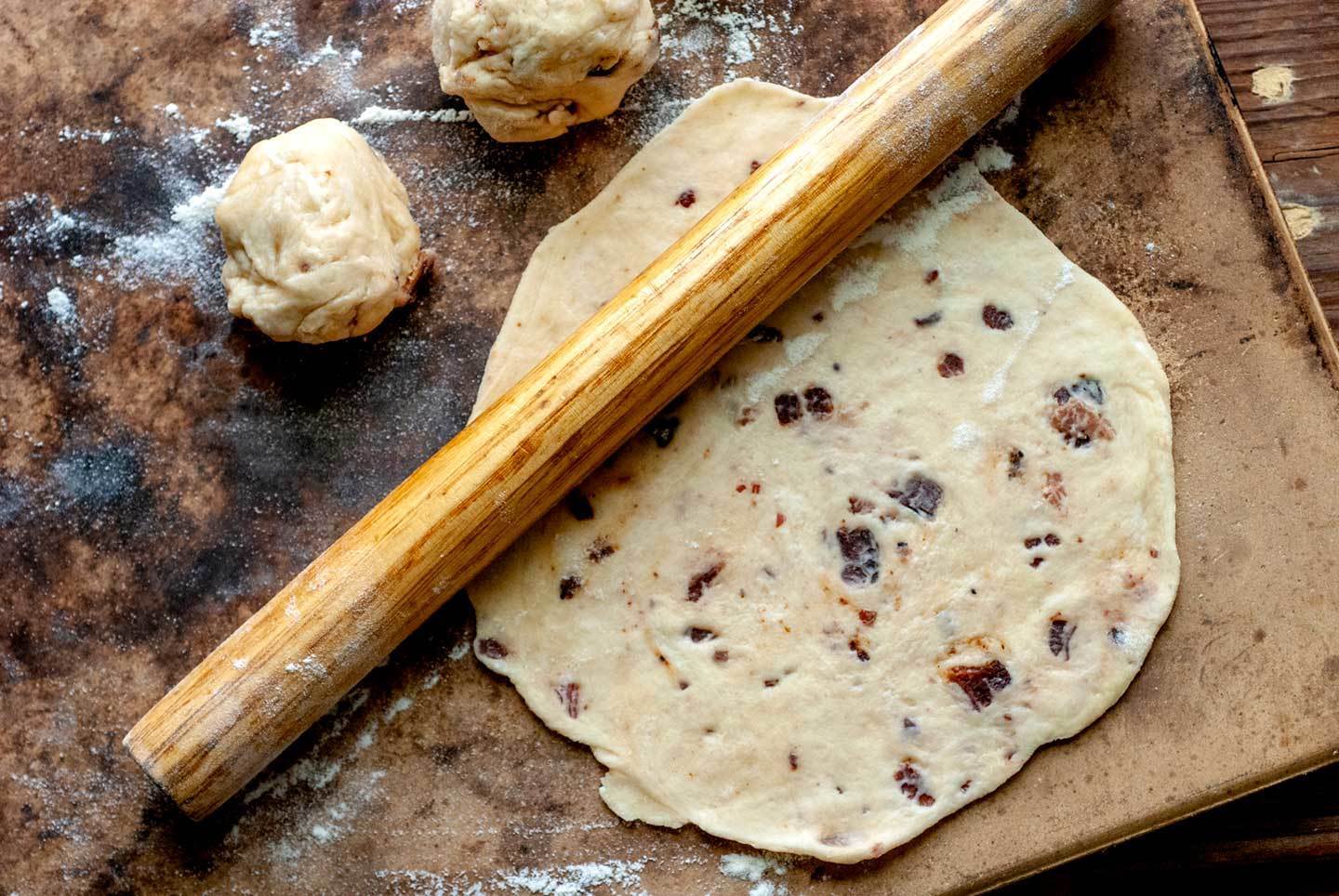 The resulting tortilla is tender and soft, with hits of smoke and salt from the bacon. I've been using them for breakfast tacos, though with the idea that bacon goes with just about anything, I see no reason to limit these bacon tortillas to only the morning. They are that good and it's simple to see why Central Market sells out of them each day so fast.
—————
Would you like more Homesick Texan? Well, I've started offering additional recipes for paid subscribers to help with the costs of running the site. While I'm not taking anything away, if you'd like to support Homesick Texan and have access to exclusive, never-seen-before subscriber-only posts, please consider becoming a member; annual subscriptions are as low as $25. Thank you for reading, your consideration, and your support!
—————
Bacon tortillas
Ingredients
4

slices

bacon

2

cups

all-purpose flour, plus more for rolling

1

teaspoon

baking powder

1/2

teaspoon

kosher salt

3

tablespoons

canola or vegetable oil

1

tablespoon

bacon grease

3/4

cup

warm water
Instructions
Place the bacon in a skillet and cook on medium heat, turning once, until it's just beginning to crisp, about 7 minutes. Place the cooked bacon on a paper-towel lined plate and pour out 1 tablespoon of the bacon grease, reserving the rest for another use. When the bacon is cool enough to handle, finely chop.

To make the tortillas, in a medium bowl stir together the flour, baking powder, and salt until well combined. Stir in the chopped bacon until well distributed. Add the oil, bacon grease, and warm water, and stir until a soft dough is formed (if it feels too wet, you can a more flour, a tablespoon at a time.) Cover the dough and let it rest for 1 hour.

After an hour, divide the dough into 8 balls. Lightly flour a clean surface and one at a time place a dough ball on the floured surface, pat it out into a 4-inch circle, and then roll with a rolling pin from the center until it's thin and about 8 inches in diameter. If the bacon falls out of the dough as you roll, pick them up and then lightly press them in the center of the tortilla, flip the tortilla, and then continue rolling.

Keep the rolled-out tortillas covered until ready to cook.

In a dry cast-iron skillet heated on medium high, cook for 30 seconds on one side, flip it and then cook for 1 minute on the other side. It should start to puff a bit. Flip it again and cook for 30 more. Place cooked tortillas in a basket lined with cloth or a tortilla warmer. Repeat process for remaining balls of dough.

These will keep refrigerated for 1 week.