When I was eight, my dad drove us from Carrollton to Arlington to see the Texas Rangers. It was my first baseball game. While my previous sporting experience had only been football, I soon fell in love with a sport that allowed you to sit outside on a breezy summer evening, served hot dogs and peanuts at your seat, and played organ music every time a player approached the plate.
(I also developed a huge crush on Jim Sundberg, which completely dates me, I know!)
We moved to Houston soon after that, and the professional baseball games there were not quite the same. First, instead of being outside you sat inside the air-conditioned Astrodome, where you lost all sense of time. And while an organ still played, there was also an impressive light show that exploded across the board whenever a player did well. It was completely different from what I'd seen in Arlington, but I still had a ton of fun.
Because I spent most of my childhood in Houston, I'll admit that I consider myself an Astros fan. But since the Rangers were my first baseball love I will always have warm feelings for them. And yes, I am over the moon to see a Texas team in the World Series, especially after the difficult time the state had this summer; it's refreshing to hear happy things about Texas in the news.
This past week I've been in Texas signing booksand meeting so many of you—it's been a blast. But it's also been a thrill to see large groups cheering on the home team.
Before I left New York—when we were still watching to see if the Rangers would cinch the American League title—I made a few batches of ranger cookies, though in honor of the team I took to calling them Texas Ranger cookies instead.
Now, if you're not familiar with ranger cookies, they are very similar to cowboy cookies in that they're chock full of good things such as nuts, oats and chocolate chips. A little research, however, revealed that ranger cookies differ slightly from cowboy cookies in that they also have cereal such as corn flakes, wheat flakes or puffed rice added to the dough. There is also dried fruit, which you don't see as often in cowboy cookies.
To mine, instead of the usual raisins I've added dried cherries and blueberries, as an homage to the Rangers' team colors, of course. I also baked them as a bar cookie instead of a drop cookie, which is not only faster but if you have a Texas-shaped pan it also makes for a fine presentation. (Though any baking pan will do.)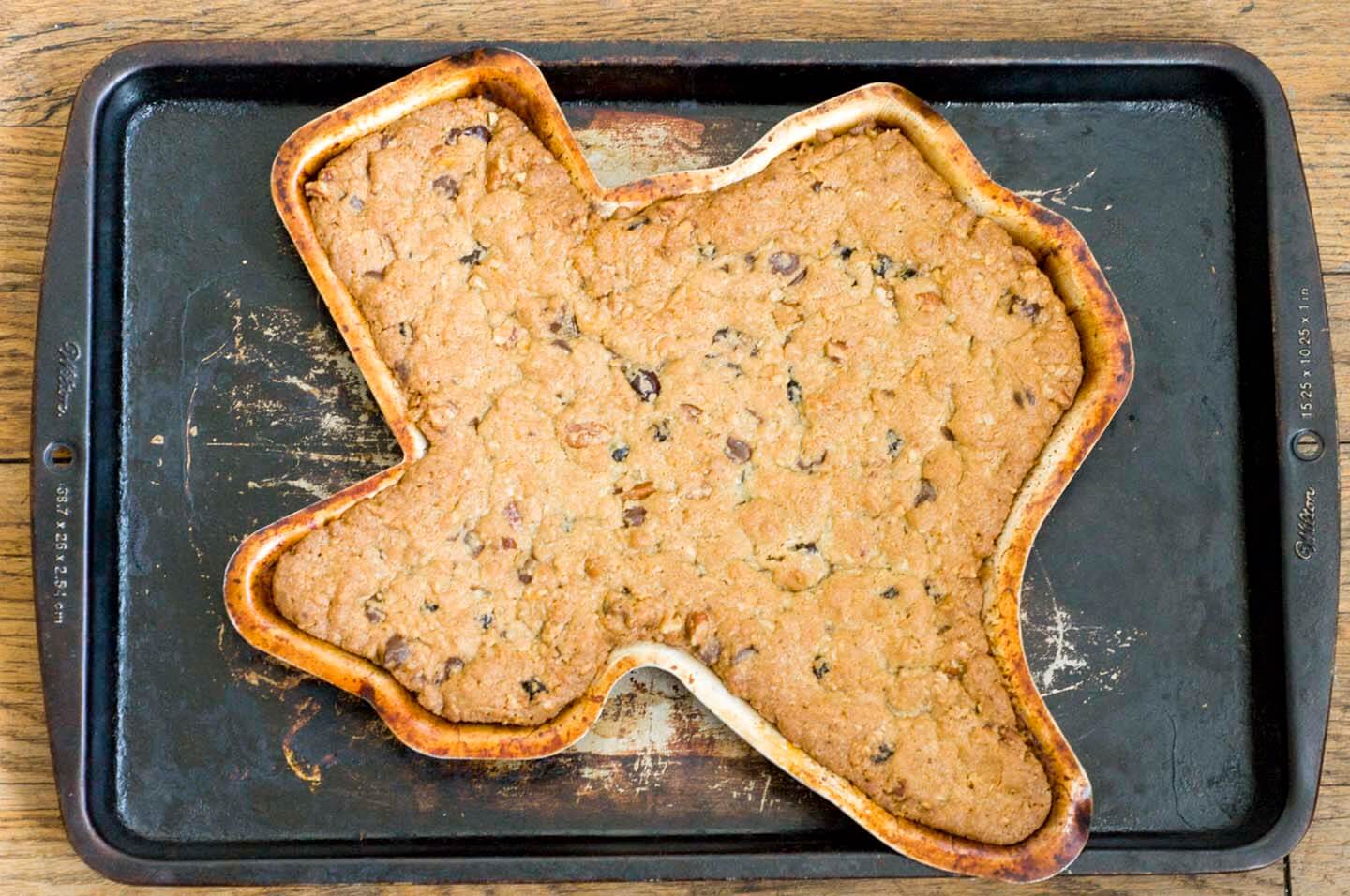 While they're a delicious dessert, ranger cookies were originally created to provide non-perishable, portable energy to outdoorsy types such as hikers, campers and yes, rangers. And as we make our way through this nail-biter of a World Series, trust me, we'll need all the energy we can get!
Texas Ranger cookies
Servings
36
bars or cookies
Ingredients
1

cup

unsalted butter, 2 sticks, room temperature

1

cup

granulated sugar

1

cup

brown sugar

2

large eggs, beaten

1

teaspoon

vanilla extract

2

cups

all-purpose flour

1/2

teaspoon

baking powder

1

teaspoon

baking soda

1/4

teaspoon

ground cinnamon

1/2

teaspoon

kosher salt

1

cup

corn flakes

1

cup

rolled oats

1

cup

semi-sweet chocolate chips

1/2

cup

shredded coconut

1/2

cup

dried blueberries

1/2

cup

dried cherries

1

cup

chopped pecans
Instructions
Preheat the oven to 350° F; grease a 9×13 baking pan or a baking sheet.

Cream together the butter, the granulated sugar and the brown sugar. Stir in the eggs and vanilla. Stir in the flour, baking powder, baking soda, cinnamon and salt, and mix until well combined. Stir in the corn flakes, the oats, the chocolate chips, the coconut, the blueberries, the cherries and the pecans.

If making bar cookies, spread evenly the cookie dough in the baking pan and bake for 25 minutes or until edges are set and dough is lightly browned. Allow to cool for 15 minutes before slicing.

If making drop cookies, roll dough into walnut-sized balls, place on baking sheet and bake one pan at a time for 15-17 minutes. Allow to cool on a rack for 15 minutes.