Popcorn has long been a family favorite. It was my grandfather's go-to snack and he'd sit with a big bowl on his lap, happily eating handfuls. In fact, he loved it so much that one year he even grew the strain of corn that is used for popcorn. Sadly, however, it turned out too chewy and we went back to buying our kernels at the store.
Following in the family tradition, I also love popcorn. Though one Christmas, after receiving an oversized tin of flavored popcorn, I ate too much of it in one sitting and ended up at the dentist, as one of the kernels had made its way under my gums. I was in severe pain and my dentist cautioned me that if I had waited just another day, I may have become very ill. I've been cautious with popcorn ever since.
Still, I do treat myself every so often, and make sure to not only eat it slowly but also to have floss on hand to keep any dental mishaps at bay. While I'm an equal-opportunity popcorn eater—plain, savory, or sweet—this time of year I think fondly of caramel corn mixed with nuts, and how that was always a welcome gift and treat.
Some like to take their caramel corn and form it into balls, and popcorn balls are indeed a classic Texan confection that's long been popular during the holidays. But while they may have a fun shape, I find them a challenge to eat. Considering my dental concerns, I like to play it safe when it comes to popcorn.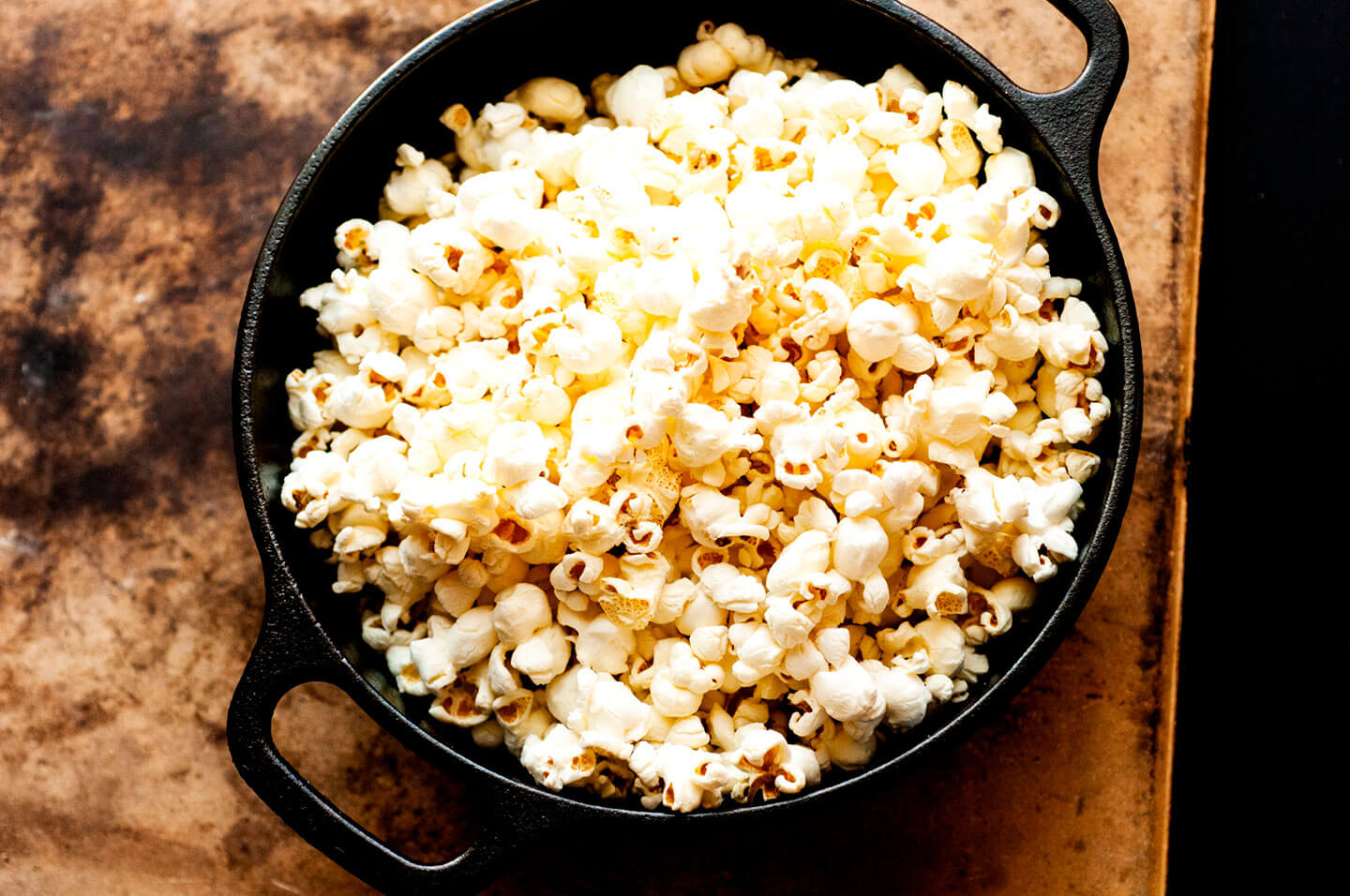 That said, I do love caramel corn and while not as festive as popcorn balls, when mixed with nuts it still makes for a fine snack. In fact, my dad's job used to send in its annual Christmas basket a large box of popcorn that had been tossed in a salty, sugary glazed and then mixed with nuts. I always horded that for myself.
Now, making caramel corn is the same as making candy, such as pralines. This means it will be best if you have a candy thermometer, as you want the sugars to be at a certain temperature. Though, I reckon that our ancestors didn't always have a thermometer on hand, so you can also test the temperature of the sugar by using a spoon and a glass of water. It's not as accurate but it can get the job done.
I use corn syrup for stability, along with brown sugar. There's also butter, vanilla, and cinnamon, for flavor. Though I like to spice it up and have been also blending in smoky chipotle chile powder and earthy cumin for an additional punch. A pinch of baking soda keeps it crisp.
After pouring the caramel over popped popcorn and the nuts, I quickly stir it then bake it for a short spell to make it more crisp. After it's done, I let it cool and then the snacking begins. It will keep for a week, but a batch never lasts all that long.

Spicy caramel corn
Ingredients
12

cups

popped popcorn

2

cups

mixed roasted nuts

8

tablespoons

(1 stick) unsalted butter

3/4

cup

light brown sugar

1/4

cup

light corn syrup

1/4

cup

water

1/4

teaspoon

baking soda

1

teaspoon

ground cinnamon

1/2

teaspoon

chipotle chile powder

1/2

teaspoon

ground cumin

1/2

teaspoon

kosher salt

1

teaspoon

vanilla extract
Instructions
Preheat the oven to 250°F, line a 9x13 baking dish with parchment paper, and place the popcorn and nuts in the baking dish. Stir to combine.

To make the caramel, place the butter, sugar, corn syrup, and water in a medium saucepan and melt together on medium-low heat. When it comes to a boil, stir a couple of times until it's blended, then let it cook without stirring until the temperature is 260°F on a candy thermometer, about 6-8 minutes.

(If you don't have a thermometer, you can test this way: Fill a glass with cold water, and after 6 minutes, spoon a bit of the caramel into the water. If it forms a soft ball, it's ready, otherwise continue to cook a minute or so more, testing again.)

Meanwhile, in a separate bowl stir together the baking soda, cinnamon, chipotle chile powder, cumin, and salt.

When the caramel reaches the correct temperature, remove from the heat and stir in the spices and vanilla. The caramel will become thicker and foamy.

Immediately pour the caramel evenly over the popcorn and nuts, then working with two forks, blend the caramel evenly with the popcorn.

Place the popcorn in the oven and cook for 20 minutes, stirring it half-way through. Let it rest for 15 minutes before heating. It will keep in an airtight container for 1 week.