Ancho chile and cocoa-rubbed flank steak tacos
The path to Houston from DFW is direct once you make your way to I-45 from the airport. But in search of Truth Barbecue in Brenham, after landing in Dallas I consulted my map and took I-35 instead. My phone had me exit the freeway a few miles south of West and while I wasn't quite sure where I was, it was still early enough in the day I figured I could arrive at the restaurant before they were sold out of meat.
To shorten a long story that involves a patch of bluebonnets, a swarm of love bugs, a white car, and a good hour without any phone reception, let's just say I ended up in Snook, where nothing was open, even its famed restaurant Sodolak's Country Inn, "Home of the Chicken-Fried Bacon." At this point, Truth was closed and I was going to be late for the evening service at my mom's church. So, I got on Highway 290 and made my way towards Cypress. We had tacos for dinner instead.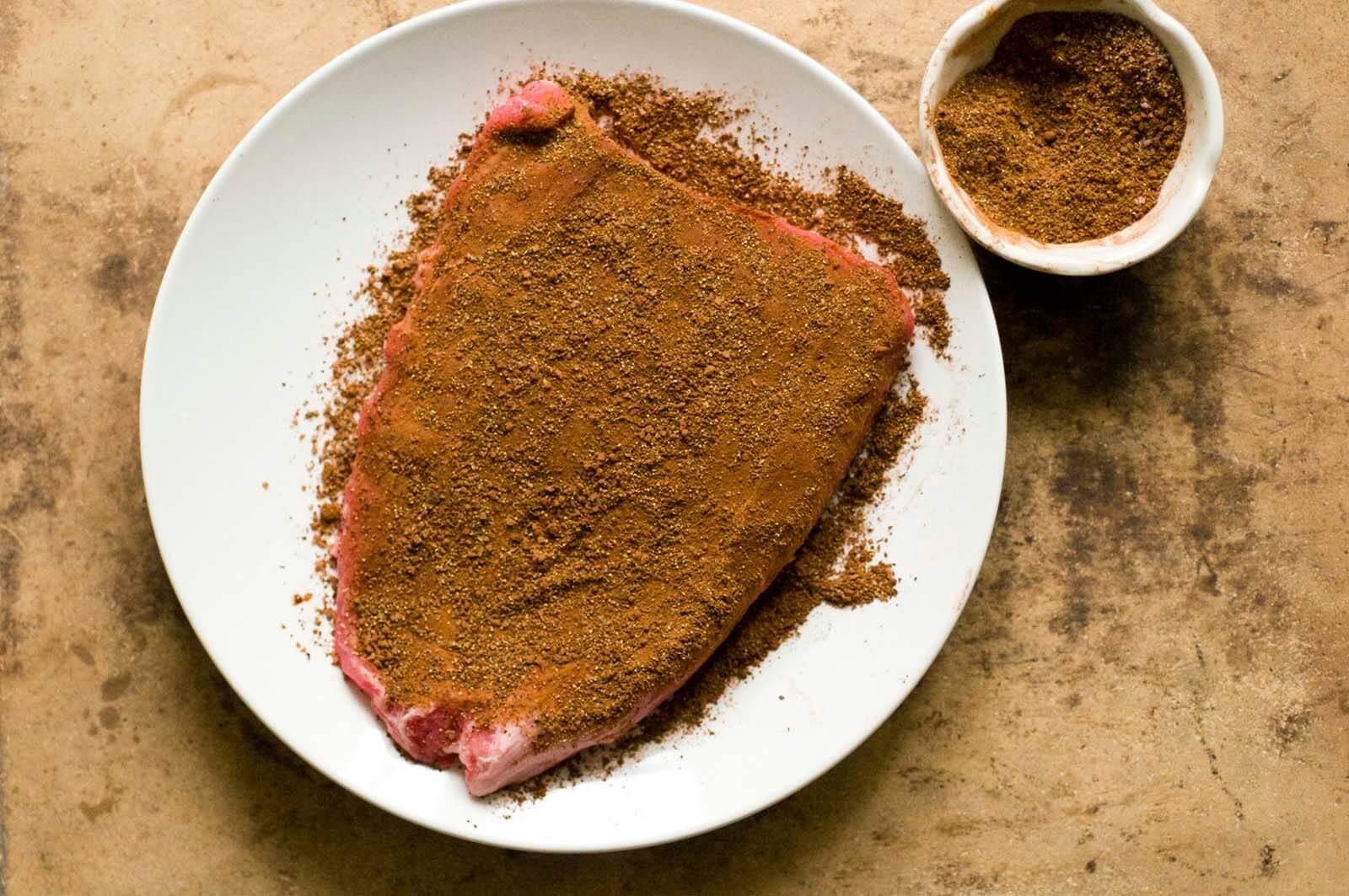 Now it's a given that I miss Texas often. But after being back in New York for a couple of weeks and then reading about all the great barbecue in Texas via Texas Monthly's latest Top 50 list (on which Truth landed in the top 10), my homesickness has been strong. Sure, there's now decent barbecue in New York. But taking the subway to a restaurant is not the same as an early morning road trip along Texas back roads in pursuit of a butcher paper-lined tray piled high with brisket, sausage, and ribs.

While I can't make true barbecue due to my lack of an outdoor space (New York City has funny regulations about grills and smokers being used on a fire escape), I can make a steak. (As well as oven brisket and ribs, should you be interested). While my favorite preparation is to simply salt and pepper a rib-eye then fry it butter in a sizzling cast-iron skillet, sometimes I take a piece that needs a bit more handling, such as flank steak.
Flank is a cut that comes from the abdominal section of the cow. Because these muscles get a lot of work, it's a tougher piece but it also has a fantastic flavor. I don't mind the chew so much, but you do need to be careful when cooking it as it can quickly go from delectable to jaw breaking.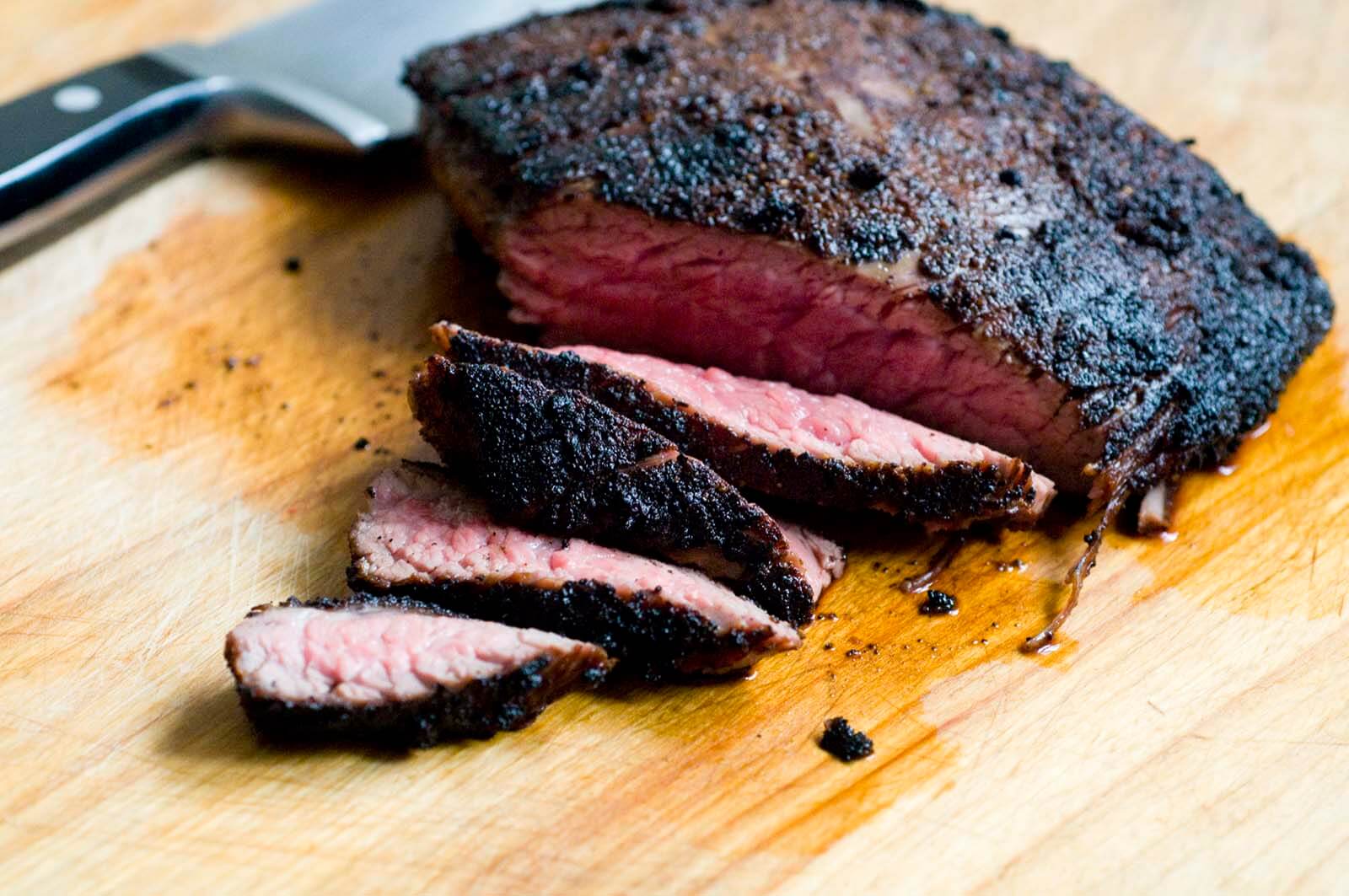 Many times, applications for cooking flank steak will involve lots of acidic liquid to soften the meat. This is fine, but I do find it's hard to get the marinade off completely and then you have a wet piece of meat that doesn't blacken. So often I will use a dry rub with an acidic element to lightly tenderize the meat while still transferring flavor.
Sugar is one popular way to make the meat more tender, but its sweetness can irk me when I'm making a savory dish. Enter unsweetened cocoa, which not only has an earthy, bittersweet essence but it's also acidic and can help make the meat more palatable. The cocoa's tones are a natural fit with red chiles, so I also add ancho chile powder to my rub. To balance things out, I add cinnamon, cumin, garlic, and smoked paprika for a hint of sweetness and fire.
To cook the steak, I place it in a hot cast-iron skillet on the stove for about 8 minutes, turning once. There will be lots of smoke (be sure and open the windows) but the char will be intense and a delectable crust will form. (Of course, if you prefer to grill this steak outside, by all means please do though I'm not qualified to talk about that just yet.) After it's done, I let it rest for 10 minutes then thinly slice it.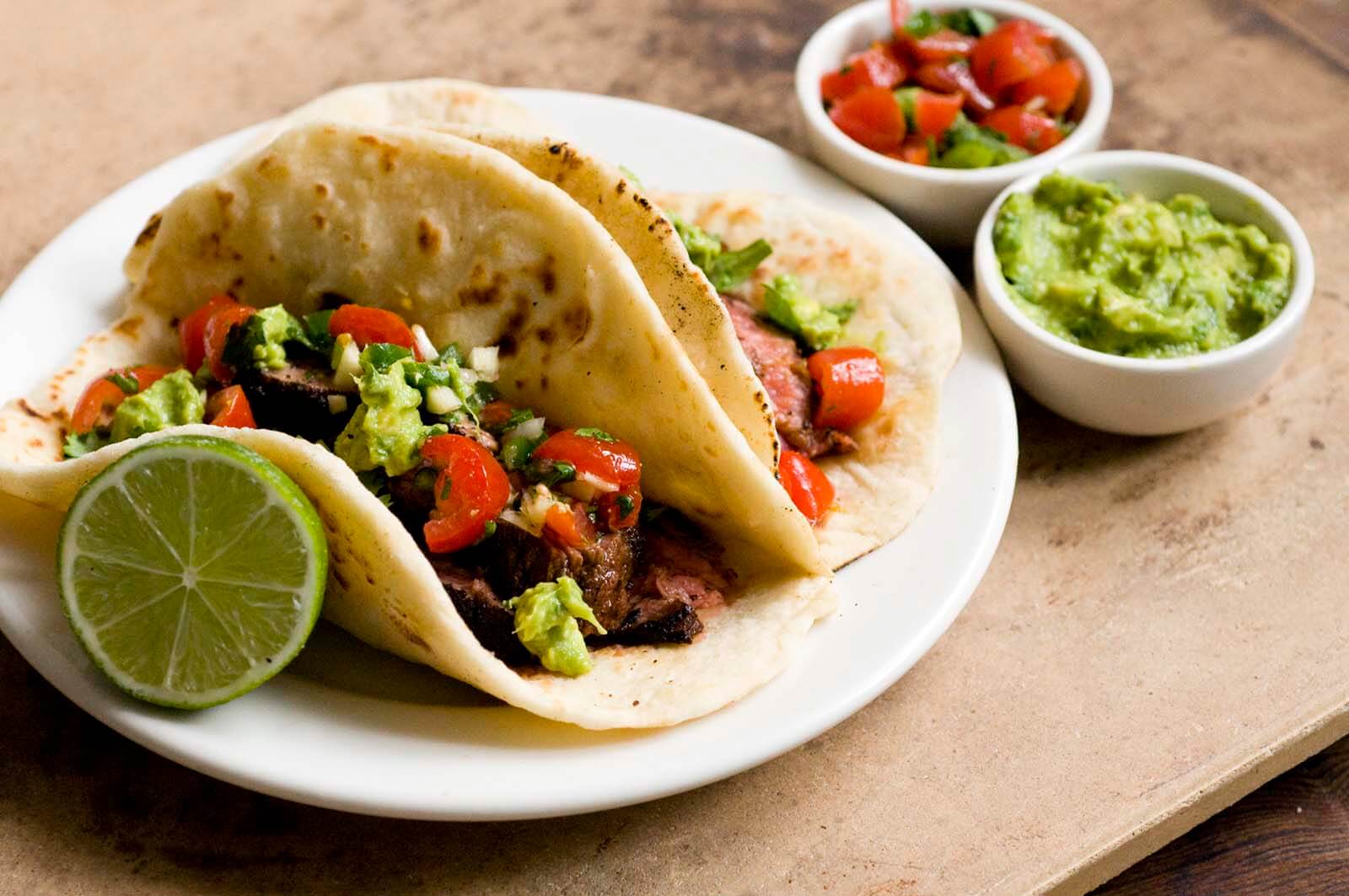 You could eat it on its own, but tacos are better. I nestle the steak into warm flour tortillas then I doll it up with guacamole and pico de gallo, but any salsa would do. Sour cream and cheese are also welcome, but you don't want to crowd the meat too much as it shines on its own. And while these steak tacos are not barbecue, they taste of home and will make you happy. And that's the truth.
—————
Would you like more Homesick Texan? Well, I've started offering additional recipes for paid subscribers to help with the costs of running the site. While I'm not taking anything away, if you'd like to support Homesick Texan and have access to exclusive, never-seen-before subscriber-only posts, please consider becoming a member; annual subscriptions are as low as $25. Thank you for reading, your consideration, and your support!
—————
Ancho Chile and cocoa-rubbed flank steak tacos
Ingredients
1

tablespoon

unsweetened cocoa powder

1/2

tablespoon

ancho chile powder or chili powder

1/2

tablespoon

kosher salt

1

teaspoon

black pepper

1/2

teaspoon

smoked paprika

1/2

teaspoon

granulated garlic

1/4

teaspoon

ground cumin

1/4

teaspoon

ground cinnamon

1 ½

pounds

flank steak

1

tablespoon

vegetable oil

8

flour tortillas, for serving
Guacamole, for serving
Pico de gallo, for serving
Instructions
To make the rub, stir together the cocoa powder, ancho chile powder, salt, black pepper, smoked paprika, garlic, cumin, and cinnamon. Generously rub onto both sides of the flank steak, and either let the steak rest uncovered at room temperature for 1 hour, or refrigerate covered overnight, then bring back to room temperature before cooking.

To cook the steak, heat the oil in a large cast-iron skillet on medium-high heat. After a couple of minutes, when the oil begins to shimmer, add the steak. Cook for 8 minutes, turning once, for medium-rare. There will be lots of sizzling and perhaps smoke, so you may want to open your windows. When the steak is done, remove it from the skillet and allow it to rest for 10 minutes before slicing it thinly against the grain.

As the steak cooks, warm the tortillas. Serve the steak with the tortillas, guacamole, and pico de gallo on the side at the table so people can make their own tacos.