One day while visiting a friend, we sat in her kitchen and discussed the importance of family recipes. Like me, she has a collection that she's gathered from her parents and ancestors. When I asked which was her favorite, she thought for a minute then said that her North Texas grandmother's cabbage and bacon hot slaw was one she made often, especially when serving grilled or smoked meats.
Not familiar with the dish, I asked if it was similar to German potato salad, which is also usually served hot in Texas. She said it was similar, as vinegar, aromatics, and bacon were involved with both.
As a fan of the combination of tangy with smoky, I asked her for the recipe. She said she could do even better and offered to prepare it for me so I could learn firsthand how it was made. I immediately agreed to her plan.
In her refrigerator, she had most of the ingredients, such as the bacon, onions, and vinegar. Lacking the cabbage, however, we made a quick trip to the store. After returning to her place, she began to cook.
First, she fried the bacon in a skillet, and while it sizzled and popped, she thinly sliced the onion and cabbage. Once the fat had rendered, she removed the bacon from the skillet, replacing it with the onions. While occasionally stirring, she cooked them until they were fragrant and just beginning to brown.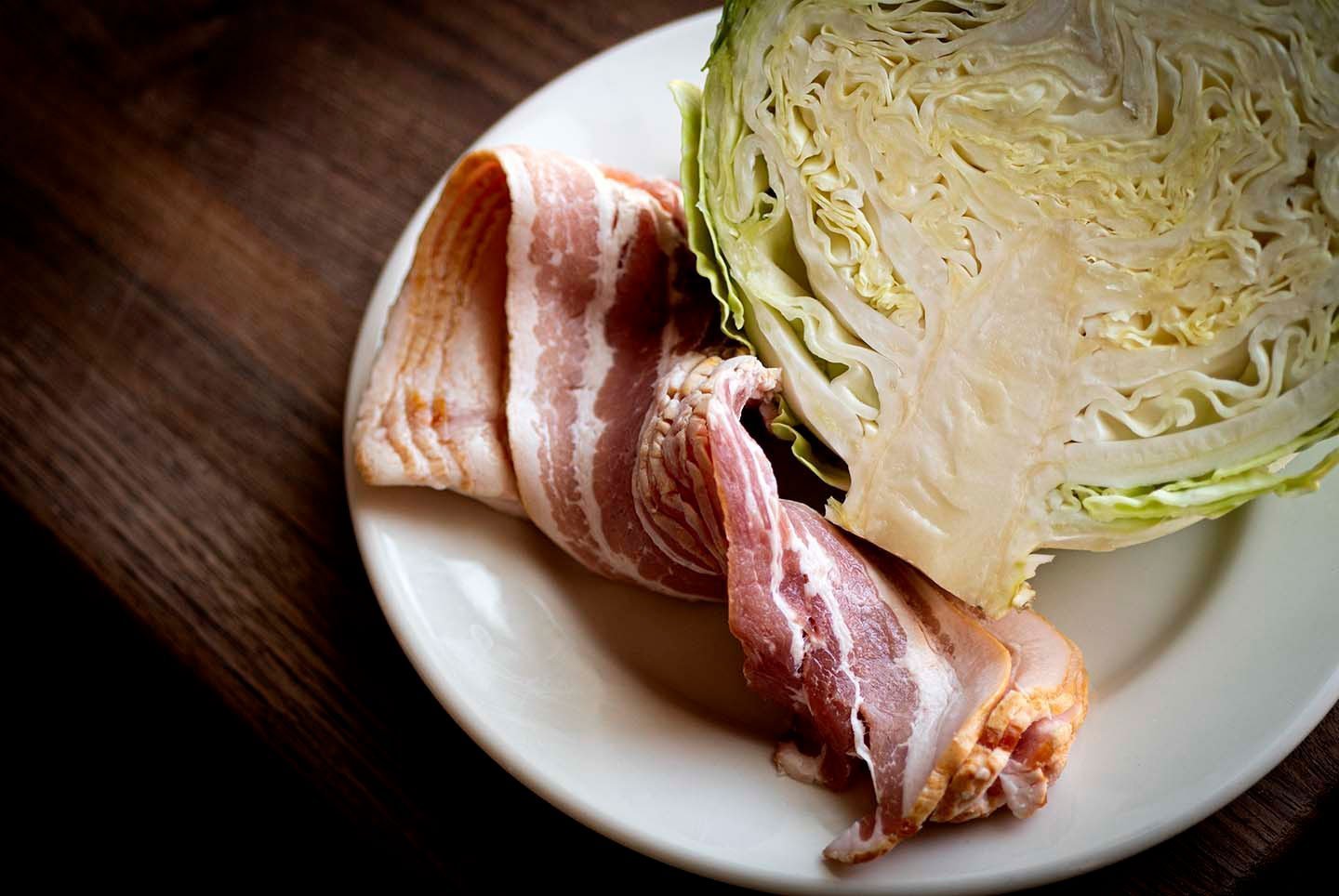 At this point, her oldest daughter wandered into the kitchen. She saw me taking notes while her mom was at the stove and asked what I was doing. I explained that sometimes when people cooked, I wrote down their methods in case I wanted to later make the dish myself. And since this had been her great-grandmother's cherished recipe, it was worthy of documentation.
The daughter, a teenager, looked at me like I was nuts. I laughed, but then cautioned her that someday family recipes would be important to her, as cooking beloved dishes are one of the best ways to connect with the memories of people that you love. She didn't seem convinced, but admitted that the salad was a favorite of hers, as well.
After the onions were soft, my friend added some minced garlic to the skillet then added the vinegar. She placed the sliced cabbage in a bowl along with the cooked bacon, now crumbled, then she poured over it the onions and vinegar. After tasting, she shook in a few dashes of salt and pepper.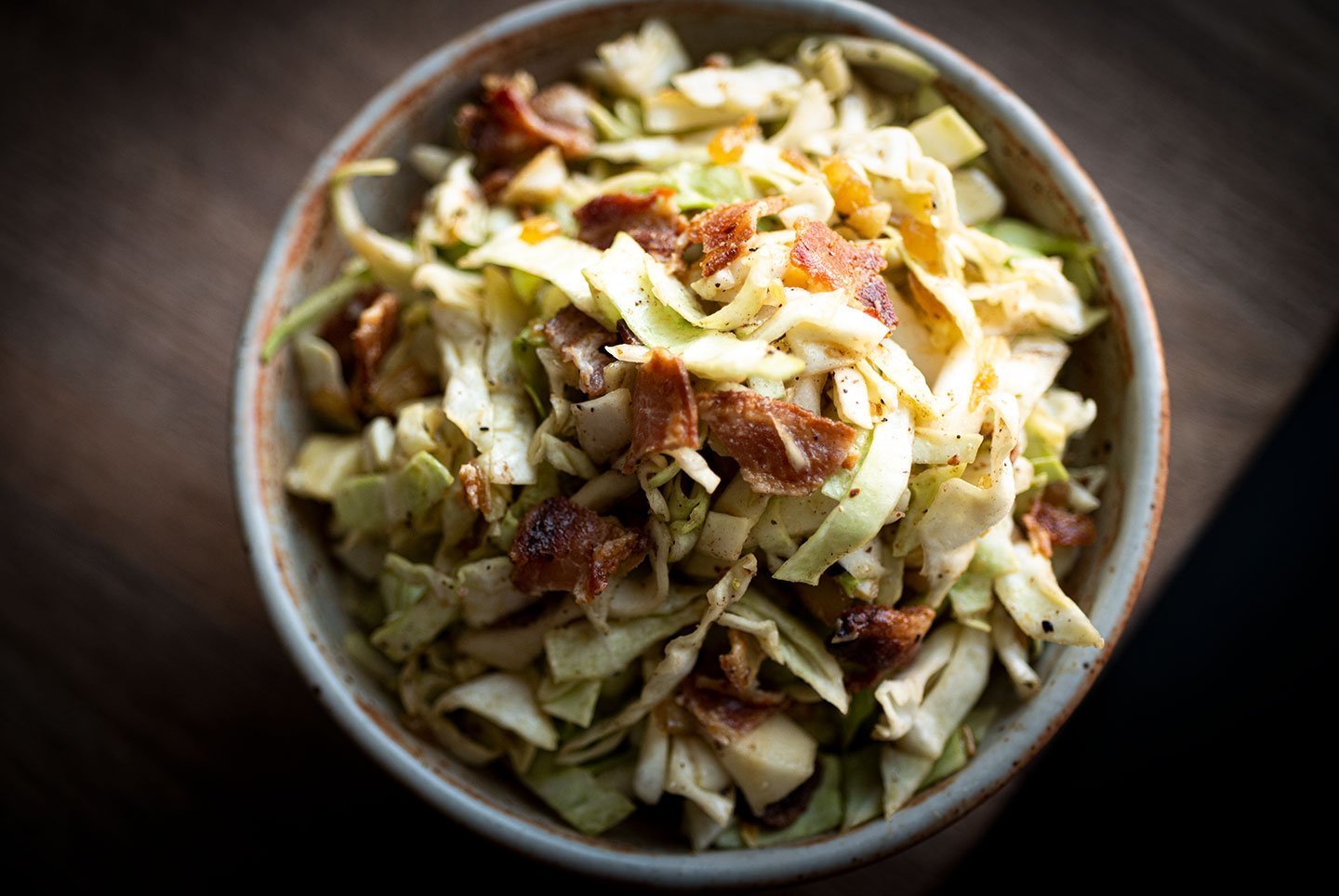 She spooned helpings into bowls and handed them to her daughter and me. I took a bite, and it was slick, smoky, tangy, and crisp. It was delicious. Her daughter voiced her approval as well.
While this cabbage and bacon slaw is an excellent accompaniment to sausage, ribs, chicken, brisket, and potatoes, it is hearty and satisfying enough to be enjoyed on its own, as well.
—————
Would you like more Homesick Texan? Well, I've started offering additional recipes for paid subscribers to help with the costs of running the site. While I'm not taking anything away, if you'd like to support Homesick Texan and have access to exclusive, never-seen-before subscriber-only posts, please consider becoming a member; annual subscriptions are as low as $25. Thank you for reading, your consideration, and your support!
—————
Cabbage with bacon
Ingredients
6

cups

(1/2 small head) cabbage, shredded or finely chopped

1/2

teaspoon

kosher salt

1/2

teaspoon

black pepper

1/2

teaspoon

celery seed

Pinch

ground allspice

6

ounces

bacon

1/2

medium yellow onion, finely diced

4

cloves

garlic

2

tablespoons

apple cider vinegar
Instructions
Place the shredded cabbage into a large bowl and toss with the salt, pepper, celery seed, and allspice.

Place the bacon in a skillet and cook on medium heat, turning once, until it's just beginning to crisp about 7-10 minutes. Place the cooked bacon on a paper-towel-lined plate and leave the bacon grease in the skillet. You should have about 3 tablespoons of bacon grease. (If you have significantly more, you can remove it and save it for another use. If less, make up the difference with olive oil.)

Keeping the skillet on the stove, turn the heat down to medium-low and add the onions. While occasionally stirring, cook until softened and fragrant, about 5 minutes. Add the garlic and cook for 30 seconds. Turn off the heat.

Pour the vinegar into the skillet and stir until it's well combined with the onions and garlic. Transfer the cooked onions, garlic, and dressing to the bowl with the cabbage, scraping the skillet to get all the liquid and cooked bits. Finely chop the bacon and add it to the cabbage, too.

Toss everything until well combined, then taste and add more salt and pepper as neeeded, along with any other adjustments. Serve warm or at room temperture.