Texas red ranch party mix
When it comes to holiday treats, the ones I look forward to the most are those on the salty and savory side. Whether it's sausage balls, cheese balls, cheese straws, or a crunchy snack mix, these are the things that keep me returning to the snack table, over and over.
My family does well with these. Perhaps the most favored nibble is Grandma's seasoned oyster crackers. But my mom also whips up a tantalizing batch of cereal and nuts (commonly known as Chex party mix by most), which gets its addictive properties from a strong infusion of Worcestershire sauce and garlic powder.
This standard party mix recipe has been a Texan and American favorite since 1952, when Ralston Purina, the company that makes Chex, introduced it to the world in a series of advertisements. The company had recently launched Rice Chex, which was a woven-square cereal. It had also rebranded its shredded-wheat cereal with the name Wheat Chex. So, with two kinds of cereal to sell, I reckon it made sense to create a recipe that showcased both.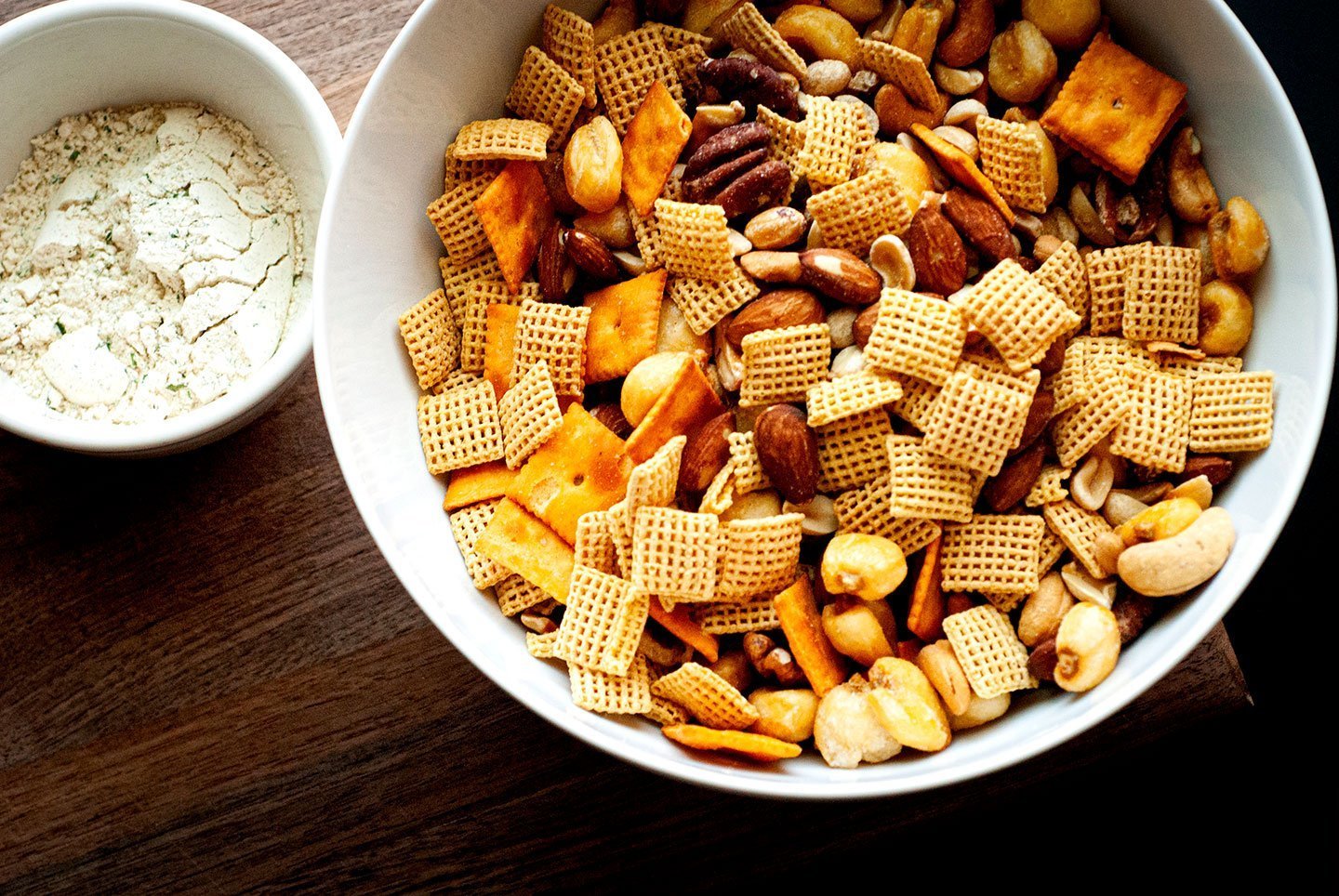 Usually I'll make batches of oyster crackers and party mix, but because I'm feeling less extravagant this season, I've been reluctant to have too much food on hand. Now, the crackers are flavored with powdered ranch dressing mix, lemon pepper, and dried dill, which gives them a creamy, herbal flavor. But I also love the variety of crunchy vehicles that are found in a party mix, as it has a medley of different nuts, woven cereal, and, for me, cheese crackers, too. To keep it simpler, I decided to combine the two into one.
After tossing together cereal, peanuts, pecans, almonds, cashews, cheese crackers, and corn nuts, I doused the blend in oil, then seasoned them with powdered ranch dressing mix along with garlic powder, lemon pepper, and dried dill. I also threw in a heaping spoonful of chili powder to give it that classic Texas-red kick.
Keeping with the original, however, I included Worcestershire sauce, which not only gives the mix a hit of savory flavor, but it also gives the party mix a distinctive, flavorful note. After evenly stirring everything together, I baked it until fragrant and crisp.
The party mix hit all the right notes, as it was salty, savory, spicy, tangy, and a bit creamy. It was certainly familiar, but it was also new, as my family had never used the ranch seasoning on cereal and nuts. Wondering what to call it, I decided to name it Texas Red Ranch Party Mix, as it combined those two flavors into one.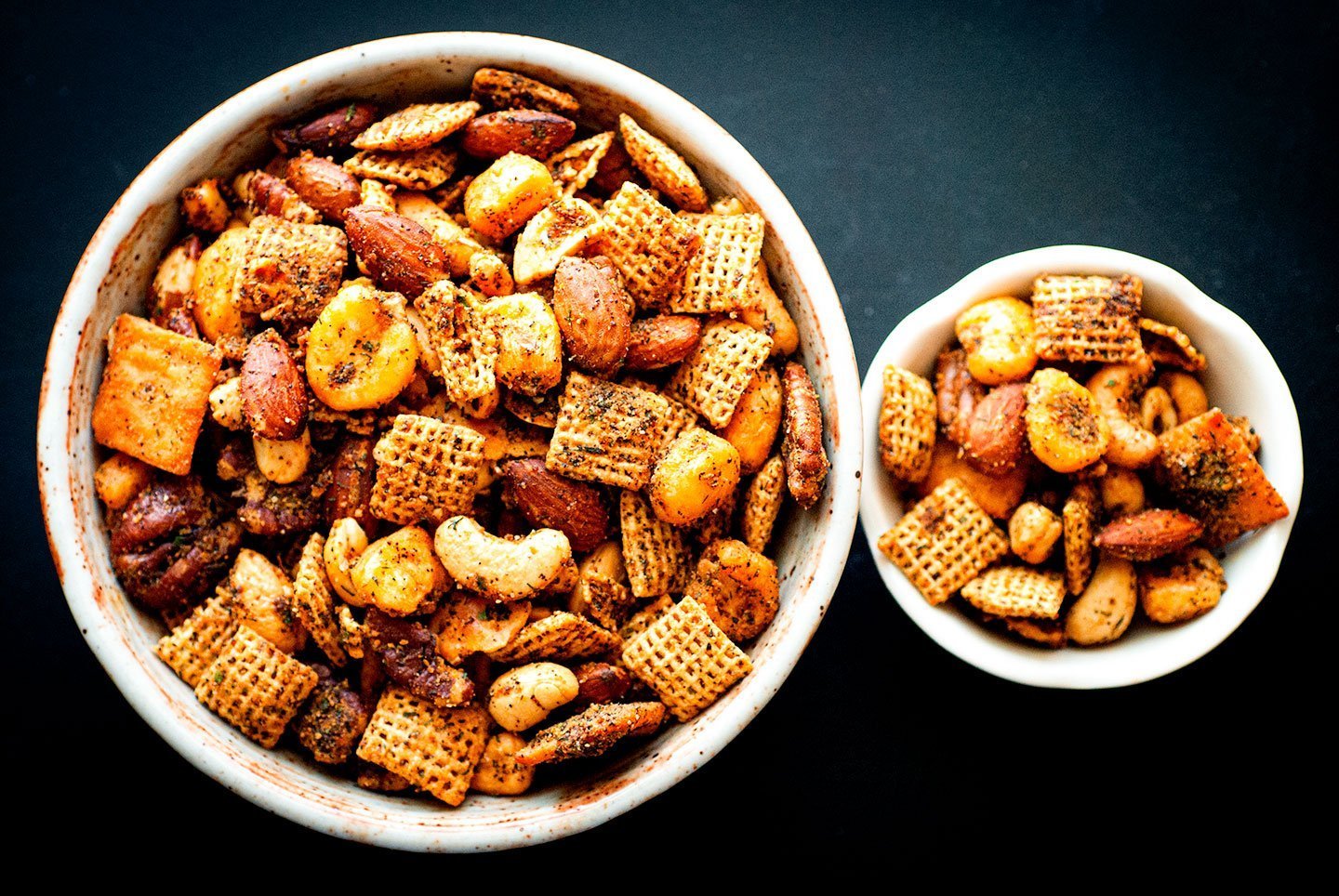 While I love my family's oyster crackers, I found having its flavor on a variety of vehicles extremely satisfying. And addictive. You'll want to make this, and you may even want to double your batch. I couldn't stop snacking on it, and I'm guessing you won't be able to, as well.
—————
Would you like more Homesick Texan? Well, I've started offering additional recipes for paid subscribers to help with the costs of running the site. While I'm not taking anything away, if you'd like to support Homesick Texan and have access to exclusive, never-seen-before subscriber-only posts, please consider becoming a member; annual subscriptions are as low as $25. Thank you for reading, your consideration, and your support!
—————
Texas red ranch party mix
Ingredients
2

cups

woven cereal, such as Chex

1/2

cup

roasted pecans

1/2

cup

roasted almonds

1/2

cup

roasted cashews

1/2

cup

roasted peanuts

1

cup

corn nuts

1

cup

square cheese crackers

1/2

cup

safflower oil

2

teaspoons

Worcestershire sauce

1

(1.5-ounce) ranch dressing packet

1

tablespoon

chili powder

2

teaspoons

dried dill weed

2

teaspoons

garlic powder

2

teaspoons

lemon pepper

Pinch

cayenne

Salt
Instructions
Preheat the oven to 250°F. Line a 9x13 pan with parchment paper. (If it's nonstick, you can skip this step.) Add the cereal, pecans, almonds, cashews, peanuts, corn nuts, and cheese crackers. Stir everything until the ingredients are well combined.

Pour the oil and Worcestershire sauce evenly over the mix. Sprinkle the ranch dressing, chili powder, dill weed, garlic powder, lemon pepper, and cayenne evenly over the mix. (You could stir together the liquids before pouring and stir together the spices before sprinkling, but it's not necessary.)

Stir until everything is well coated and blended. Taste and adjust seasonings and add salt if desired.

Bake uncovered for 30 minutes, stirring once. Cool then serve. Will keep covered for a week.
Notes
For the cereal, I usually stick with either corn or rice, but you can use a combination of the any of the woven cereals. Also, I like the combination of different nuts, but you can substitute 2 cups of any nuts that you prefer. Basically, anything goes when it comes to party mix!