Chocolate tamales with pecans
I received an invitation to a tamalada (a tamale-making party) recently. The party was in Seattle, which might seem like a long way to travel in order to cook with friends, but you don't know just how much I love tamales. Unfortunately, however, the trip couldn't happen due to conflicts with both work and my bank account. But this didn't stop me from making my own tamales here in New York City. And while I usually make savory tamales, this time I decided to make chocolate tamales instead.
I used to tell people that instead of a silver spoon, I was born with a tamale in my mouth. As often as I can, you'll find me eating a tamale, either unadorned or smothered in chili gravy. I've always been partial to shredded beef tamales, but I won't say no to pork, chicken, turkey, cheese, or bean as I'm an equal-opportunity tamale eater. And there is really never a bad time to eat tamales, morning or night, spring or fall. But the best time to eat tamales is at Christmas.
In Texas and Mexico, it's a long-standing tradition for people to come together this time of year and spend all day making stacks of tamales, to be eaten during Christmas and shared with friends and family. I suspect one reason for this is because making them takes a lot of work—not hard work, mind you, but it's certainly time consuming. And since it's not an everyday activity, the more hands you have on hand the faster the tamale making goes. You have a house full of family? Put them to work!


I will admit that I did not start making my own until later in life—my family missed out on all the fun by buying their Christmas tamales. But from the first time I attended a tamalada, I was convinced that there is probably no better way to gather with friends—it's the ultimate dinner party.

Now, as much as I love to make tamales, my friends and I only get around to it once a year. But this doesn't stop me from eating tamales as often as I can and fortunately there are people who sell them near my apartment on Sundays.
Last week there was a new vendor hawking their sweet tamales. I'd never had a sweet tamale before, so curious how it would taste I ordered one. As the seller pulled the tamale from the steamer, I was alarmed at the color, which was a bright pink that I suspected had not been achieved naturally. (Though you can dye the masa and husks with hibiscus leaves.) And if that wasn't bad enough, the stuffing was candied pineapple and some chewy sweet green thing I couldn't identify. The tamale may have looked festive but it tasted terrible. It was the leaden fruitcake of tamales and like the fate of that much-maligned Christmas pastry, this dessert also ended up in the garbage bin.
But not all fruitcakes are inedible and I knew that a sweet tamale could be good as well. So I decided to make my own.
When I made the masa, I threw in sugar, cinnamon, and vanilla to make it sweet and chucked in some chopped pecans and dried cherries as well. For the filling, I simply placed chocolate chips in the center of my masa before rolling my tamales.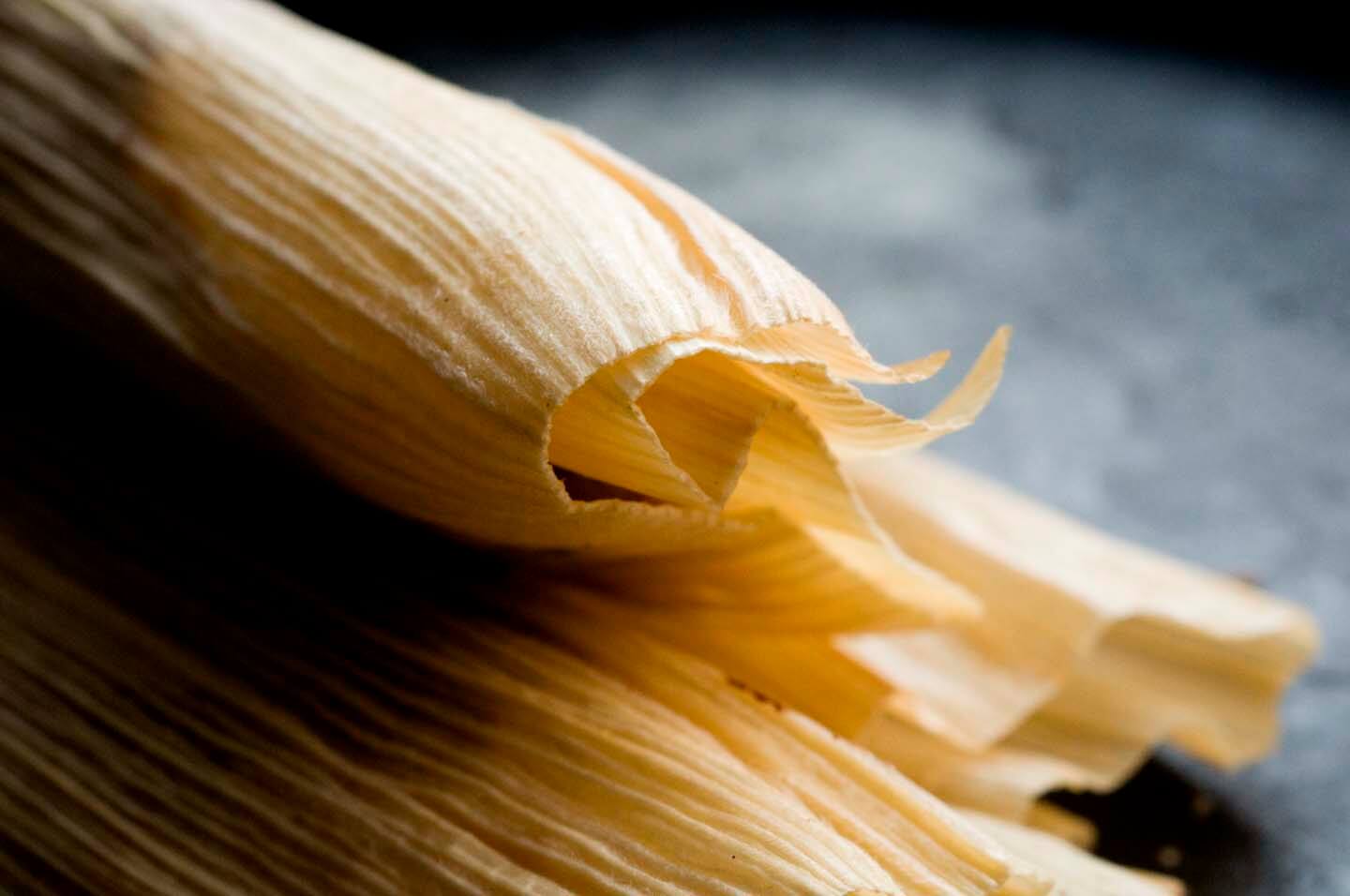 The hardest part about making tamales is the wait—after all that stuffing and rolling, you still have to steam them for two very long hours in which your house will become fragrant with chocolate, cherries, and pecans. It takes a lot of restraint to not whip off the lid of your steamer and grab a tamale. But please, control yourself. And yes, when they're ready, your patience will pay off when you peel off the corn husk and take a soft, chocolate-rich bite.
Chocolate tamales with pecans and dried cherries
Ingredients
1

cup

butter

1 ½

cups

brown sugar

4

cups

masa harina

1

tablespoon

cinnamon

2

teaspoons

vanilla

1/2

teaspoon

ground cloves

1

teaspoon

salt

2

cups

water

2

cups

milk

1

cup

roasted and chopped pecans,

1

cup

dried cherries, chopped

2

cups

semi-sweet chocolate chips
Instructions
Place the corn husks in a pan of water and submerge until completely covered. Let soak for 20 minutes or until soft and pliable.

Cream together the butter and the brown sugar.

Mix together the masa harina, cinnamon, vanilla, ground cloves and salt. Stir in the water and milk and combine until the masa harina is a moist paste.

Add the masa harina to the creamed butter and sugar and whip until fluffy. Stir in the pecans and dried cherries.

To form the tamales, take a corn husk, which you'll notice has four sides and is in sort of a cone shape. Place the corn husk in front of you, with the pointed end at your right. In the center of the husk, spoon out 1/4 cup of the masa and spread it leaving a clean border around the masa. Place one tablespoon of chocolate chips in the center of the masa.

Now, join together the two long sides (NOT the pointed side and the wide side) and then roll the husk until it's about the width of a cigar. Take the narrower, pointed end and fold it up about 1/4 way of the tamale. Alternatively, you can rip strips from a corn husk and after rolling tie up each end like it's a package.

In a large pot, place a steamer basket or a colander. Add water to the pot just to the base of the basket (don't let the water get into it). Place the tamales in the basket seam side down, bring the water to a boil and then cover the pot and turn the heat down to low.

Check the water level occasionally to make sure there's enough in the pot, and steam tamales for two hours. You'll know they're done when the masa pulls cleanly away from the husk.

Let them rest for a few minutes and then serve warm. I like to eat them as they are, but they're also good with a dollop of sour cream mixed with cinnamon, a bit of sugar and vanilla. Powdered sugar sprinkled on top of them is a treat as well.