When a friend set out some snacks for us to enjoy, she pointed to a bowl loaded with chopped pickles and speckled with dill. "This is pickle dip," she said. "You won't be able to stop eating it once you begin."
While I'd never before had pickle dip, I'd certainly heard about it through the years. For instance, the San Antonio food section wrote about it and boasted that its recipe had been the number-one viewed item on its site.
I'd also seen an article in D Magazine that touted a version sold at Dallas specialty markets as a local favorite. Though as much as I love both creamy dips and pickles, it was curious I'd never had the two together in one bowl. I was excited to finally give it a try.
For scooping up the thick dip we had a variety of chips and crackers. Though one of my friends picked up a thin slice of salami on a cheese board and ran that through the bowl, declaring it an excellent combination. I grabbed a corn chip and took my first bite.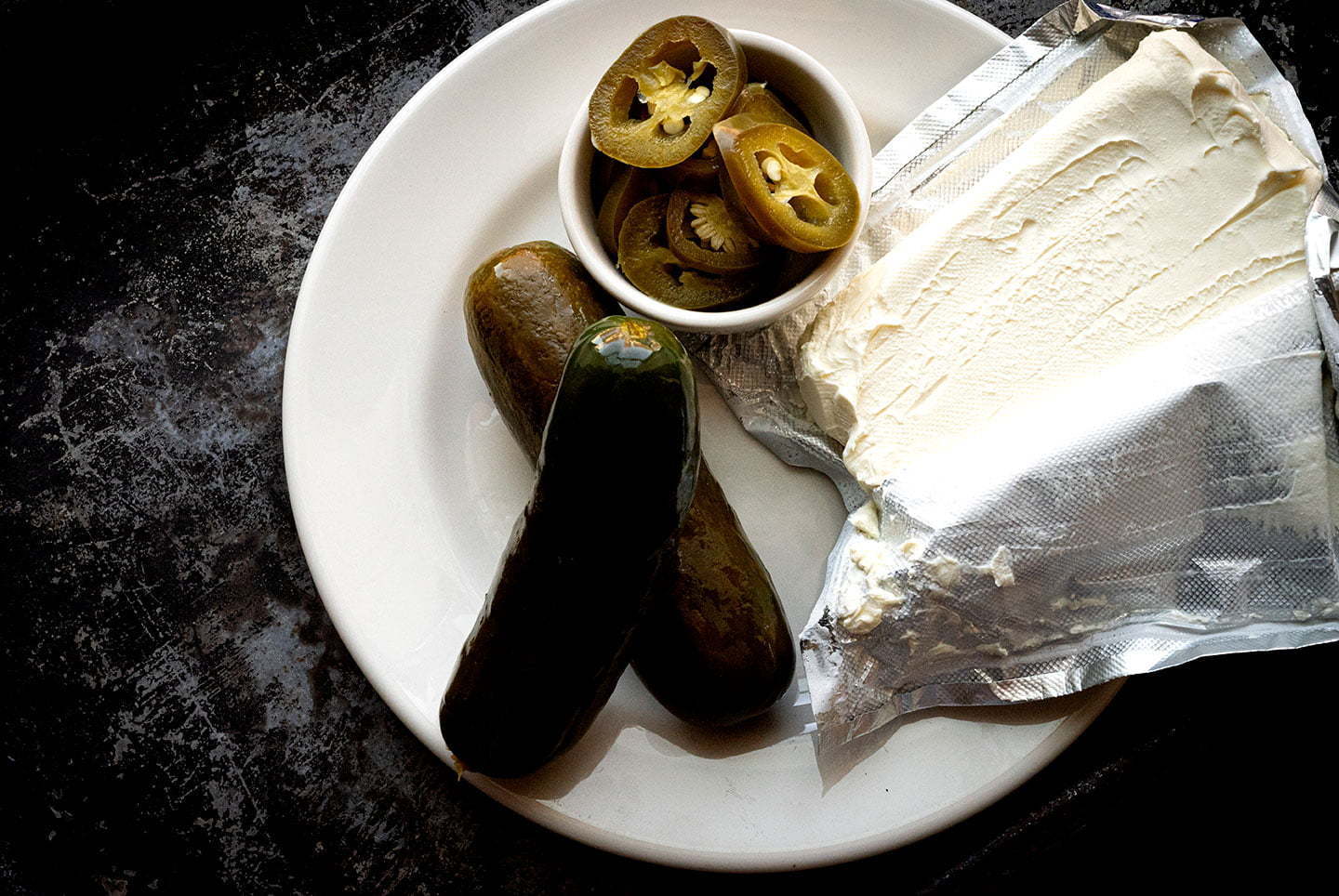 As expected, the tang and crunch of the pickles were front and center. The dip was rich from its cream cheese base, and along with the pickles, there were notes of garlic and onions, too. The flavors were a combination of ranch and onion dip, though it was also its own unique thing. I loved it.
While the pickle dip we had at my friend's house had been purchased at an East Dallas store, dips are not complicated to prepare so I decided to make my own. Combining softened cream cheese, diced onions, garlic powder, and dried dill weed, I formed my foundation.
It was still too heavy for potato chips, however, so I thinned it a bit with a few spoonfuls of sour cream. For the namesake addition, I chopped up sour dill pickles, though I gave it a hit of heat by adding in some pickled jalapeños, too.
The bright and zesty pickles were an excellent compliment to the cream cheese. All the ingredients worked well together, and as my friend had predicted, once I began eating, I couldn't stop. It was that good.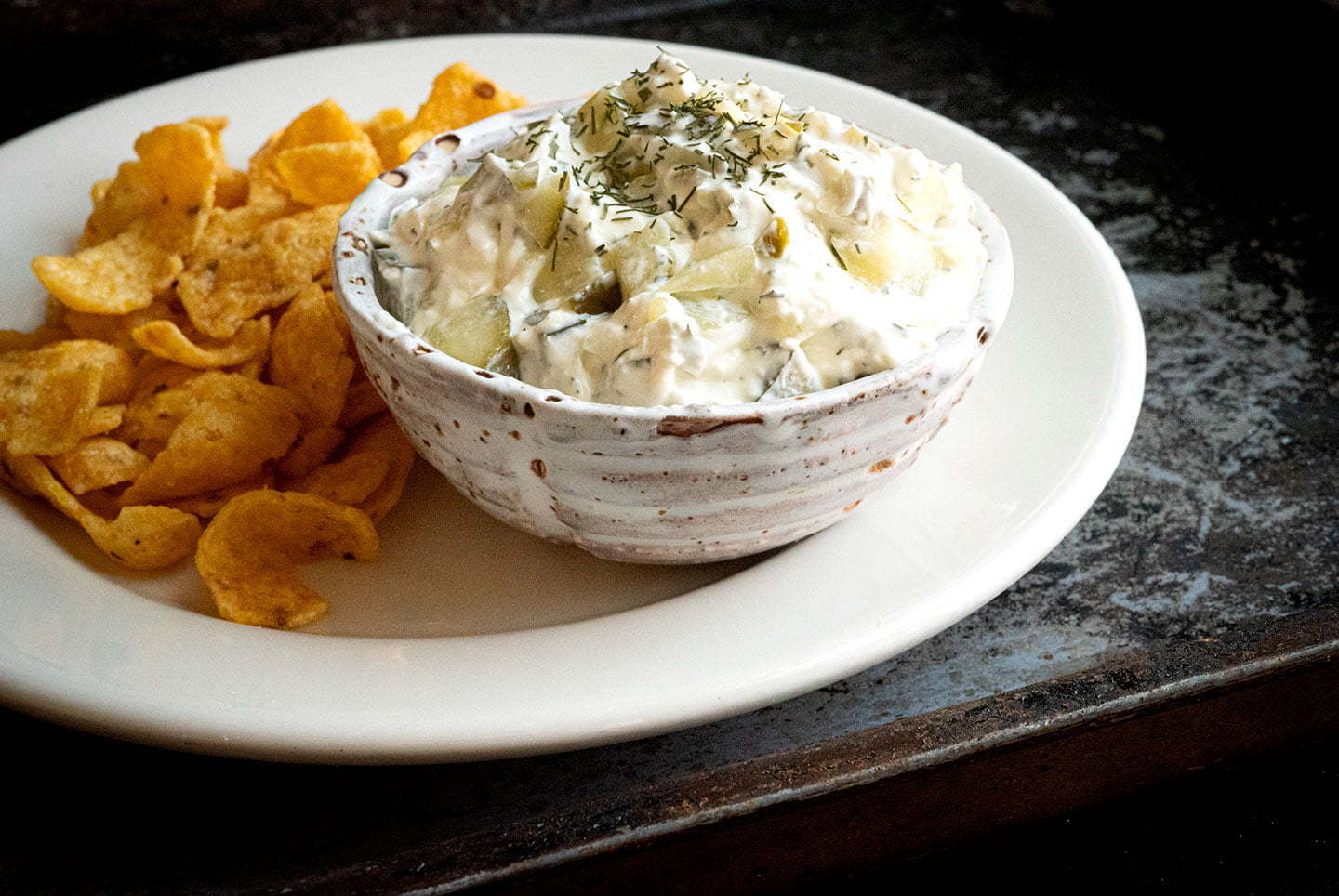 Jalapeño dill pickle dip goes well with corn chips, potato chips, and crackers. Though in the earliest Texan recipes for pickle dip from the 1950s, it was promoted as a diet food, perfect for vegetables such as carrots and celery. Those work, or you can follow my friend's example and use cured meats. It's terrific on sandwiches and burgers, too.
—————
Would you like more Homesick Texan? Well, I've started offering additional recipes for paid subscribers to help with the costs of running the site. While I'm not taking anything away, if you'd like to support Homesick Texan and have access to exclusive, never-seen-before subscriber-only posts, please consider becoming a member; annual subscriptions are as low as $25. Thank you for reading, your consideration, and your support!
—————
Jalapeño dill pickle dip
Ingredients
8-

ounces

cream cheese, softened

1/4

cup

sour cream

1

cup

finely diced dill pickles

1/2

cup

finely diced pickled jalapeños

2

tablespoons

grated yellow onion

2

tablespoons

dill pickle juice

1

tablespoon

jalapeño pickle juice

1 /4

teaspoon

Worcestershire sauce

1

tablespoon

garlic powder

1

tablespoon

dried dill weed

1

teaspoon

onion powder

Pinch

cayenne

Salt

Chips, crackers, or sliced vegeables, for serving
Instructions
Mix the cream cheese, sour cream, dill pickles, jalapeno pickles, grated onion, dill pickle juice, jalapeno pickle juice, Worcestershire sauce, garlic powder, dill weed, onion powder, and cayenne until smooth and well blended. Taste and adjust seasonings, adding salt to taste.

Chill for at least an hour for the flavors to meld. Remove from the refrigerator 30 minutes before serving so it can soften. Serve with chips, crackers, and/or sliced vegetables.