Strawberry ice cream with guajillo chile and lime
For some reason, I have it in my head that strawberries should arrive here in New York by early May. But these past few weeks, every time I'd go to the farmers market, I'd only see those same sad baskets of apples and pears that have been there since last fall.
"Where are the strawberries?" I would ask. "Be patient," said the farmers. "They'll arrive." But it's hard to be patient when Poteet, Texas had its annual strawberry festival in early April, and some friends back home were telling me that their strawberry plants were already fading. And yet, still no sign of strawberries here.
Last week, however, I walked to the market and the chalkboard that announces what's on offer said, "Strawberries! Strawberries! Strawberries!" Clearly, everyone was as excited as I was. It being early in the season, there was only one farmer selling them and the line was endless. When I finally reached the front of the line, the farmer advised me to eat them that day as they probably wouldn't keep very long. Of course, that was not a problem, and I went home and ate the whole pint in one sitting. The next day, I returned and bought more.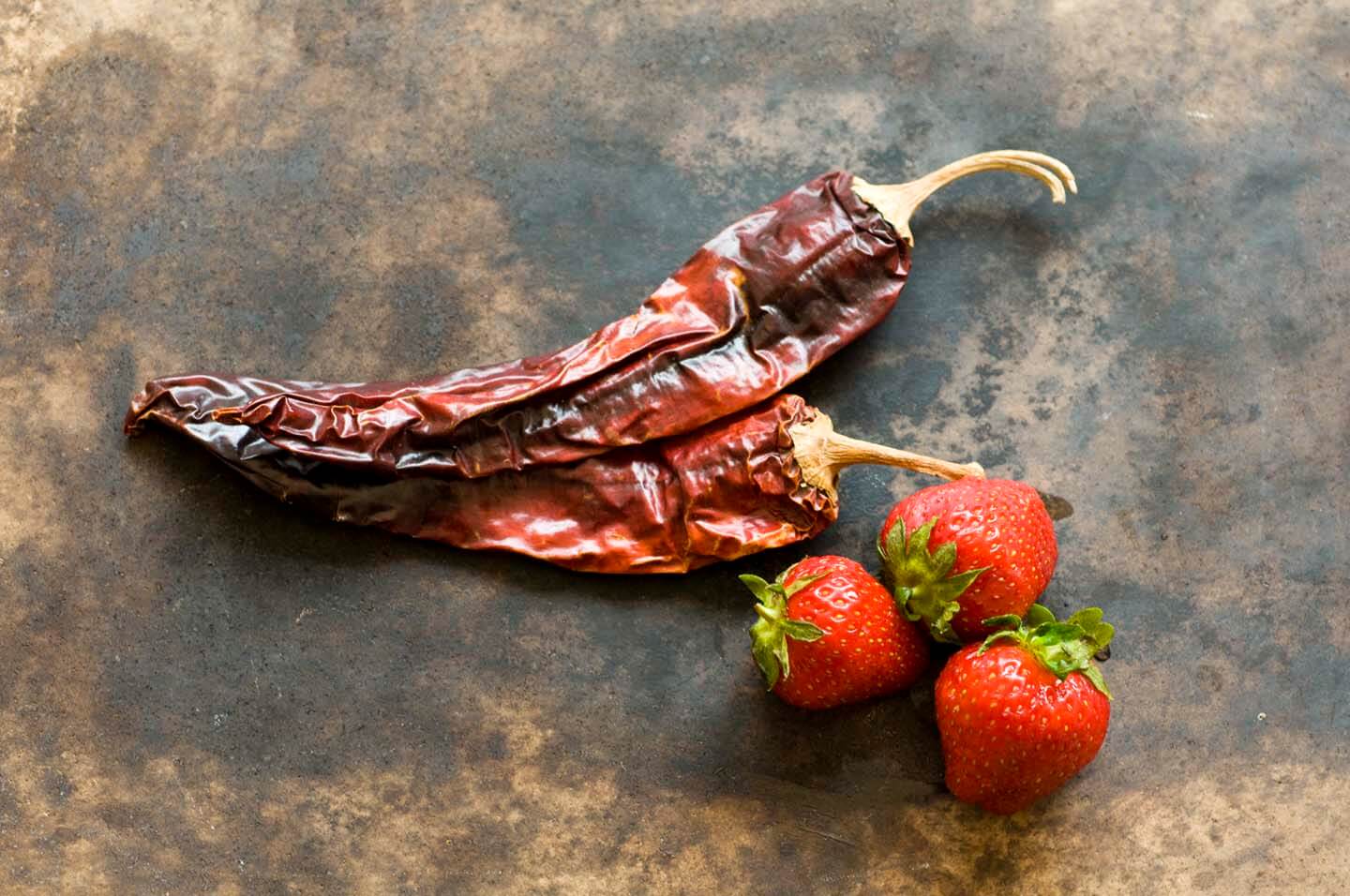 My first inclination was to make strawberry shortcake with my haul. This past weekend, however, it was so hot that turning on the oven to make biscuits was out of the question. So I made ice cream instead.

The first batch I whizzed together the berries and the cream in the blender, which resulted in a muted pink ice cream that one friend said had the visual appeal of Pepto Bismol. I agreed.
For my second batch, I first macerated the strawberries to bring out their juices, adding a slight sprinkle of guajillo chile powder for some earthy heat. I then made a batch of vanilla ice cream, and simply stirred in the strawberries at the end. Not only was this strawberry ice cream more visually appealing, but it ended up being a better showcase for the fresh berries, as well.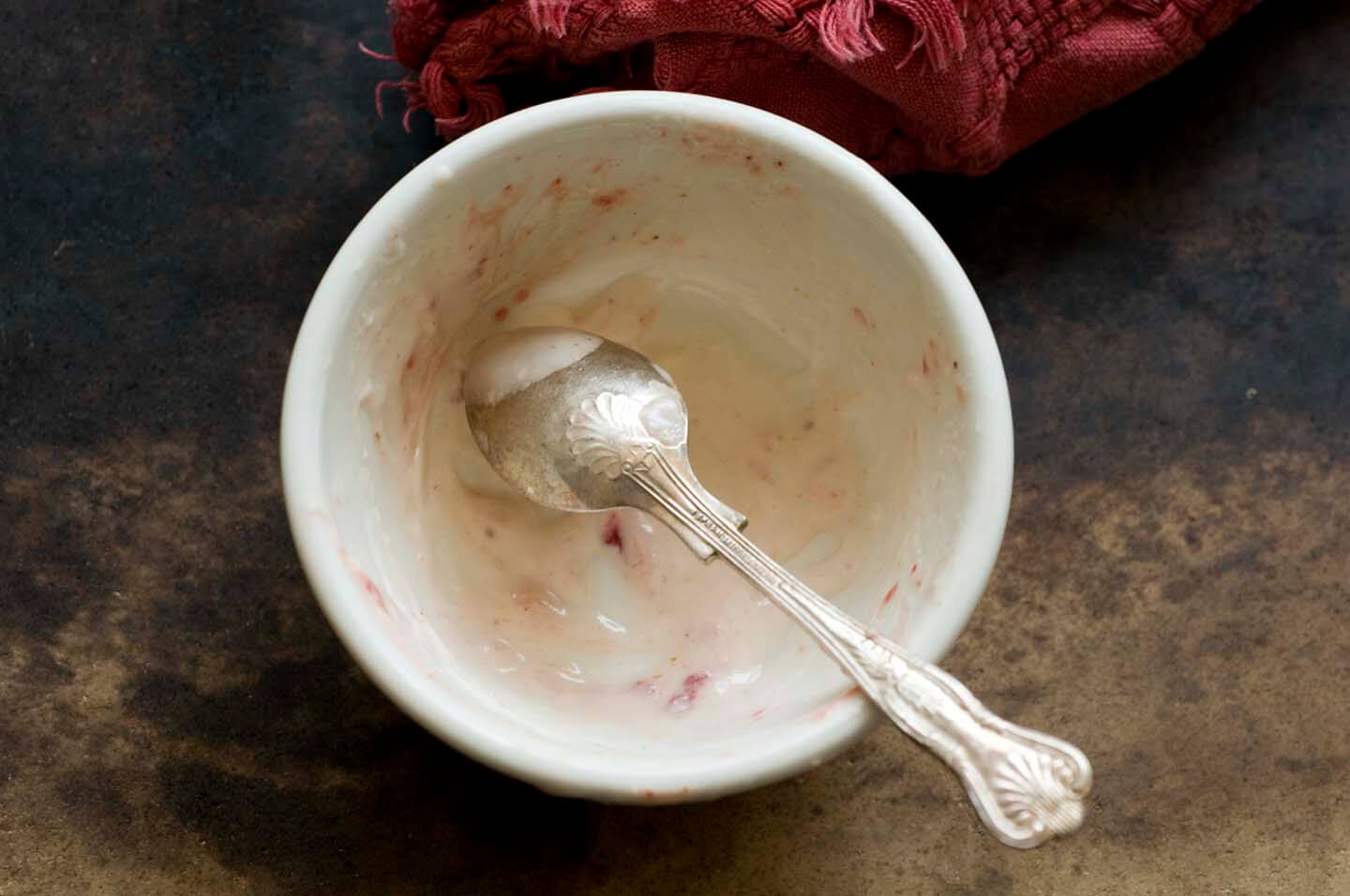 If you're like me, and you don't want to wait for your desserts, you'll enjoy this ice cream as it can be made in about half an hour since there's no cooking on the stove involved. And this is important, as you won't want to waste any time that could be spent eating this year's crop of strawberries.
Strawberry ice cream with guajillo chile and lime
Ingredients
8

ounces

strawberries, hulled and cut in half

1

tablespoon

brown sugar

1/4

teaspoon

ground cinnamon

1

teaspoon

guajillo chile powder

3

cups

well chilled light cream or half and half

1

teaspoon

vanilla extract

3/4

cup

granulated sugar

2

teaspoons

freshly squeezed lime juice

1/4

teaspoon

kosher salt
Instructions
In a bowl, sprinkle the strawberries with the brown sugar, cinnamon and guajillo chile powder, and let sit for 30 minutes until soft and juicy. Gently mash with a potato masher.

Meanwhile, stir together the cream, vanilla, granulated sugar, lime juice, and salt. Freeze according to your ice cream maker's instructions.

When the vanilla ice cream base is done, gently stir in the strawberries.
Notes
Guajillo chile powder can be found in some specialty markets, but it's easy to make your own, too. To do this, remove the stems from 8 ounces of guajillo chiles and place in one layer on a baking sheet. Cook the chiles at 300° F for 5 minutes or until dry. Crumble the dried chiles into a bowl and then grind them in a spice grinder or blender.