Chopped beef sandwich with a spicy barbecue sauce
Last month, when I driving down 290 on my way to my cousin's wedding weekend in Bryan, I passed my alma mater—Cy-Fair High School. School wasn't set to begin until the following week, but I saw lights shining on the football field and the stands filled with people decked out in our school's colors—maroon and white. It took me a second and then I remembered it was Friday night. I quickly exited the highway, turned around my car and headed back to campus to see what was happening.
When I pulled up to the field, I saw a sign announcing a pre-season scrimmage between Cy-Fair and Tomball. There were no cheerleaders, and the marching band was practicing its songs and routines in the parking lot, not in the stands. But it was Friday night and the lights were lit. And even if this game didn't count—the level of energy and excitement was electric. It was a feeling I hadn't experienced since the last time I was at a Bobcat game my senior year in high school.
"Welcome home!" I said to myself.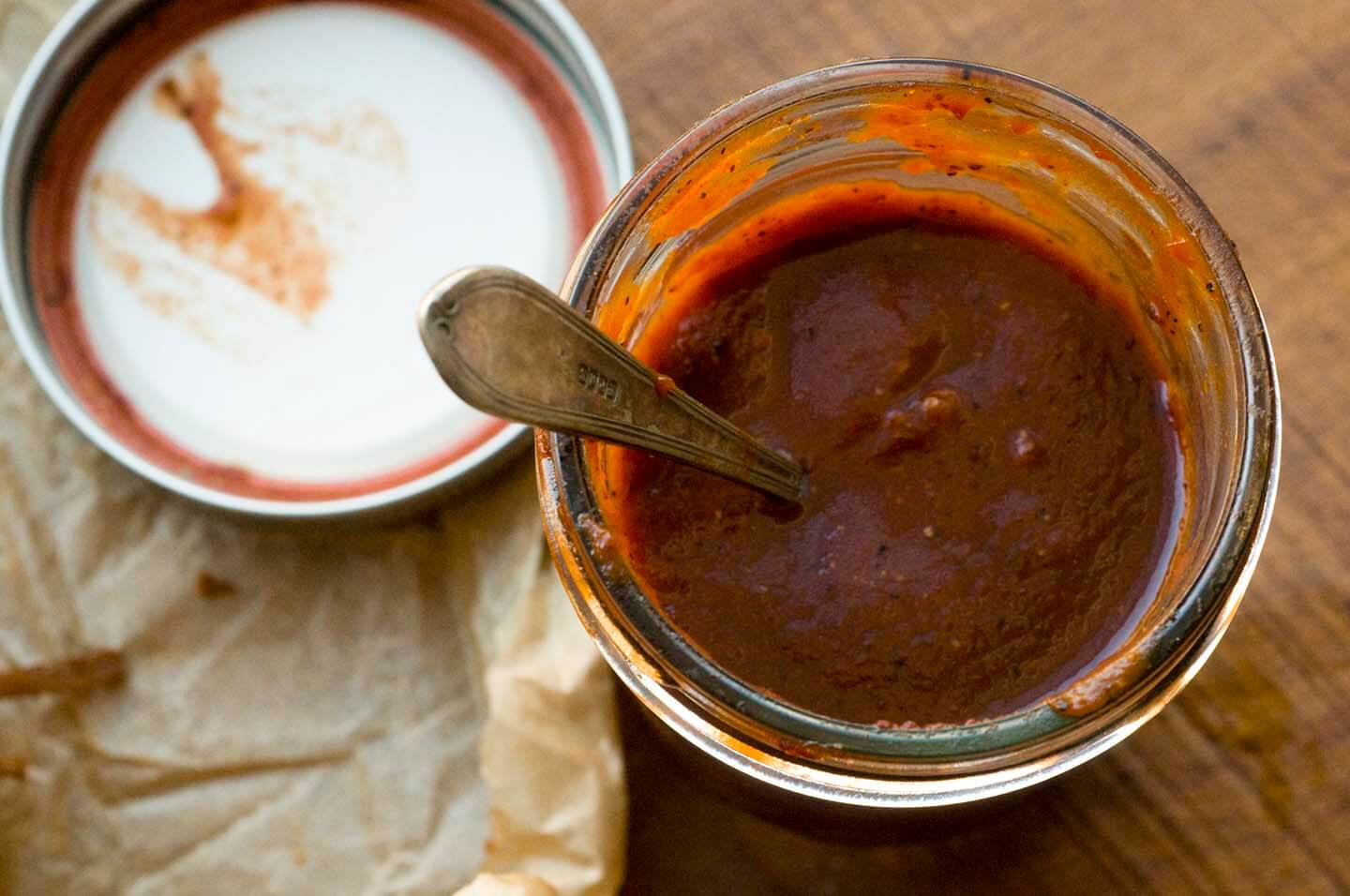 Now, as passionate as my friends and I were about our 5A team back in the day, the true highlight of any game—besides the socializing—was the eating. Frito pies, chili dogs, roasted peanuts, dill pickles and popcorn were standard fare sold by the boosters at every game, a common menu found at high school stadium concession stands across the state. But some nights, the boosters would also offer their famous chopped beef sandwiches. And you know what? That night was one of those nights.

Chopped beef sandwiches are not only found at football games, but they're also found at most Texan barbecue joints, rodeos and local fairs, too. It's a simple sandwich, as it's just finely chopped brisket tossed in sauce and then stacked tall on a soft bun with pickles, onions and jalapeños. But when done well, a chopped beef sandwich is just as satisfying as a stack of sliced brisket and ribs on a sheet of butcher paper. Plus a sandwich is more portable, which makes it perfect for eating while watching a game.
Smoked brisket is the traditional meat of choice for a chopped beef sandwich. The sandwich I had at the scrimmage was no different, as before I even entered the stands I could smell the post oak smoke wafting from the portable smoker manned by the boosters. But I have a confession to make. Because this is a sauced sandwich, I can make them at home without a smoker and feel equally satisfied. This may get me in trouble with some purists, but when you have moist brisket, a spicy barbecue sauce, plenty of onions, pickled jalapeños and a tender bun, I believe you won't miss the smoke.
For the brisket, I just slow roast it in the oven until it's tender. While there's plenty of flavor in the meat, I think the sauce is also important; I serve mine with a fiery, tomato-based sauce that was inspired from a recipe purported to be from Rudy's. While I was intrigued that the recipe used both ketchup and tomato sauce, I ended up changing the rest of the ingredients to make it less sweet and more fiery. A spoonful of molasses, dashes of cayenne and cumin do their part. A generous helping of black pepper also gives this sauce plenty of power and life.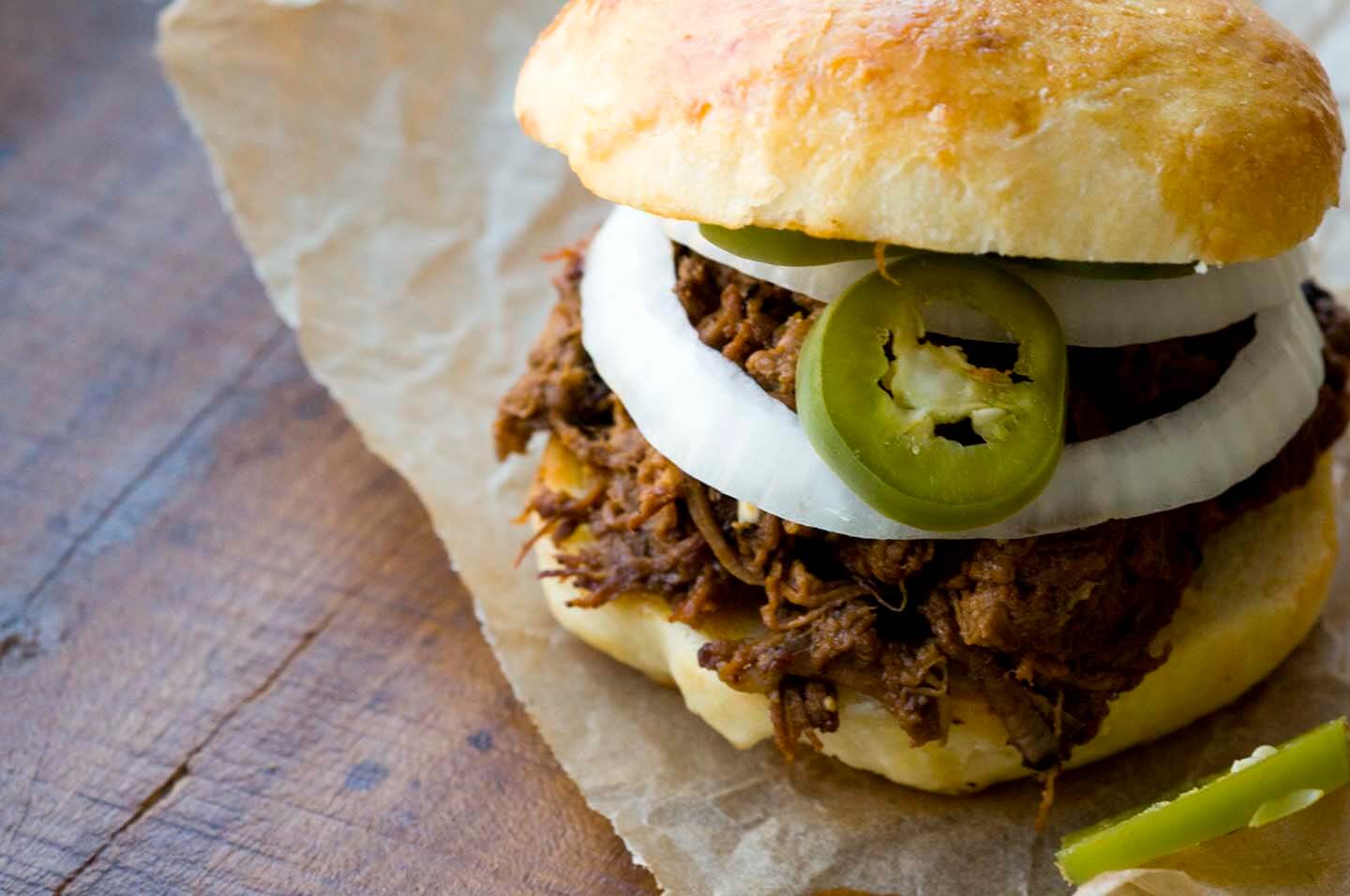 Of course, you certainly don't need a football game as an excuse to serve these chopped beef sandwiches, they are excellent at any time. But if you have a hankering for some rousing songs, a roaring crowd and the drama that can only be found on the field on a Friday night—eating these sandwiches might just take you back to that place, even if you haven't visited in a long time.
Chopped beef sandwiches with spicy barbecue sauce
Ingredients
For the brisket:
1/2

tablespoon

kosher salt

1/2

tablespoon

black pepper

1/4

teaspoon

cayenne

1

(3-4 pound)

brisket, the flat cut, with some fat still on it

1

large yellow onion, quartered

4

cloves

garlic, cut in half
For the spicy barbecue sauce:
1

cup

canned tomato sauce

1

cup

ketchup

2

tablespoons

apple cider vinegar

1

tablespoon

Worcestershire sauce

2

tablespoons

lemon juice

2

cloves

garlic, minced

1

teaspoon

molasses

1

teaspoon

black pepper

1/4

teaspoon

ground cumin

1/4

teaspoon

cayenne pepper

Pinch

ground cloves

Salt to taste
For serving:
8

warm buns

Sliced onions

Dill pickle slices
Instructions
To prepare the brisket, preheat the oven to 275 degrees. Mix together the salt, black pepper and cayenne, and sprinkle on both sides of the brisket. In a roasting pan, place quartered onions at the four corners and lay the brisket, fat side up, on top of the onions, so it's slightly elevated. Place the garlic on top of the brisket, and add 1/4 cup of water to the pan. Cover the pan tightly with foil and cook in the oven for five hours or until fork tender.

While the brisket is cooking, make the sauce. Mix together in a saucepan the tomato sauce, ketchup, apple cider vinegar, Worcestershire sauce, lemon juice, garlic, molasses, black pepper, cumin, cayenne and pinch of cloves. Bring to a boil and then simmer for 30 minutes. Adjust seasonings and add salt to taste.

Once you take the brisket out of the oven (you might first check that it's tender enough), let it sit covered for 30 minutes. Lift the brisket out of the pan and finely chop, adding some of the pan juices. Toss the brisket with some of the sauce until desired sauciness is achieved, and serve on warm buns with onions, pickled jalapeños and dill pickle slices, with additional sauce on the side.