The song of the cicadas, the beginning of football and the arrival of Hatch green chiles always signal the end of summer for me. While I usually try to make it home every August so I can enjoy these things, this year I've had to stay in New York, holed up in my apartment writing recipes for my new book.
Okay, that's not actually a burden, as I do love to write. And I'm pleased to say that now that the recipes are on paper the fun part starts to happen—I head into the kitchen and start cooking. But let's get back to those signs of late summer. While New York City doesn't celebrate football quite like Texas does, there are plenty of cicadas clacking away and the other day I even found some Hatch chiles.


Now, this time of year in Texas and New Mexico you'll see large roasters spinning in front of fruits stands, stores and restaurants signaling the presence of Hatch chiles. This was not the case here in New York, nor were the shelves stocked with limited edition treats made with the chiles, as you'll also see during the season.

But despite the lack of fanfare, after a long hunt I found nestled in a corner of the produce section a small basket of the precious chiles. And while sometimes perishable things that travel long distances don't hold up so well, as I picked up a handful I noticed that the bright green chiles were firm and fragrant. These chiles were fresh and good.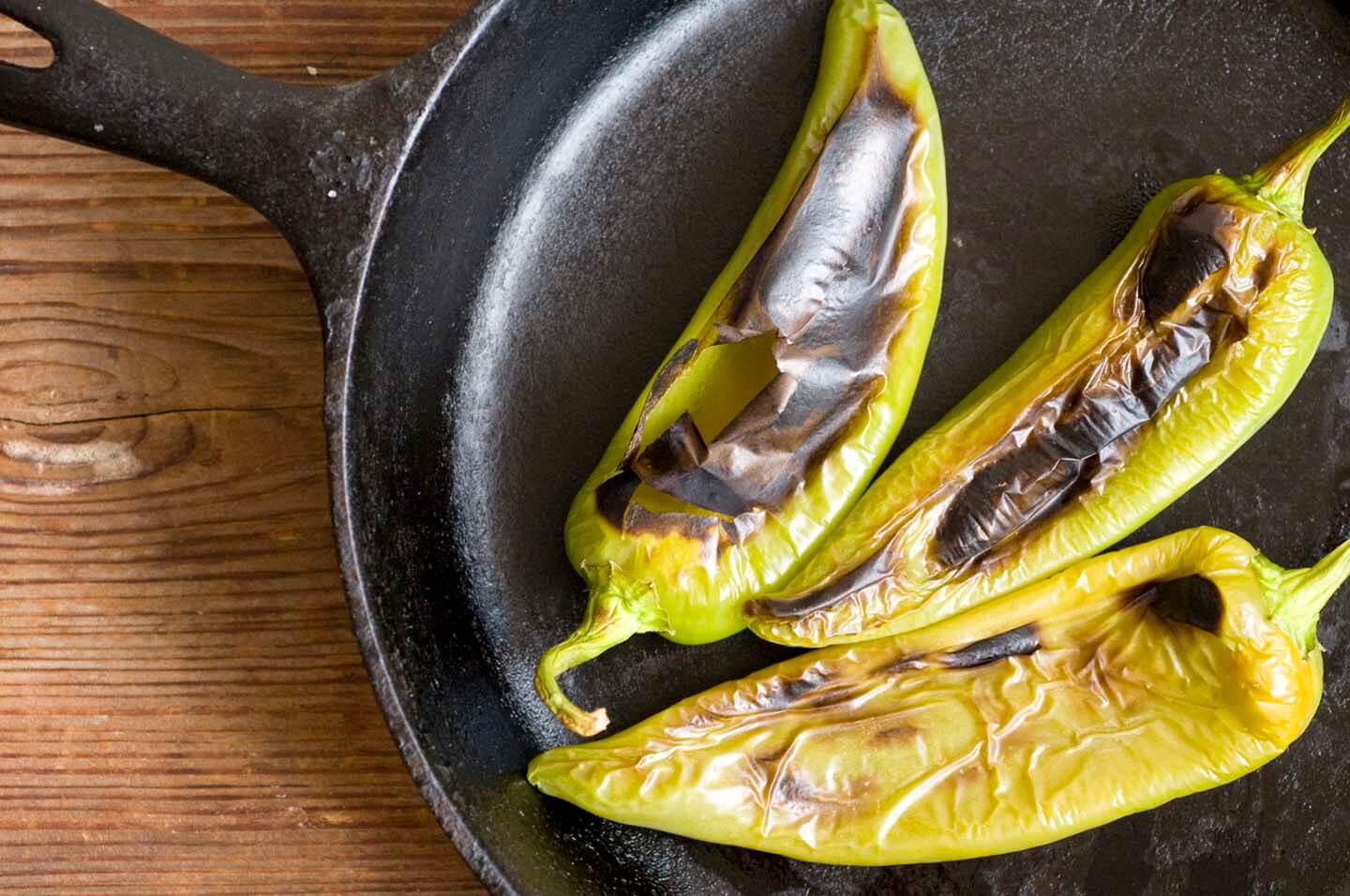 The checkout people weren't familiar with the chiles, so I explained that the Hatch chile was an Anaheim chile grown in Hatch, New Mexico. Hatch refers to the chiles place of origin, not its type. So if you see a chile labeled as a Hatch that's been grown in say, Florida—it's not truly a Hatch chile, instead it's a Florida Anaheim. I also told them about the annual excitement people feel about these chiles, as there's just something about the dirt in Hatch that makes these chiles taste so good.
When I got home, I began roasting them and my apartment smelled like green chile heaven. While it's my inclination to throw them into just about anything, there was one dish I thought their addition would be especially welcome—in a cheese steak sandwich. Imagine this—tender slices of rib eye topped with a luscious sauce thick with cheese and chiles, all nestled on a soft bun. These sandwiches take little time to make and are perfect for game day or a lazy late-summer afternoon.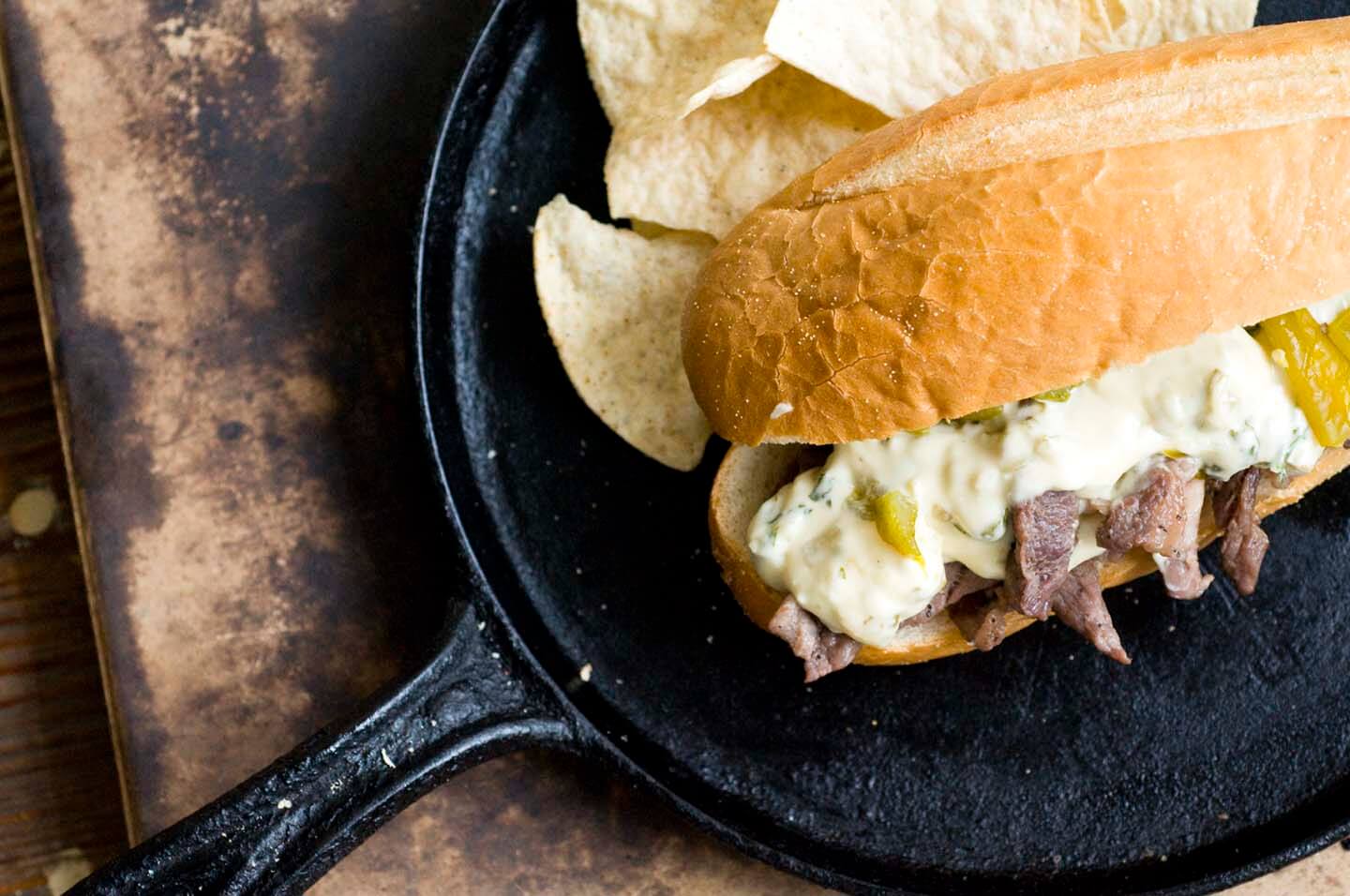 This summer I've missed y'all as I took a break from my computer. Now that I'm back in the kitchen, however, I look forward to spending more time with you as I get busy again. But first, I'm going to have another green chile cheese steak, as they are simple, satisfying and very, very good.
Green chile cheese steak
Ingredients
Ingredients for the green chile cheese sauce:
6

Hatch or Anaheim green chiles

2

jalapeño chiles

1

tablespoon

butter

1/4

medium yellow onion, diced

2

cloves

garlic, minced

8

ounces

cream cheese, cubed

2

cups

8 ounces shredded Muenster

2

cups

8 ounces shredded Monterey Jack

1/2

cup

half-and-half

2

tablespoons

chopped cilantro

Salt to taste
Ingredients for the sandwiches:
1

tablespoon

butter

1/2

medium yellow onion, cut into slivers

Salt and black pepper

2

pounds

boneless rib-eye, thinly sliced

4 8-

inch

hero buns, toasted and buttered
Instructions
Roast the Hatch and jalapeño chiles under the broiler until blackened, about 5 minutes per side. Place the chiles in a paper sack or plastic food-storage bag, close it tight and let the chiles steam for 20 minutes. After the chiles have steamed, take them out of the bag and gently rub the chiles to remove the skin. Remove the stems and seeds from the chiles and then dice.

Preheat the oven to 375°F. In an ovenproof skillet, melt the butter on medium-low heat. Add the onion and cook until translucent, about 5 minutes. Add the garlic and cook for 30 more seconds. Remove the skillet from the heat and stir in the diced chiles. Evenly distribute on top the cream cheese and the shredded Muenster and Monterey Jack, then pour in the half-and-half. Bake uncovered until the cheese is bubbling, about 15-20 minutes. Remove from the oven, garnish with the cilantro and gently stir to combine everything. Add salt to taste.

Meanwhile, in a large skillet heat up the butter on medium heat. Add the onions and while occasionally stirring, cook until fragrant and almost translucent, about 2-3 minutes. Lightly salt and pepper the rib-eye slices and add them to the skillet. Cook the meat with the onions for 2-3 minutes, stirring occasionally, until the meat is just starting to brown.

To assemble the sandwiches, evenly divide the meat and the onions between the toasted and buttered buns and top the meat with the cheese sauce.