When I started researching the history of chile con queso for my new book, periodicals and books revealed it had been a popular dish at the Johnson White House in the 1960s. That made sense, as President Johnson and his wife Lady Bird were both Texans who knew queso was a must at any gathering.
Most guests were receptive to the dish, but the White House's French head chef René Verdon hated it. In fact, he loathed chile con queso so much that he derisively referred to it as "chile con-crete." When I first heard what he said, I laughed as I could imagine a person with a French accent and a sneer looking at a slow cooker burbling with queso and uttering that phrase. But the more I thought about it, the more I decided that clearly the chef had not tasted the queso because if he had I know he would have changed his mind.
Indeed, when I first moved to New York and would make queso for my friends, the Texans would of course make a beeline to the pot but the non-Texans would make faces and say, "What's that?" When I'd explain to them what it was and how it was made, they'd be even more snobby about the dish. But I always encouraged them to take one bite. And after they dipped that first tortilla chip into the pot they'd marvel over how creamy and delicious queso can be.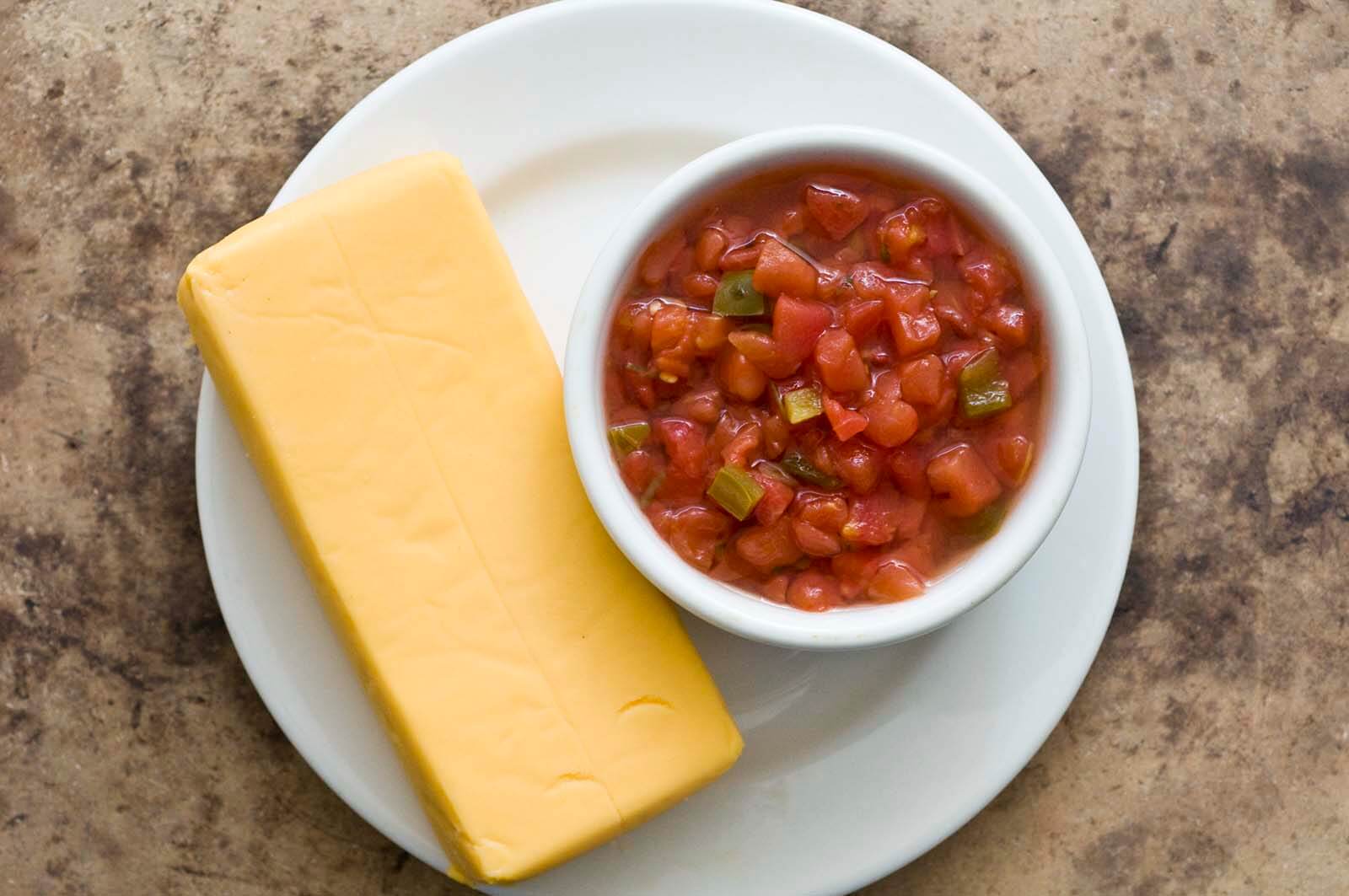 The Johnson family was proud of their state's culinary heritage and Mrs. Johnson often shared with the press the recipes that came from the kitchen of the family's personal chef, Zephyr Wright. Most were classics that would look familiar to any Texan, but strangely enough, the first queso recipe she gave called for aged cheddar.

At this time, queso was made with a processed cheese base, and I assume that's what they served at the White House, too. Though when I made the first-published Johnson queso recipe it turned into a lumpen mess, as there were no starches or a roux to bind the sauce, which you need when melting real cheese. I reckoned that the usage of cheddar over the more common processed cheese was an attempt to mollify her in-house critic.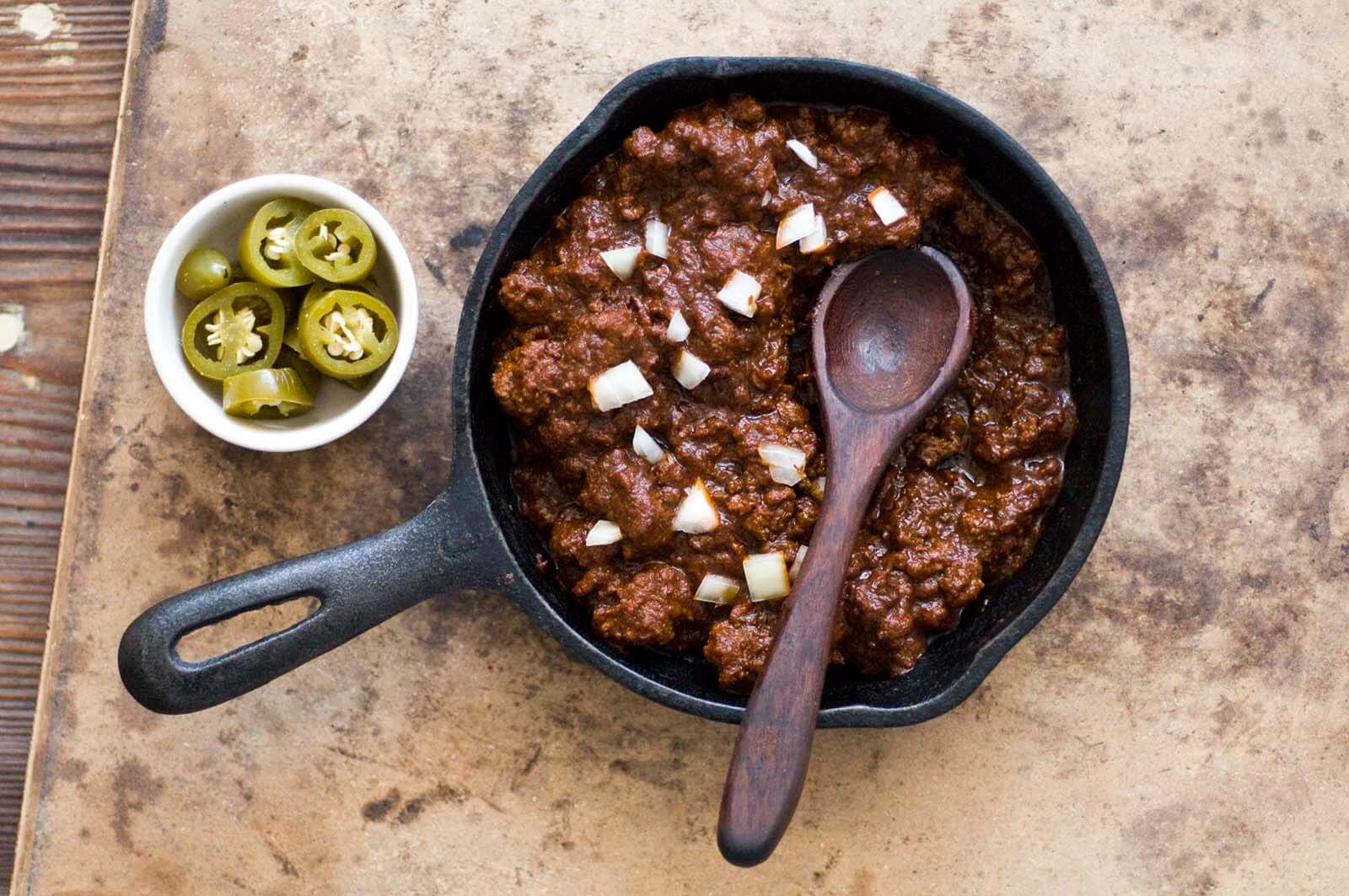 Another recipe she shared a few years later, however, did call for melting brick processed cheese (usually sold under the name Velveeta) and canned tomatoes and green chiles (usually sold under the name Ro-Tel). A queso classic.
To make it even better, a generous portion of Texas red chili—that beloved stew of beef and red chile peppers—was also added to the creamy base. As chili is the state dish of Texas and some may argue that queso is a close runner-up, this dip was a much better introduction to Texas party fare than the previous recipe Mrs. Johnson had shared. This was the real deal.
For my book, I took that recipe and adapted it a bit. The chili in the original was the famous Johnson recipe for Pedernales chili, which has a ground-beef base and is seasoned with chili powder. For expediency, I stuck with the ground beef, but to get a richer ancho chile flavor, I made a puree out of whole chiles versus ground powder. And while I typically eschew tomatoes in my chili, for authenticity to the original I did retain the ones called for but split the can between the chili and the queso, which worked out well.
People have asked me what is my favorite recipe from the book, and I always reply that I don't have one. This is true, as there are so many variations of chile con queso that there is always something new to discover. I love them all. But I'm sharing this one with you today mainly because October to me is perfect chili weather. And what goes better with chili than queso? This is fall Texan comfort in a bowl served with a side of chips.
Chili parlor queso
Ingredients
Ingredients for the chili:
2

ounces

dried ancho chiles

1

teaspoon

bacon grease or vegetable oil

1⁄4

medium yellow onion, chopped

2

cloves

garlic, chopped

1⁄2

(10-ounce)

can diced tomatoes with green chiles, with juices

1

teaspoon

dried oregano

1

teaspoon

ground cumin

Pinch

ground allspice Pinch of cayenne

Pinch

cayenne

1 1⁄2

cups

water

1

pound

ground beef, preferably coarsely ground

1⁄2

teaspoon

kosher salt

1⁄2

teaspoon

black pepper
Ingredients for the queso:
1

pound

brick processed cheese, cubed

1⁄2

(10-ounce)

can diced tomatoes with green chiles, with juices

1⁄4

cup

pickled jalapeños

1⁄4

cup

diced yellow onion, for serving

Tortilla chips, for serving
Instructions
In a dry skillet heated on high, toast the ancho chiles on each side for about 10 seconds or just until they start to puff. Fill the skillet with enough water to cover. Leave the heat on until the water begins to boil and then turn off the heat and let the chiles soak until soft, about 30 minutes. Once hydrated, discard the soaking water, rinse the chiles well, then place into a blender.

To make the chili, in a medium saucepan, warm the bacon grease over medium-low heat. Add the onion and cook, stirring occasionally, until softened, about 5 minutes. Add the garlic and cook for 30 seconds longer. Turn off the heat. Transfer the onion and garlic to a blender with the chiles. Add the tomatoes, oregano, cumin, allspice, cayenne, and water. Blend until smooth.

Add the ground beef to the pan and season it with the salt and black pepper. Cook over medium-low heat, stirring occasionally, until browned, about 10 minutes. Pour in the chile puree. Turn the heat to high, bring the mixture to a boil, then turn down the heat and simmer, uncovered, for 30 to 45 minutes, stirring occasionally, until thickened and fragrant. If the chili gets too dry, add more water. Taste and adjust the seasonings, if you like.

To make the queso, in another medium saucepan, combine the cheese and tomatoes. Cook over low heat, stirring occasionally, until the cheese has melted.

Transfer the queso to a serving bowl, a slow cooker, or a chafing dish over a flame. Spoon the chili into the center of the queso and top with the pickled jalapeños and onion. Serve warm with tortilla chips.