Tex-Mex sloppy Joe sandwich
The other day, I was in a taqueria eating a sandwich stuffed with a spicy, saucy picadillo that was rich with tomatoes and chiles. It was delicious, but it was also a bit of a mess as the meat kept sliding out of the bun every time I took a bite. Finally, I gave up on using my hands and grabbed a knife and a fork. While I was tucking into the sandwich, it reminded me of something but I couldn't figure it out. Then it occurred to me: this was a Tex-Mex sloppy Joe.
Ah, the sloppy Joe—that much loved sandwich often found at tailgates, school cafeterias, and the homes of busy families. Despite its popularity, it's not a sandwich I indulge in very often, though when I was a kid mom used to make them for Saturday lunches. I asked her why we ate them every Saturday and she said because they were quick yet good.
And it's true—they're are a snap to make, but their sweet and savory flavor belies their simplicity. Plus there's also an adventure in every bite—will the meat stay in the bun or land in your shirt? This sandwich definitely lives up to its name.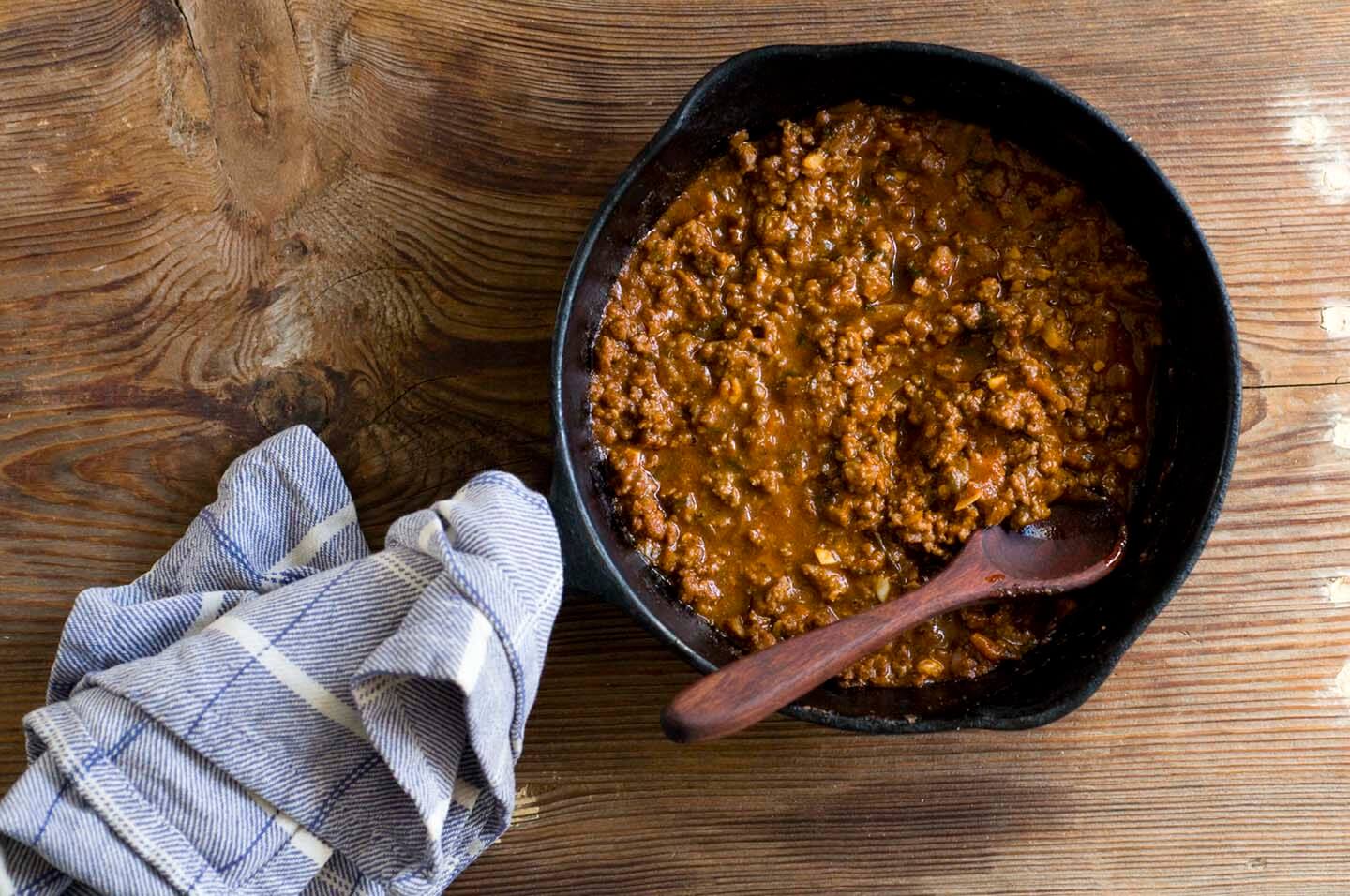 That said, while the sandwich isn't very neat, some say actually it was named after a Havana bar popular in the 1940s and not its less-than-tidy appearance. The bar was called Sloppy Joe's, and as the story goes, its cook took some leftover picadillo and tossed it with a spicy tomato sauce. He then placed the meat between in a bun and called it a Sloppy Joe in a nod to his employer.
Of course, while this is all speculation and its true origins are a bit murky, you can't dispute that this sandwich has been a classic for almost 70 years. Typically, a sloppy Joe is loose ground beef that's been cooked in a simple sauce made up of ketchup, Worcestershire and aromatics. From there, however, you can doll them up anyway you like.
For my Tex-Mex sloppy Joes, I throw in a chipotle chile for heat. I also cut back on the ketchup to tone down the sweetness, add smoked paprika for its earthiness, simmer the meat with beer for depth, and finish it with a splash of lime juice to make it bright. To serve, I pile it onto a bun along with chopped cilantro, onions, a sprinkle of Cotija cheese, and a generous spoonful of creamy guacamole.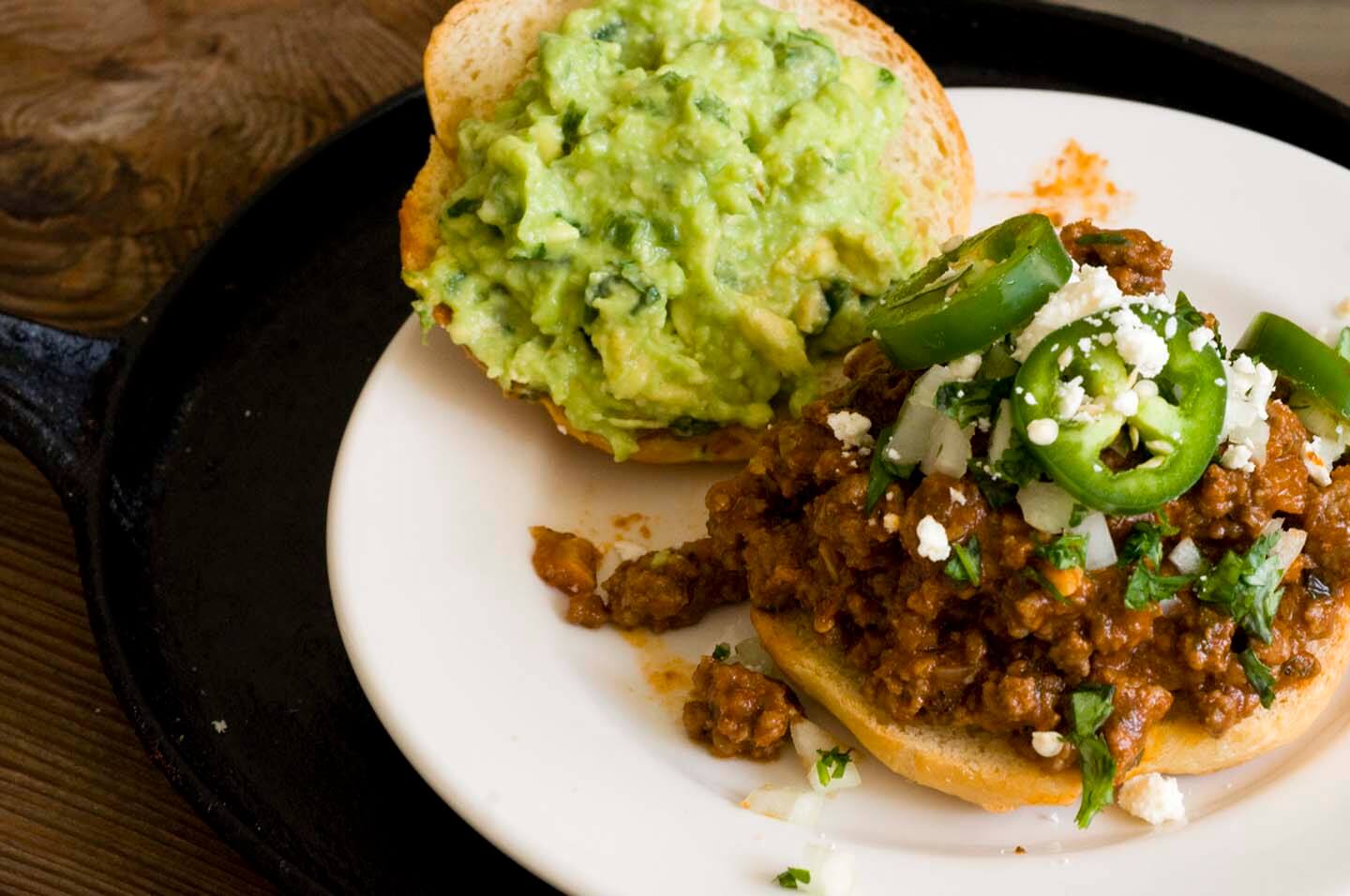 While my family only ate sloppy Joes on Saturdays, I find they are terrific any day of the week. But no matter when you enjoy them, know this: a knife and a fork along with a pile of napkins are a must. It's delicious, yes, but it's also very messy. Though I wouldn't have it any other way.
Tex-Mex sloppy Joe sandwich
Ingredients
1 1/2

pounds

ground beef

1

chipotle chile en adobo

1/2

medium yellow onion, diced

1/2

bell pepper, seeded and diced

2

cloves

garlic, minced

15

ounces

canned tomato sauce

2

teaspoons

oregano

2

teaspoons

ground cumin

1

teaspoon

smoked paprika

1/4

teaspoon

ground allspice

Pinch

of cayenne

2

teaspoons

Worcestershire sauce

12

ounces

beer, such as Mexican lager

2

tablespoons

ketchup

1/2

cup

cilantro, divided

1

tablespoon

lime juice

Salt and black pepper to taste

4 to 6

warm buns for serving

Guacamole, for serving

Cilantro, for serving

Onions, for serving

Sliced jalepeños, for serving

Cotija cheese, for serving
Instructions
In a large skillet, on medium-low heat, while stirring occasionally, cook the meat until browned, about 10 minutes. (If you like, you can drain the extra fat once the meat is browned.) Add the onions and diced bell pepper and cook until soft, about 5 minutes. Add the garlic and cook for 30 more seconds.

Meanwhile, in a blender mix the tomato sauce, chipotle chile, oregano, ground cumin, smoked paprika, allspice, cayenne and Worcestershire sauce. Pour tomato salsa into the skillet along with the beer, ketchup and half of the cilantro. Stir until well combined.

Cook on medium-low heat uncovered for 15 minutes and then stir in the remaining cilantro and lime juice. Adjust seasonings and add salt and black pepper to taste.

Serve on warm buns with guacamole, cilantro, onion, jalapeño slices and Cotija cheese.