Cauliflower and Gruyere macaroni and cheese
The other day, my cousin who now lives in New York asked if I was available for a quick lunch. I mentioned I was about to test a recipe for cauliflower and Gruyere macaroni and cheese and offered for him to come join me. "That sounds really good," he said. "I'd love that!" But when I told him the recipe would take a little over an hour, he realized his didn't have that much time, so we grabbed a quick burger instead.
The burger was satisfying. But a couple of hours later when I pulled out of the oven a bubbling casserole full of tender cauliflower and pasta smothered in nutty Gruyere and parmesan cheese, I found it hard to stop taking bites of this simple and satisfying dish, even though I'd already had a big lunch.
Now, I have to admit, when I first saw the recipe for the cauliflower and Gruyere gratin, as it's called in the book Melt by Garrett McCord and Stephanie Stiavetti, I didn't think too much about it. Melt's subtitle is The Art of Macaroni and Cheese, and indeed the book is full of recipes for this comfort classic.


Yet, at heart, the book is a celebration of cheese, and to showcase a wide range of cheeses the authors have taken liberties with the phrase "macaroni and cheese" and also provided recipes for soups, salads, and even desserts where both cheese and pasta are present. If you love cheese, then it's definitely a book that you will flip through and keep saying to yourself, "I want to make that!"

As there are so many intriguing recipes in Melt, I was a little surprised that it was the cauliflower macaroni and cheese that kept calling me to the kitchen. Perhaps it's because cauliflower is in season right now or perhaps it's because I love Gruyere and am always looking for an excuse to eat it. But no matter, the stomach knows what it wants, so that's what I decided to make.
It's an easy recipe that takes little effort, with chopping the cauliflower and grating the cheese the most laborious part of the process. With many macaroni and cheese recipes, there's a lot of stirring as you make a flour-based sauce, but this recipe is a cinch as the sauce is just heavy cream along with dashes of powdered mustard, nutmeg, salt, and pepper. And after you pour it over the cauliflower and pasta, and slip it into the oven, the hardest part is waiting for the casserole to be done.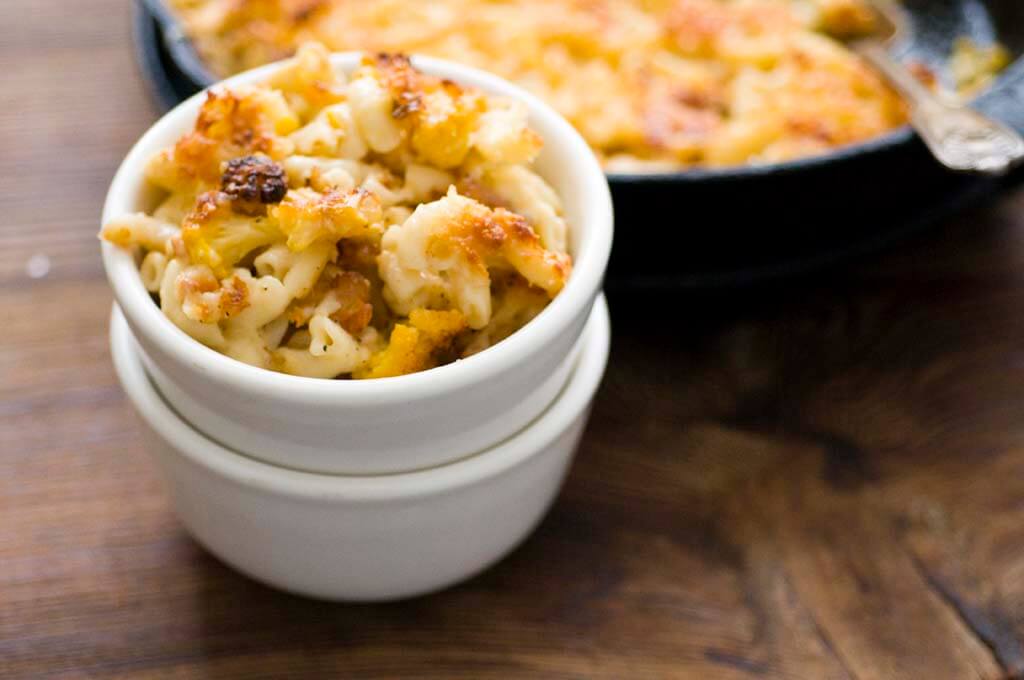 While macaroni and cheese is always in season, now is the best time for this particular version as cauliflower is at its best in the fall. This makes for a good vegetarian main dish, though it's also just as welcome as a heartier side dish. And that's how I plan to serve it—as an offering on the Thanksgiving table—so my family, including my cousin, can enjoy it, too.
Cauliflower and Gruyere macaroni and cheese
Ingredients
1

head of cauliflower, chopped into tiny florets

1

tablespoon

olive oil

1

teaspoon

kosher salt, plus more for the pasta

1

teaspoon

black pepper

8

ounces

elbow pasta

8

ounces

(2 cups) Gruyère, shredded

2 1/2

cups

heavy cream

1

clove

garlic, minced

1

teaspoon

ground mustard

1/4

teaspoon

ground nutmeg

Pinch

cayenne, optional

3

ounces

(3/4 cup) Parmigiano-Reggiano, finely grated
Instructions
Preheat the oven to 375°F. Place the cauliflower in a lightly greased 9×9 baking dish or large cast-iron skillet, and then toss the florets with the olive oil and 1/2 teaspoon salt and 1/2 teaspoon pepper. Bake for 15 minutes then remove from the oven, leaving the cauliflower in the dish.

Meanwhile, bring a large pot of water to a boil, add about 1 tablespoon of salt and the pasta, and then boil until the pasta is al dente, or softened but still a little chewy.

Once the pasta is done, drain and rinse the pasta and then pour into to the dish with the cauliflower. Add the shredded Gruyere and then stir to combine the cauliflower, pasta, and Gruyere.

Whisk together the cream, garlic, mustard, nutmeg, cayenne, 1/2 teaspoon kosher salt, and 1/2 teaspoon pepper. Pour over the pasta and stir until well combined. Evenly sprinkle over the pasta the Parmesan cheese and then bake uncovered for 45-50 minutes or until brown and bubbling. Allow to cool for 10 minutes so the cream can set and then serve warm.