Pork chops with jalapeño peach barbecue sauce
There have been lots of stories about homesick Texans in New York throughout the years, but some of my favorites are about Bud Shrake. He was a Texan writer who lived in New York in the 1960s when he worked at Sports Illustrated and a few years ago Texas Monthly published some of his letters to his friends and family back home.
He was a wild guy, so the letters are colorful and lively, filled with lots of anecdotes about both the writing life and the New York nightlife back then. He also had a voracious appetite and liked to write about food. Like so many homesick Texans in New York, he would lament the dearth of good Texan food and whenever he did find something that reminded him of home, he and his fellow Texans in New York would rejoice.
When discussing his beloved dishes from Texas, one he goes on about is pork chops. He loved pork chops. And it was his passion that reminded me I also love them and it had been too long since I'd had one. When I was young, we ate them fairly regularly at home but I realize I don't make them nearly enough, and that's a shame, as they're not very expensive and yet when cooked well can be as succulent and satisfying as a steak.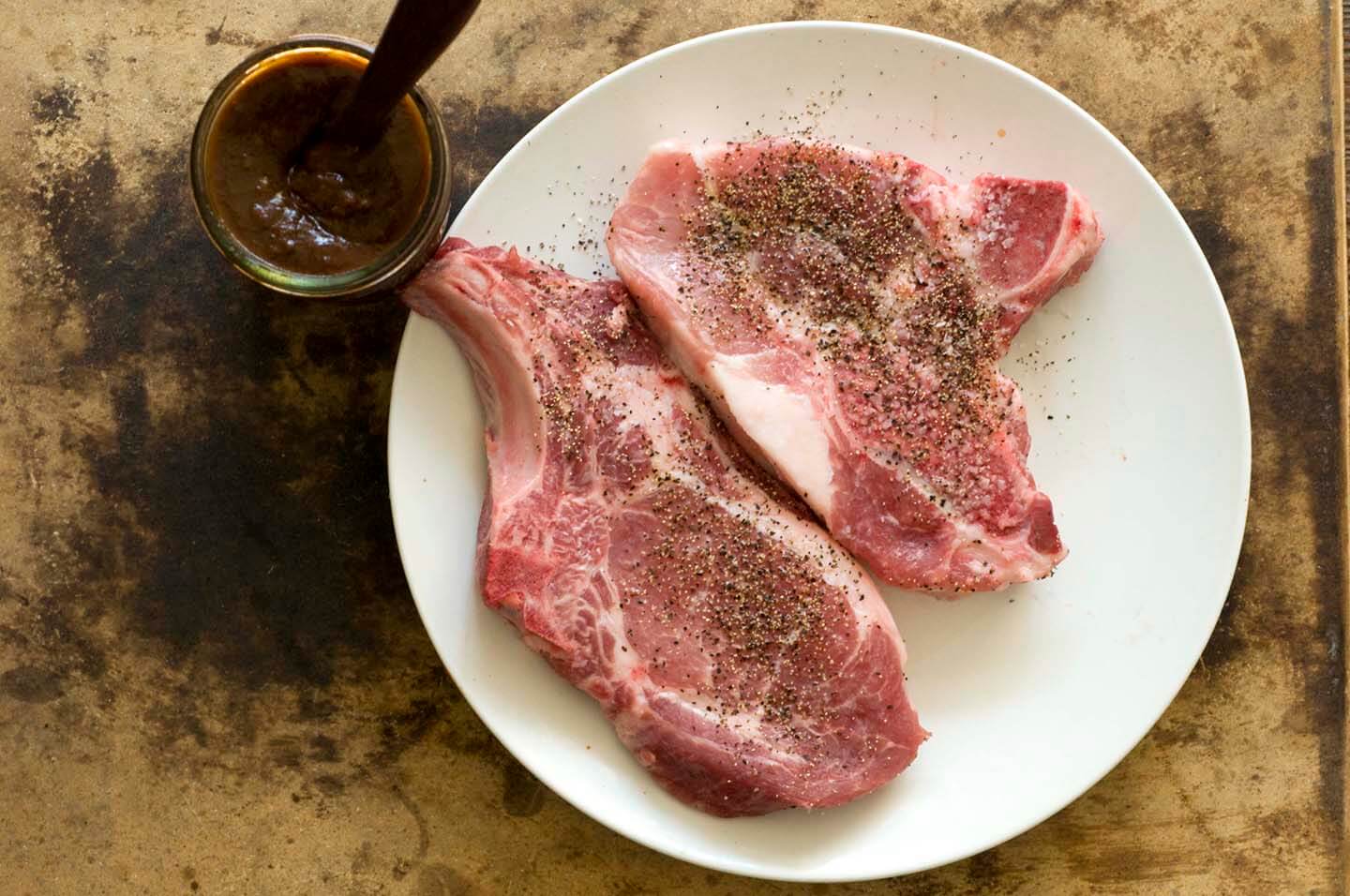 There are several different ways to make pork chops but one of the quickest and easiest I've found is simply broiling them. You just season the chops, slide them under the broiler for a spell, flip them once, and in almost no time they're done.
While a good, thick pork chop doesn't need much more than a light dusting of salt and pepper, this time of year when people take to their backyards and fire up their grills, I like to spread some barbecue sauce onto my chops before broiling in order to introduce some of that smoky, sweet, outdoor flavor into my indoor dining experience. And since nothing says summer like peaches, one sauce I like to use in the warmer months is my jalapeño peach barbecue sauce.

To make the sauce is simple. I throw sliced unpeeled peaches, onion, garlic, and a jalapeño or two under the broiler for a few minutes until they are blackened and soft. (If you're grilling, I supposed you could throw the vegetables on there instead.) I then mix these with ketchup, tomato sauce, molasses, and spices. Then I cook it for a while until the flavors are rich and deep. To finish, I stir in some smoked paprika to enhance that outdoor taste.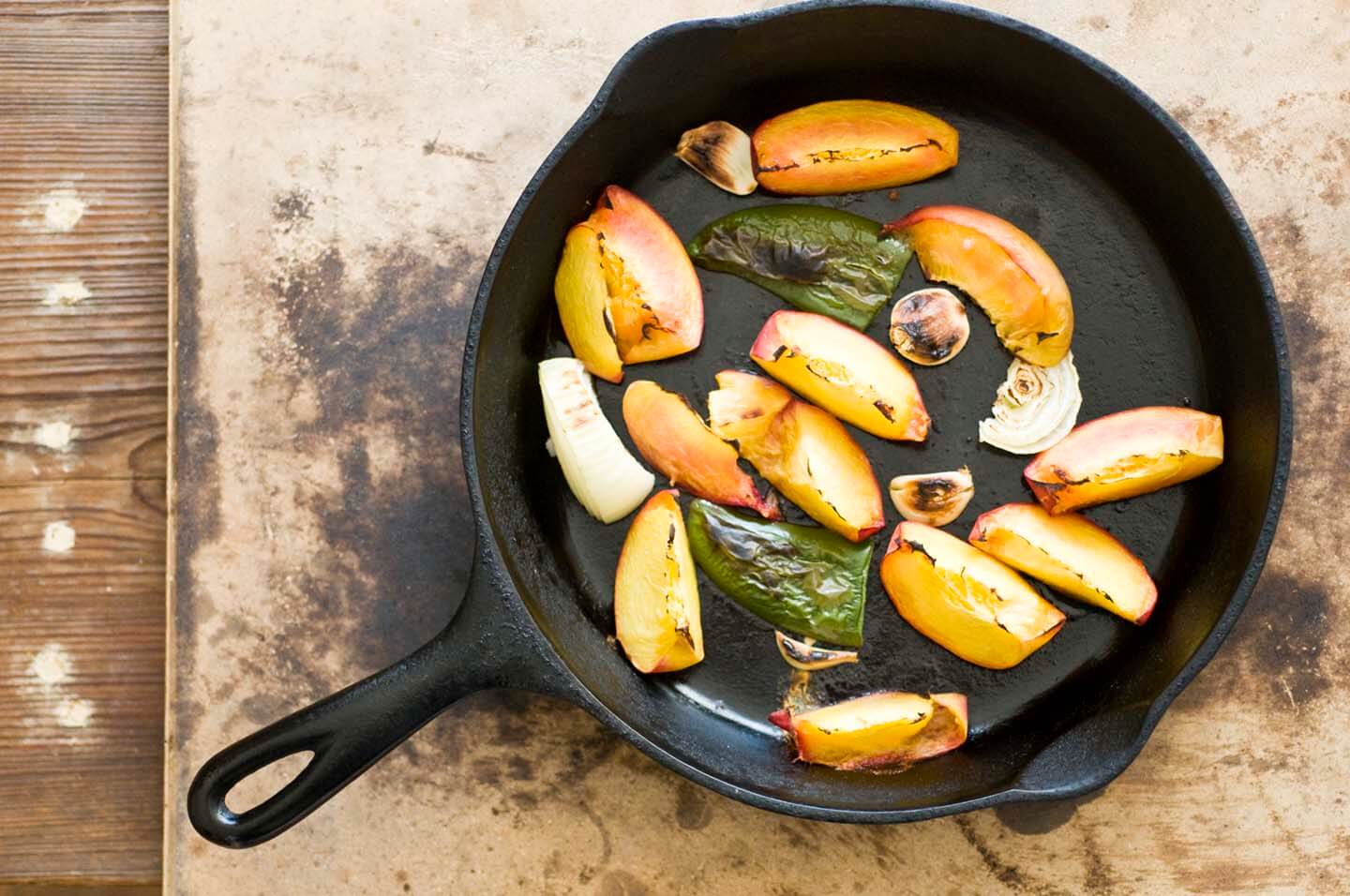 In my sauce, I keep the sugar down to a minimum, as I prefer the peach's slightly sweet and sour flavor to shine through. Peaches are delicate, and while I will admit that their presence in this sauce is not overt, it is proudly there in the background, a gentle reminder of the sauce's summertime origins.
Once the sauce is done, I slather it on the chops, slide them under the broiler and as they cook the fatty ends get crisp and juicy while the meat gets nicely seared and browned. Meanwhile, the tangy, slightly spicy sauce caramelizes on top of the meat, with occasional almost-burnt spots dotting the surface. The smell is heavenly and when I take a bite, if I close my eyes it almost feels like I'm sitting in a backyard under a tree back home.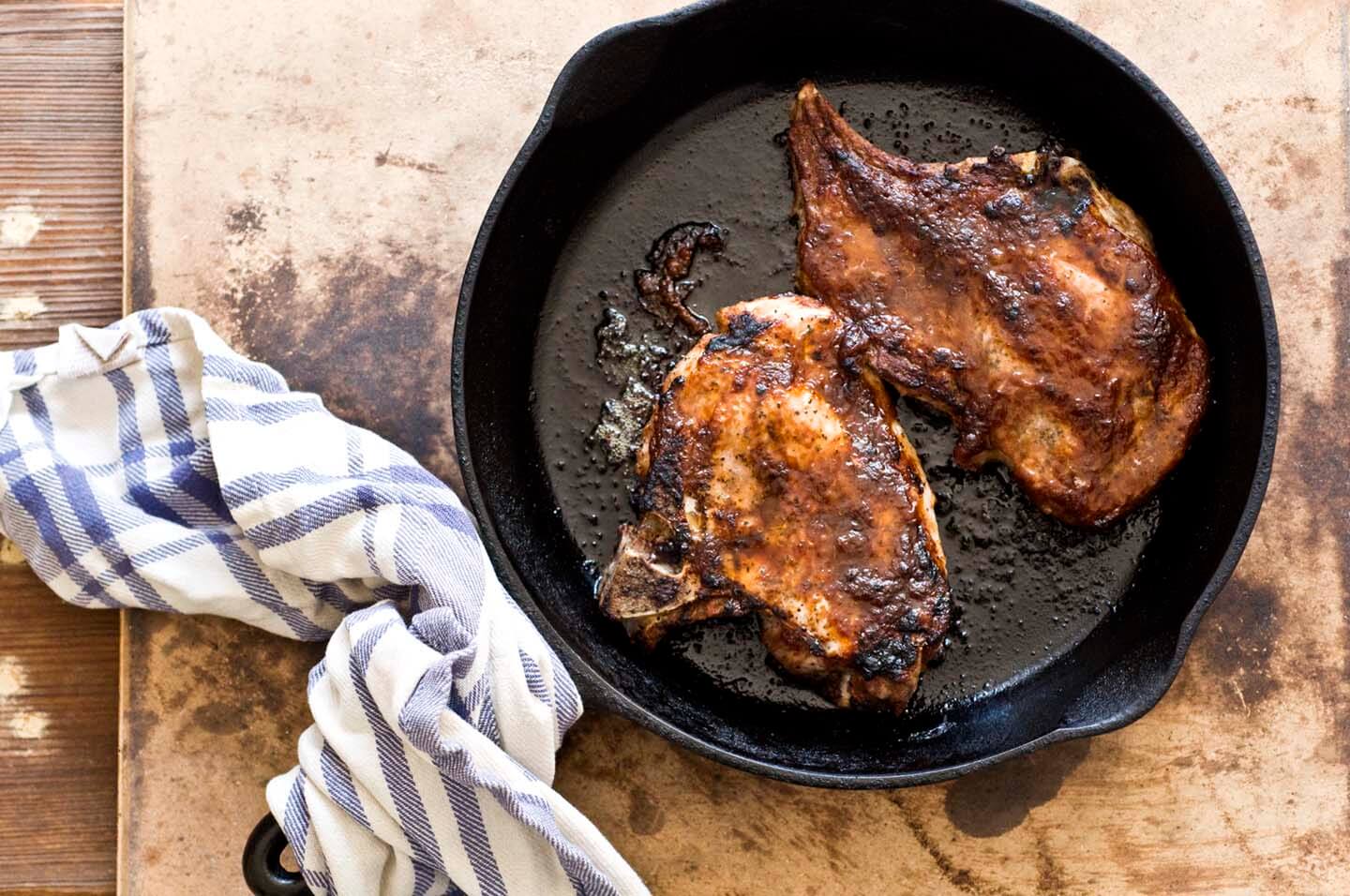 While I share this jalapeño peach barbecue sauce here with pork chops, know that it's is also terrific with ribs, chicken, and even brisket. And it goes without saying that if you are cooking outside on your grill, this sauce is just as tasty as if you are using it inside in your broiler or your skillet. But no matter how you use it, you will love this sauce as it's a taste of Texas that will remind you of warm, lazy days spent with your favorite people.
Now, before you go and gather your peaches and pork chops, I just wanted to share with you one thing. A couple of weeks ago I won a James Beard award for writing this blog. While I don't like to brag about stuff like this, I was pleased that when I accepted my award I had the opportunity to shout, "Texas forever!" from the stage in front of hundreds of people. The opportunity over the years to celebrate Texas in all its glory on this blog has been a true blessing, and I couldn't have done it without you. Writing about Texas and its food, its land, its culture, its history, and its people is a true joy. So thank you for reading and eating, and enjoy your summer!
Jalapeño peach barbecue sauce with broiled pork chops
Ingredients
Ingredients for the jalapeño peach barbecue sauce:
4

peaches, pitted and sliced

1/2

medium yellow onion

4

cloves

garlic

1 to 2

jalapeños, cut in half and seeded

1/2

cup

ketchup

8

ounces

tomato sauce

3

tablespoons

molasses

1

tablespoon

Worcestershire sauce

1

teaspoon

lemon juice

1

teaspoon

brown sugar

Pinch

ground clove

Pinch

ground nutmeg

Pinch

ground ginger

1

teaspoon

smoked paprika

Salt

Black pepper
Ingredients for the pork chops:
4

bone-in pork chops, about 3/4" thick

Salt

Black pepper
Instructions
To make the sauce, turn on the broiler, and place a rack 6 inches away from the heating element. Place in a large cast-iron skillet or on a foil-lined sheet the sliced peaches, skin side down, the onion, the garlic, and the jalapenos, skin side up. Place under the broiler, and cook for 5 minutes or until the peaches, garlic, onion, and jalapeños are softened and have begun to blacken. Remove from the oven. When cool enough to handle, peel off the skin from the peaches (don't worry if it doesn't all come off) and place in a blender along with the onion, garlic, and jalapeño.

Add to the blender the ketchup and tomato sauce and blend until smooth. Pour the sauce into a saucepan and stir in the molasses, Worcestershire sauce, lemon juice, brown sugar, clove, nutmeg, and ginger. Cook the sauce on low heat, occasionally stirring, for 20 minutes. The sauce should be thick and darkened. (Warning—as it cooks the sauce will probably splatter.) Stir in the smoked paprika, then taste and adjust any seasonings. Add salt and pepper to taste.

Meanwhile, while the sauce is cooking, lightly salt and pepper each side of the pork chops and have them come to room temperature. Line a sheet pan with foil and top with a lightly greased rack. Place the pork chops on top of the rack. Spread on each chop about 1 to 2 tablespoons of jalapeño peach barbecue sauce on the side facing up. Place under the broiler for 5 minutes. (If you don't have a rack, don't worry. You can also use a cast-iron skillet to cook the chops, as I often do because my broiler is so small! Also, I've just left the broiler on the whole time from the first step, but if you prefer to turn it off and then on again that's fine.)

Remove the chops from the broiler. With tongs, flip them over and again apply more jalapeño peach barbecue sauce to the other side of each chop. Place under the broiler and cook for 5-7 minutes or until the sauce is blackened in places and the chops are 140°F. Remove the chops from the oven and allow to rest for 5 minutes before serving.