Peach and bacon guacamole
This last week of August is confusing. For me, Labor Day marks the end of summer, but with the return to school, the beginning of football season, and the first pumpkins spotted at the farmers market, I could swear it's already fall.
No matter, as long as I'm wearing white pants and cranking the air conditioning I know it's not autumn just yet. I also know it's still summer because there are still plenty of ripe, juicy peaches next to those early pumpkins. In order to savor the end of the season, I've entered that time of year when I eat peaches all day—morning, noon, and night. (I have to confess I'm eating New York peaches, which are not Texas peaches but they're still pretty good).
Back in June, on my way to the farm to visit my grandma, I stopped and picked up a bag of Fairfield peaches, a longstanding summertime tradition if you're traveling between Houston and North Texas. After dinner that night, we sliced the peaches and topped them with dollops of whipped cream. It was simple yet elegant and maybe the finest thing I ate my entire trip.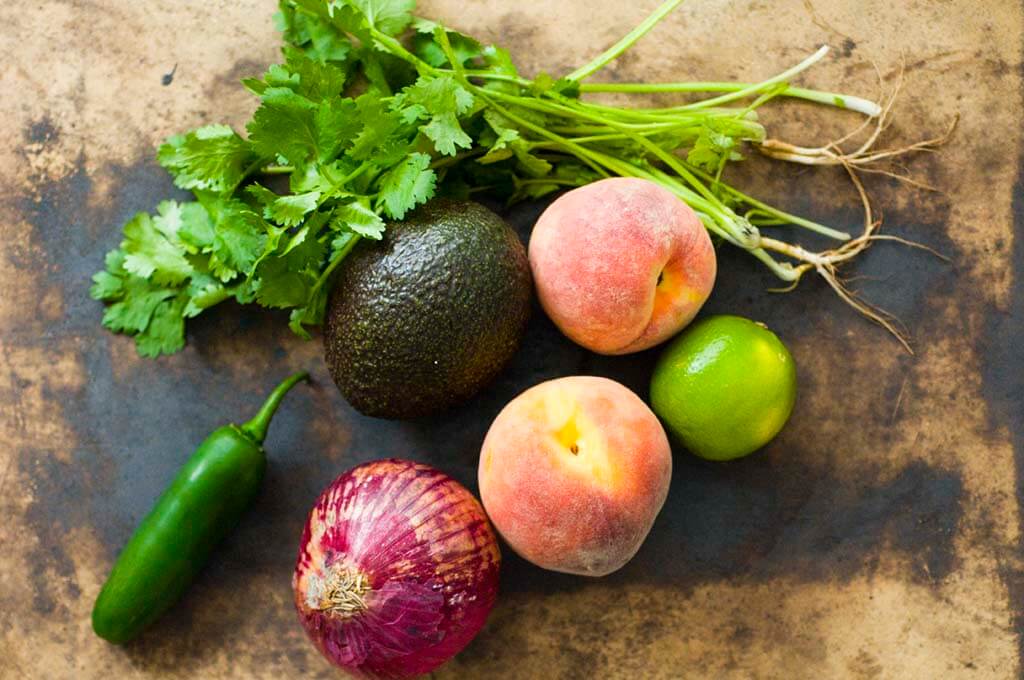 All summer, I've been revisiting that dish (though sometimes I substitute yogurt for whipped cream) and it makes for either a fine dessert or a refreshing breakfast. One morning, however, I was out of both cream and yogurt. At first, I was going to eat my peach on its own, but after I spied an avocado on the counter I decided to see now the peach would fare in a batch of guacamole. I also had some bacon frying, so I decided to throw that into the bowl, as well.

So, I probably don't have to tell you that yes—peaches, bacon, jalapeños, red onion, cilantro, and avocado make fine friends when they're hanging out together. And while my plan may have been to save some of the guacamole for later, that didn't happen and the entire bowl was gone before I was even on my second cup of coffee.
This peach and bacon guacamole is perfect for late August. The sweet, floral peaches, and salty, smoky bacon make it hearty enough for a simple salad when you don't want to cook, though it's also terrific on tacos or with tortilla chips, for any end-of-summer backyard gatherings or early-season football watching you may have planned.


You don't want to make this with canned or frozen peaches, so I highly recommend you make this now while peaches are still fresh. Also, you might consider doubling the recipe as I've found this guacamole goes quickly, just like these final days of summer will go, too.
Peach and bacon guacamole
Ingredients
2

peaches, peeled and diced

2

tablespoons

freshly squeezed lime juice, divided

1/4

small red onion, finely diced

1 or 2

jalapeños, seeded and diced

1/4

cup

chopped cilantro

4

slices

cooked bacon, diced

2

avocados, peeled and pitted

Salt
Instructions
Toss the peaches with 1 tablespoon of lime juice and then stir in the onion, jalapeños, cilantro, and bacon. In a separate bowl, mash the avocados with a fork or spoon until creamy, and stir in the remaining lime juice. Gently fold in the peach and bacon mixture into the mashed avocado, stirring lightly to combine. Add salt to taste.

It's best served immediately, though if you want to make the guacamole ahead, to prevent discoloration here's what you can do: Scoop the guacamole into a food-storage container, then take a piece of plastic cling wrap and place it directly on top of the guacamole, pressing into the surface of the guacamole until it's completely covered. This prevents air from getting into the guacamole and causing it to oxidize and turn brown. Place the lid on the container, then refrigerate until ready to serve. I've found I can keep it this way for 1 to 2 days.
Notes
My grandma uses a knife to peel her peaches, but this is how I peel mine. Fill a medium pot with water and bring to a boil. Cut a small "X" on the top and bottom axes of each peach. Add them to the pot of boiling water and let them cook for 30 seconds. Using tongs or a long spoon, remove peaches, rinse immediately with cold water and then peel off the skin by gently rubbing the peach. Remove the pit and then dice.