Smoky black-eyed pea and sausage soup
A few weeks ago I was visiting family in Oregon. I was staying at my dad's and as a fellow homesick Texan who enjoys spending time in the kitchen, he has an extensive collection of cookbooks on Texan cuisine. One morning I was flipping through one of his books and saw a recipe for black bean enchiladas. I thought to myself, "That would be fun to make with black-eyed peas for New Year's Day," and then started scribbling down notes.
After I returned to New York, I started testing my recipe for black-eyed pea enchiladas. Like most enchilada dishes made from scratch, there were lots of pots, pans, and dishes involved, as well as a list of ingredients as long as my arm. After several hours of cooking and assembling, (with a few emergency trips to the grocery store thrown in for additional ingredients) when I finally sat down to actually taste the enchiladas, I was completely underwhelmed.
Now, it's not that the enchiladas tasted terrible—I mean, how bad can a molten stack of corn tortillas, salsa, black-eyed peas, and cheese be? But I didn't love them and after all that time and effort invested, I felt I should be happier about the enchiladas. Perhaps it was that old problem of the cook never appreciating her own food, but I usually enjoy what I make and these did not make me smile.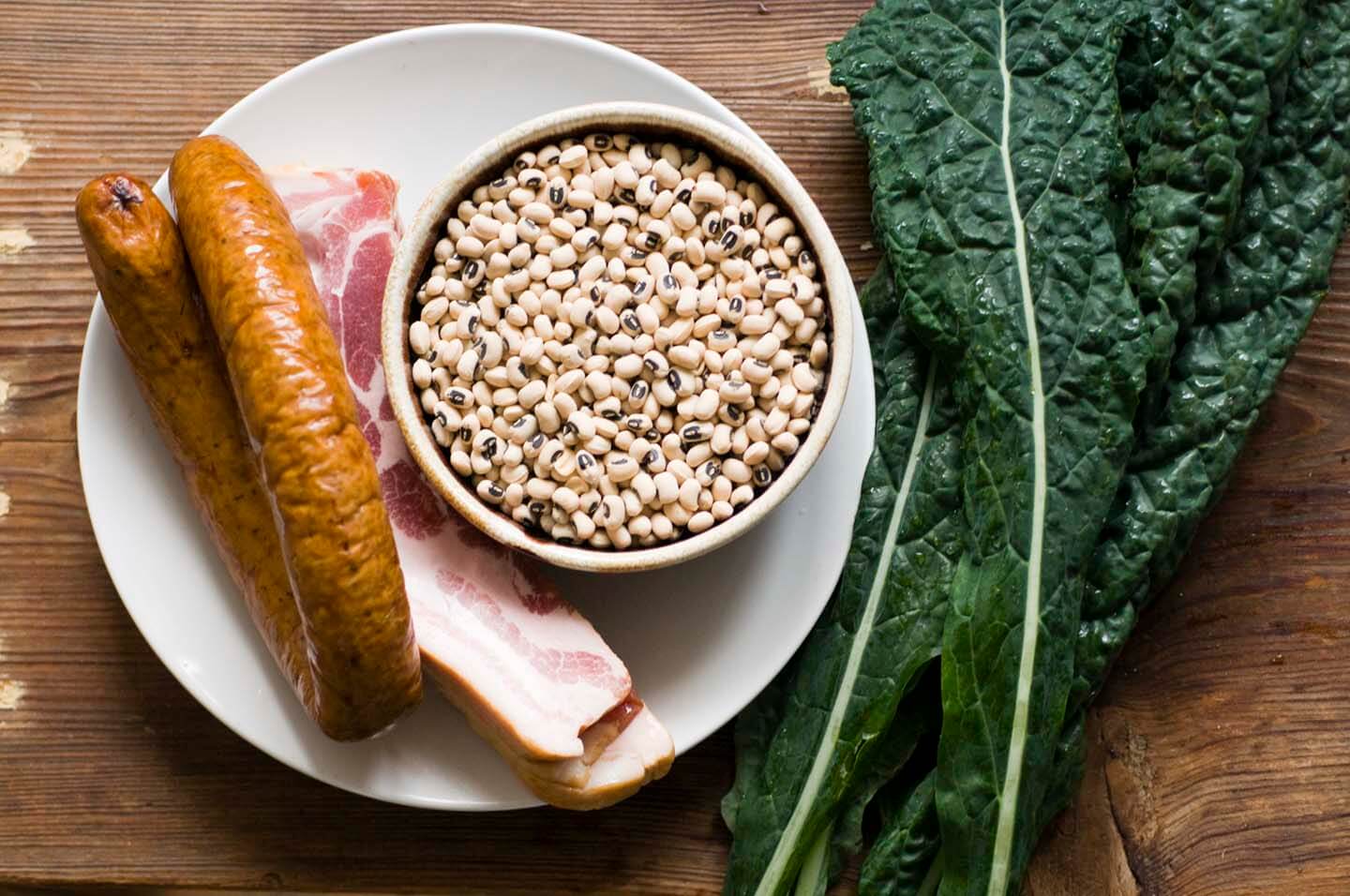 So, it was back to the kitchen if I was going to come up with something new to serve for the New Year. Fortunately, I still had some dried black-eyed peas on hand, as well as bacon, smoky kielbasa, and a bundle of kale. If I added some smoky chipotle chiles and a few spices, I figured I had the workings of a very good soup.
To keep it easy, I basically threw everything into one pot, walked away, and an hour or so later, I had a hearty and delicious soup. After sneaking a few bites as it cooked, I couldn't wait to sit down and tuck into my own bowl. It didn't take a lot of effort but this smoky black-eyed pea and sausage soup was deeply satisfying. I was over the moon.
Okay, I will admit it wasn't a complete throw-it and leave-it dish. There was some soaking of the black-eyed peas, and I browned the meats and cooked the aromatics before walking away. Likewise, I didn't add the kale until the end, along with a generous shake of smoked paprika and apple cider vinegar for more smoke and brightness, but for the most part, after my exhausting enchilada adventure, this smoky black-eyed pea and sausage soup was an easy one-pot dish. Sometimes simpler is indeed best.
(Some of you may want to know if this can be made in a slow cooker. Because I don't have a slow cooker I haven't tested the recipe in one, but I assume you could just throw everything in the pot and let it go. That said, I think it just might be time to finally get a slow cooker, and if you have any recommendations for one please let me know!)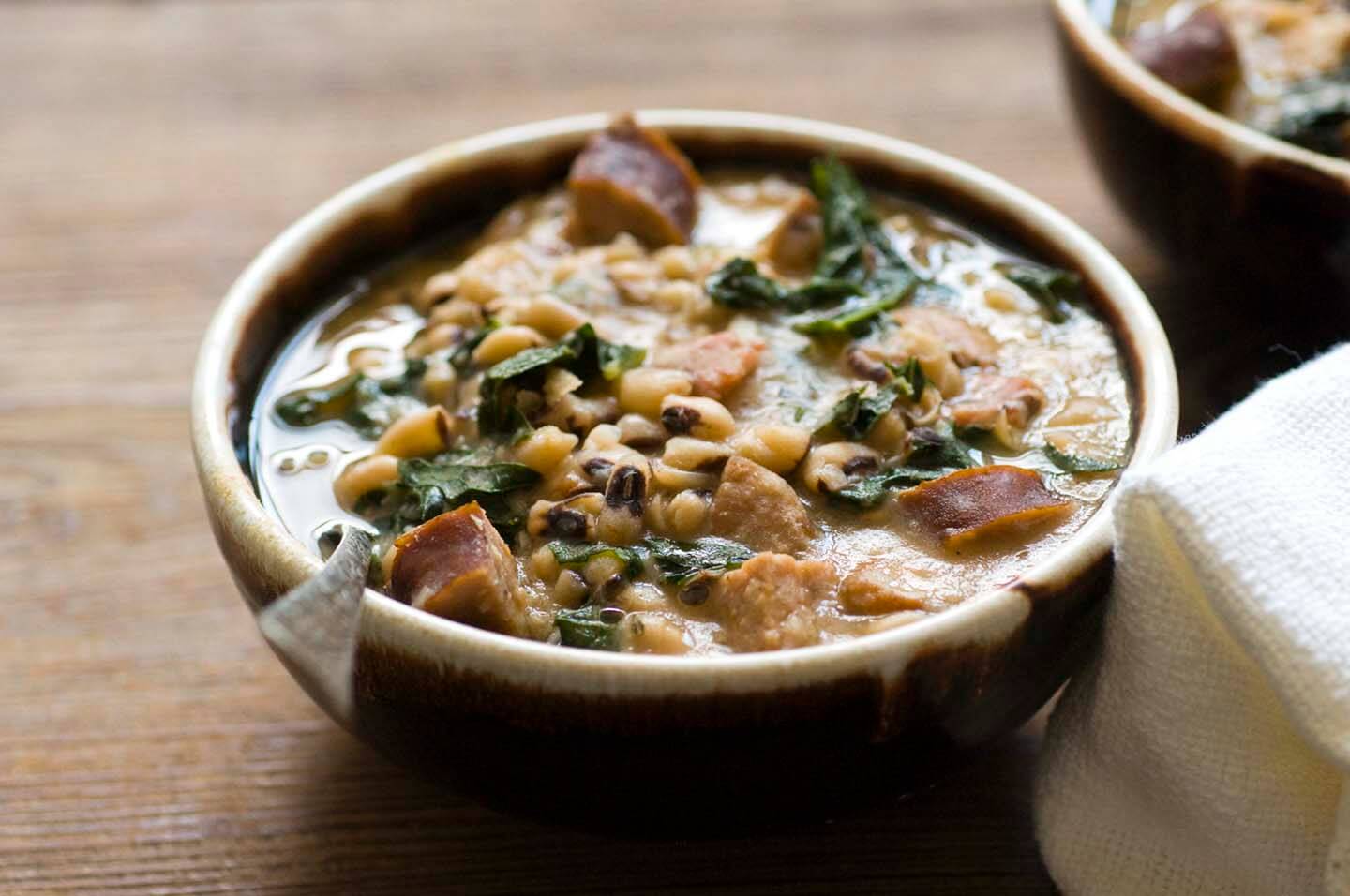 It's all here—black-eyed peas, pork, and greens—the three things you need to eat on New Year's Day to ensure your good fortune and happiness. That said, you don't have to be celebrating a New Year to enjoy this smoky black-eyed pea and sausage soup. Whether you serve it over rice, with cornbread, or simply on its own, this rustic and hearty soup is a fine addition to my rotation of cold-weather dishes. And if you share warm bowls of it with your loved ones this winter, I'm sure they'll agree.
—————
Would you like more Homesick Texan? Well, I've started offering additional recipes for paid subscribers to help with the costs of running the site. While I'm not taking anything away, if you'd like to support Homesick Texan and have access to exclusive, never-seen-before subscriber-only posts, please consider becoming a member; annual subscriptions are as low as $25. Thank you for reading, your consideration, and your support!
—————
Smoky black-eyed pea and sausage soup
Ingredients
1

pound

dried black-eyed peas

8

ounces

thick-cut uncooked bacon, cut into 1/2" pieces

1

pound

smoked sausage such as kielbasa, diced

1

medium yellow onion, diced

1

celery rib, diced

4

cloves

garlic, minced

2

chipotle chiles in adobo sauce, chopped

6

cups

water

1

bay leaf

2

teaspoons

kosher salt

1

teaspoon

ground cumin

1

teaspoon

dried thyme

1/2

teaspoon

black pepper

Pinch

ground cloves

Pinch

cayenne

1/2

lacinato or dinosaur kale, ribs removed and chopped

1

tablespoon

apple cider vinegar

2

teaspoons

smoked paprika

Rice, for serving (optional)

Cornbread, for serving (optional)
Instructions
Place the black-eyed peas in a large pot and cover with 2 inches of water. Bring the water to a boil, turn off the heat, cover the pot, and let the peas soak for 1 hour.

Rinse and drain the black-eyed peas and leave them in the colander. In the same large pot, wipe out any excess water, and then add the bacon and sausage to the pot. While stirring occasionally, cook on medium heat until the fat is rendered from the bacon and it's just starting to crisp, and the sausage has browned. Remove the bacon and sausage from the pot with a slotted spatula and place into a large bowl.

Drain all but 2 tablespoons of grease from the pot, saving the excess for another use. Turn the heat down to medium-low. Add the onion and celery and cook until translucent, about 5 minutes. Add the garlic and chopped chipotle chiles and cook for 30 more seconds.

Pour the water into the pot and scrape the bottom of the pot to get all the cooked bits. Return to the pot the black-eyed peas, bacon, and sausage. Add to the pot the bay leaf, salt, cumin, thyme, clove, and cayenne. Stir until everything is well combined. Turn the heat to high and bring to a boil, then turn the heat down to low, partially cover the pot, and cook for 1 hour.

After an hour, remove the lid and test the black-eyed peas to see if they're tender. Depending on the age of the peas, they could be soft at this point or they may need to cook a bit longer. If they need to cook longer, test them every 15 minutes or so.

Once the peas are cooked, to make the broth creamier, smash some of the peas with the back of a spoon on the side of the pot. Once this is done, stir in the kale, apple cider vinegar, and smoked paprika. Taste and adjust seasonings. (I usually add at least another teaspoon of salt at this point, but that's dependent on how salty the sausage and bacon is.) Cook for 10 more minutes or until the kale has wilted. Serve warm, with rice and/or cornbread if you prefer, though it's just fine on it's own.
Notes
I used water as my liquid to keep it simple, but chicken broth or vegetable broth would be excellent with this. A bottle of beer added could be interesting, too.