Tex-Mex meatballs in a chipotle-tomato sauce
Sundays in October might be my favorite days of the year. The leaves are starting to put on their annual show, the air is crisp, and there are so many choices on how you can spend your day.
For instance, on Sundays you can be lazy and sit on the couch all day reading the paper and a good book; or you can be busy, and visit flea markets and tag sales. You might choose to go to church in the morning and then come home for a Sunday roast; or you might save your eating for later that day when your football team plays a game.
The latter is how many of my friends spend their Sundays this time of year, and it's always fun coming up with some good game-day grub. Things that always work for me are dips, chile con queso, and other easy foods that can be eaten with your hands. Of course, Texas chili, stews and soups are also good choices, but the nice thing about finger foods is you don't have to mess with utensils.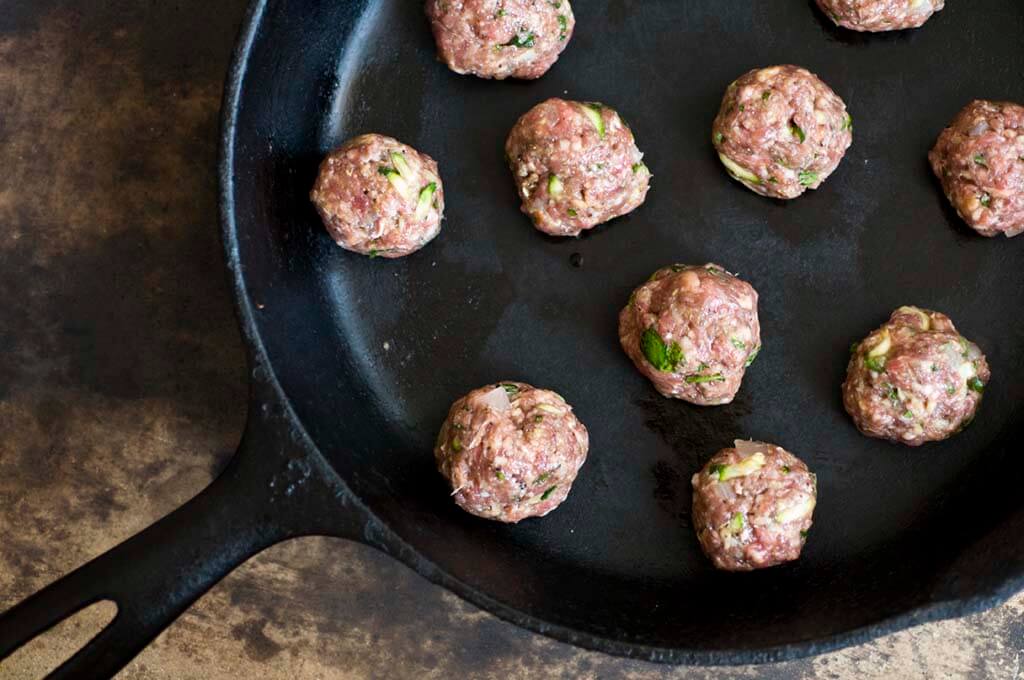 Enter this skillet of Tex-Mex meatballs swimming in a spicy chipotle tomato sauce. This recipe is inspired by recipes from Rick Bayless and Diane Kennedy for Mexican albondigas, which is just the Spanish word for meatball. I've taken their lead but goosed up my meatballs with more spices and herbs, along with a bit of chili powder. And in a nod to old-fashioned Texas meatballs, have used crushed saltine crackers as a binder instead of the more traditional rice.

These don't take too long to make, especially if you use a cookie scoop to form your meatballs. (Though if you have young helpers hanging around the kitchen, forming the meatballs is a good way to put them to work.) To get a nice crisp outer layer, I bake the meatballs for a few minutes before adding them to the sauce. And after a half hour of simmering, they're done.
While you can enjoy these Tex-Mex meatballs any day of the week, I find them especially suited to Sundays, as they are indeed perfect game-watching food. Though if you have other plans on a Sunday, there's certainly no reason why you couldn't enjoy them after church or a visit to the flea market (or when reading page proofs to your latest book, as they were by this particular cook last Sunday).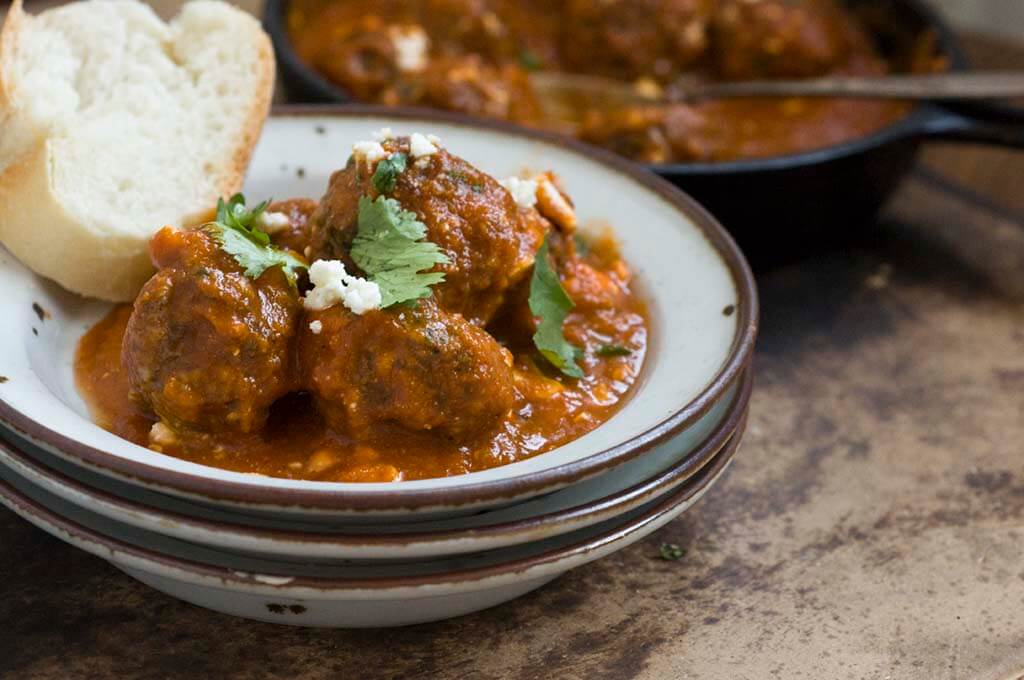 I like to serve them with crusty pieces of bread, as I find that's the best vehicle for sopping up some of the smoky, spicy sauce, but they're just as good with warm tortillas or even toothpicks. Just know the most important thing is to make sure you have enough for everyone, as they will go fast. Yep, you probably won't have any leftovers as these Tex-Mex meatballs are definitely crowd-pleasing food.
Tex-Mex meatballs in a chipotle-tomato sauce
Ingredients
Ingredients for the meatballs:
1

pound

ground beef

1/2

cup

shredded zucchini

1/2

medium yellow onion, finely diced

2

cloves

garlic, minced

1/4

cup

chopped cilantro, plus more for garnishing

1

teaspoon

kosher salt

1

teaspoon

black pepper

1

teaspoon

ground cumin

1

teaspoon

oregano

1/2

teaspoon

chili powder

1/4

teaspoon

ground allspice

1

egg

1/4

cup

cracker crumbs

Cotija cheese crumbled, for garnishing

Bread or tortillas, for serving
Ingredients for the sauce:
1

(14-ounce )

can diced tomatoes

2

chipotle chiles in adobo sauce

1/4

medium yellow onion, chopped

2

cloves

garlic, chopped

1

teaspoon

ground cumin

1

teaspoon

oregano

1/4

teaspoon

ground allspice

1

cup

chicken broth

1

tablespoon

lime juice

Salt
Instructions
To make the meatballs, place in a large mixing bowl the ground beef, zucchini, onion, garlic, cilantro, salt, black pepper, cumin, oregano, chili powder, allspice, egg, and cracker crumbs. Either using your hands or a spoon, mix all the ingredients until well combined.

Preheat the oven to 375°F and lightly grease a large baking sheet or 2 large cast-iron skillets. Form the meat into tablespoon-sized meatballs and place on the sheet (you should get about 28). Bake the meatballs for 20 minutes or until lightly browned.

Meanwhile, in a blender mix together the tomatoes, chipotle chiles, onion, garlic, cumin, oregano, allspice, chicken broth, and lime juice. Blend until a smooth puree is formed. Adjust the seasonings and add salt to taste.

Pour the tomato-chipotle sauce into a large pot, but wait until the meatballs are done before turning on the heat. When the meatballs are done, bring the pot to a boil and then turn down the heat to a simmer. Add the meatballs to the pot and continue to simmer covered for 30 minutes.

Serve warm with bread or tortillas, garnished with cilantro and crumbled Cotija cheese.