It's not often that you have two special occasions fall on the same day but every once in a while worlds collide. Like this year—with both Derby Day and Cinco de Mayo occurring on the fifth of May.
The Kentucky Derby has a long tradition in American culture and people have been lining up to watch the first race of the Triple Crown since 1875. But Cinco de Mayo is more of recent fascination in the United States, and it's a celebration that Americans have embraced more out of a love of Mexican food more than any desire to salute the Battle of Puebla, which is what the day honors. (Despite popular belief, it's not Mexican Independence Day—that occurs on September 16).
Actually, Cinco de Mayo isn't even celebrated much in Mexico except in the state of Puebla where the battle holds deep significance. But no matter—Americans love a good party so Cinco de Mayo has become a big deal the past few years. And I'm not complaining—I'll take any excuse to serve up plates of my beloved Mexican and Tex-Mex cuisine.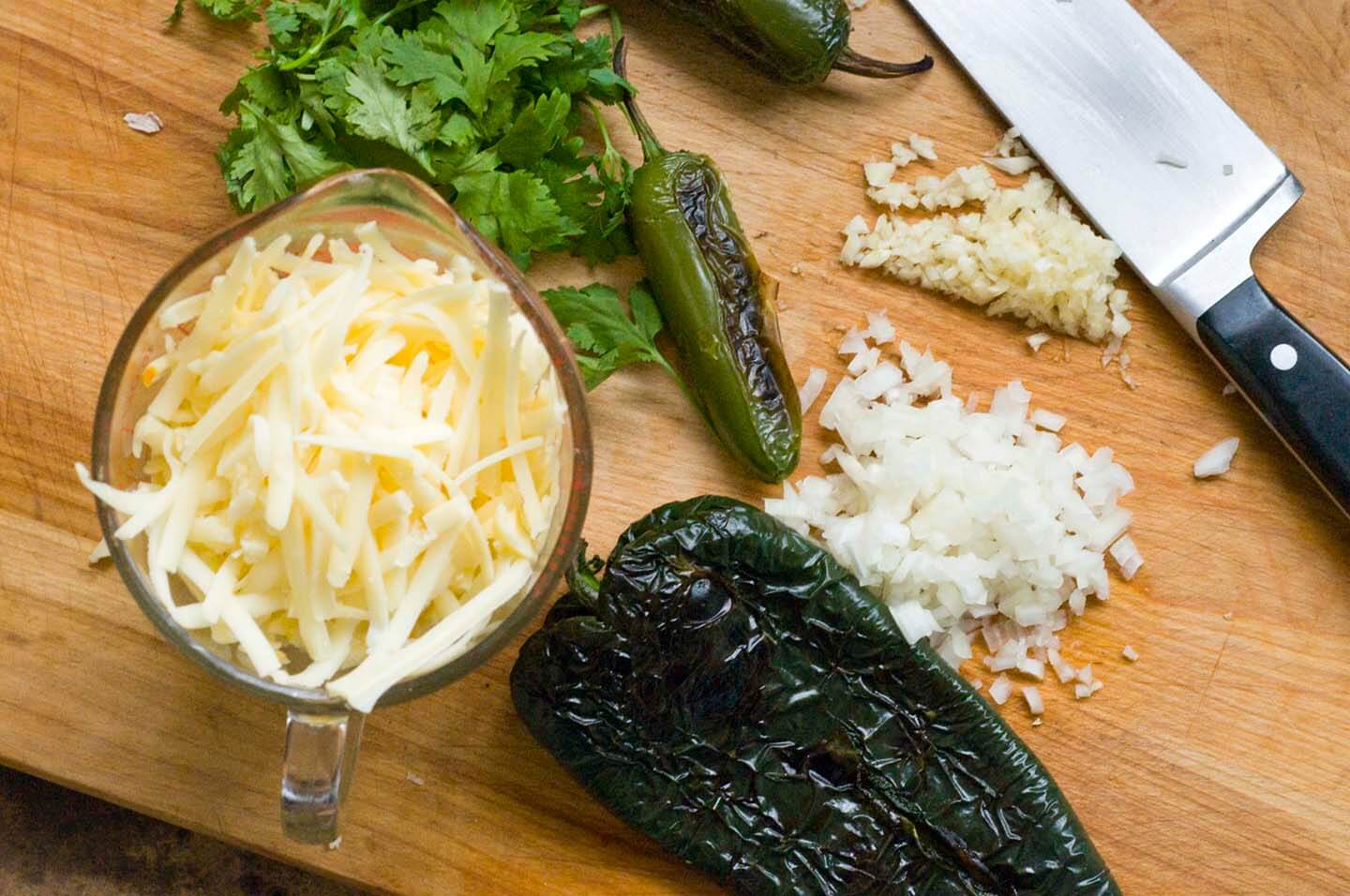 That said, the Kentucky Derby holds a place in my heart as well. My grandparents went to graduate school in Kentucky and my grandma enjoys telling stories about the excitement that surrounded the day. Since my grandparents were poor college students they never made it to the actual race but this didn't stop them from enjoying the festivities, which included eating plates of hot browns.

Now, if you're not familiar with it, the hot brown is an open-faced turkey sandwich that's been a Kentucky tradition since 1926. The name refers to the sandwich's place of birth—the Brown Hotel in Louisville—and not the sandwich's color, which tends to be more white than brown. As for its composition, the sandwich is comprised of a slice of thick toasted bread that's been topped with roasted turkey, sliced tomatoes and bacon. It's then drenched in a Mornay sauce, a cheese-based béchamel sauce that's a distant relation to chile con queso.
Bacon with cheese sauce? Yep, it's easy to see why the hot brown is a Kentucky favorite, and it's long been on my list of things to make. Though when I realized that Derby Day and Cinco de Mayo were the same this year, I decided to buck tradition and give the hot brown a Tex-Mex twist as a way to applaud both.
To make my Tex-Mex hot brown, instead of regular bread I used Mexican bolillo rolls, which often form the base of Mexican sandwiches known as tortas. Then I spread on some refried beans, stacked on roasted turkey, poured over a Mornay sauce that I'd spiced up with roasted green chiles, sprinkled on some diced tomatoes and bacon, and slid the open-faced sandwich under the broiler until brown and bubbling. To finish, I scooped on some guacamole and showered the sandwich with salty Cotija cheese. It was decadent but very, very good.
Now purists of the Kentucky hot brown may scoff at this Tex-Mex rendition of their classic sandwich, but you can never go wrong with green chiles, guacamole and bacon. And no matter who finishes first on Saturday, this Tex-Mex hot brown is already a winner.
Tex-Mex hot brown sandwich with green chile Mornay sauce
Ingredients
1

poblano chile

1

or 2 jalapeño chiles

2

tablespoons

unsalted butter

1/4

medium yellow onion, finely diced

1

clove

garlic, minced

2

tablespoons

all-purpose flour

2 1/2

cups

half-and-half or whole milk, plus more if needed

4

ounces

(1 cup) shredded white cheddar

4

ounces

(1 cup) shredded Muenster

2

tablespoons

chopped cilantro

Pinch

of cumin

Pinch

of cayenne

Salt to taste

2 6-

inch

bolillo rolls

(or 2 6-inch French bread rolls or baguettes)

1/2

cup

refried beans

1

pound

roasted turkey, thickly sliced

6

slices

about 6 ounces cooked bacon, chopped

1

plum tomato, diced

Guacamole, for serving

Cotija cheese, for serving
Instructions
To make the green-chile Mornay sauce, roast the poblano and jalapeño chiles under the broiler until blackened, about 5 minutes per side. Place the chiles in a paper sack or plastic food-storage bag, close it tight and let the chiles steam for 20 minutes. Take the chiles out of the bag and rub off the skin. Remove seeds and stems and dice.




In a saucepot, on low heat melt the butter. Add the onions and while stirring occasionally cook until onions and jalapeños are softened, about five minutes. Add the garlic and cook for 30 more seconds. Whisk in the flour and cook until it's well incorporated and a light-brown paste forms, about 1 minute.




Pour in the half-and-half, turn up the heat to medium high, and while whisking bring the sauce to a boil. As it boils, continue to whisk until it thickens, which can happen anywhere from immediately to a minute. After it thickens, turn the heat back down to low.




A handful at a time, whisk in the white cheddar and the Muenster, waiting until it melts before adding more. Once the cheese is incorporated, stir in the diced green chiles, cilantro, cumin, and cayenne, and add salt to taste. If the sauce seems too thick, you can thin it with more half-and-half.




To assemble the sandwiches, turn on the broiler. Cut the bolillo rolls in half, lengthwise, and place each under the broiler until lightly toasted, about 20-30 seconds. Remove from the oven.




On a rimmed oven-safe plate or small skillet, place a toasted roll half. Spread on the roll 2 tablespoons of refried beans. Top the beans with 1/4 of the roasted turkey. Pour over the sandwich some of the green-chile Mornay sauce and sprinkle with some of the cooked bacon and tomatoes. (Any leftover sauce will go dandy with some tortilla chips.)




Place the sandwich under the broiler and cook until the sauce begins to brown and bubble, about 1 to 2 minutes. For serving, top the sandwich with a scoop of guacamole and a shower of Cotija cheese. Repeat for the other sandwiches. (Depending on the size of your oven, you can broil several sandwiches at a time.)