Aunt Margaret's strawberry delight
A few weeks ago, before it was strawberry season, my grandma tempted me with a dessert my Aunt Margaret used to make: strawberry delight.
Aunt Margaret was one of the fancier members of the family. She was always impeccably dressed and when I was young, she would give me her perfume and make-up samples from Neiman Marcus.
Like Aunt Margaret, strawberry delight sounded swank. And when my grandma gave me the recipe, she admitted that strawberry delight was both elaborate and delicious. But she then added no dessert could compare to eating fresh, ripe berries either on their own or with cream on a flaky biscuit split in two.
Dazzled by the name, however, I insisted on making strawberry delight when I bought my first pints of the juicy red berries at the farmer's market last week.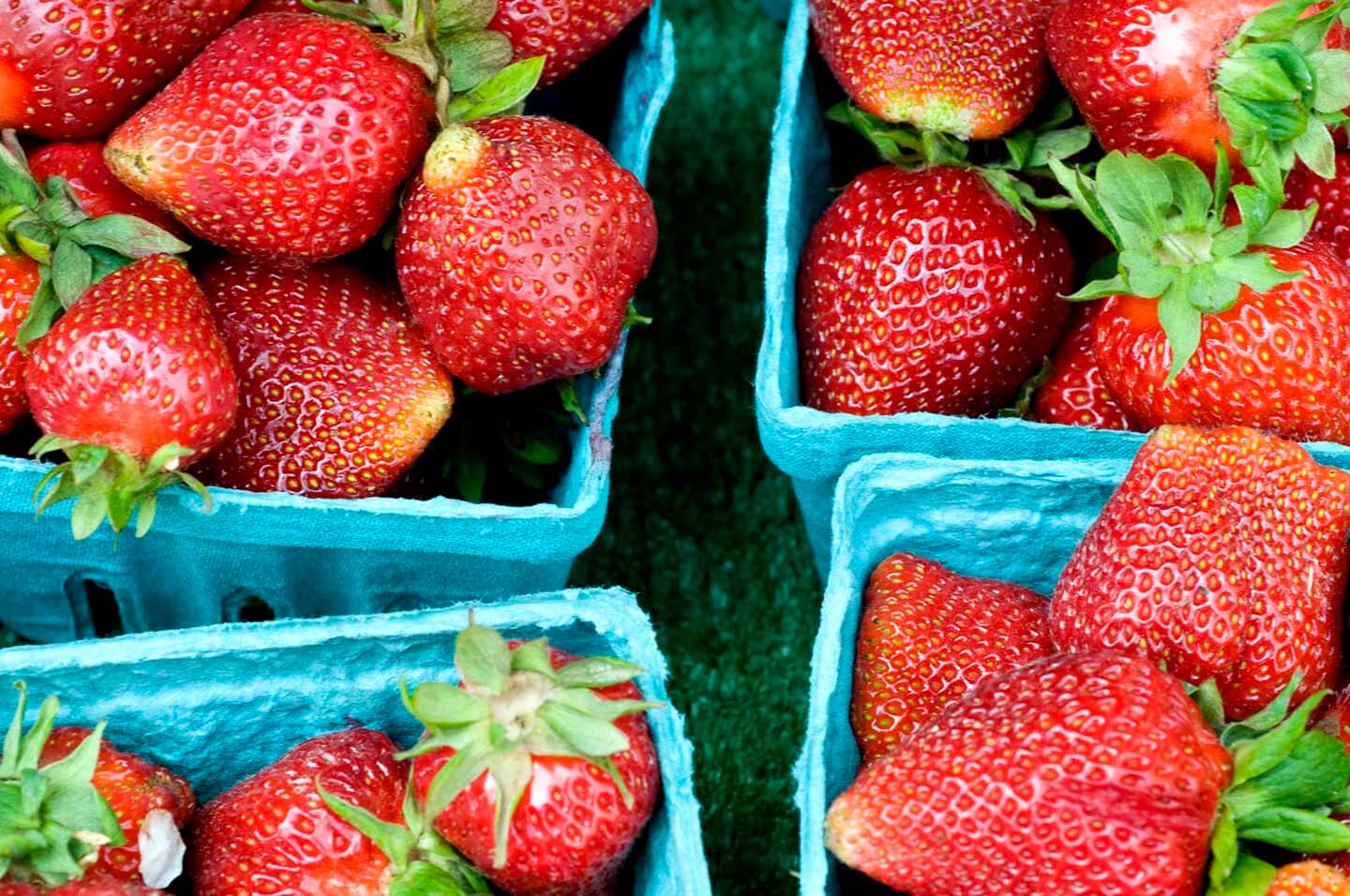 Strawberry delight is very similar to a fool, where the berries are mashed and then stirred into whipped cream. This dessert differs, however, by the addition of a buttery pecan crust and a meringue that's folded into the strawberries and cream.

Now, if I had any sense, I would have heeded my grandmother's advice and kept it simple. But I like a challenge and when I was faced with whipping a couple of egg whites into a meringue without a stand mixer, I knew I had to give it a try. How hard could it be? I make whipped cream all the time with my eggbeater so I assumed that a meringue could hardly be all that more work.
One hour later, I was still struggling to make my egg whites fluff while the strawberries sat on the counter mocking me with their easy beauty. Tired of spinning the eggbeater, I took my meringue and folded it into the whipped cream and berries. I spread the whipped concoction over the crust and then put it into the freezer to chill overnight.
In the morning, when I pulled the pan out of the freezer I was stuck by how the peaks in the dessert looked like the topography of a pretty pink world. I cut out a piece and took a bite. It was buttery, nutty, creamy and fruity. It had been a lot of work, but it was indeed good.
Desserts such as this are frilly and fun and remind me of summer garden parties or church potlucks; there is a certain nostalgia when you dip your spoon into a creamy, cold square.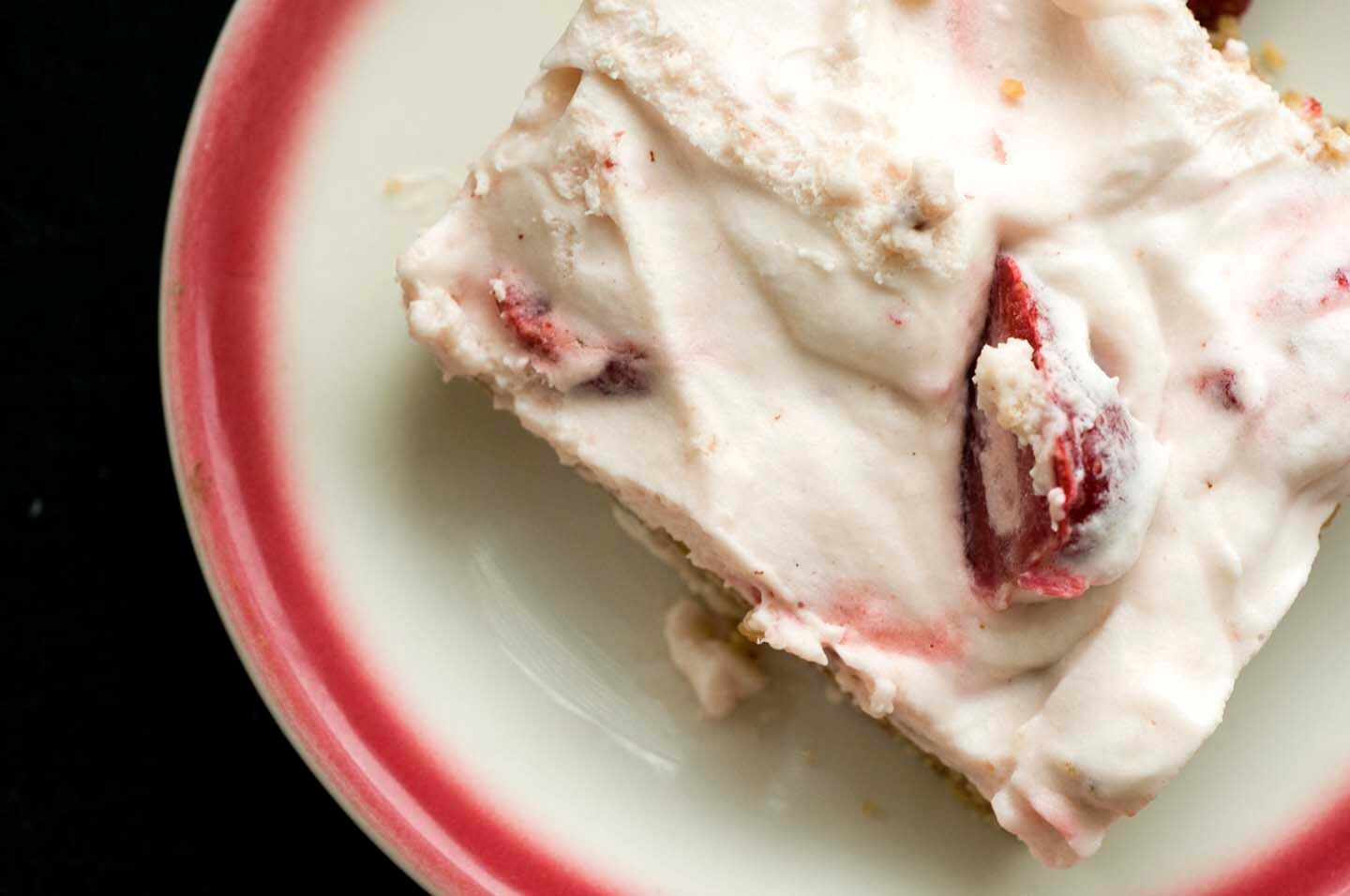 That said, my grandma made an excellent point about simpler pleasures. And this time of the year when the summertime fruits are making their debuts, I do believe that nothing beats eating them as they were made, still fresh, juicy and warm from the sun.
Strawberry delight
Ingredients
Ingredients for the crust:
1

cup

all-purpose flour

1/4

cup

firmly packed brown sugar

1

cup

chopped pecans

1/2

cup

melted butter

1/4

teaspoon

cinnamon

1/8

teaspoon

nutmeg

Pinch

of salt
Ingredients for the filling:
1/4

cup

of brown sugar

2

cups

fresh strawberries, hulled and sliced in half

1/2

cup

sugar

2

teaspoons

lemon juice

2

large egg whites

8

ounces

heavy cream

1/8

teaspoon

ground ginger

1

teaspoon

vanilla extract
Instructions
Preheat the oven to 350° F.

Mix the flour, brown sugar, pecans, butter, cinnamon, nutmeg, and salt together then press into a 9×13 pan and bake for 20 minutes.

For the filling, stir the brown sugar into the sliced strawberries and let macerate at room temperature for half an hour or until juicy.

Meanwhile, beat the egg whites, lemon juice, and sugar until light and fluffy. Then in a separate bowl, whip the cream until also light and fluffy and then stir into it the vanilla and ginger.

Add the strawberries to the whipped cream and then fold in the meringue.

Spread the fluffy strawberry filling over the crust, cover well and then freeze overnight or for at least 6 hours.

Before serving, let it thaw a bit and then cut into squares.

Alternatively, you could freeze the crust and filling into bowls or glasses and serve it that way.