Danish apple cake (Aeblekage)
While looking for apple recipes, I came across a dessert in a September 1966 edition of the Dallas Morning News. It was stated as being a light dish, though I was surprised at the first ingredient: crumbled doughnuts. Did Texans in the 1960s consider pastries diet food? Curious, I decided to give the recipe a try.
This dish, called Danish apple dessert, took the doughnut crumbs and tossed them with warm spices such as cinnamon, cloves, and nutmeg. You then layered a portion into a baking dish and spooned on top some applesauce. After repeating the process, you poured over it melted butter, sprinkled on brown sugar, then baked it for a spell. It was served with whipped cream.
As I'd never come across anything quite like this, I decided to dig a little deeper to find out its provenance. While that version had been syndicated across the country, I learned it had another name—Danish apple cake. And this treat was indeed popular amongst Danish Texans who settled in Central Texas and along the Gulf in Wharton County.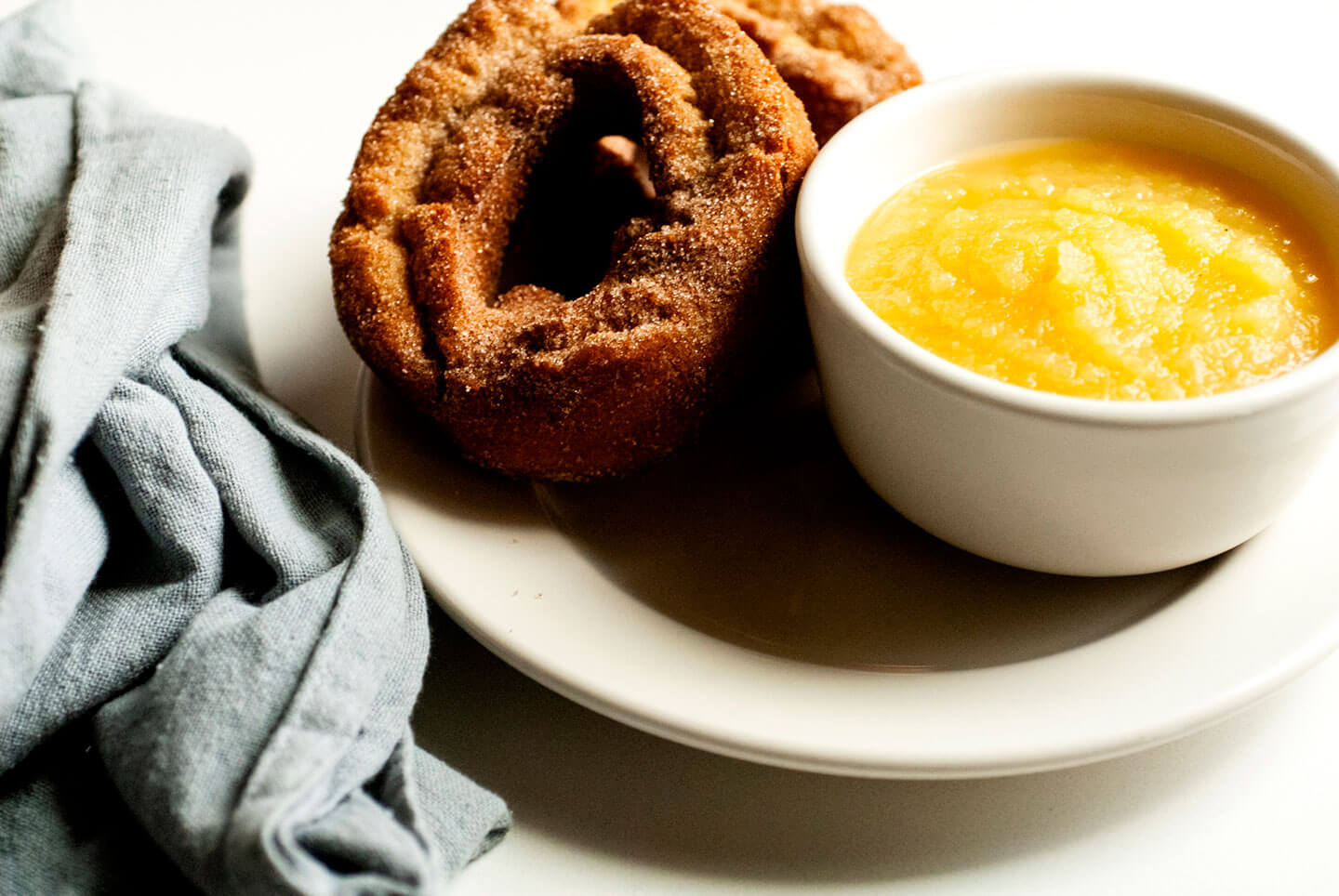 For these Scandinavian Texans, Danish apple cake is most commonly a celebration food. It's popular at Christmas, though it's also seen at birthdays and 42 parties, as well. That said, despite its frequent appearance at special occasions, it's simple enough to be an everyday dessert, too.
Traditional recipes for Danish apple cake use bread crumbs along with the applesauce, but I liked the idea of using sweet and tender doughnuts instead. And once those were crumbled, I began the layering and the pouring of melted butter and brown sugar.
As it baked, my home took on the inviting scent of baked apples and cinnamon. And if the cake tasted half as good as it smelled, I would be satisfied.
After half an hour in the oven, I pulled out my skillet. The dessert was brown and crumbly and for most, it would not be a contender for any beauty contests. That said, it had that roughhewn appeal of a crisp or a cobbler, which I always enjoy. I whipped up some cream and spooned out a taste.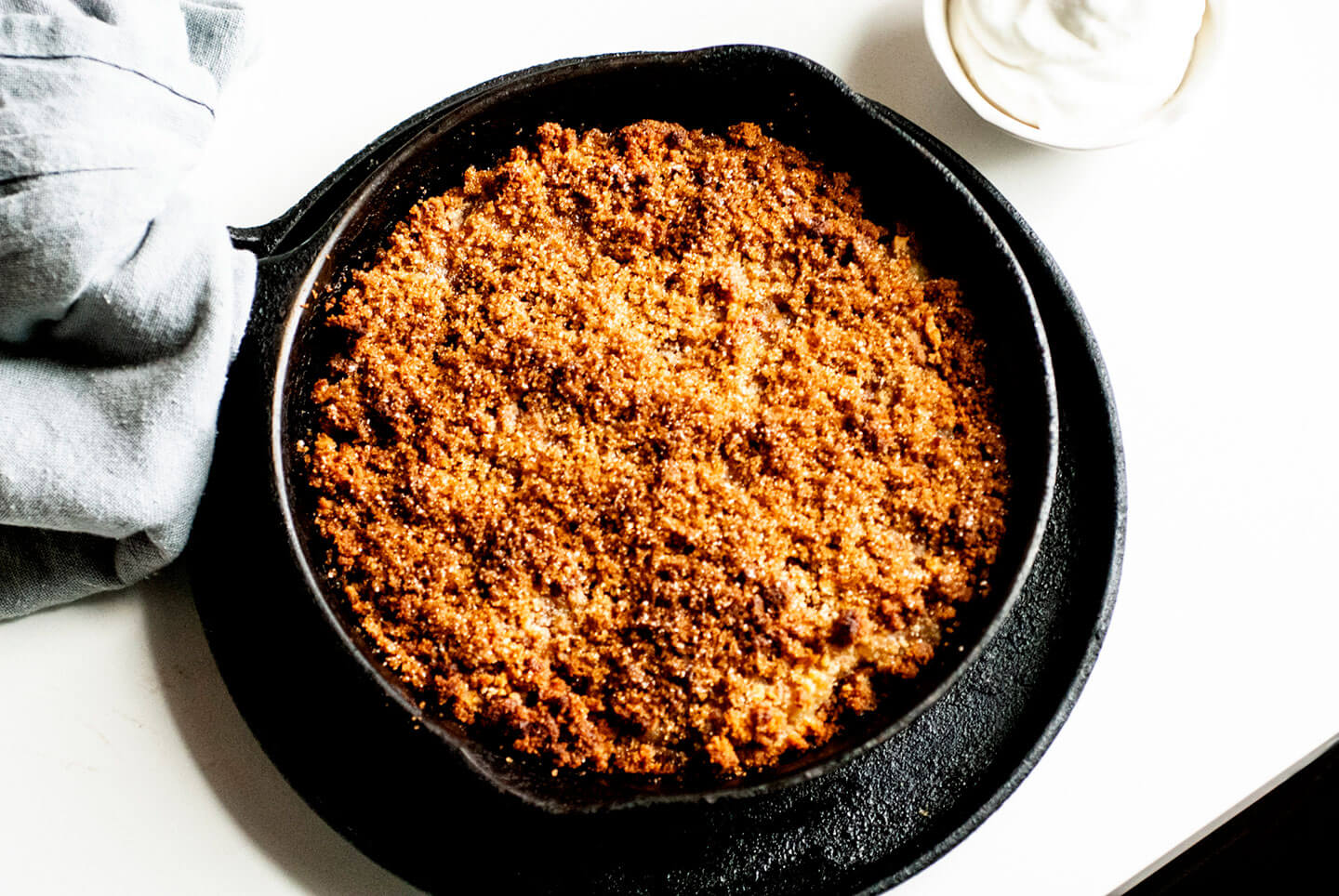 Was it a light dish as advertised? Not particularly. But my buttery, crunchy bowl rich with the warm flavors of baked apples and cinnamon was a welcome taste of fall.
—————
Would you like more Homesick Texan? Well, I've started offering additional recipes for paid subscribers to help with the costs of running the site. While I'm not taking anything away, if you'd like to support Homesick Texan and have access to exclusive, never-seen-before subscriber-only posts, please consider becoming a member; annual subscriptions are as low as $25. Thank you for reading, your consideration, and your support!
—————
Danish apple cake (aeblekage)
Ingredients
3

cups

finely crumbled cake doughnuts (3-4 doughnuts)

2

teaspoons

ground cinnamon

1/2

teaspoon

ground nutmeg

1/2

teaspoon

kosher salt

Pinch

cloves

3

cups

applesauce

1

teaspoon

vanilla extract

1/4

melted unsalted butter

1/2

cup

brown sugar

1

cup

heavy cream

1

tablespoon

powdered sugar
Instructions
Preheat the oven to 400°F and lightly grease a 1-quart baking dish, such as an 8-inch cast-iron skillet or an 8-inch square baking dish.

Stir together the doughnut crumbs with the cinnamon, nutmeg, salt, and cloves. Stir the vanilla into the applesauce. Taste and adjust seasonings on both if desired.

Working in layers, first take 1 cup of the crumbs and spread along the bottom of the baking dish. Spread over it half the applesauce then evenly top with another cup of crumbs. Add the remaining applesauce and finish the layering with the crumbs.

Pour over the crumbs the butter then evenly top with the brown sugar.

Bake uncovered for 30 minutes. Meanwhile, whip the cream with the powdered sugar until soft peaks are formed.

Serve warm topped with whipped cream. Though if you prefer, you may chill it for a few hours and serve it cold. Both are traditional!