Beef enchiladas with chipotle-pasilla chili gravy
For Lent, I gave up beef. Now, I wouldn't say that I necessarily have a beef-eating problem, but there was a period right before Ash Wednesday when I found myself eating beef at least twice a day. My body urged me to take a break, and so I did.
Actually, after a while I didn't miss it that much—there are plenty of other satisfying foods to eat in the world. That said, a reader over on my Facebook page asked for a beef enchilada recipe. Her request took root and grew throughout my abstention, and as soon as Easter arrived I decided to make beef enchiladas my first order of business.
I have to admit that I seldom order beef enchiladas when I eat Tex-Mex. Nope, I'm more a cheese enchilada or sour-cream enchilada gal. I was trying to remember the last time I even ate beef enchiladas, and the best I could deduce was that it was several years ago when a couple was added to a combination platter.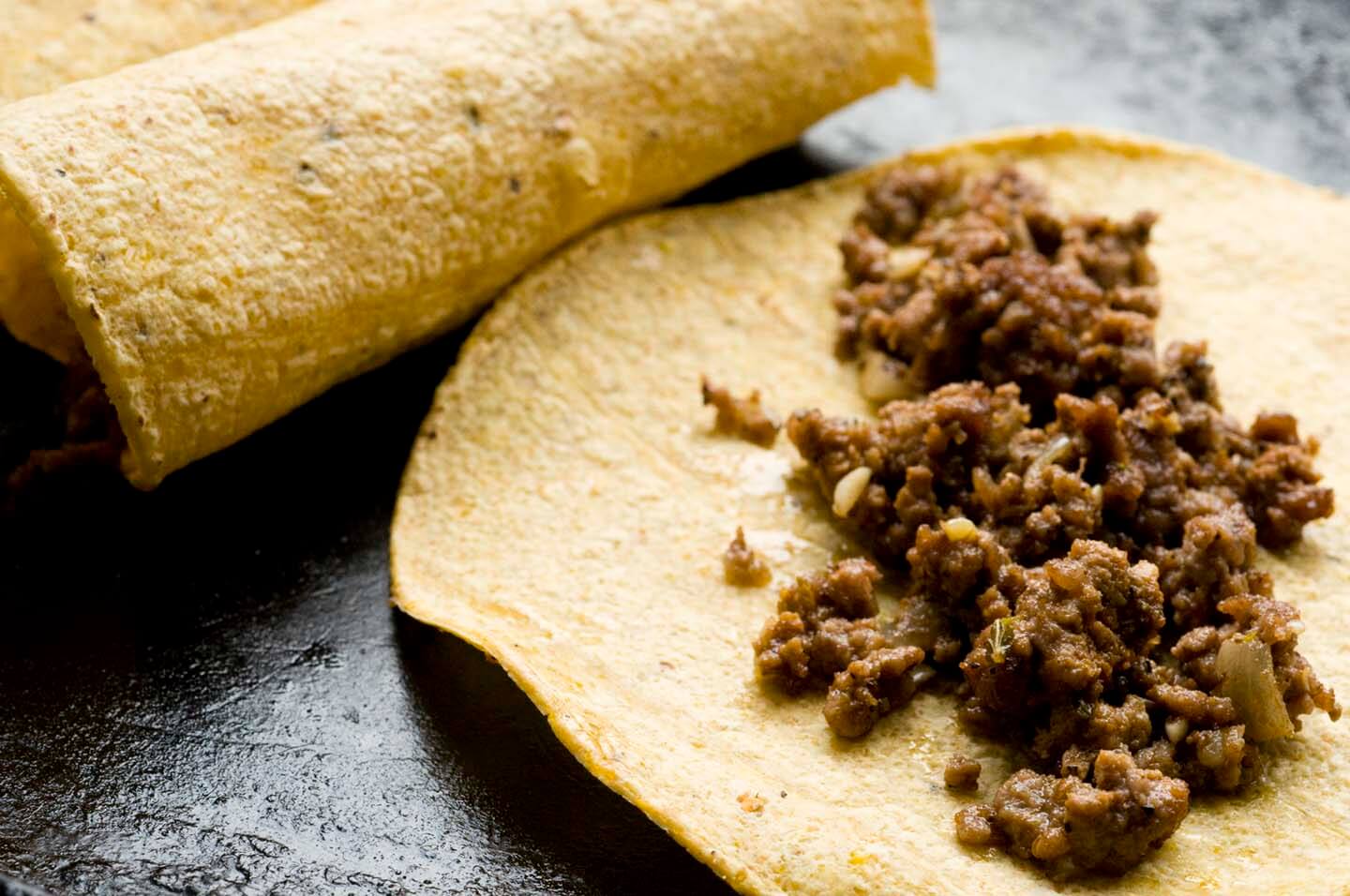 In my recollection, however, it was a fine specimen of the enchilada genre. The tortillas were drowning in a soulful and smooth chili gravy, while the ground beef filling was peppery and bright. I mixed each bite with some beans and rice, and the iceberg lettuce garnish added a cooling contrast to the richness of the beef. Yep, it was an excellent Tex-Mex meal.

My aim was to try and recreate this experience in my own kitchen. While ancho chiles are normally the base of Tex-Mex sauces, I decided to use pasilla chiles, which are similar in flavor but with more of a bittersweet tone. I also added chipotle chiles, for their smoky heat.
For the filling, I opted to go with ground beef. Now, there are some who prefer shredded beef as a filling, but when I was young I suffered through a plate of enchiladas with shreds so tough they made my mouth sore. I've avoided this type of enchilada ever since. I kept my filling simple by flavoring the ground beef with only onion, garlic, cumin, salt and pepper. A spoonful of the chili gravy stirred into the meat made it complete.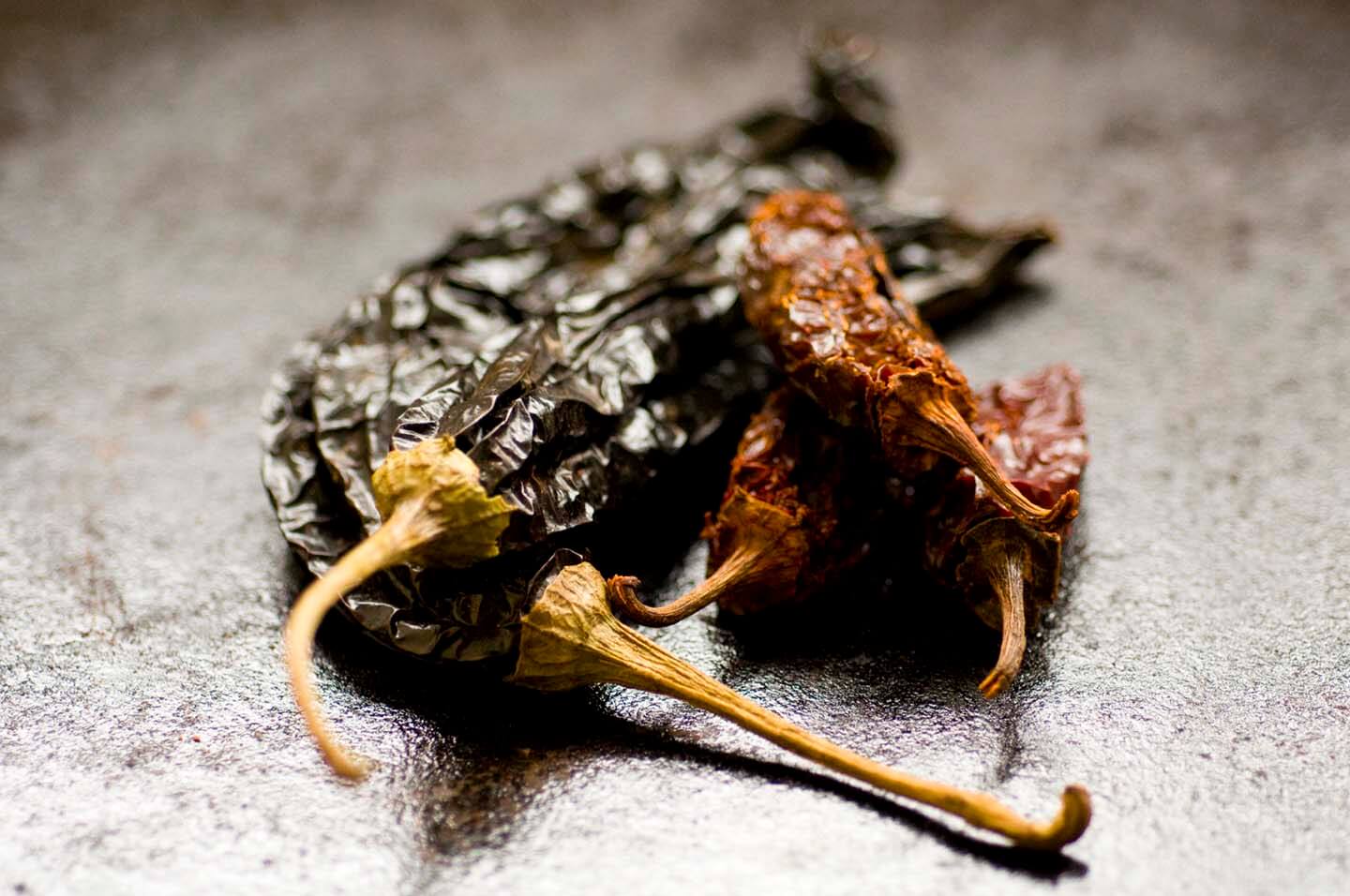 The enchiladas came together in no time, and were extremely satisfying. And yes, these beef enchiladas were not only a welcome return to eating beef, but I'm certain they'll be a welcome part of my Tex-Mex cooking rotation, as well. They made me smile and hopefully they'll make you smile, too.
Beef enchiladas with chipotle-pasilla chili gravy
Ingredients
For the pasilla-chipotle chili gravy:
1 or 2

dried chipotle chiles, depending on how hot you want it, seeded

4

dried pasilla chiles, depending on how hot you want it, seeded and stemmed

1/4

medium yellow onion, chopped

4

cloves

garlic, chopped

1

teaspoon

ground cumin

1/2

teaspoon

oregano

Pinch

ground allspice

3

cups

beef broth

2

tablespoons

lard or vegetable oil

2

tablespoons

all-purpose flour
For the enchiladas:
1

pound

ground beef

1/2

medium yellow onion, diced and divided

4

cloves

garlic, minced

1

teaspoon

ground cumin

Salt and black pepper to taste

1

tablespoon

lard or vegetable oil

12

corn tortillas

2

cups

(8 ounces) shredded cheddar cheese
Instructions
In a dry skillet heated on high, toast the pasilla and chipotle chiles on each side for about 10 seconds or just until they start to puff. Fill the skillet with enough water to cover chiles. Leave the heat on until water begins to boil and then turn off the heat and let the chiles soak until soft, about 30 minutes. Once hydrated, discard the soaking water and rinse the chiles. Place in a blender.

In a large pot or Dutch oven, in heat up the vegetable oil and while occasionally stirring cook the onions until translucent, about 5 minutes. Add the garlic and cook for 30 more seconds. Place cooked onion and garlic into the blender, along with the cumin, oregano, allspice and the broth. Blend until smooth.

In a pot, heat the 2 tablespoons of oil on low heat, whisking in the flour until well incorporated. Pour in the sauce and simmer for 15 minutes, stirring occasionally. Add salt and black pepper to taste and adjust other seasonings as needed.

Meanwhile, in a skillet on medium heat (I use the same one that I used for the onions and garlic) add the ground beef, half of the diced onions and garlic. While stirring occasionally, cook the meat until browned, about 10 minutes. (If you like, you can drain the extra fat once the meet is browned.) Stir in the cumin and cook for 2 more minutes. Taste and add salt and black pepper to taste and adjust seasonings. Stir into the meat 1/4 cup of the chili gravy.

To make the enchiladas, first preheat the oven to 350° F and grease a large baking dish. In a skillet, heat up the lard or oil on medium-low heat. One at a time, heat up the tortillas in the hot oil until soft and pliant. Lay each tortilla on a plate or clean cooking surface and add about 2 tablespoons of beef and some of the cheese. Roll the tortilla and place in greased baking dish. Repeat with remaining tortillas. Pour sauce over enchiladas and top with remaining grated cheese and diced onions. Bake for 15 minutes or until cheese is lightly browned and bubbling.