Cherry Dr Pepper cheesecake bars
A few years ago for his birthday, my uncle asked my grandma to make a cherry pie he'd spied in her collection of recipes. This was an unusual request as he's firmly on team peach pie when it comes to her repertoire of desserts, but she complied with his wishes.
What was even more unusual, however, was that it wasn't a classic cherry pie with lattice pastry but instead it was a cherry no-bake cheesecake. Despite the misleading name, the dessert was a hit.
When I visited a few weeks later, my grandma offered to make another one, but this time with strawberries. While it was pleasant, she and I agreed that it would be far superior with cherries as their tart, juicy nature is an excellent foil to the rich and creamy cheesecake base.
Now, when I lived in New York City, during the summer I had no problem procuring sour cherries, which are the type most often used for pies, cobblers, and toppings. Unlike the more ubiquitous sweet cherry, sour cherries when eaten raw are uncomfortably sharp. But if you slowly cook them with sugar they take on a candy-like quality that is balanced in its sweet and sour flavors. They are fantastic.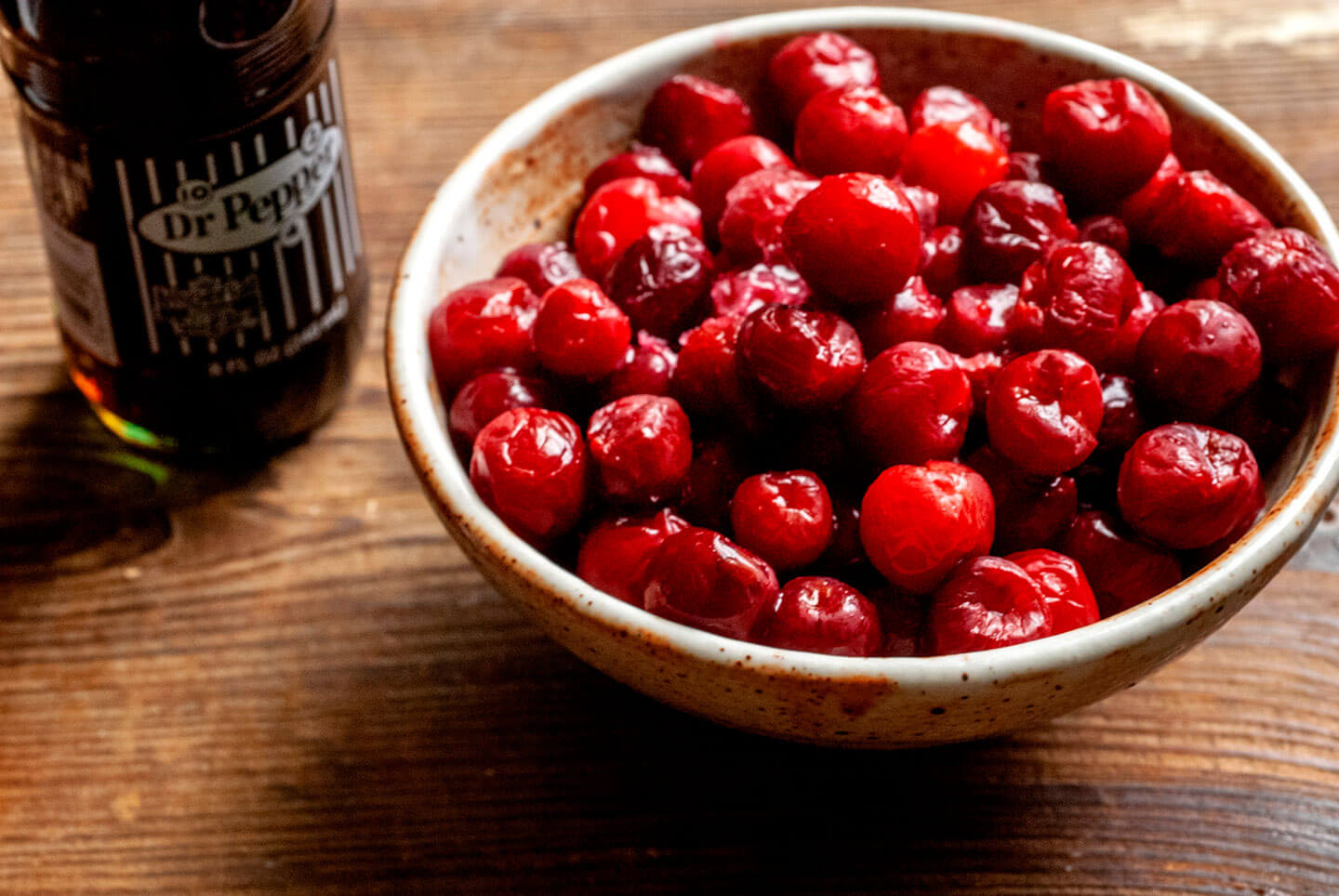 These cherries, however, are rare in the United States, with New York, Michigan, Oregon, and New Mexico being the locales with the most abundant orchards. So, to get them fresh, you most likely need to visit these places and either pick your own or grab some from a farmers market. Likewise, I have never seen fresh ones shipped and I'm not sure that any stores outside of the cherries' growing regions even stock the precious fruit.
Sour cherries' brief season is happening now and so I always associate them with early July and Independence Day. While I was sad when I couldn't find fresh ones in Texas, I was elated to discover frozen ones at the grocery store. I grabbed a few bags, brought them home, and prepared to make a special treat.
There's a pie maker in Fort Worth named Sweet Lucy's Pies, and a few weeks ago she had a Dr Pepper cherry pie on offer. I thought that was a brilliant idea, and considered following suit, as the warm and spicy notes of the beverage go well with the bright fruit. Then I recalled my grandma's no-bake cheesecake, and not wanting to turn on the oven for any length of time, I decided to pair that with a Dr Pepper cherry topping instead.
While the cheesecake recipe was originally intended to be served in a pie pan, I opted to bake it in a square dish so I could cut it into bars for serving. Not only would bars be easier to serve at gatherings, but the cheesecake is so rich that a smaller serving is also very satisfying.
First, for the cherries, I stewed them with cane sugar-sweetened Dr Pepper and a pinch of cinnamon until the syrup had reduced a bit. A slurry of cornstarch thickened it up and gave it a glossy shine. The cheesecake's filling was a blend of whipped cream, softened cream cheese, powdered sugar, lime juice, and vanilla, which I then spread onto a Graham cracker crust.
The cheesecake then goes into the refrigerator to firm up a bit (though it will remain a bit softer than a traditional egg-based custard) and to finish, before serving I topped it with the cherries.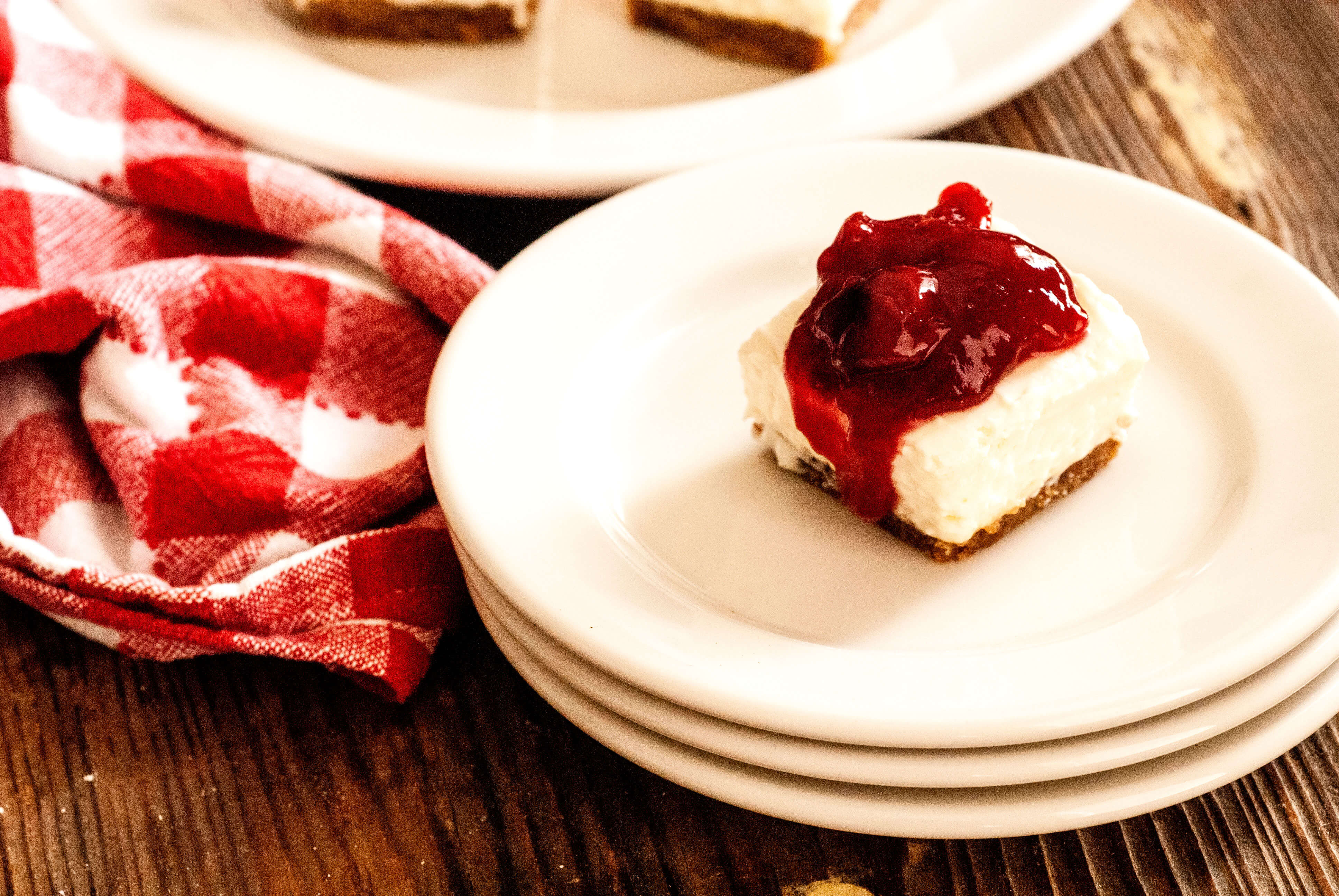 The buttery crust, smooth filling, and lively, juicy cherries made a cool and cheerful treat. When shared with friends, the bars went fast. It was agreed that the Dr Pepper added just the right amount of zest to the cherries, and an excellent contrast to the creamy cheesecake. A welcome addition for any get together, these cherry Dr Pepper cheesecake bars will most certainly be a hit.
—————
Would you like more Homesick Texan? Well, I've started offering additional recipes for paid subscribers to help with the costs of running the site. While I'm not taking anything away, if you'd like to support Homesick Texan and have access to exclusive, never-seen-before subscriber-only posts, please consider becoming a member; annual subscriptions are as low as $25. Thank you for reading, your consideration, and your support!
—————

Cherry Dr Pepper cheesecake bars
Ingredients
For the cherry Dr Pepper topping:
12

ounces

frozen sour cherries

1/2

cup

Dr Pepper, preferably cane sugar

1/2

teaspoon

ground cinnamon

2

tablespoons

corn starch
For the crust:
9

Graham crackers, finely crushed

8

tablespoons

(1 stick) unsalted butter

1/2

teaspoon

ground cinnamon

Pinch

kosher salt
For the cheesecake filling:
8

ounces

heavy cream

8

ounces

cream cheese, softened

3/4

cup

powdered sugar

1

teaspoon

freshly squeezed lime juice

1

teaspoon

vanilla
Instructions
To make the cherry topping, place the cherries in a saucepan (it's okay if they're frozen) along with the Dr Pepper. Bring to a boil on high then simmer for 15 minutes on low or until the liquids have reduced in half. Stir in the cinnamon then whisk in the corn starch. Turn the heat up to medium and stir until thickened. Turn off the heat and refrigerate the cherries covered.

To make the crust, heat the oven to 375°. Line an 8x8 pan with parchment paper or lightly grease.

Melt the butter in a saucepan then stir in the crushed Graham crackers, cinnamon, and salt until well combined. Pour the crackers into the pan and evenly pat along the bottom until the pan is covered. Bake uncovered for 10 minutes, then remove from the oven.

To make the filling, whip the heavy cream until soft peaks form. In a separate bowl, blend the cream cheese, powdered sugar, lime juice, and vanilla until well combined, then stir in the whipped cream. Blend until well combined.

To assemble the cheesecake, spread the cream cheese filling evenly over the crust, cover, and freeze for 2 hours, or refrigerate for at least 6 hours.

To serve, remove the pan from the freezer, slice into bars, top with cherries, then serve. If you've used parchment paper, to make it easier you can lift the entire cheesecake from the pan before slicing. Serve chilled, and they can be stored in the refrigerator for 3 days.
Notes
This can be prepared in a pie pan, as well, with the same Graham cracker crust or a regular pie crust.
If you want to make it simple, a friend suggested stuffing the filling into phyllo cups, which I also tried and it's excellent. You would need 30 mini phyllo cups for that version.