Chilaquiles with ancho tomatillo salsa
When I first moved to New York, one of the dishes that was lacking was migas. That Texan breakfast staple of eggs scrambled with fried tortillas, along with a host of other good things such as cheese and chiles, was nowhere to be found.
Then one day a friend called and said, "I've found migas! This Mexican restaurant is calling them chilaquiles, but if you close your eyes you won't tell the difference."
Desperate for a migas fix, the next morning I hopped on the train and met him for breakfast at his local Mexican joint. We ordered the chilaquiles and were presented with scrambled eggs tossed with fried tortillas coated in a bright salsa verde. My friend was correct—they were very similar to our beloved migas and we ate them with gusto and joy.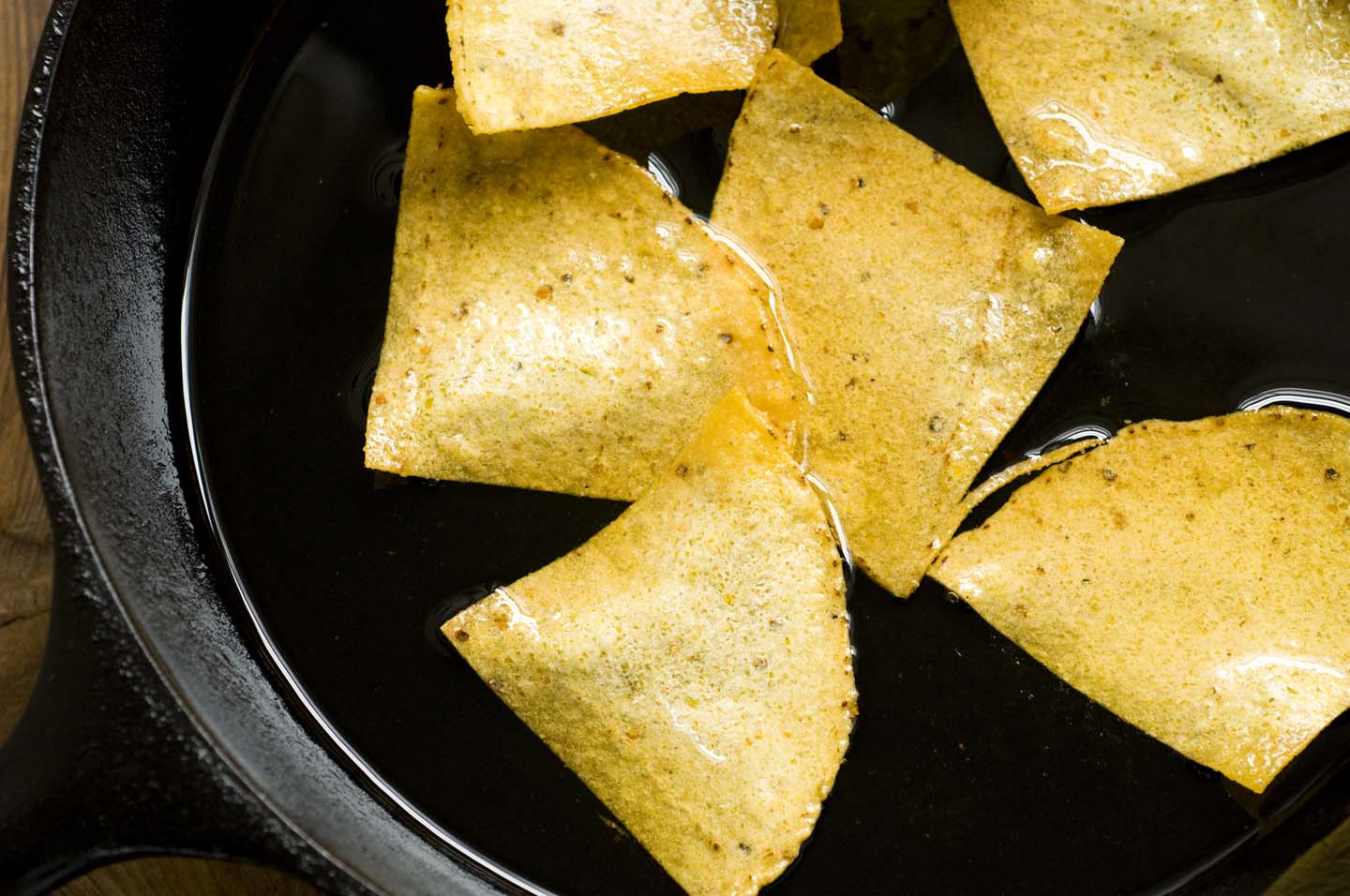 What is the difference between chilaquiles (pronounced chee-la-kee-lays) and midges? To those who've never had them, chilaquiles are fried tortilla strips or wedges that have been simmered in salsa. As the fried tortillas cook, they absorb the salsa and impart it with its toasted corn flavor until the two become meshed into one. You know when you get to the bottom of the cereal bowl and the cereal has absorbed some of the milk and the milk tastes like cereal? Yep, chilaquiles are kind of wonderful like that—though hopefully not as soggy.
Now, sometimes other things can join the party, such as sliced chicken, shredded beef or even scrambled eggs, the latter of which causes people to think that migas and chilaquiles are the same.
But they're not.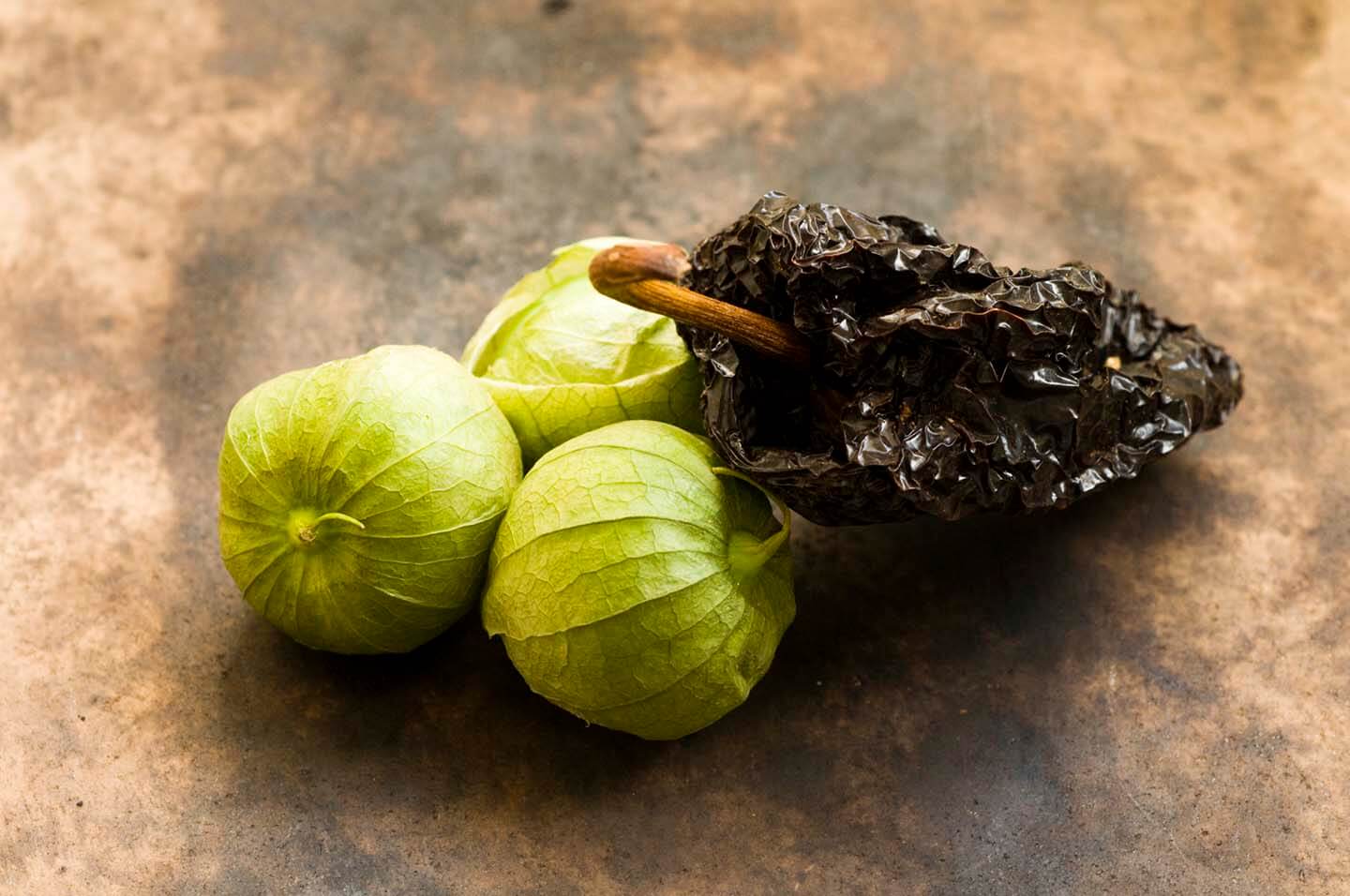 Here's the deal. In Texas, Migas are always fried tortilla pieces with scrambled eggs. (The term migas in Spanish means "little crumbs," which is why in Spain there is a dish called migas that is made with bread crumbs. But we're talking Tex-Mex here!) It's the tortillas and eggs that define migas and without the two you just don't have that dish.
On the other hand, chilaquiles are nothing without fried tortilla pieces and salsa—it's the tortillas simmering and soaking in the salsa that defines this dish. The word itself derives from a Nahuatl term that means "in a sauce of chile peppers."
One of the salsas I like to use is an ancho-tomatillo salsa, which I love for its earthy and tangy tones. Of course, you can use any salsa for chilaquiles—red or green. And if you're feeling especially festive this time of year, you can make two batches of chilaquiles—one with a red salsa and one with a salsa verde and put them on the same plate.
Chilaquiles are intended to get rid of your day-old tortillas, so you'll want to use stale tortillas, as they'll absorb more of the salsa. Though if you don't want to mess with frying tortillas, in a pinch I've known people to throw in some stale tortilla chips instead. I also find chilaquiles are a perfect vehicle for leftover chicken, which I often add to make a heartier dish.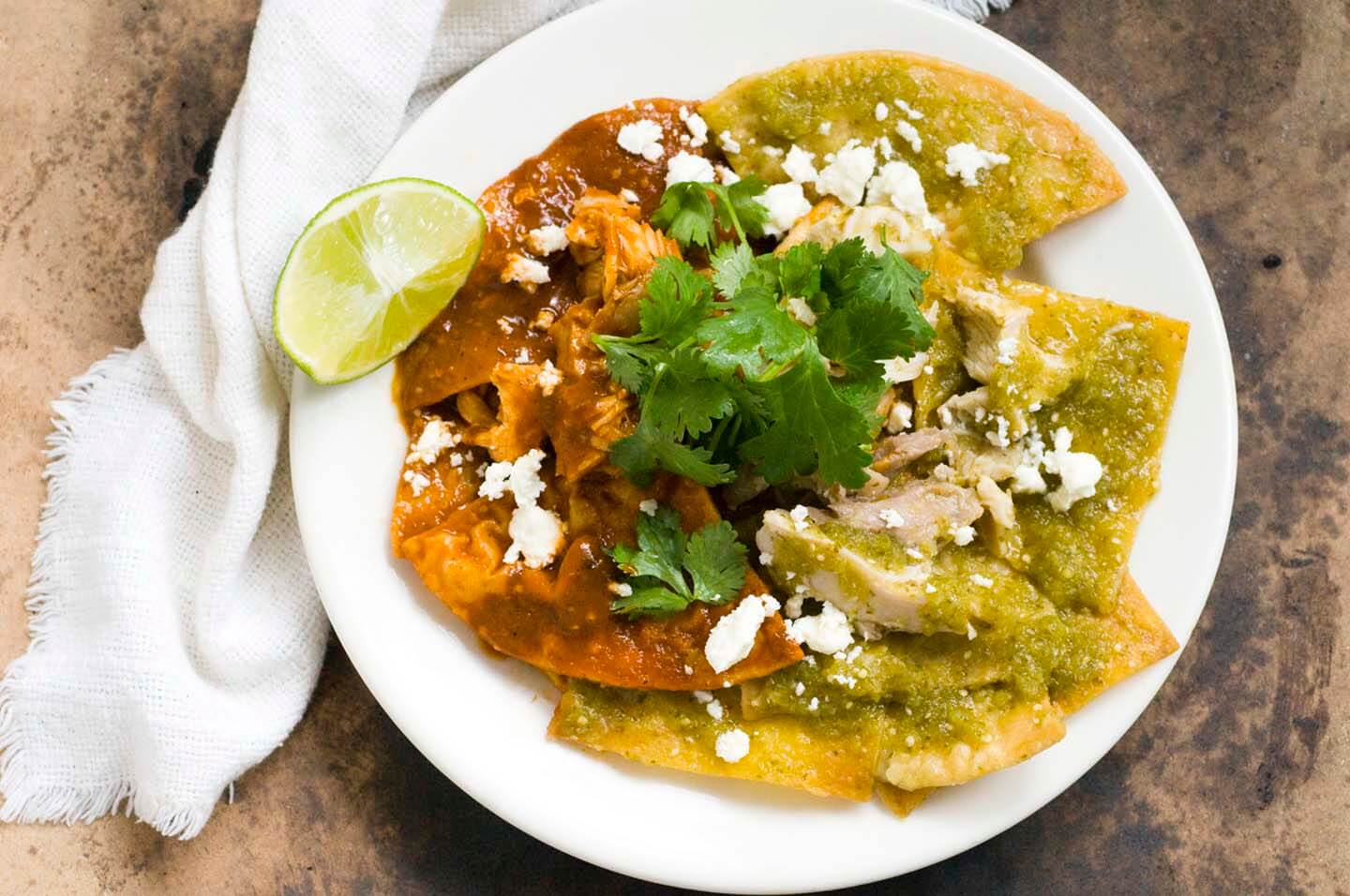 People tell me they are starting to see migas on New York breakfast menus, which is a good thing. Though this would never stop me from eating chilaquiles, as the two are completely different and equally wonderful. And if you're a fan of migas and have never tried chilaquiles, I know you'll love them, too.
Chilaquiles with ancho-tomatillo salsa
Ingredients
Ingredients for the ancho-tomatillo salsa:
1

ancho chile, stem and seeds removed

1/2

pound

tomatillos, husks removed or one 11-ounce can, drained

2

cloves

garlic

1

cup

water

Salt to taste
Ingredients for the chilaquiles:
2

cups

ancho-tomatillo salsa or the salsa of your choice

Vegetable oil or lard for frying

8

stale corn tortillas, cut into quarters or 32 tortilla chips

2

cups

diced cooked chicken (optional)

Salt to taste
Ingredients For serving:
Cilantro

Cotija cheese

Sour cream

Lime wedges
Instructions
To make the ancho-tomatillo salsa, in a dry skillet heated on high, toast the ancho chile on each side for about 10 seconds or until it starts to puff. Fill the skillet with enough water to cover the chile. Leave the heat on until water begins to boil and then turn off the heat and let the chile soak until soft, about 30 minutes. Once hydrated, discard the soaking water and rinse the chile.

Meanwhile, place the tomatillos under the broiler and turning once, cook for 10-12 minutes or until blackened. (If using canned tomatillos, skip this step.)

Place the ancho chile, blackened tomatillos, garlic and 1 cup of water in a blender and blend until smooth, about a minute. Add salt to taste. You should have about 2 cups of salsa. If you have less, add a bit more water.

To make the chilaquiles, in a large skillet heat about 3/4 inch of oil on medium high until it's 325 degrees. Line a baking sheet with paper towels. In batches, place the quartered tortillas into the hot oil and fry about one minute per side or until light brown and crisp. Remove fried tortillas with a slotted spatula and place on the paper-towel-lined sheet. Repeat until all the quartered tortillas have been fried.

Remove the skillet from the heat and pour out all but one tablespoon of oil, discarding the rest. Place the skillet back on the burner and heat to medium-low. Pour in the salsa, and cook the salsa for 2 minutes or until warm. Add the chicken (if using) and the chips and gently stir to coat the chips in the salsa. Cover the skillet, turn down the heat to low, and cook for 2 more minutes.

Serve with cilantro, Cotija cheese, sour cream and lime wedge.
Notes
To make chilaquiles rojos and verdes, use one cup of the ancho-tomatillo salsa (or any other red salsa of choice) and one cup of salsa verde. Divide the fried tortillas and chicken in half, and cook them separately in each salsa. To serve, place on each plate some of the chilaquiles rojos and the chilaquiles verdes.
Likewise, I add chicken to mine for a heartier meal, but you can serve them without the chicken, or with beef, beans, sautéed vegetables or scrambled eggs instead.