Chilorio, Mexican Pulled Pork
"What is that incredible smell?" asked a friend as he walked in the door. I pointed to the stove where shredded pork was simmering in an earthy, spicy sauce made from ancho and guajillo chiles and said, "It's chilorio. Mexican pulled pork."
Now, you would think that the first time I would have had chilorio would have been in Texas, but instead it was in Midtown Manhattan. There was a taco stand in the basement of an office building and on its limited menu was chilorio, or Mexican pulled pork, as it was described.
Curious about what constituted Mexican pulled pork, I ordered one of the chilorio tacos and discovered that it was tender strands of pork that were a little spicy and a little sweet. It was rich and flavorful and went quite nicely with a creamy green salsa.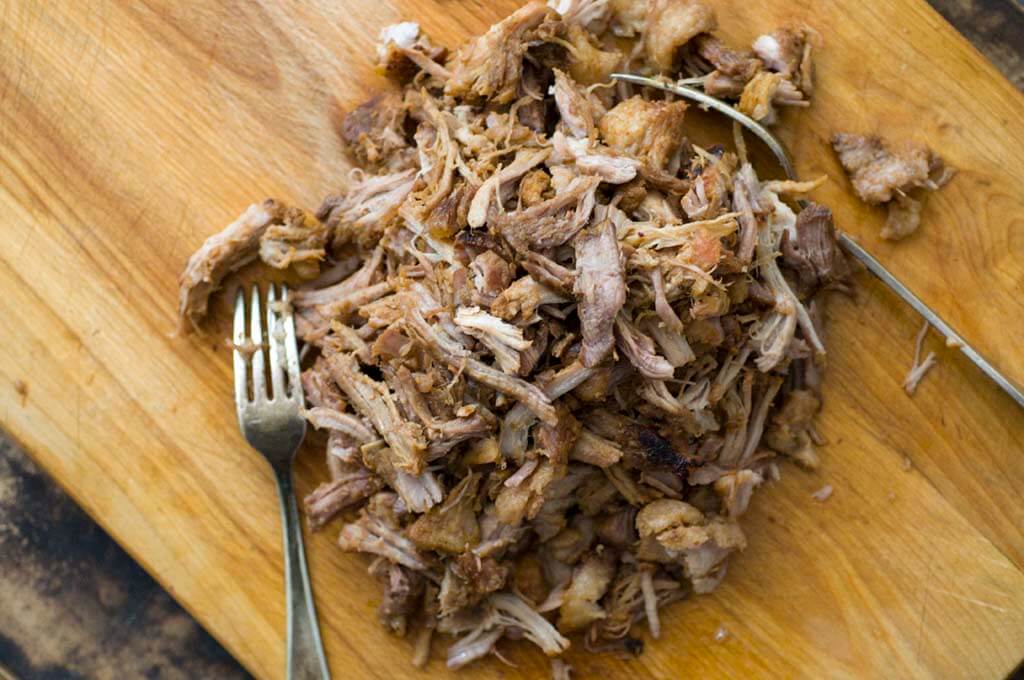 A little research lead me to discover that chilorio is from the Mexican state of Sinaloa, which is in the Northern part of the country. After trying it in New York, I occasionally started seeing it offered on Mex-Mex menus back home in Texas, and all reports were that it was a fine dish worthy of being included on the Texas table.
When I went in search of a recipe, I discovered in Pati Jinich's book, Pati's Mexican Table, that the method to making this was as if you had taken a batch of carnitas—tender, crisp, and lightly sweet from a splash of orange juice—and then given them a bath in a sauce made rich and earthy from anchos, guajillos, and garlic. If you ever wondered what would happen if you crossed carnitas with asado, chilorio would be the result.
You can serve chilorio on its own as a proper main dish, but I prefer to tuck it into warm tortillas, and then top it with salsa, cilantro, onions, and a crumble of Cotija cheese. It's a terrific dish to serve on game day, though it also makes for a good weeknight dinner, especially since the leftovers heat up nicely if you choose to make it ahead of time.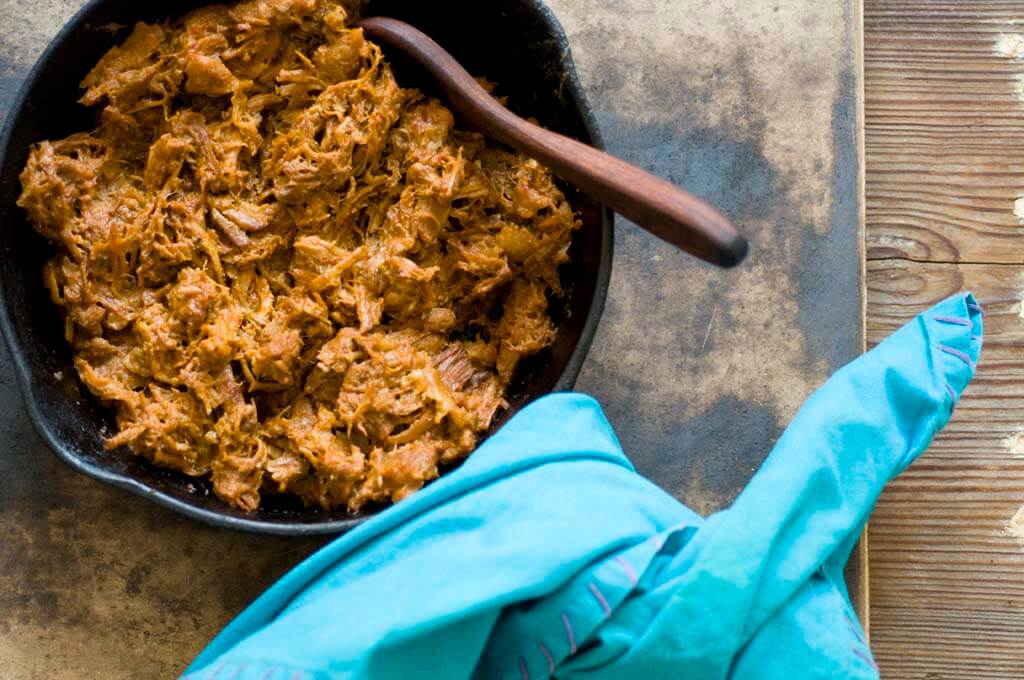 Chilorio takes a while to cook but after it's done, it's very well suited for feeding many folks. Plus, as it cooks your home will fill with an incredible aroma, which will make it all the more welcome when it's finally done. People will ask, "What's cooking?" and you can tell them, chilorio—Mexican pulled pork.
—————
Would you like more Homesick Texan? Well, I've started offering additional recipes for paid subscribers to help with the costs of running the site. While I'm not taking anything away, if you'd like to support Homesick Texan and have access to exclusive, never-seen-before subscriber-only posts, please consider becoming a member; annual subscriptions are as low as $25. Thank you for reading, your consideration, and your support!
—————

Chilorio, Mexican pulled pork
Ingredients
3

pounds

boneless pork butt, cut into 2-inch chunks

2

teaspoons

ground cumin, divided

1

teaspoon

kosher salt

1 1/4

cups

orange juice, divided

2

dried guajillo chiles, stemmed and seeded

2

dried ancho chiles, stemmed and seeded

6

cloves

garlic, chopped

1/2

cup

white vinegar

1

teaspoon

oregano

1/4

teaspoon

ground allspice

1/2

cup

cilantro, plus more for serving

Flour or corn tortillas, for serving

Salsa, for serving

Diced onions, for serving

Cotija cheese, for serving
Instructions
Place the pork butt into a large pot or Dutch oven and toss with 1 teaspoon of the ground cumin and salt. Pour over the pork 1 cup of the orange juice and add enough water for the liquid to just reach the top of the pork (but not cover it), about 1-1/2 cups.

Bring the pot to a boil on high, then turn the heat down to low and simmer uncovered for 1 1/2-2 hours or until the liquid is almost gone and the meat is fork tender.

Meanwhile, as the pork is cooking, in a dry skillet heated on high toast the ancho chiles and guajillo chiles on each side for about 10 seconds or just until they start to puff. Fill the skillet with enough water to cover the chiles. Leave the heat on until water begins to boil and then turn off the heat and let the chiles soak until soft, about 30 minutes.

Once hydrated, discard the soaking water, rinse the chiles, and then place in a blender. Add to the blender the garlic, vinegar, oregano, allspice, cilantro, and remaining 1 teaspoon ground cumin and 1/4 cup orange juice. Blend on high for 5 minutes until smooth. Taste and adjust seasonings, adding salt to taste.

When the pork is done, remove from the pot and when cool enough to handle shred the pork with two forks. Pour the sauce from the blender into the pot you cooked the pork, and with the heat on low, cook the sauce for 5 minutes, stirring and scraping the bottom of the pan to get all the pan drippings into the sauce. Add the shredded pork back to the pot, and toss to coat.

Serve warm with tortillas, salsa, onions, cilantro, and Cotija cheese.