Chipotle chicken taco recipe
If you're like me, you've been sneezing nonstop the past few days. I thought I had a cold until I looked at the calendar and realized what was really happening with my nose—it was an attack of the histamines. Howdy seasonal allergies, you're right on schedule! And that means it's time for chipotle chicken tacos.
I've had bad allergies all my life. When I lived in Houston it was the spring that made my nose explode and eyes water for two weeks. My mom would provide me with those little purse-packs of tissues, but that was never enough and you'd soon find me walking around with a roll of toilet paper that I'd grabbed from the school bathroom. I concede that wasn't very ladylike but at least the toilet paper was softer than the lunchroom paper napkins.
When I lived in Austin, I got slammed in the winter with the dreaded cedar fever. It affected me so badly that one day my boss thought I had the flu and told me to go home. "But it's just allergies from cedar pollen. I'm not actually contagious," I said, but she insisted I leave, which was a very kind thing to do.
I thought when I moved to New York that I would finally escape the plight of allergies and for a few years I did. But a few years ago one fall morning I woke up almost unable to breathe and it's been an annual curse of autumn allergies ever since.
Now, if I told you that I'd found a cure for seasonal allergies, would you believe me? Of course not! You can only suppress the symptoms until whatever it is that's making you sneeze goes away. But two things always help me feel better when I'm in this state—chicken and chiles—and so I made a batch of shredded chipotle chicken tacos to help fight the histamines and make the allergy invaders go away.
Why does this work for me? Well, there's plenty of chicken, which has been proven to help reduce congestion. And there's enough fire from the chipotles to help clear your head. An added bonus is that I use a whole chicken so there's plenty of leftover broth to sip until your allergies have finally gone away.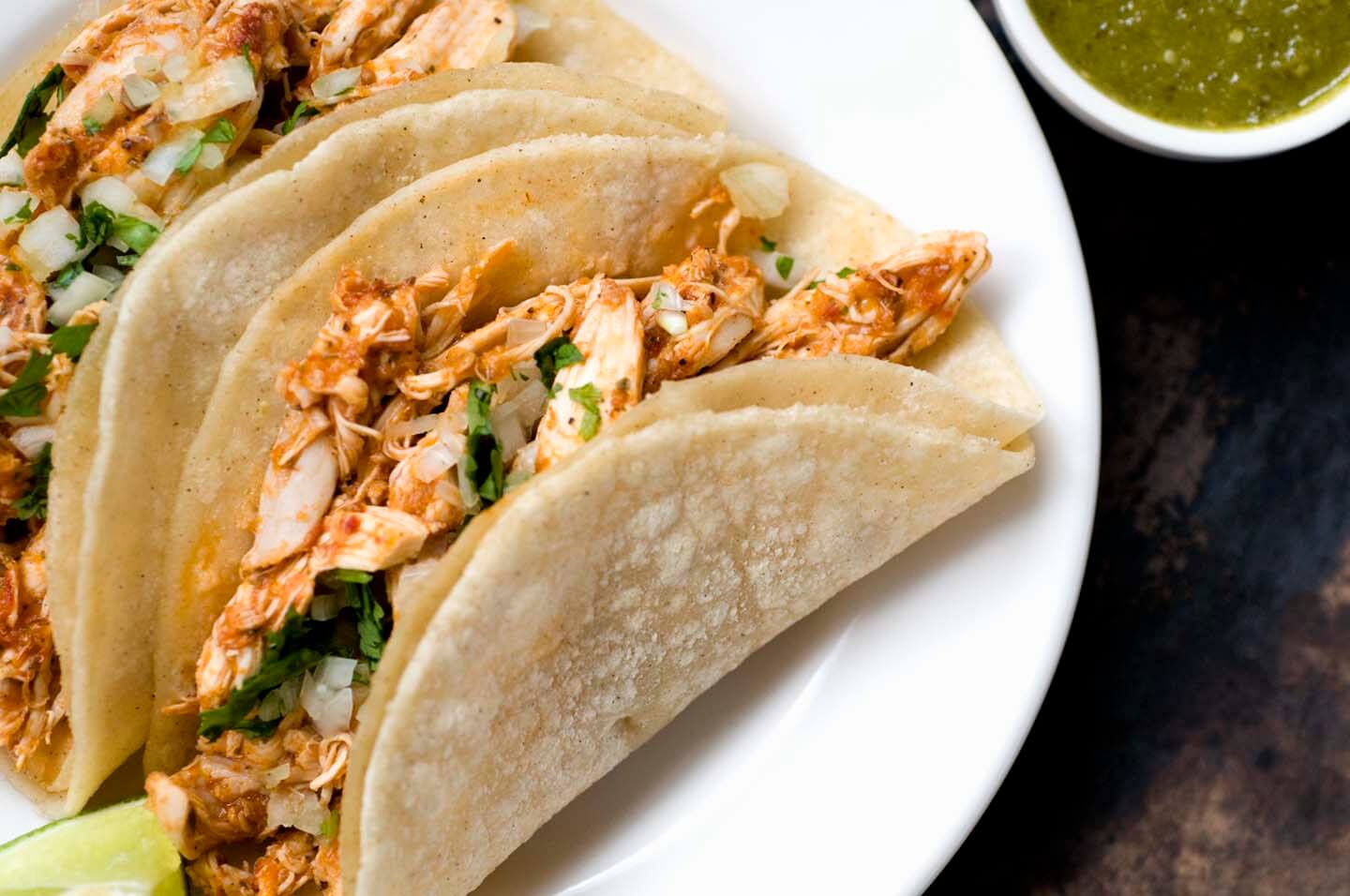 I certainly can't make any guarantees these chipotle chicken tacos will help you stop sneezing, but they certainly can't hurt and as well, they simply taste good, too. And hey, if you're fortunate enough to not have allergies, don't feel excluded—these tacos can be enjoyed by anyone! But if you are suffering from allergies right now, I hope that you feel better soon.
—————
Would you like more Homesick Texan? Well, I've started offering additional recipes for paid subscribers to help with the costs of running the site. While I'm not taking anything away, if you'd like to support Homesick Texan and have access to exclusive, never-seen-before subscriber-only posts, please consider becoming a member; annual subscriptions are as low as $25. Thank you for reading, your consideration, and your support!
—————

Chipotle chicken tacos
Ingredients
Ingredients for the chicken:
1

whole chicken cut into quarters

4

cloves

garlic, peeled and whole

1

medium yellow onion, peeled and cut into quarters

1

celery rib

1

leafy stem of cilantro

1

bay leaf

1

teaspoon

peppercorns

1

tablespoon

kosher salt
Ingredients for the chipotle salsa:
1/2

cup

chicken broth

1 1/2

cups

crushed canned tomatoes

2

canned chipotle chiles en adobo (2 chile peppers not 2 cans!)

1/4

medium yellow onion

4

cloves

garlic

1

teaspoon

dried oregano

1/2

teaspoon

ground cumin

Pinch

of ground allspice

1/4

cup

cilantro

1

tablespoon

freshly squeezed lime juice

2

tablespoons

canola oil

Salt

Black pepper

Tortillas, for serving

Lime wedges, for serving
Instructions
Place the chicken in a large pot along with the garlic, onion, celery, cilantro, bay leaf, pepper and salt. Cover with water (about a gallon), bring the pot to a boil and then simmer 1 hour. Remove the chicken from the pot and when cool enough to handle, remove the skin and shred either with your hands or 2 forks.

Meanwhile, strain the cooled broth, throwing out the vegetables. Remove the fat from the broth with a gravy separator. Or you can take a quart-sized plastic storage bag and pour some broth into it. Snip a bottom corner of the bag and drain the broth, stopping when you get to the fat layer that is on top. (You will probably have to do this in batches).

Place 1/2 cup of the chicken broth into a blender, reserving the rest for another use. Add to the blender the tomatoes, chipotle chiles, onion, garlic, oregano, cumin, allspice, cilantro and lime juice. Blend until smooth.

In a medium-sized pot, heat up the oil on medium low heat. Pour the chipotle salsa into the pot and cook while occasionally stirring for 15 minutes. It should be a bit darker in color and a bit thicker. Add salt and black pepper to taste and adjust seasonings. With the heat still on, add the shredded chicken to the pot and stir until the chicken is well coated and has been re-heated, about 5-10 minutes.

Serve shredded chipotle chicken with warmed-up corn or flour tortillas, limes and any of your other favorite taco toppings and your favorite salsa, such as a salsa verde.
Notes
If you don't have a whole chicken, you can use the equivalent in parts. Likewise, if you have leftover chicken, you may toss it in the salsa instead of starting from scratch.