Tex-Mex chicken spaghetti
A friend once described Tex-Mex chicken spaghetti as baked pasta with chicken and chile con queso. If you look at many of the recipes shared today, you'd have to agree with this assessment, as they usually call for the building blocks of classic easy queso—brick processed cheese and a can of tomatoes with green chiles.
That said, the dish began its march to its current version in a much different style. Yes, there were the three elements that one associates with chicken spaghetti—namely the long thin noodles, cooked poultry, and cheese. Though these early recipes were simpler and didn't use much else in creating the sauce.
The first recipe I could find in Texas was published in the Amarillo Daily News in 1931. It worked with the three main ingredients, along with a small scoop of chili powder for flavor. The cheese is a big part of this version, as it's not only cooked with the chicken but also tossed with the pasta before baking. Though the exact type of cheese is not specified.
Indeed, for the next few years, recipes were shared in the Texas press, yet you were never told what cheese to use. Because grocery stores in the 1930s did not have an abundance of cheese choices, you could surmise that it was most likely Cheddar cheese though early Texas recipes for Italian spaghetti also call for Parmesan, which was on store shelves back then in canned form.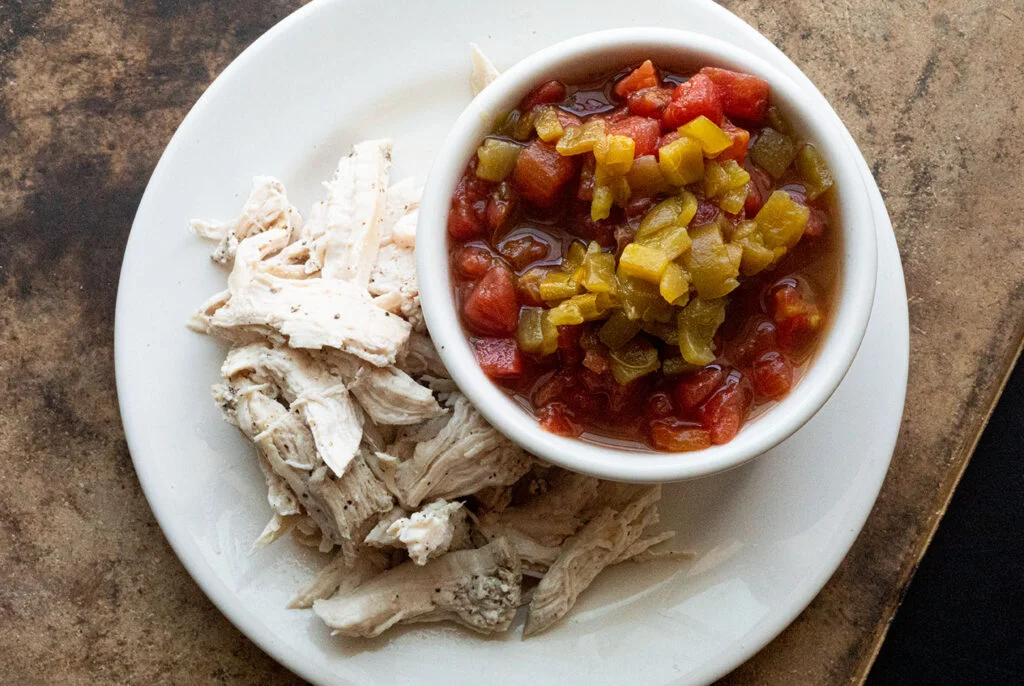 In 1939, the Paris, Texas News had a recipe that made a sauce out of Velveeta cheese, which had been marketed by Kraft since 1925. It also had cream of mushroom soup, a canned food that was introduced in 1934. This rendition was the beginning of how chicken spaghetti is often prepared today. It's a comforting casserole made with convenient ingredients.
In my second book, I shared a recipe that took away the soups and processed cheese and created a cheesy base that was inspired by my natural chile con queso. Namely, a roux was formed with flour and milk to make a foundation for non-processed cheeses such as Cheddar and Monterey Jack. I also roasted both the peppers and tomatoes instead of going with the canned ones.
That said, when working on my Queso book I came across a simple El Paso chile con queso recipe from a local article published in the 1940s. It used three ingredients—cream cheese, evaporated milk, and canned green chiles. You melted the three together to form a smooth and rich queso, which was as easy as melting a block of brick cheese and canned tomatoes and chiles, such as Rotel tomatoes.
The use of Velveeta in a chicken spaghetti recipe dovetails with its use in commercial queso. But what if instead of going with it, one made a chicken spaghetti following the El Paso style? I put my idea to the test, and it worked out well.
First, for the chicken, I poached some breasts, but to save time you could use leftover rotisserie chicken or roast chicken. Next, I made the sauce with cream cheese and evaporated milk. Though in a nod to the traditional method, I threw in canned tomatoes with extra green chiles for a kick.
After combining the chicken with the noodles and sauce, the pot was filled with a creamy, savory, and hearty dish. Now, you could stop there and make it a one-pot meal. Though I love a blanket of melted cheese on mine, so I transferred it to a skillet, topped it with shredded Monterey Jack cheese, and broiled it for a few minutes until it was browned and bubbling.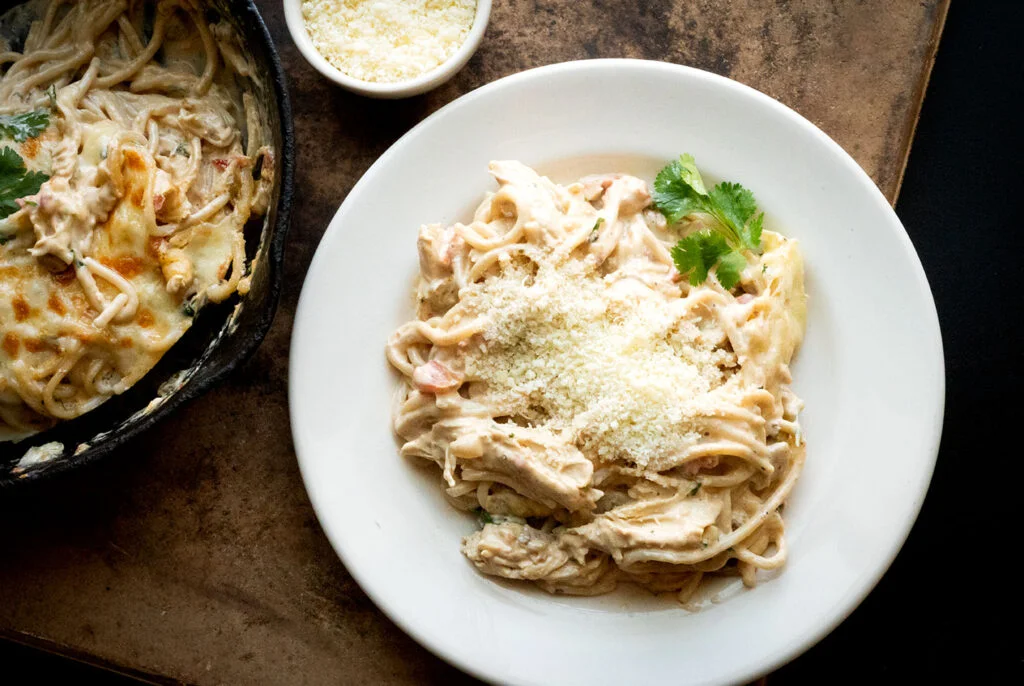 This El Paso-inspired take on an easy weeknight chicken pasta dish is velvety and lively. It also comes together quickly. Sure, you can make it more complicated, but if you want an easy meal that will satisfy hungry eaters, chicken spaghetti is a beloved standard.
—————
Would you like more Homesick Texan? Well, I've started offering additional recipes for paid subscribers to help with the costs of running the site. While I'm not taking anything away, if you'd like to support Homesick Texan and have access to exclusive, never-seen-before subscriber-only posts, please consider becoming a member; annual subscriptions are as low as $25. Thank you for reading, your consideration, and your support!
—————
Tex-Mex chicken spaghetti
Ingredients
1

(8-ounce) can tomatoes with green chiles

1

(4-ounce) can green chiles

2

chicken breasts, preferably with the bone and skin

2

tablespoons

kosher salt

1

tablespoon

black pepper

Water to cover

8

ounces

spaghetti

2

tablespoons

unsalted butter

½

medium yellow onion, diced

4

cloves

garlic, minced

8

ounces

cream cheese

1

(12-ounce) can evaporated milk

½

teaspoon

ground cumin

Pinch

cayenne pepper

¼

cup

chopped cilantro

8

ounces

Monterey Jack cheese, shredded

Parmesan cheese, for serving
Instructions
Drain the tomatoes and green chiles. Reserving 2 tablespoons of the liquid, pour the rest of the liquid into a large pot. Save the tomatoes and green chiles for later in the recipe.

Add the chicken breasts to the pot, skin side down, then cover the meat with 1 inch of water. Add the salt and pepper then bring to a soft boil on medium heat.

Once it begins to gently bubble, turn the heat down to low and simmer uncovered for 12-14 minutes or until the internal temperature is 150°F. (If using boneless, skinless breasts, you'll want to cook for about 8-10 minutes instead.)

Keeping the broth in the pot, remove the chicken with tongs and when cool enough to handle, remove the skin and bones then shred the meat with your hands.

Meanwhile, with the same pot, turn the heat to high and bring the leftover chicken broth to a boil. (If there's not enough left to cook the spaghetti, add more water to the pot.) Place the spaghetti in the pot and cook until tender, as per the package instructions.

Once the spaghetti is done, drain and then rinse out the pot. Return the pot to the stove and heat the butter on medium. Add the onion, and while stirring occasionally cook until softened and fragrant, about 3-5 minutes. Add the garlic and cook for 30 more seconds.

Add the cream cheese and evaporated milk to a saucepan, then over medium-low heat melt and blend the two while stirring. After 5 minutes, the cream cheese should be melted and blended with the evaporated milk.

Stir in the cumin, cayenne, cilantro, canned tomatoes, chopped chiles, and reserved liquid, then taste and add salt to the mixture (I start with 1 teaspoon and go from there). Stir in the shredded chicken, then stir in the cooked spaghetti until everything is well combined.

Taste the chicken spaghetti and adjust the seasonings, if needed. Turn on the broiler and place a rack 6 inches from the heating element.

Transfer the spaghetti to an oven-proof 10-inch skillet or casserole dish then top with the shredded Monterey Jack. Place the skillet under the broiler and cook until the cheese is melted and beginning to brown, 1-3 minutes.

Serve warm with Parmesan cheese on the side for serving.
Notes
If you want more kick, you can substitute Pepper Jack cheese for the Monterey Jack. If you want to use already-cooked shredded chicken, you will need 3 1/2 cups.