Honey-soaked hot cross buns
The first time I heard of hot cross buns was during a piano lesson. It was early in my (very short) musical career, so I could only play songs that had a few notes all hovering close to middle C. One day, my teacher opened my book to a song called "Hot Cross Buns," and said, "This is easy. I'm sure you can handle this." And I could.
Along with the song being easy to play, the lyrics were also simple:
"Hot cross buns,
Hot cross buns,
One a penny,
Two a penny,
Hot cross buns."
But like most simple yet catchy songs, it stayed in my head and I wasn't satisfied until a few years later when I finally convinced my mom to make them for our family.



Hot cross buns are a sweet roll served at Easter time. Traditionally, they're sold and served on Good Friday (hence the song's lyrics, which chronicle a hot-cross bun transaction in a more-kind economy). My family, however, also ate them also on Easter morning, which is where a bite of one always transports me.

Before we'd go to church, mom would pull out of the oven a pan of these soft buns sprinkled with raisins and cinnamon. After letting them cool for a few minutes, she'd cross the tops with icing and then we'd grab them while they were still warm to the touch.
I'm kind of a fallen Episcopalian, but I still enjoy following the liturgical calendar and observing some of the traditions that accompany each celebration. Of course, hot cross buns can't be found in the Bible or the Book of Common Prayer, but nonetheless, eating them makes me feel like I'm observing Easter the way that I was raised.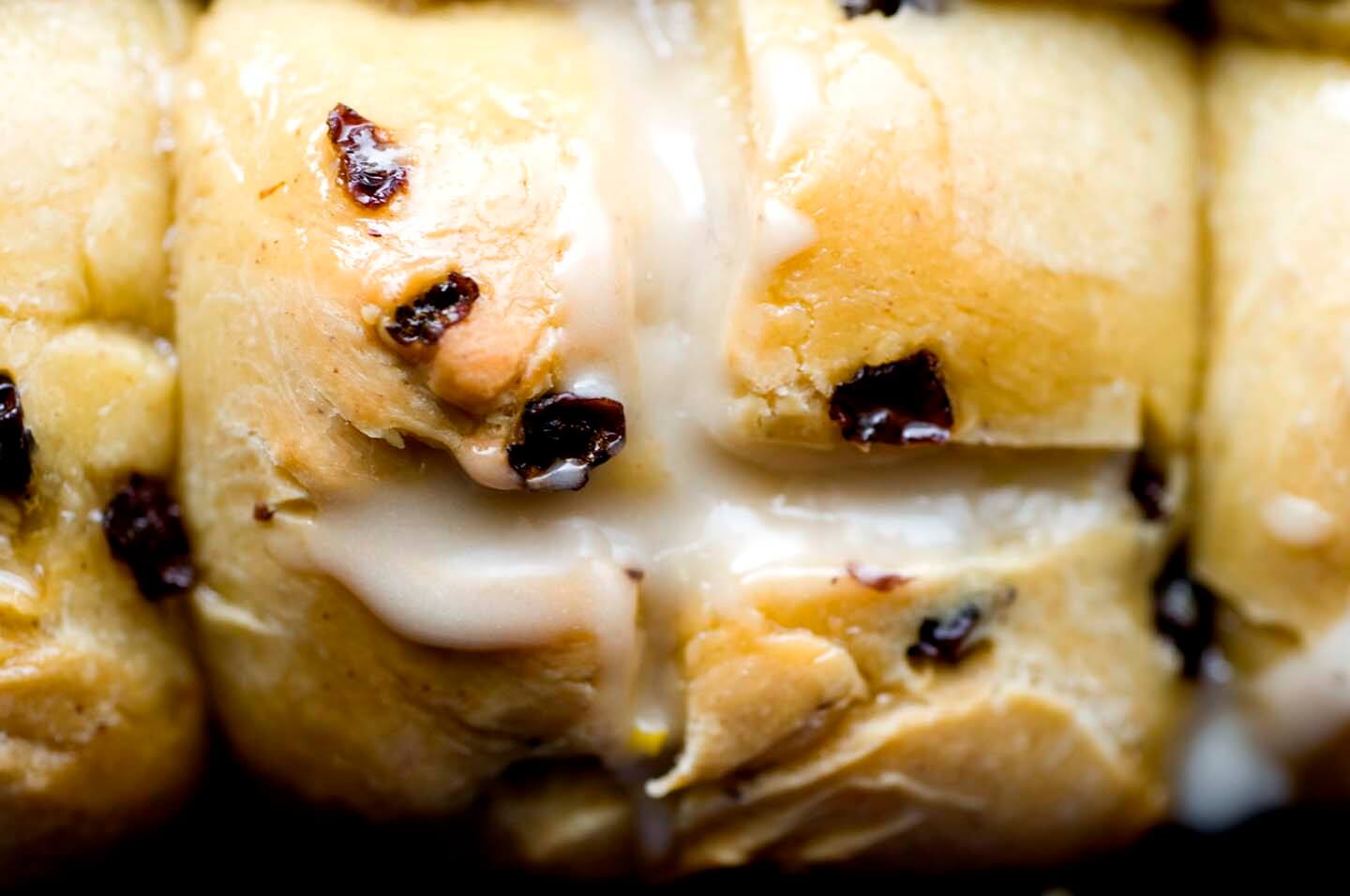 Here is my mom's recipe for hot cross buns. They appear to be a holdover from her granola days when sugar was bad but honey was healthy. No matter, the honey makes them sweet, sticky and soft. 
Of course, you don't have to be a Christian to enjoy hot cross buns. There's evidence that these buns hark back to pagan times, but no matter your religious affiliation, you will agree that hot cross buns are indeed heavenly.
Honey-soaked hot cross buns
Ingredients
Ingredients for the buns:
1

package dry yeast

1/4

cup

warm water, plus 2 tablespoons

3/4

cup

milk

½

cup

unsalted butter

2

tablespoons

of honey, plus more for glazing

1

teaspoon

kosher salt

½

teaspoon

ground cinnamon

½

teaspoon

ground nutmeg

3

eggs

2/3

cup

raisins or currants

4

cups

all-purpose flour, plus more if needed
Ingredients for the frosting:
1

cup

confectioner sugar

2

tablespoons

water

1

tablespoon

honey
Instructions
Combine the dry yeast and warm water.

Warm over low the milk, butter, salt, and 2 tablespoons of honey until the butter has melted. (Do not let it come to a boil!) Add to the yeast mixture.

Whisk in cinnamon, nutmeg, and eggs into the mixture. Add the raisins and slowly stir in the flour, 1 cup at a time.

Knead on a lightly floured surface for 5 minutes until the dough is smooth and resilient.

Let rise covered in greased bowl until double.Then punch down the dough and divide into 24 balls and place, sides touching, in a greased and floured 9x13 pan and let rise again. With a sharp knife, cut crosses into each bun.

Bake at 375° F for 15 minutes.





Glaze with honey (as much or as little as you like) and bake 5 minutes more. Meanwhile, stir together the confectioner sugar, the honey and the two tablespoons of water to make the frosting. When you take the buns out of the oven, cool for 10 minutes, then cross each bun with the frosting.