Lunch ladies and fried okra
School lunches are a hot topic du jour as the school year has recently begun. Everyone from The New York Times to the New Yorker seems to be weighing in. Most of these articles focus on changing the traditional school lunch from its government sanctioned mediocrity into something that has nutritional value. But of course, lots of kids have a well-formed junk-food palate, and are averse to foods that aren't deep fried or loaded with sugar. One student in Burkhard Bilger's New Yorker profile of crusading Berkeley, CA school chef Ann Cooper, laments Cooper's new vegetable-heavy menus: "…She missed all the meat from last year. She picked at her pink coleslaw. 'I'm moving to Texas,' she said." While it is not explained if she's really moving to Texas or just wants to move to Texas because she believes there will be more meat served with her school lunch, the comment made me laugh. I don't remember Texan lunch ladies serving up huge portions of meat, but there sure was a lot of fried okra.
In hindsight, I reckon I was fortunate because my mother made my lunch for me everyday and I rarely ate the stuff served by the cafeteria ladies. But as a kid, when everyone around you has a tray and you're schlepping a Pigs in Space lunch kit filled with a peanut-butter and banana sandwich on homemade, whole-wheat bread; a piece of fruit; a bag of what she called "miscellaneous" but what I'd now call trail mix—raisins, nuts, and dried coconut; and a thermos filled with milk—well, you're just not cool. Even the other kids who did bring their lunches got to eat processed meat with American cheese on Mrs. Baird's white bread, a bag of Fritos, and Zingers. I hated having health-food nuts for parents, it just made me appear weird to me fellow young Texans.

My mom at the time was a special education teacher at the school I attended. One crisp late November, she had a horrible case of the flu and had to stay home for a few days. But every morning, she still managed to drag herself out of bed and make me a lunch. Talk about love! But, of course, I was a brat who didn't know any better. So when lunchtime rolled around, I left my lunch kit at my desk and decided I'd try the line. What an experience! They served me a hamburger, fried okra, tater tots, chocolate pudding and chocolate milk. And even though I didn't have any money, I wasn't worried—I had it covered. When I got to the cashier, I just told her to charge my lunch to my mother's account. Never mind if she actually had an "account" or not. But the cashier said OK, and I finally got to eat what all the other kids were eating, on a tray no less. I was in heaven. The next couple of days, I repeated my actions. One day was pizza, fried okra, tater tots and vanilla pudding. Another day was fried meat with gravy, fried okra, corn and banana pudding. All this washed down with glorious chocolate milk (I was served carob milk at home so this was a marked improvement in the taste department). And I charged it all to my mother's account.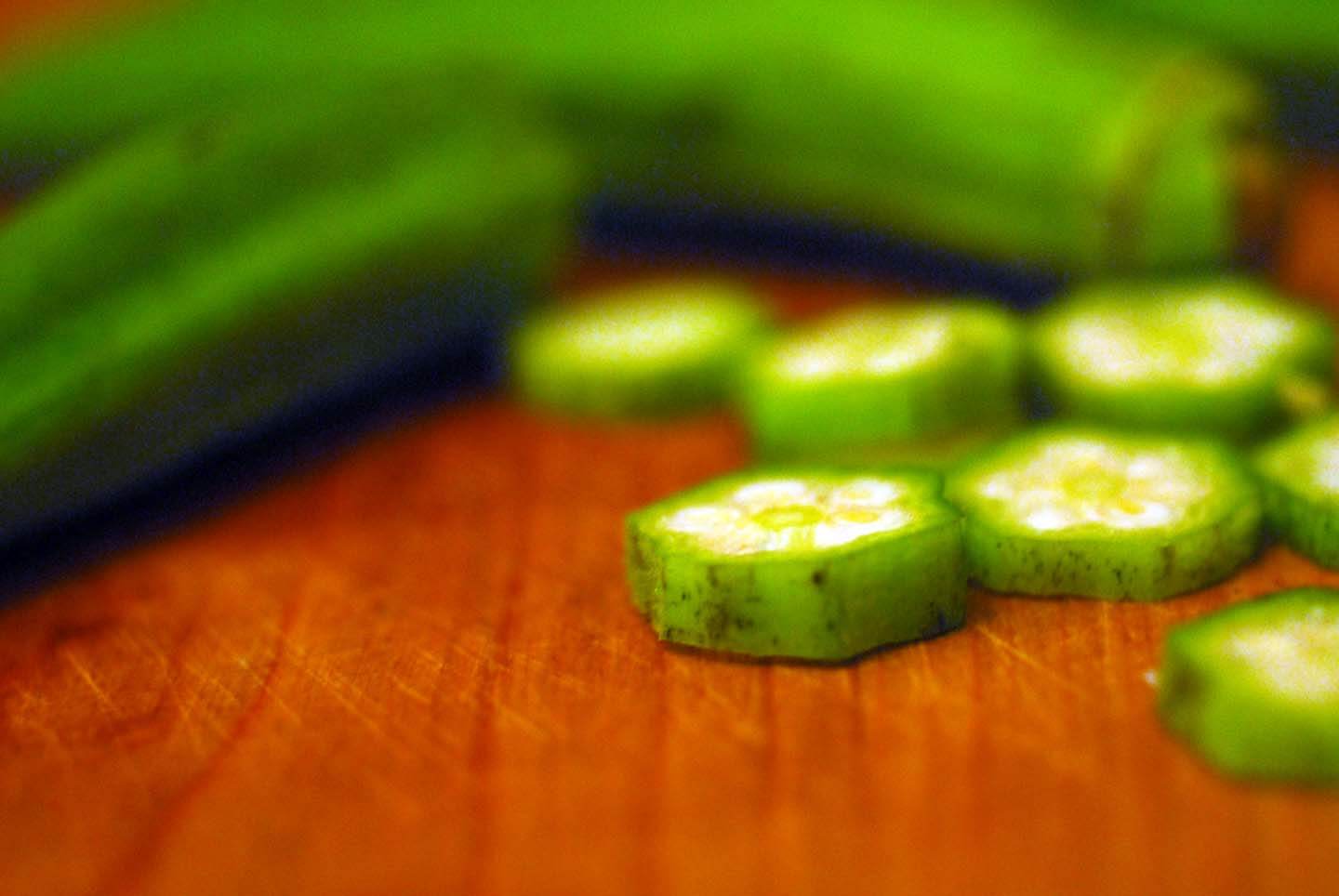 Aside from my sneaky-snake seven-year-old self, do you notice a trend? That's right. Fried okra. Every day the lunch ladies in Texas served it, and, well, it's the one thing I wouldn't eat. Okra was gummy and gross and I was on a health-food vacation. But it's the end of summer, and and the markets are filled with okra. Seeing all the stories about school lunches urged me to revisit this Texan tray-lunch staple. I found a recipe that was baked with bacon instead of deep fried, and since anything with bacon has to be good, I decided to give it a try. And it was indeed tasty. I still think okra is a touch slimy, but the crunch of the bacon and cornmeal provides a good counterbalance.
And yes, if you're wondering, I did get busted. When my mother returned to school, the principal told her what I'd been up to while she was away. And my furious mother made me repay her the $2.10 for the 3 lunches and another 50 cents for some bake-sale brownies and cookies I'd also charged to my mom's account. But if my bad behavior urged me to revisit fried okra 25-years later, then it was all worthwhile.
Did you buy or bring your lunch as a kid? What do you think about okra?
Okra baked with bacon
Ingredients
1

cup

cornmeal

1/2

cup

all-purpose flour

1/4

teaspoon

salt

1/4

teaspoon

black pepper

5

drops Tabasco sauce

1/8

teaspoon

cayenne pepper

2

pounds

fresh okra, washed, dried and cut into 1/2-inch rounds

6

strips uncooked bacon, diced
Instructions
Preheat oven to 400° F. Lightly oil the bottom of a 9-by-13-inch baking dish.

In a large resealable plastic bag, combine cornmeal, flour, salt, pepper, Tabasco sauce, and cayenne; close and shake to combine. Add the okra pieces and shake to coat the okra in the cornmeal mixture.

Arrange okra in prepared baking dish in two layers. Top with bacon. Bake for 20 minutes; stir lightly to make sure all pieces come into contact with the bacon. Bake 5 to 10 minutes more, until the bacon is browned and the okra is crispy on the outside.