Blueberry lime cornmeal crumble
When I was a kid, my mom used to make a dessert that combined canned pie filling, cake mix, and a stick of butter into something of a quick cobbler. The combination of the three made for a sweet, salty, and rich dessert that I would be devour by the pan. Often, I've tried to approximate this by using fresh ingredients, but I never could get it quite right.
Recently, I attempted to make a batch of blueberry bars, and the recipe turned out to be a disaster, at least structurally. The base was too crumbly and the filling too gooey for them to be handheld and portable. To eat it, you needed a spoon. That said, the flavor was still excellent, and as I tucked into a big bowl of the buttery cornmeal crumble combined with juicy blueberries livened up with lime juice and vanilla, I deemed the dessert a success.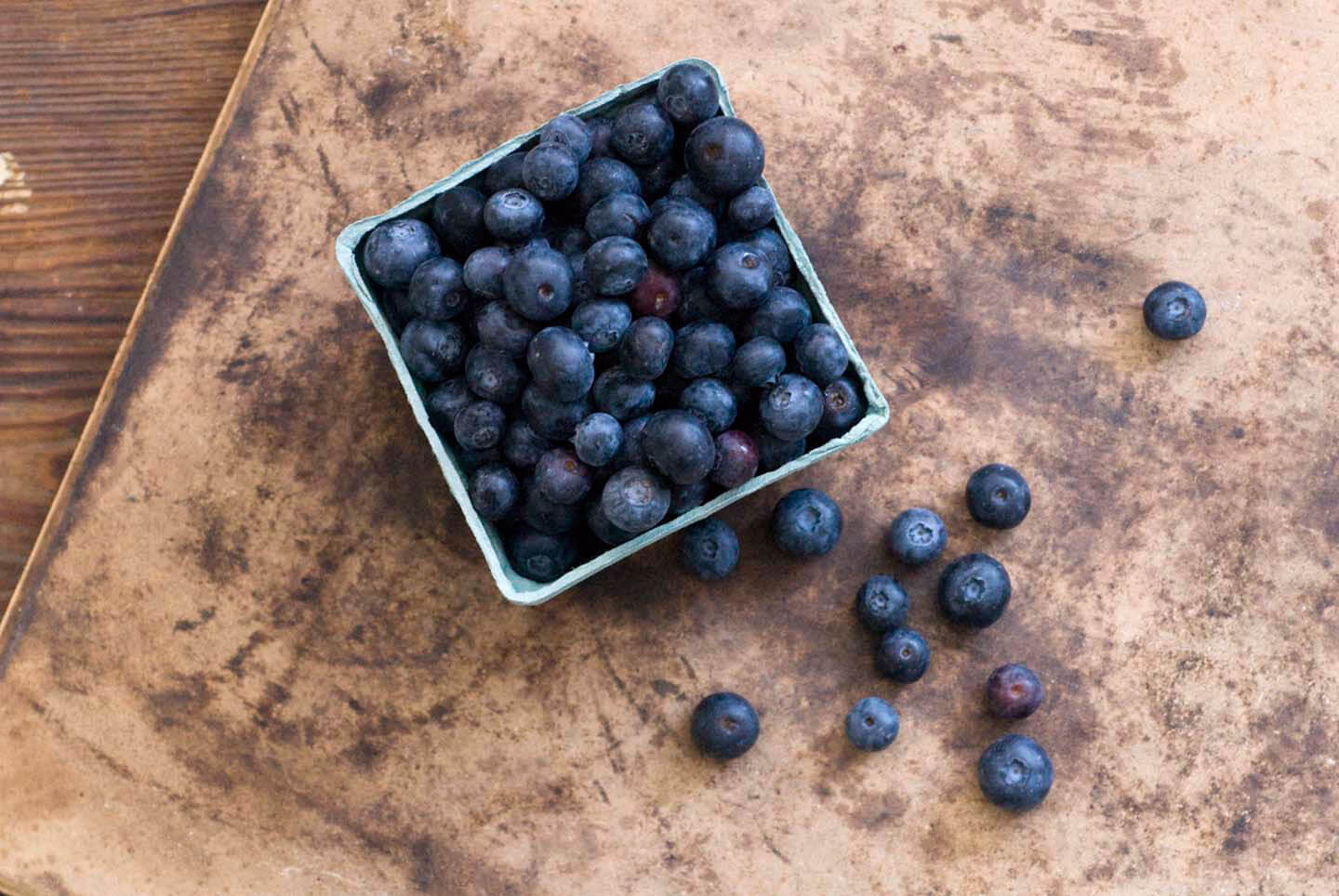 As I worked my way through the dish, however, I also realized how much it reminded me of that treat my mom used to make. It never fails to amaze me how life turns out when you're making other plans. And so, the foundation of this recipe may not have worked as a cookie, but as a fruit-and-pastry dessert made for bowls, ice cream, and spoons, the recipe was exactly as it should be.
So, what should I call it, I wondered? The combination of juicy berries livened up with lime juice along with a buttery cornmeal pastry wasn't exactly a pie, as the topping was too tender to hold together the juicy berries in a contained slice. Though to label it a cobbler also seemed a bit off, as well, since mine tend to skew toward a melding of biscuits with fruit, and this cornmeal dough was more tight then loose.
Then I stumbled upon the family of desserts known as crumbles. Like a crisp, which is a fruit dessert capped with a nut and oat crust, a crumble's topping is also a short pastry though the oats and nuts are missing and instead it's made with flours and butter. And so, blueberry lime cornmeal crumble was deemed the new name.
Though no matter what you call it, if you have a bounty of blueberries this is a simple dessert you will want to prepare and share. Unlike pie, which requires rolling out a dough, this crumble has you pat the dough into a pan or skillet before topping with fresh berries tossed with lime juice and zest, sugar, and cornstarch, along with more pastry. As for the cornmeal dough, it's also a cinch as it's butter, sugar, lime juice and zest, flour, and cornmeal mixed together until smooth. Working with it is not difficult at all.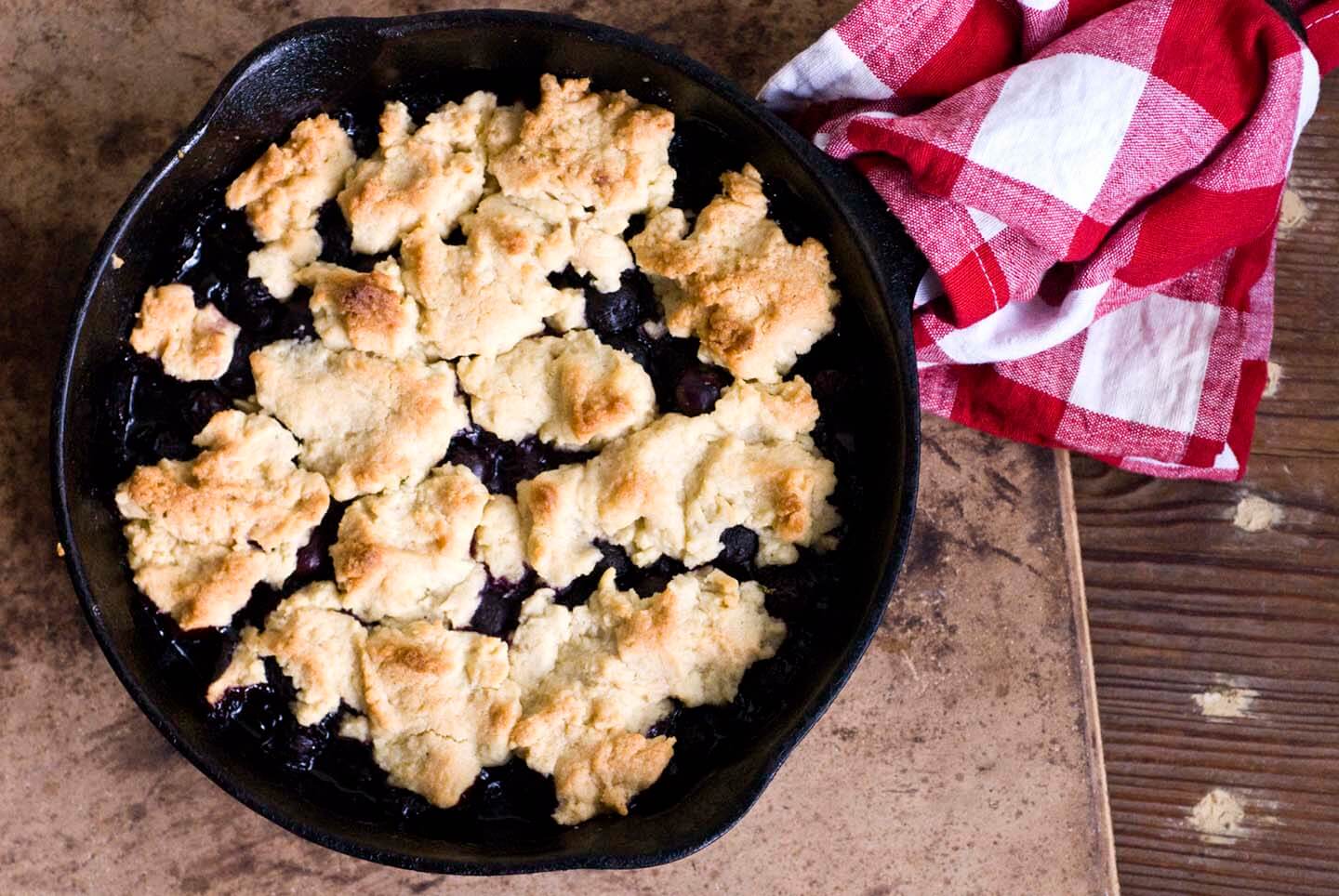 While I haven't given up on making a from-scratch version of my mom's dessert, this blueberry lime cornmeal crumble is now going into heavy rotation. Blueberries are at their peak now but you could also make this with frozen berries, too, or other fruit such as peaches, raspberries, or cherries, as well.
Besides the flavor, however, what I love most about this dessert is how effortless it is to throw together. Tangy, tender, crumbly, and sweet, this crumble is a cinch to prepare and I know it'll be a hit at your next summertime gathering.
—————
Would you like more Homesick Texan? Well, I've started offering additional recipes for paid subscribers to help with the costs of running the site. While I'm not taking anything away, if you'd like to support Homesick Texan and have access to exclusive, never-seen-before subscriber-only posts, please consider becoming a member; annual subscriptions are as low as $25. Thank you for reading, your consideration, and your support!
—————

Blueberry lime cornmeal crumble
Ingredients
For the crumble:
1

cup

(2 sticks) unsalted butter, room temperature

3/4 

cup 

granulated sugar

1 

tablespoon

vanilla extract

2

tablespoons

freshly squeezed lime juice

1 

teaspoon

lime zest

1 1/2 

cups 

all-purpose flour

1 

cup

yellow cornmeal

½

teaspoon

kosher salt
For the filling:
4

cups

fresh blueberries or frozen, thawed

1/2 

cup 

granulated sugar

2 

tablespoons 

cornstarch

2

tablespoons

freshly squeezed lime juice

1 

teaspoon

lime zest
Instructions
Preheat the oven to 350°F and grease a 10-inch cast-iron skillet or 9x9 baking pan.

To make the dough, cream together the butter and the sugar until smooth then add the vanilla, lime juice, and zest until well blended. Stir in the flour, cornmeal, and salt and blend until smooth.

Take half the dough and evenly pat it into the skillet. Toss the berries with the sugar, cornstarch, lime juice, and zest then place in the skillet. Take the remaining half of the topping and patting it into flat pieces place it over the berries leaving some of the berries exposed. (If you were ambitious, you could also roll out this top portion and cut into shapes, such as stars.)

Bake uncovered for 45-50 minutes or until bubbling and the topping is lightly browned. Allow to cool before serving.