According to a spring 1957 issue of the Claude News, the Business Women's Club of this Texas panhandle town got together for a luncheon meeting. On the menu were roast beef, chicken and dumplings, mashed potatoes, macaroni and cheese, vegetable salad, rolls, corn muffins, and (if you had any room after such a feast) strawberry cobbler for dessert.
When I go through Texas newspapers from the past, I'm always struck by how people's local gatherings, whether for business or for pleasure, were considered newsworthy. If you dig around the archives, you'll find stories about forty-two parties, ice cream socials, civic group meetings, and a host of other reasons for people to find time to spend with each other and enjoy some good food.
While the articles always conjure up charming images of people enjoying each other's company, my favorite thing is reading about what our Texas ancestors shared at the table, such as the strawberry cobbler served in Claude all those years ago.
While these days cobbler may not be the most common way to serve this beloved spring fruit (in Texas, it's peaches that get most of the cobbler love), it's definitely a dessert that deserves more consideration.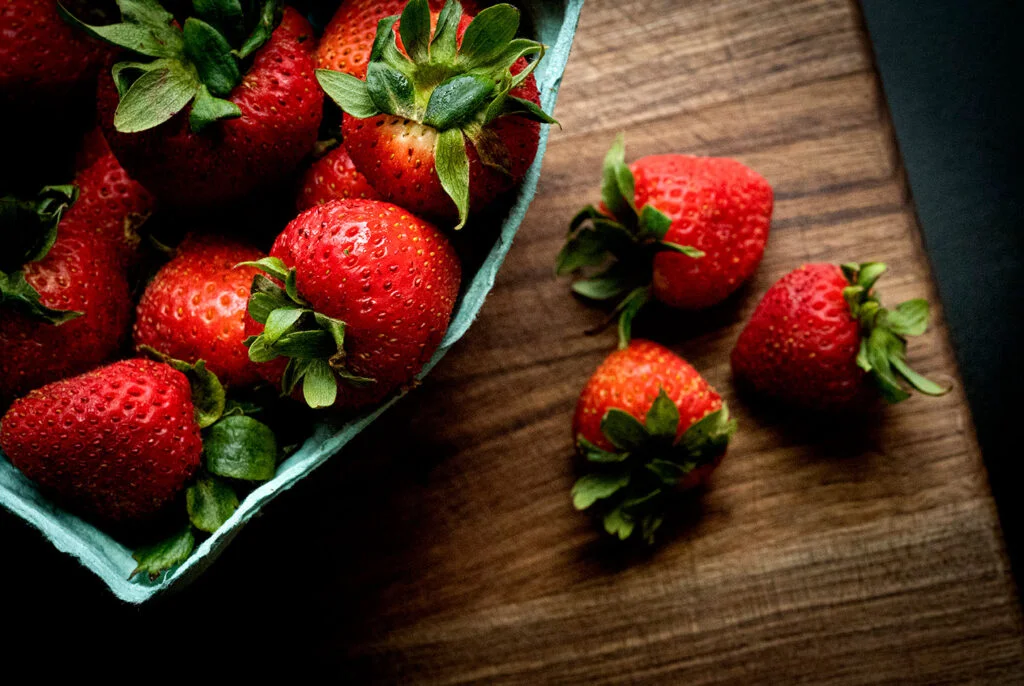 The past few weeks I've been hearing about my friends in Texas going on strawberry-picking excursions and while we have seen some decent days here in New York (though as I write this it is once again freezing outside), it will probably be a month before we see fresh, local strawberries at the market.
Early spring is like this, and a trip to the farmers market can be confusing as the trees are in bloom but on offer are the same lumpy potatoes and heads of cabbage that have been on display for the past few months.

While I like to eat seasonal local foods, it's hard to stay true this time of year. Even the most committed often let their convictions slip. You'll see people at my grocery store give a resigned shrug before grabbing bunches of asparagus or bags of fava beans flown in from warmer places. As for me, my non-local guilty pleasure is strawberries. At this point, I can't wait any longer to enjoy their juicy, tart essence.
Of course, there is nothing finer than fresh strawberries picked straight from the vine; the ones trucked in from far away can't compare. Sure, the non-local ones have a strawberry's basic flavor but they're still a bit dry and cottony in the mouth, not to mention they often have more white flesh than red. If I were a more patient person I would wait.
There are several different crusts you can use for a cobbler. When I decided to make a batch of strawberry cobbler, I went with a biscuit topping, as the soft crust does an excellent job of soaking up the berries' juices. And since cooking the strawberries coaxes out more flavor, a warm cobbler is a terrific dessert when you have less-than-perfect berries and chilly spring days. You may even use frozen strawberries, if you like.
While I confess to making this because my berries weren't very ripe or juicy, I believe it would be even better with the freshest berries in the crop. And while the cobbler is good on its own, it's even better topped with a large scoop of vanilla ice cream, which provides a creamy cool balance to the tender crust and soft berries.
Whether you find yourself hosting a business club luncheon, a Sunday dinner, or are just looking for a quick and easy dessert during the week, I think you'll find strawberry cobbler a welcome addition to the table.
While it might not be as prevalent today in Texas as it was in the past, it's certainly worthy of a comeback. Think of it as strawberry shortcake in a more cozy and warm form. And, you have to admit, it doesn't get much better than that.
—————
Would you like more Homesick Texan? Well, I've started offering additional recipes for paid subscribers to help with the costs of running the site. While I'm not taking anything away, if you'd like to support Homesick Texan and have access to exclusive, never-seen-before subscriber-only posts, please consider becoming a member; annual subscriptions are as low as $25. Thank you for reading, your consideration, and your support!
—————
Strawberry cobbler
Ingredients
Ingredients for the filling:
2

pounds

strawberries, hulled and halved (about 5 cups)

3/4

cup

sugar

¼

cup

all-purpose flour

1

teaspoon

ground cinnamon

1/4

teaspoon

kosher salt

1

teaspoon

vanilla extract
Ingredients for the topping:
¼

cup

(½ stick) unsalted butter

1

cup

all-purpose flour

½

cup

sugar

2

teaspoons

baking powder

½

teaspoon

kosher salt

½

cup

light cream

Vanilla ice cream, for serving
Instructions
In a large bowl, toss the strawberries with the sugar and let them rest for 30 minutes or until juicy. Drain off the excess juice, reserving for another use. (If you prefer a soupier cobbler, skip this step.) Toss the strawberries with the flour, cinnamon, and vanilla, and place in a 9-inch cast-iron skillet or a 9-inch square baking dish.

Preheat the oven to 350°F.

To make the topping, in a small pot, melt the butter over low heat. In a separate bowl, whisk together the flour, sugar, baking powder, and salt. Pour the melted butter and the cream into the dry ingredients, and then stir until sticky, wet dough forms.

Using a spoon, drop spoonfuls of the dough evenly over the strawberries, though it's okay if some of the strawberries are exposed. Bake, uncovered, for 35 to 40 minutes, or until the crust is golden brown and the filling is bubbling. Allow to cool for 10 minutes before serving. Serve warm topped with vanilla ice cream.
This recipe was first published in 2014 and was slightly updated in 2023