The first Thanksgiving that my brother attended with his new wife was a big occasion. They live in Oregon, and while she'd visited with our immediate family in Houston before, she'd never made a trip to the family farm. Not to mention, there was a whole host of cousins and far-flung relations who would be meeting her for the first time. We were all delighted to get to know her better.
Now, our family's Thanksgiving is a group effort, with each contributing at least one beloved dish. For instance, one uncle makes dressing, while another bakes his signature sweet potato pie. One cousin whips up a cheese ball, and I'm often on cranberry duty. It makes the meal extra enjoyable when everyone brings something to the table.
When we discussed what we'd prepare for that year's meal, my sister-in-law offered to take on mashed-potato duty. Like many families, mashed potatoes have long been a Thanksgiving standard for us, with each member adding their own flair.
For instance, my mom prepares hers with lots of butter and garlic, which yields a savory, rich concoction. For mine, I take her basic recipe and include roasted chile peppers, such as poblano and jalapeños, which give the potatoes an earthy kick. So, I was curious to see what my sister-in-law would do with hers.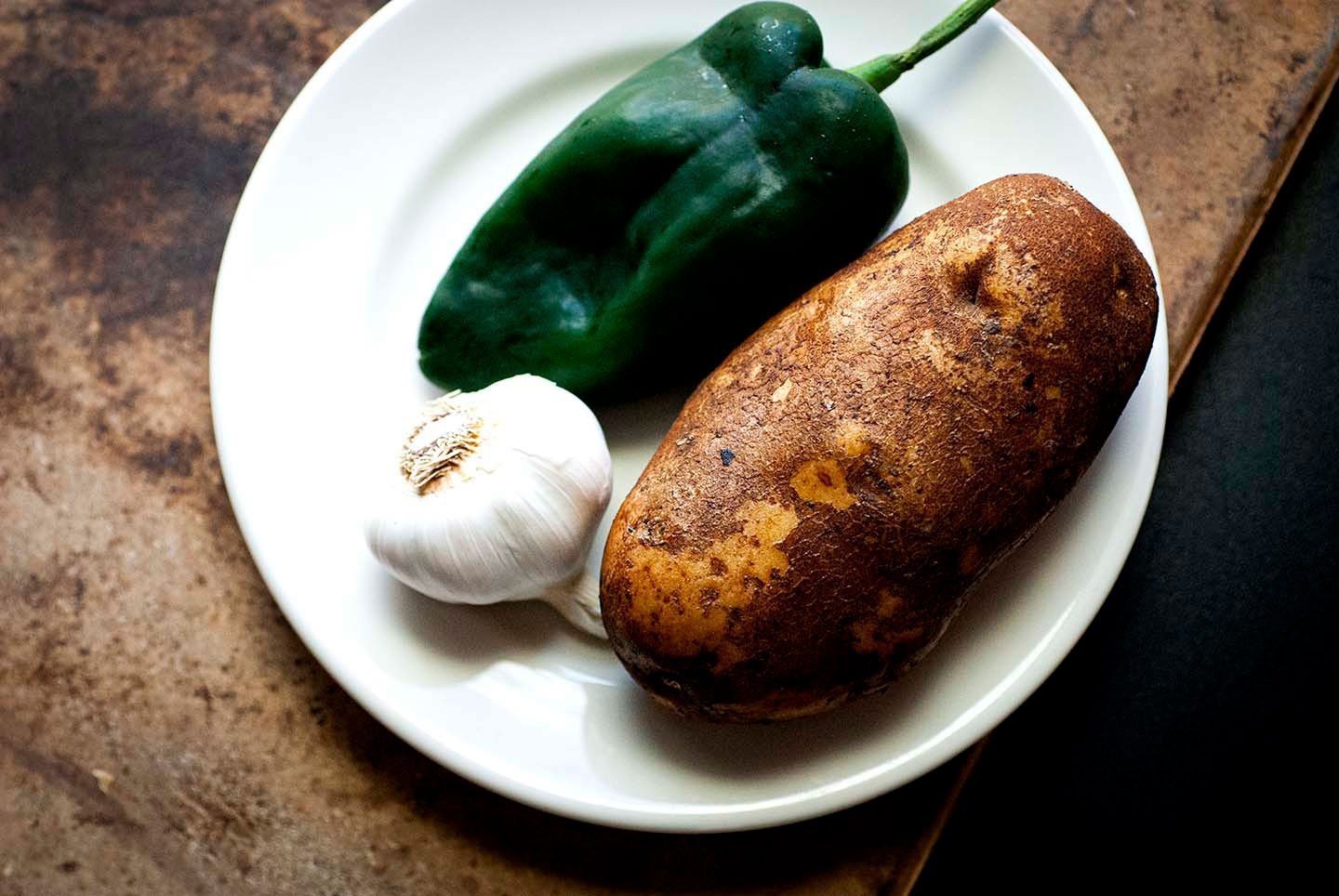 On the day of the feast, we all crowded into my grandma's kitchen. As I was stirring the cranberry salsa on the stove, I took a peek at my brother's wife as she worked. She mashed the potatoes then added the usual amounts of salt, pepper, and butter. But she then took an unusual turn and poured buttermilk into the bowl. I'd never seen it done this way before and I was intrigued.
While I wondered if the mashed potatoes would taste strange, instead the buttermilk added a welcome contrast to the heavier notes. The potatoes were lighter and fluffier yet still managed to be creamy. We all decided that the addition of buttermilk was a fine addition, just like my sister-in-law was to our extended family.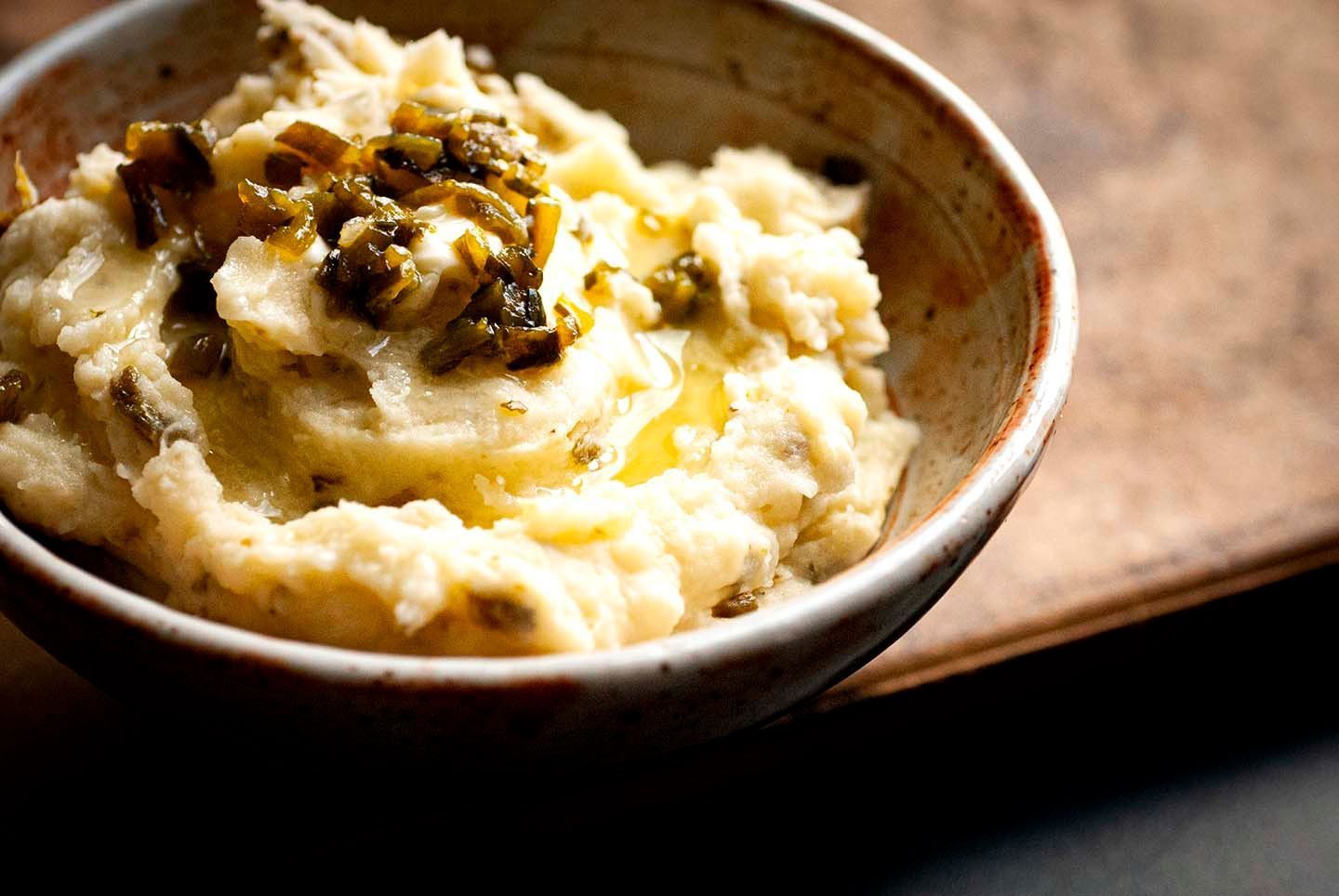 Taking her lead, the next time I made my mashed potatoes, I prepared my usual garlic-and-poblano blend. But following my sister-in-law's lead, I replaced some of the half and half with buttermilk. Indeed, these poblano mashed potatoes are tangy, satisfying, and smooth, and make a fine accompaniment to any meal. And with inspiration arriving from both my mom and my sister-in-law, they are also a true family affair.
—————
Would you like more Homesick Texan? Well, I've started offering additional recipes for paid subscribers to help with the costs of running the site. While I'm not taking anything away, if you'd like to support Homesick Texan and have access to exclusive, never-seen-before subscriber-only posts, please consider becoming a member; annual subscriptions are as low as $25. Thank you for reading, your consideration, and your support!
—————
Poblano mashed potatoes
Ingredients
2

poblano chiles

3

pounds

(about 4) Russet potatoes, peeled and cut into 1-inch cubes

1

tablespoon

kosher salt

black pepper

8

tablespoons

unsalted butter

4

cloves

garlic, minced

1

cup

half and half

1/4

cup

buttermilk
Instructions
First, roast the poblanos under the broiler until blackened on both sides, about 10-12 minutes, turning once. Once blackened, place the chiles in a paper sack or plastic food-storage bag, close it tight, and let the chiles steam for 20 minutes. After the chiles have steamed, remove from the bag, and rub off the skin. Remove the stems and seeds from the chiles and finely dice.

Meanwhile, to make the mashed potatoes, place the potatoes in a large pot, cover with 1 inch of water, add about 1 tablespoon of kosher salt, and bring to a boil on medium heat. After the water comes to a boil, turn the heat to medium-low and continue to cook until the potatoes are fork-tender (be sure not to overcook), about 10-12 minutes. Drain and rinse, then lightly salt and pepper the potatoes.

Wipe out the pot, then add the butter and melt it over low heat. Add the garlic, and while stirring, cook until fragrant and softened about 30 seconds. Turn off the heat. Return the potatoes to the pot, and with a masher, mash the potatoes until smooth.

Pour in the half and half and buttermilk, and stir until well blended and creamy. (I leave off the heat to prevent the potatoes from burning on the bottom, but if you find they're not hot enough, use low heat but keep stirring to prevent them from sticking.) Stir in the chiles, then taste and add more salt and pepper if desired.
Notes
If you want it to be more hot, add a jalapeño when roasting, then peel, seed, and dice it like the poblano chiles.