Texas chili powder cheese ball
The first time I wrote about cheese balls on this site, I featured a character named Aunt Betty. She was a fancy relation who impressed everyone with her culinary prowess, which included a cheese ball rolled in chili powder.
Now, when I posted the recipe, my grandmother had sent me two cheese appetizers, so instead of photographing Aunt Betty's splendid cheese ball, I made a cheese log recipe that a neighbor of my grandma's had given to her.
This Roquefort cheese log (for the uninitiated, a cheese log is a cylindrical cheese appetizer, also called a cheese roll; a cheese ball is a sphere, as the name implies) was formed with a softened mixture of cream cheese, blue cheese, garlic, and Worcestershire sauce then rolled in chopped pecans.
The cheese ball, however, was made with cream cheese, Cheddar cheese, nuts, garlic, and Worcestershire sauce before being rolled in a chili powder blend. Clearly, the two are very different recipes, both in appearance and taste, so I've decided to split the recipes on the site for simpler navigation.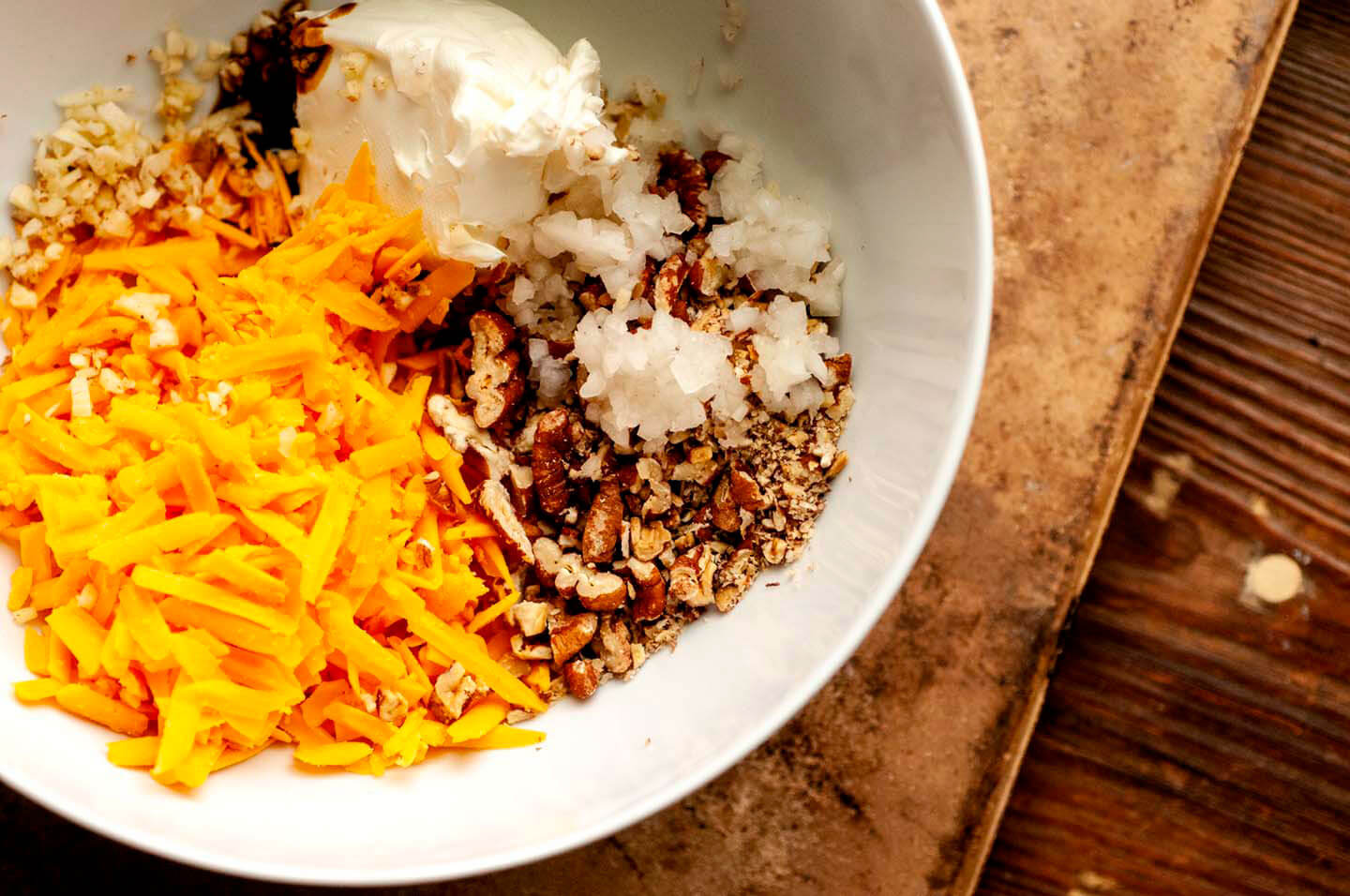 While cheese balls are welcome at any time, I find myself sharing them with friends and family most often during the holidays. And as I reevaluated my original cheese ball post, I realized that not only were the photos for the cheese log (which is incredibly delicious and always a hit—you should make it!) but that I probably hadn't had Aunt Betty's cheese ball since I was a child. It was time to change this.
My uncle has fond memories of this appetizer, marveling how it appeared to him to be this oversized globe. Instead of being covered in chopped nuts, like most cheese balls are, Aunt Betty's cheese ball stood out as it was rolled in chili powder. It was unlike any cheese appetizer he'd ever seen.
This was the first cheese ball that I'd ever made, as it was my grandmother's go-to in the 1970s. But over the years, I'd been sharing my bacon-jalapeño cheese ball and the Roquefort cheese log as a party treat instead. So, when my family gathered for Thanksgiving this year, I decided to surprise them with this old family favorite.
The cheese ball is not hard to make, as you simply blend softened cream cheese, minced onions and garlic, Worcestershire sauce, and chopped pecans then form it into a ball. You then roll the ball in chili powder and it's ready to serve. (You may chill it if you prefer a firmer ball; it can be prepared a couple of days ahead, too.)
After making it, I took a taste and was amazed at how addicting it was. The savory aromatics combined with the nuts and soft cheese are always welcome, but the surprise was how the heavy coating of chili powder gave this a true Texan flavor. It was so good, in fact, that I had to stop myself from eating the whole thing.
When I arrived at my uncle's house for Thanksgiving this year, there were already several cheese balls on offer (my family loves cheese) so when I set out Aunt Betty's Texas cheese ball out for eating, I wondered how it would fare.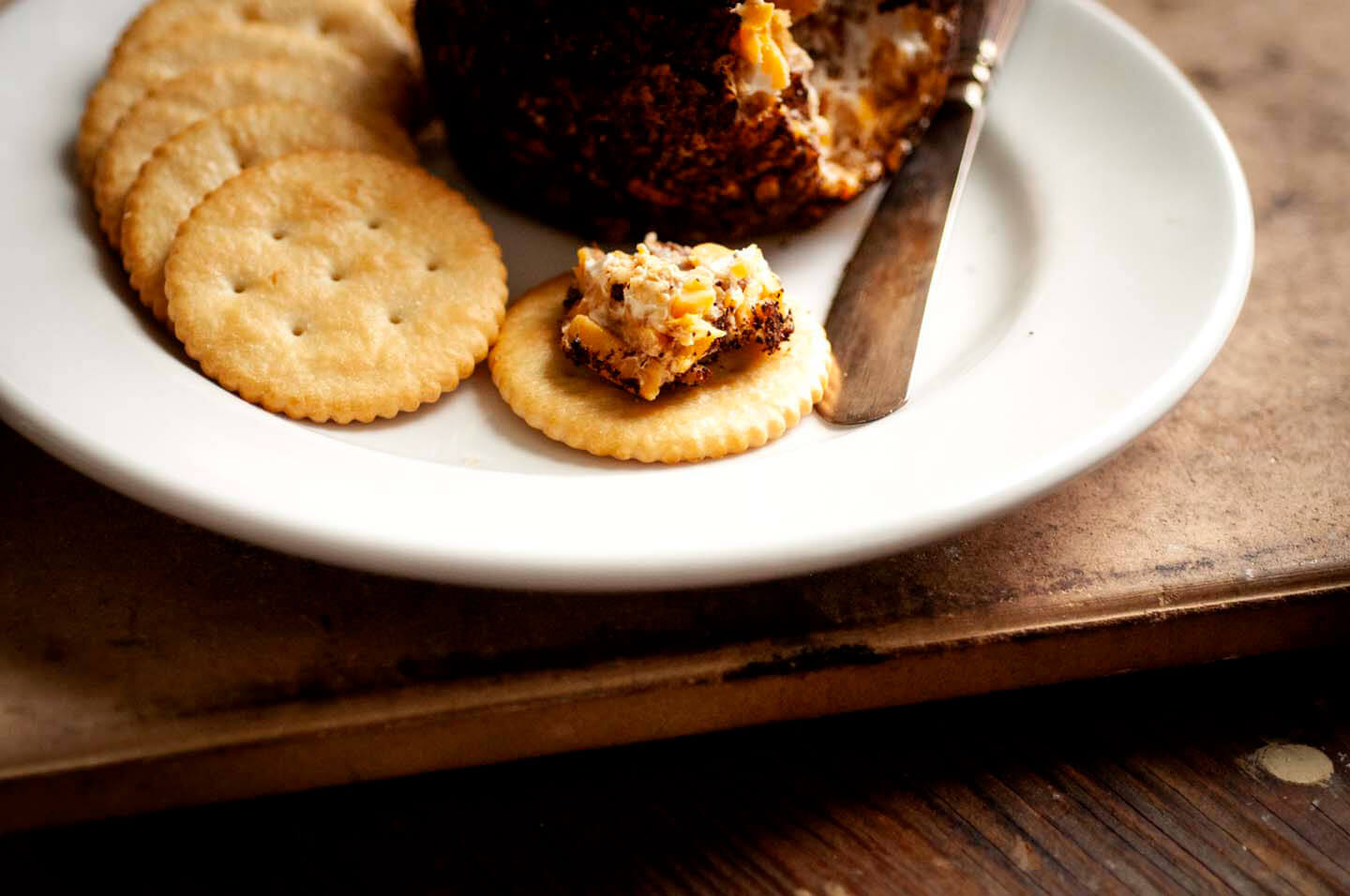 Immediately, one family member said, "Is that Aunt Betty's cheese ball?" I replied that it was. Another came over, spread some of it on a buttery round cracker, took a bite and declared it incredibly delicious. Even though my family had been snacking all morning, more room was made for this Texas cheese ball rich with pecans and chili powder. Aunt Betty may have been gone for many years, but everyone was happy to welcome her signature snack back to the family table.
—————
Would you like more Homesick Texan? Well, I've started offering additional recipes for paid subscribers to help with the costs of running the site. While I'm not taking anything away, if you'd like to support Homesick Texan and have access to exclusive, never-seen-before subscriber-only posts, please consider becoming a member; annual subscriptions are as low as $25. Thank you for reading, your consideration, and your support!
—————
Texas chili powder cheese ball
Ingredients
8

ounces

cream cheese, room temeperature

8

ounces

sharp Cheddar cheese, shredded (2 cups)

1

cup

chopped pecans

2

tablespoons

minced onions

1

clove

garlic, minced

1

tablespoon

Worcestershire sauce

Kosher salt

1

tablespoon

chili powder

Crackers, for serving
Instructions
Mix together the cream cheese, Cheddar, pecans, onions, garlic, and Worcestershire sauce until well blended. Taste and add salt if needed.

Roll the cheese mixture into a ball. Spoon the chili powder on a plate, the roll the cheese ball in the chili powder until evenly coated. If there are any bald spots, sprinkle some of the chili powder directly onto the cheese ball, as needed.

You may serve it immediately with crackers, or chill it covered for up to 3 days before serving.
Notes
You may substitute paprika for the chili powder if you want a milder flavor.