Buñuelos, South Texas style
When I lived in New York, my friends and I would have tamaladas, a tamale-making party. Most of us had grown up eating them in our home states of Texas and New Mexico, and it was a fine excuse to get together, cook, and eat. Plus, we would have fresh tamales to enjoy later.
Tamales and I were not strangers, but one year a friend from South Texas suggested we add buñuelos to our menu, too. While I had heard of these Tex-Mex treats, I'd never eaten them before.
I asked her what it entailed, and she said it was essentially a flour tortilla that was fried until crisp and puffy and then coated in cinnamon sugar. To me, it sounded something like a sopapilla, and she agreed that the two were similar.
My love for sopapillas is longstanding, and since I've been eating them for as long as I've enjoyed tamales, I was excited about this addition. And indeed, the buñuelo dough was much like a flour tortilla dough in that it was a blend of flour, liquid, baking powder, and fat.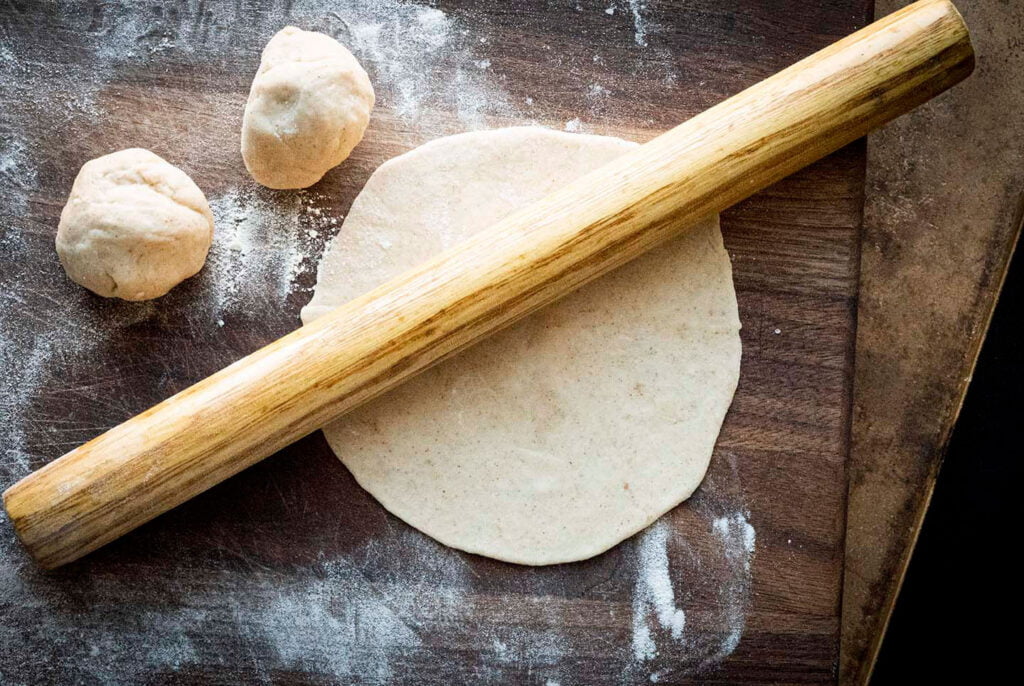 We rolled out the buñuelos like we would flour tortillas. To cook them, we heated a skillet of oil and then placed the discs into the hot fat. When they hit the oil, they quickly puffed and crisped. After both sides had turned a warm golden brown, we removed them, brushed them in melted butter, and then generously sprinkled each with a blend of cinnamon and sugar. I couldn't wait to have a taste.
Fortunately, they cooled quickly and I grabbed one of the pastries. The first bite was crisp, sweet, and airy, though there was also a slight chew to the dough, as well. It wasn't as pillowy as a sopapilla, but it was no less pleasing. It was also an excellent vehicle for the cinnamon and sugar, though much like sopapillas, we had honey on hand for dipping, as well.
The story goes that the South Texas take on buñuelos (pronounced bun-way-lows) rose in popularity in 1968 when at the Hemisfair in San Antonio, Tony Specia and David Carter served them at a booth. After the festival, they opened a shop and soon after, several buñuelo-making businesses opened, too.
Specia and Carter may have been the first on record to have a dedicated buñuelo bakery in Texas, but they have long been a home-cooked delicacy in Texas Mexican homes. They were also reported to have been served commercially in El Paso in the early 1900s.
The pastry hails originally from Spain, where the word means fritter, and they began as a Sephardic Jewish tradition eaten during Hanukkah. Though it's now popular with people of all faiths, and you will find variations of it across Latin America.
For instance, in Mexico, it's a fried disk that's either round or a rosette, and it's served with a piloncillo syrup spiced with anise and clove. In Columbia, it's a fried ball with lemon zest and olive oil added to the dough. In Cuba, they are served as puffy figure eights.
The Tex-Mex version can either take the form of a fried disc or a rose design, much like its Mexican counterpart. Though along with the syrup, hot chocolate or champurrado is often served alongside for dipping, or honey, as we ate them. They're also a fine treat simply on their own.
They haven't been featured on Tex-Mex restaurant menus very widely except in San Antonio, but they are becoming more popular and I gather this could change. For instance, the dough is a quick dough that requires no rising, and if you are frying tortilla chips, say, there's no reason to through a buñuelo into the fryer, as well.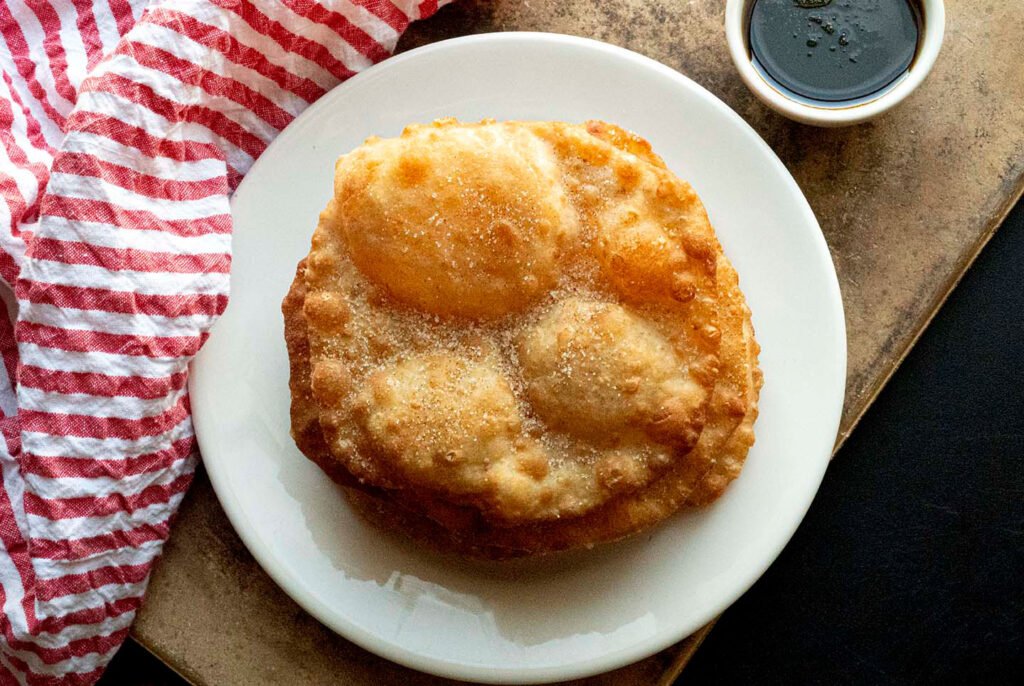 When eating them for the first time, I wondered if orange zest and juice would be flavorful additions. Perhaps not traditional, but when researching recipes, I discovered that San Antonio's Mi Tierra includes orange juice in its dough. I followed their lead with one batch and indeed, it added a bright sweetness that paired well with the warm cinnamon.
Buñuelos are traditionally served at Christmas and New Year's though they're welcome anytime. Here's my take inspired by my South Texas friend.
—————
Would you like more Homesick Texan? Well, I've started offering additional recipes for paid subscribers to help with the costs of running the site. While I'm not taking anything away, if you'd like to support Homesick Texan and have access to exclusive, never-seen-before subscriber-only posts, please consider becoming a member; annual subscriptions are as low as $25. Thank you for reading, your consideration, and your support!
—————
Buñuelos, South Texas style
Ingredients
For the buñuelos:
¾

cup

water

¼

cup

orange juice

1

tablespoon

unsalted butter

1

tablespoon

shortening

1

teaspoon

vanilla extract

2

cups

all-purpose flour

2

tablespoons

granulated sugar

1

teaspoon

baking powder

1

tablespoon

fresh orange zest

1

teaspoon

ground cinnamon

½

teaspoon

kosher salt

Flour, for rolling

Safflower oil, for frying

Honey, for serving
For the topping:
1/2

cup

sugar

2

tablespoons

ground cinnamon

1

tablespoon

fresh orange zest

¼

teaspoon

kosher salt

4

tablespoons

unsalted butter, melted
Instructions
To make the buñuelo dough, add the water, orange juice, butter, and shortening to a saucepan and heat on medium until the butter and shortening are melted. Turn off the heat.

Add to the liquid the vanilla, flour, sugar, baking powder, orange zest, cinnamon, and salt. Stir until well blended and a soft dough is formed. Place the dough in a clean bowl, cover it, and let it rest for 1 hour.

Meanwhile, to make the topping, stir together the sugar, cinnamon, orange zest, and salt.

After the dough has rested, divide the dough into 16 equal-sized balls. Keep the dough covered until it's rolled. Tear off a 2-foot piece of parchment paper, which will be used for the rolled-out buñuelos.

Lightly flour a clean surface and one at a time place a dough ball on the floured surface, pat it out into a 2-inch circle, and then roll with a rolling pin from the center until it's thin and about 6 inches in diameter.

Place the rolled buñuelo on the parchment paper, then repeat the process for the remaining balls, adding flour to the rolling surface as needed.

When you're ready to fry, line a sheet pan with paper towels. Pour 1 inch of the oil in a large cast-iron skillet or heavy pan. Heat the oil on medium and when a thermometer reads 350°F or the oil bubbles around an inserted wooden spoon (it should take around 3-5 minutes to reach this point), using a slotted spatula, slide one of the raw, rolled buñuelos into the oil.

It will immediately start to puff, so press down on it to keep it from inflating too much. (Bubbles give the finished buñuelos texture and character so don't worry if there are a few.) After 30 seconds, flip the buñuelo and continue to cook until crisp, about 1 minute.

Remove from the oil and place the fried buñuelo on the paper-towel-lined sheet. For the topping, brush the top side with melted butter, then sprinkle a couple of teaspoons of the orange-cinnamon sugar while warm. Repeat the process for the remaining buñuelos, stacking them so each side can be coated.

Serve warm with honey on the side for drizzling, if desired. They will keep for a couple of days in a sealed container, though they are best eaten fresh. You can reheat them in the oven for a few minutes, too.