Mint chocolate cookies and cream ice cream
What's your favorite ice cream? For most of my life, mine's been coffee. But when I was a teenager, two flavors—mint chocolate chip and cookies and cream—fought for my attention, with both of them making regular appearances in my freezer via half-gallon buckets made by those good folks in Brenham, TX.
In order to satisfy my craving, my usual practice was to fill my bowl with scoops of both. You'd have to eat quickly or the ice cream would soon be a cold soup, but I didn't mind since as the ice cream melted and melded together, the two became one with the cool mint balancing to the sweet chocolate cookies.
A few years later, another ice cream company agreed the two belonged together and came out with that combination in commercial form. But by then I'd moved back to coffee as my ice cream of choice, and I forgot about how much I had loved the two.
This weekend, however, I found myself flipping through Sweet Cream and Sugar Cones, a delicious new ice cream cookbook by the owners of San Francisco's Bi-Rite Creamery. When I was last in San Francisco, a dear friend and I stopped there as she has the good fortune to live close to the shop. There was a long line but she said it was worth the wait. The honey lavender ice cream was highly recommended by most, and it was as wonderful as promised.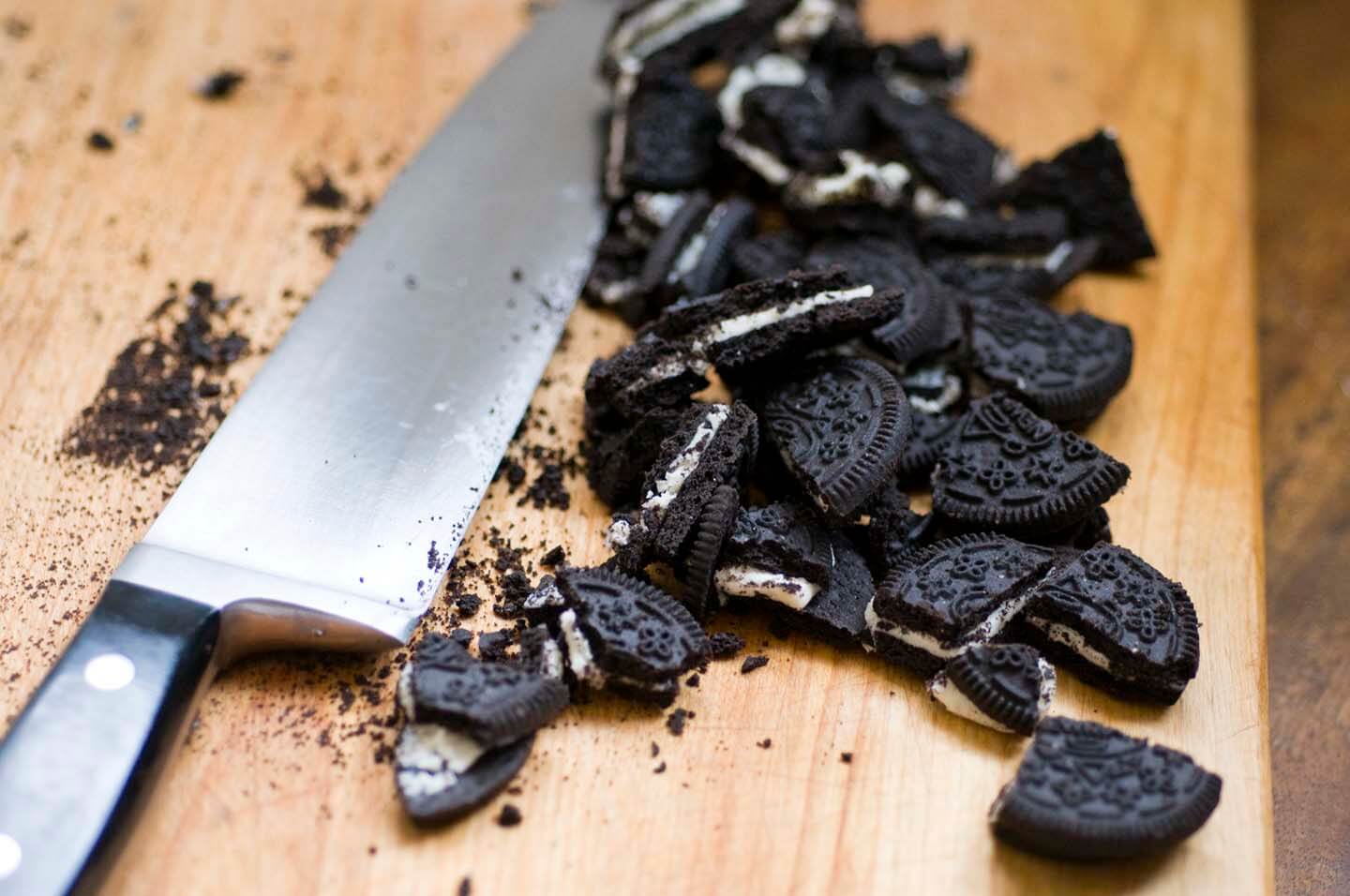 That said, I didn't take too much notice of their other flavors when I visited so reading the book was like revisiting their shop with a bit more time to linger. For longtime fans, their take on honey lavender recipe is in the book along with a host of other classics such as vanilla, chocolate and yes, coffee. Though it's not all traditional, as there are recipes for more unusual flavors such as ginger, basil and peach leaf, too.

But what excited me the most was seeing my old friend mint chocolate chip, with cookies and cream also making an appearance a few pages later. Thinking about the two, I was back at my kitchen counter in Houston, spooning softball-sized scoops of those flavors into my bowl on a hot summer afternoon. Though this time, since I was going to make my own batch I decided to adapt the two recipes into one flavor—mint chocolate cookies and cream.
In the past, I'd dabbled with making mint ice cream, but I'd used fresh herbs and it hadn't turned out so well—the flavor was weak and tepid. Those smart Bi-Rite authors solved that problem by insisting mint extract is the best way to get a clean and assertive mint flavor. I had no idea it was so simple! As for the cookies and cream potion of my batch, a handful of chopped chocolate sandwich cookies were all that was needed. Heck, you could throw those into just about any flavor and come out with a winner.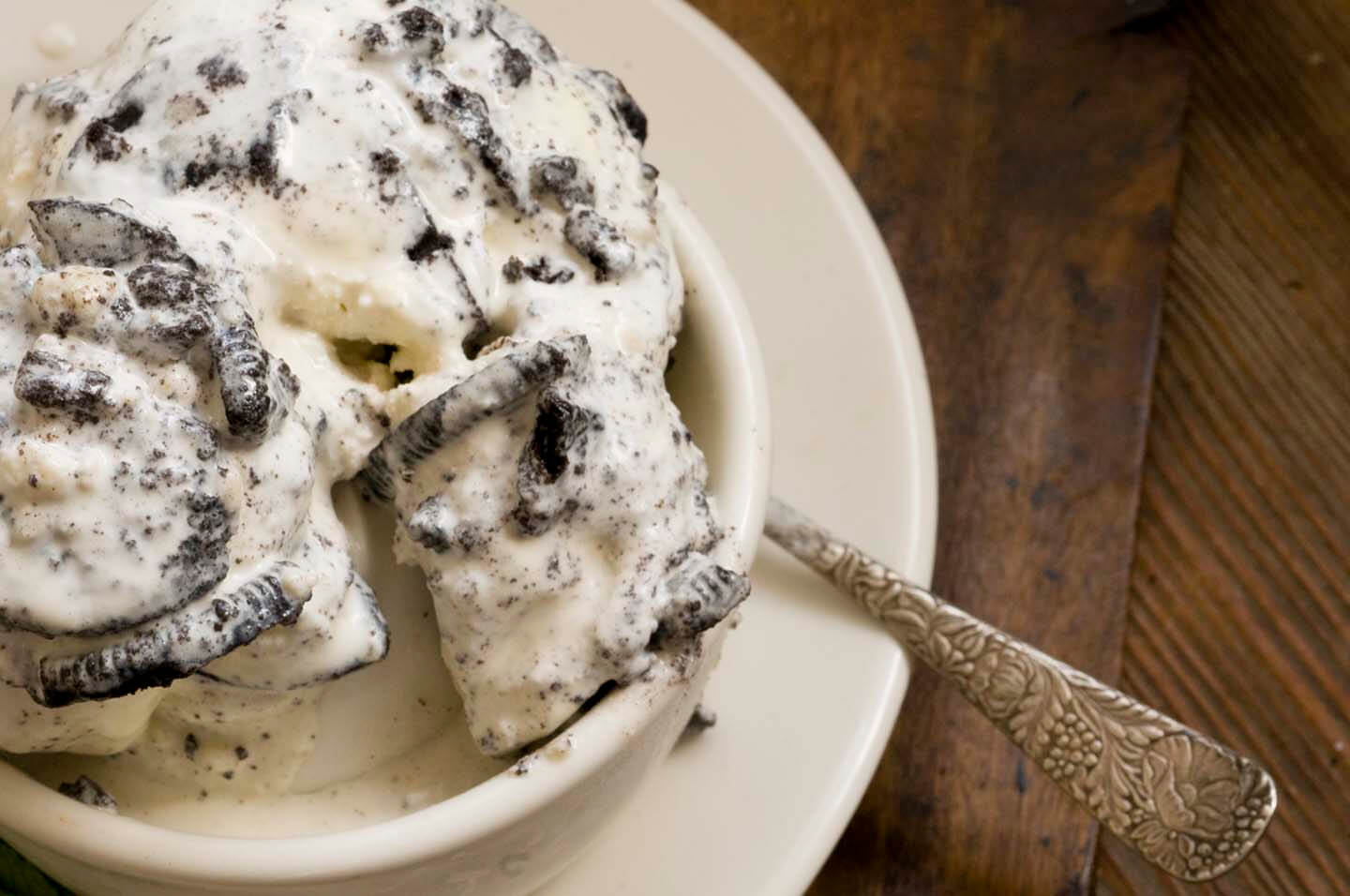 Besides combining two recipes, however, I made other changes as well. I used fewer egg yolks than were called for and I swapped in half-and-half for their low-fat milk, mainly because that's what I had on hand. But no matter, the end result is still creamy and refreshing—and if you're looking to cool off on these warm days, this just may be the perfect frozen treat.
Mint chocolate cookies and cream ice cream
Ingredients
1/2

cup

heavy cream

2 1/2

cups

half-and-half

1/2

cup

granulated sugar

1/4

teaspoon

kosher salt

4

egg yolks, beaten

1

teaspoon

peppermint extract

1 1/2

cups

chopped chocolate sandwich cookies
Instructions
n a large saucepan, stir together the cream, half-and-half, sugar and salt. Place over medium heat and while occasionally stirring, when mixture is warm but not quite boiling (about 3-5 minutes), scoop out 1/2 cup of the mixture and stir this into the beaten egg yolks until well combined. Slowly pour the cream and egg yolks back into the pot and while stirring, continue to cook until the mixture is slightly thickened and coats the back of a spoon, about 2 minutes.

Remove the cream mixture from heat, and cool covered in the refrigerator for at least 4 hours.

After cooling, stir in the peppermint extract and then freeze in your ice-cream machine according to the manufacturer's instructions. Once frozen, stir in the chopped cookies. Chill in the freezer for 4 hours.