Roasted chicken with chipotle
It's no secret that I love mayonnaise, much to my mustard-loving family's dismay. But when I was going through my collection of Great-Grandma Blanche's handwritten recipes, I came across a dish called chicken mayonnaise and realized that this love had just skipped a few generations.
Chicken mayonnaise, as my great-grandma made it, was a concoction that involved, of course, lots of mayonnaise. But it also called for gelatin, nuts and a whole mess of other ingredients that when combined could stretch one small chicken into a feast that could easily serve 20.
"Perfect for that Fourth of July party," I bet you're thinking! Perhaps. But I decided to make another type of chicken mayonnaise instead.


Back in March, I had completely sworn off chicken after an encounter with a grocery-store rotisserie chicken left me in bed for three days. I wasn't happy with this decision, as I adore chicken—be it fried, in tacos, in chicken and dumplings or in sour cream enchiladas. But, well, if you've ever suffered through the post-traumatic shock of a bad bout of food poisoning, you know how I felt.

A few weeks ago, however, I was forced to face my fear or go hungry. I was at a rooftop barbecue where a group of Texans were gathered around a smoker waiting for the day's main event—a beautiful 12-pound slab of brisket. But brisket takes patience and so the host had thrown some chicken—which takes a lot less time to cook—into the pit to keep the guests satisfied as we waited for the brisket to finish.
The chicken came out fragrant with smoke and pepper. Everyone grabbed a piece and started gnawing away. And I decided to take the plunge and take a piece myself. I'm glad that I did—this chicken was a wonderful reintroduction to one of my favorite birds.
Now, about that chicken mayonnaise. While doing research for the book, I came across a recipe that called for a slather of mayonnaise on chicken breasts before baking or grilling as a means to both keep the chicken juicy and impart flavor. Intrigued by the concept, I blended mayonnaise with chipotle chiles, lime zest, cilantro and a pinch of cumin and then spread it on a mess of drumsticks. I baked them for a little under an hour, and they came out moist and spicy—I ate four in one sitting.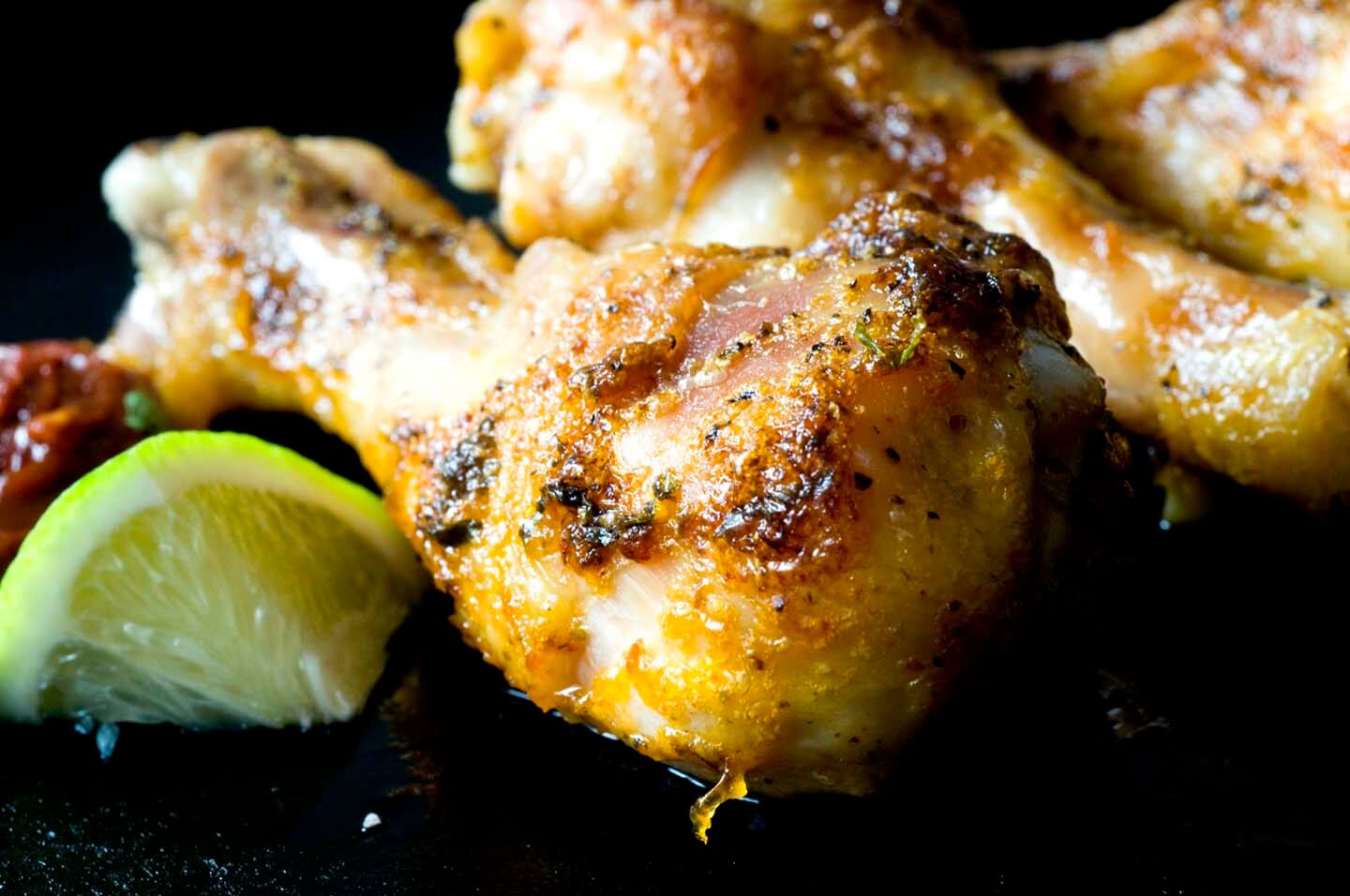 So I admit that this chicken mayonnaise may not be my great-grandma's dish, but it's still a fine and simple way to serve chicken to lots of guests as the mayonnaise does most of the work. And don't worry if you're a mayonnaise hater, you don't taste it at all, it simply keeps the chicken tender and moist.
Roasted chicken with chipotle
Ingredients
1/2

cup

mayonnaise

1

teaspoon

lime zest

2-4

canned chipotle chiles

1/4

cup

chopped cilantro

1/4

teaspoon

cumin

1/4

teaspoon

cayenne

Salt and black pepper to taste

4

chicken legs, thighs with drumsticks, skin on or off—your choice

Lime wedges for serving
Instructions
Preheat the oven to 425° F and line a 9×13 pan with foil.

In a blender, mix together the mayonnaise, lime zest, chipotle chiles, cilantro, cumin, cayenne until smooth and slightly pink. Add salt and pepper to taste.

Spread mayonnaise on each leg, place in the pan and cook uncovered for 50 minutes or until juices run clear and the chicken has an internal temperature of 165 degrees. Serve hot with lime wedges.
Notes
I prefer dark meat, but if you want to make this with breasts, I'd cook them for about 35 minutes instead or until an internal temperature of 165 degrees.