Shrimp and avocado salad with remoulade dressing
Crisp iceberg, cool shrimp,and creamy avocado, all tossed with a tangy dressing is what you want on a hot and sultry day. Though what also makes this dish such a treat is that it has a sense of place—Houston to be exact.
I first encountered this recipe for shrimp and avocado salad a few months ago when I was in Waco speaking on a panel about Texas food at Baylor University. The talk was presented by the Texas Collection, which as the name implies, is a large set of Texas books found in The Carroll Library at Baylor.
The collection, which is lead by director John Wilson and librarian Amie Oliver, has books about all aspects of Texan life—from history to food. And it's the latter that made me very happy, as in the collection are almost 4,000 cookbooks focused on Texan cuisine. I had no idea that many were even in existence! The opportunity to spend two days going through just a few of those books was like being in cookbook heaven.


While there are some New York-city published Texas cookbooks in the collection, the vast majority are locally published community cookbooks—books that were produced by Texas churches, schools, civic clubs, and other organizations. These cookbooks are a treasure, as the recipes not only reveal what a community cooked at a certain point in time, but they can also give you a sense of the community's values and will often have names of the community members listed, as well.

Many of the books in the collection were donated by a woman named Beth White. She's a Houston-based former medical librarian who in her spare time decided to collect Texas cookbooks. Her contribution is huge and I had the honor of meeting her as she spoke on the panel with me. Also speaking on the panel was Marvin Bendele, the director of Foodways Texas, Addie Broyles, the Austin-American Statesman Food writer, and Mary Margaret Pack, an Austin-based chef and food historian.
The library wanted to serve food at a reception following our talk, and we were all asked to contribute our favorite recipes. I offered my grandma's chocolate pie, and the others submitted recipes for cornbread, deviled eggs, coffee cake, and a shrimp and avocado salad. All of the contributions were excellent, but it was the shrimp salad—a recipe that had been provided by Mary Margaret—that really made me smile.
After not eating much that day (speaking in front of people makes me so nervous that I lose my appetite), the salad—which was comprised of shrimp, avocado, and iceberg lettuce mixed together with a tangy remoulade dressing—was just what I needed. The clean, refreshing salad was satisfying and rejuvenating, though you certainly didn't need to be famished to love this dish!


As we were leaving, I asked Mary Margaret for the recipe and she pointed me to a stack of recipe cards that the library had thoughtfully made for the event. On the card, Mary Margaret talked about how she grew up in Houston and this dish had been one of her favorites served at the Sakowitz department store restaurant, The Sky Terrace. While the salad itself had been tasty, when I learned of the recipe's provenance I loved it even more.
The shrimp salad she shared, much like the community cookbooks I had been reading, was rooted in a place. The shrimp are emblematic of the Texas Gulf Coast, while both the remoulade and the avocado in the salad reveal Houston's history of being a crossroads of cultures and influences, in this case Louisiana and Mexico.
When I returned home and went to make the salad, I misread the recipe and where the initial steps call for a remoulade sauce, I didn't see that the Sakowitz-specific remoulade recipe—which calls for hard-boiled eggs and spinach—was listed separately. Therefore, I simply used a remoulade sauce I've enjoyed over the years, which is an adaption of a couple of recipes found in the Junior League of Lafayette's cookbook, Talk About Good. That recipe does not call for spinach and eggs, so the salad I ended up making wasn't exactly the Sakowitz version. But no matter, it's still fresh and ideal for summer.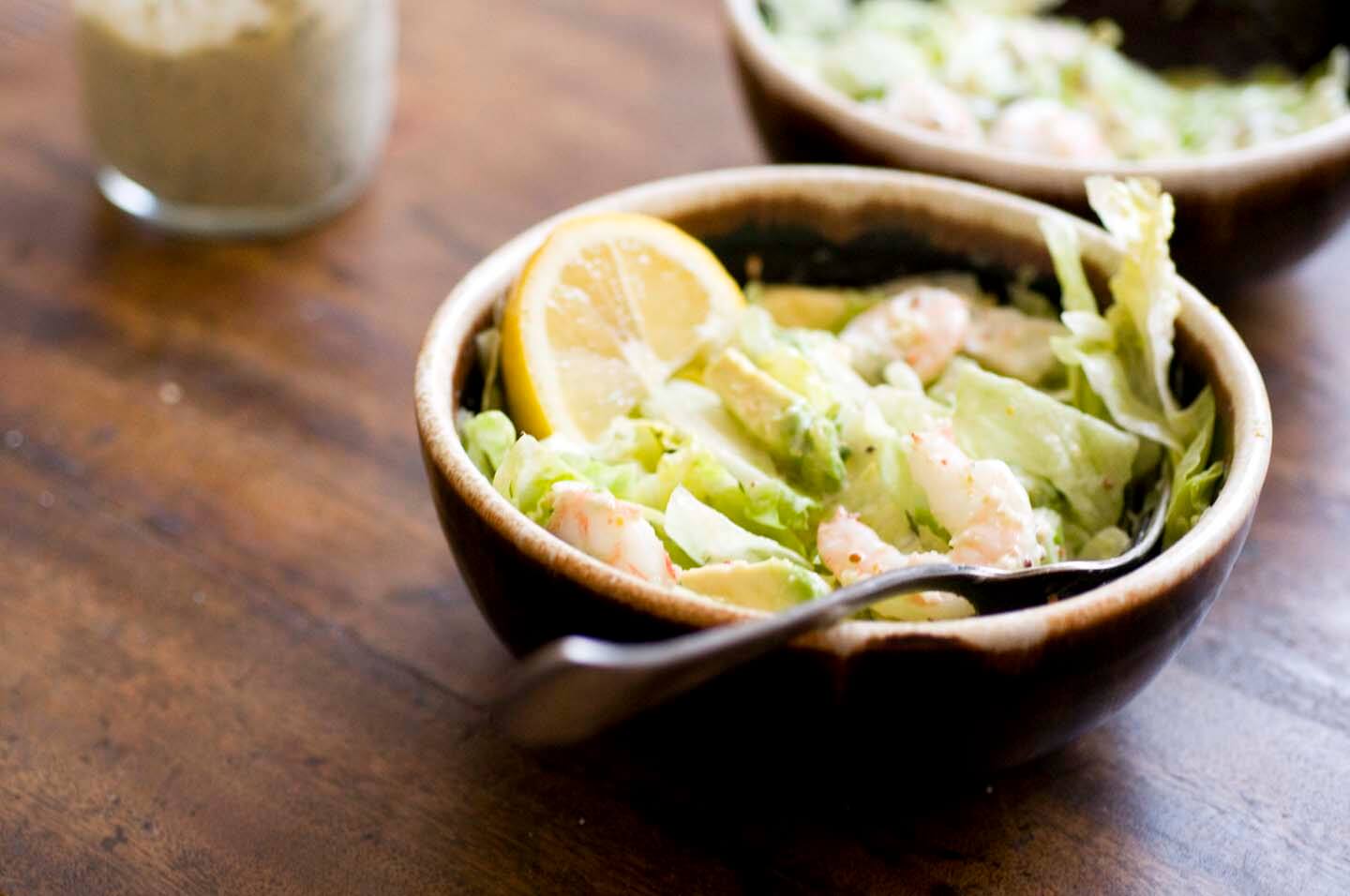 While I'm still processing all that I learned as I spent time going through the collection of cookbooks at Baylor, one thing I do know is that I look forward to returning soon. In the meantime, I'll be enjoying bowls of this shrimp and avocado salad.
Shrimp and avocado salad with remoulade dressing
Ingredients
Ingredients for the remoulade dressing:
3/4

cup

mayonnaise

2

tablespoons

Creole or grainy mustard

2

tablespoon

freshly squeezed lemon juice

1/2

teaspoon

Worcestershire sauce

1/2

teaspoon

prepared horseradish

1/4

teaspoon

red pepper sauce, such as Tabasco

2

cloves

garlic, minced

2

green onions, green part only, finely chopped

1

tablespoon

chopped Italian parsley

Salt
Ingredients for the salad:
1

pound

small shrimp, 51-60 count, peeled and deveined

1

tablespoon

kosher salt

1

head ice berg lettuce, cored and chopped

2

celery ribs, finely diced

2

avocados, peeled, pitted, and diced

Lemon wedges, for serving
Instructions
To make the remoulade dressing, whisk together the mayonnaise, mustard, lemon juice, Worcestershire sauce, horseradish, red pepper sauce, garlic, green onion, and parsley. Taste and add salt if needed.

To make the shrimp for the salad, bring a 3-quart saucepan filled with water to a boil. Add the the shrimp and the salt. Cook the shrimp until pink, about 2 minutes, then drain and rinse with cold water.

To assemble the salad, in a large mixing bowl, toss the cooked shrimp with the lettuce, celery, and avocado. You can either serve the salad dressed by adding the remoulade to the mixing bowl and tossing, or you can evenly divide the salad onto 4 plates or into 4 bowls, and serve with the dressing on the side. I also like to serve the salad with lemon wedges for an added bit of brightness.