Sorghum-mustard glazed ribs
The other day, a friend of mine commented about how hard it was to recreate barbecue without a yard. She's a recent arrival to New York City from Texas and like many of us, she was shocked by the constraints we have in our tiny kitchens.
Now, I realize I was just talking about this recently, but it's especially apparent this time of year when most everyone I know from back home is talking about firing up their smokers or sitting on their front porch snapping peas. These are the moments that you miss.
(Of course, there's also that point in a Texas summer when it gets so darn hot that you might not even want to leave the safety of your air-conditioned house. But that's another topic for another day.)
In any case, one of the things my friend commented on was how different it was to make ribs in the oven instead of in a smoker or on the grill. It is different, but that said there was an article in The New York Times a few years ago that argued oven ribs are superior to grilled ribs. For many, those were contentious words, but when you don't have a grill you take whatever solace and support you can get.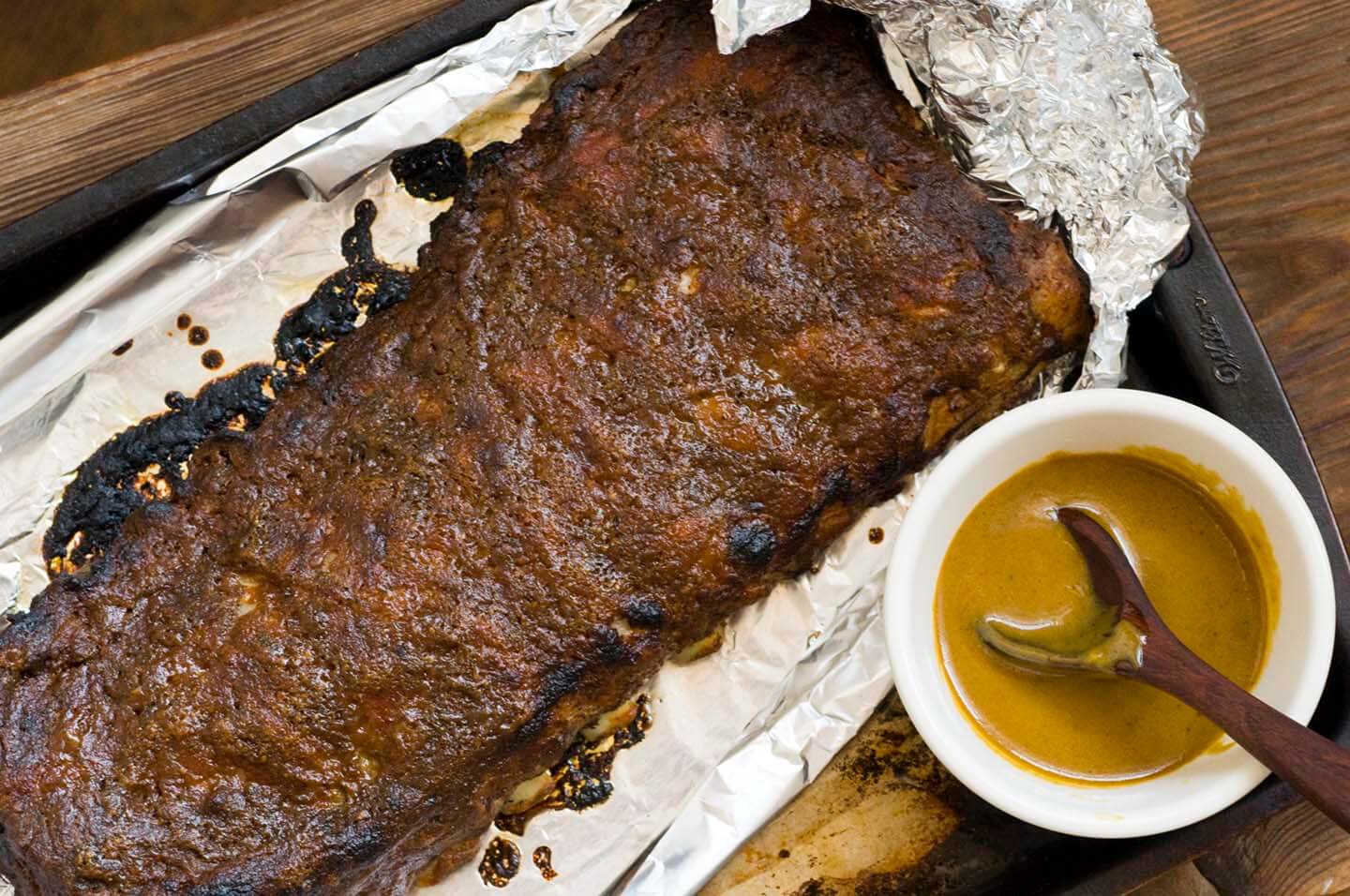 Our conversation gave me a craving, so I swung by the store and picked up some racks to prepare for dinner. I have a couple of different ways I like to make my oven ribs. But as I was cleaning out my refrigerator and found a bottle of sorghum syrup hidden in the back, I thought it would make for an interesting glaze. (Why was the syrup in the refrigerator? Well, I'd stuck it there to keep it safe from ants. Again, another topic for another day.)

I wasn't alone in this thinking, as Better Homes and Gardens had a recipe using it as well. Its recipe called for mustard and vinegar, both good ideas as they gave a tangy contrast to the syrup. I stirred in some brewed coffee and chipotle chile powder to increase the sauce's smoky, bittersweet notes and also added some brown sugar for balance. For the final touch, after baking the ribs for a spell I poured in some of the meat's juices into the sauce to give it that final burst of flavor.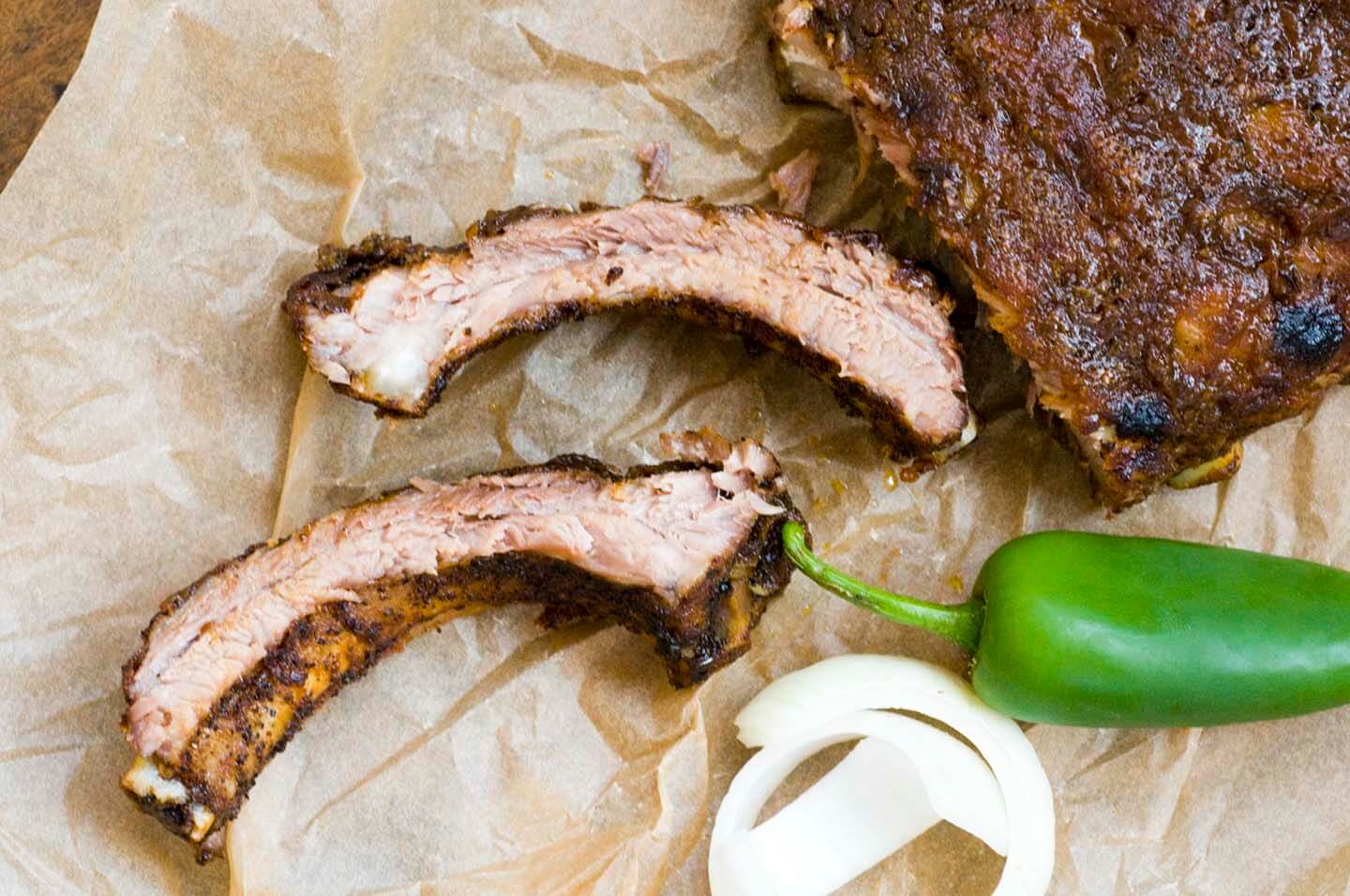 The sorghum- glaze mellowed as it cooked on the ribs, giving them a sweet, caramel flavor with just enough brightness to not be cloying. They made my apartment smell tremendous, but even better was taking that first, juicy bite.
Now, you might be wondering if these taste like ribs made in a smoker. Nope, not one bit. But it doesn't matter, as in their unique way these sorghum-mustard glazed ribs are just as good. And if you have a yen for ribs, they will definitely make you happy.
Sorghum-mustard glazed ribs
Ingredients
Ingredients for the ribs:
1/4

cup

kosher salt

1/4

cup

black pepper

2

tablespoons

brown sugar

1

teaspoon

granulated garlic

1

teaspoon

mustard powder

1

teaspoon

smoked paprika powder

1/2

teaspoon

chipotle chile powder

2

(1-pound)

slabs St. Louis cut or baby back ribs
Ingredients for the sorghum mustard glaze:
1/2

cup

brewed coffee

2

tablespoons

sorghum syrup

2

tablespoons

brown sugar

1

tablespoon

apple cider vinegar

1

teaspoon

Worcestershire sauce

1

clove

garlic, finely minced

1/4

teaspoon

chipotle chile powder

Pinch

of ground allspice

1/2

cup

yellow mustard

Salt to taste
Instructions
To make a rub, mix together the salt, pepper, brown sugar, granulated garlic, mustard powder, smoked paprika and chipotle chile powder. Taste and adjust seasonings. Sprinkle each slab of ribs evenly with the rub and then double wrap with foil, making note of which side is the bone side. Refrigerate the ribs for 2-8 hours. (They're good after 2 hours but even better after 8.)

To bake, preheat the oven to 300° F and line two baking sheets with foil. Place the foil-wrapped ribs, bone side up, on the sheets, and cook for 1 hour and 30 minutes.

Meanwhile, in a saucepan stir together the brewed coffee, sorghum syrup, brown sugar, apple cider vinegar, Worcestershire sauce, garlic, chipotle chile powder and allspice. Cook on medium until the sugar has dissolved and then whisk in the mustard until well combined. (The mustard will probably break up a bit when you add it to the pot but a few turns of the whisk will incorporate it into the sauce.)

After 1 hour and 30 minutes, remove the ribs from the oven. Gently open the foil (a lot of steam will escape, so be careful) and take 1/4 cup of the meat juices and stir them into the sauce. Adjust seasonings and add salt to taste.

With tongs, remove the ribs from the foil and place back on the sheet, meat side up. Discard the foil that wrapped the ribs, as well as the remaining meat juices (unless you prefer to save the juices for another use).

Brush the meat side of the slabs with the sauce and return to the oven. Cook for 30 minutes uncovered and then brush each slab with the sauce again. Cook for 30 more minutes. Remove from the oven, turn on the broiler, brush each slab with sauce and then cook under the broiler for 1-3 minutes, or until darkened and dark spots appear.