Texans love pickles. For instance, it's the rare gathering in Texas that doesn't have a pickle plate on display. This platter of tangy vegetables and fruits is not only a satisfying way to get the party started, but also an excellent way to share the bounty of what you've put up in the past year.
Though it's not just on social occasions that Texans enjoy pickles. Nope, Texans eat pickles all the time, as a pickle's tangy, crisp nature is the perfect foil for many Texan dishes, anything from smoked brisket to chili con queso. Matter of fact, The First Texas Cook Book, which was published in 1887, has two whole chapters devoted to the subject.
While the season for eating pickles occurs year round, the best time to make them is in the summer, when your garden is overflowing with things that need to be eaten or preserved. Typically, when people think of pickles the first thing that comes to mind is a pickled cucumber, which is the most ubiquitous type of pickle. Of course, it has a reason for being so prominent in that a cucumber makes for a fine pickle with its tough skin and firm center. It absorbs the brine beautifully, managing to be crisp and juicy at the same time.
That said, one can pickle just about anything and if you're like me, this time of year your refrigerator is overflowing with various jars stuffed with things that have been preserved in a brine—sometimes spicy, sometimes sour, and sometimes sweet. When it comes to pickling, I'm an equal-opportunity pickle maker.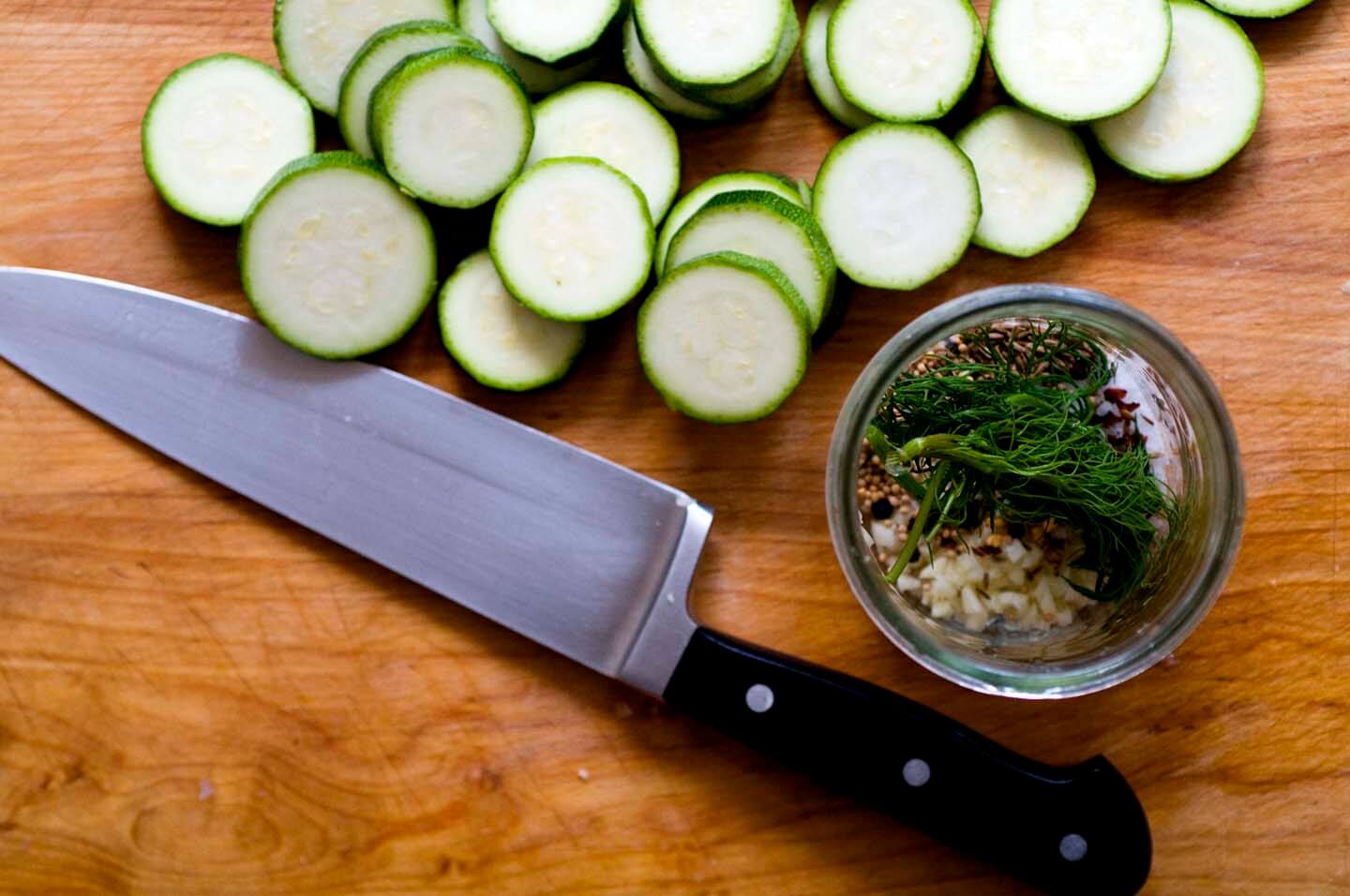 If you're a fan of cucumber pickles and you find yourself with an abundance of zucchini, allow me to present to you these spicy dill zucchini pickles, a fine way to use up some of the squash that is everywhere this time of year. You may be thinking that zucchini is too soft to pickle and I will admit that they are indeed not as firm as their cucumber counterparts. But don't worry; zucchini pickles are still crunchy and refreshing with that familiar tangy bite.

Making pickles is not difficult. There are many ways to pickle, but for these zucchini pickles I opt for a quick and easy method. First, I put into my jars a mixture of dill, garlic, peppercorns, spices, and salt. Then I slice my zucchini and pack it into the jars. I boil some vinegar and water, pour it over the zucchini, put on the lid, and then place it in the refrigerator for a few hours.
Before you know it, you'll have a jar or two of pickled zucchini that are fine enough for eating on their own but also add life to sandwiches, salads, hamburgers, hotdogs, or even tacos, if that's your style. You can also toss the pickled zucchini with sour cream for a quick creamy side dish. And if you're feeling extra decadent, it would make for a fine basket of fried pickles, too.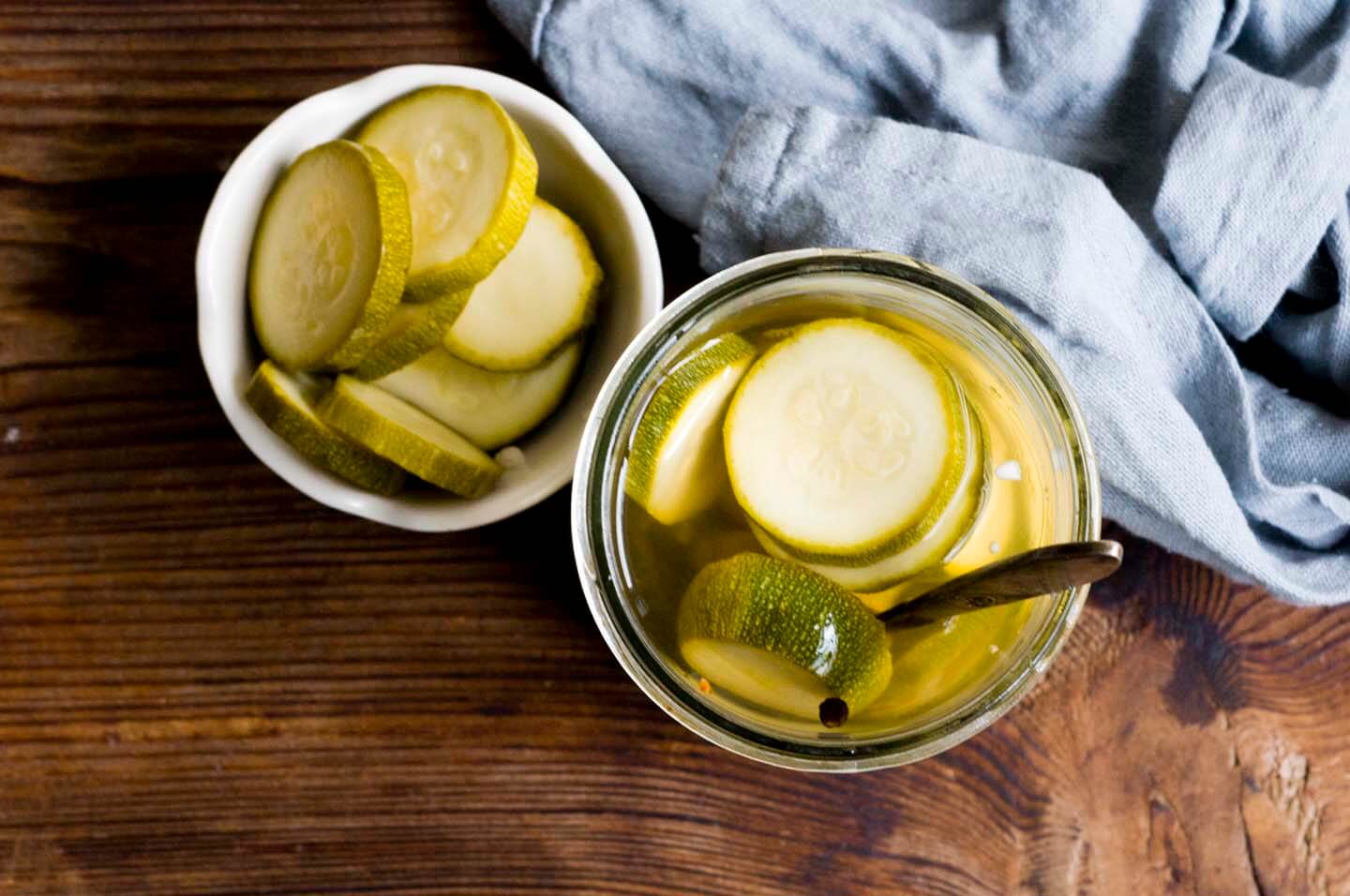 If you've never had pickled zucchini, the concept may seem a little strange, I know. But once you take a cool, crisp bite and taste its sour, spicy flavor, I believe you'll stick your fork in the jar and reach for more. After all, Texans love pickles.
Spicy dill zucchini pickles
Ingredients
1

pound

zucchini

2

cloves

garlic, minced

2

sprigs dill

4

tablespoons

kosher salt

2

teaspoons

black peppercorns

2

teaspoons

mustard seeds

2

teaspoons

crushed dried jalapeño or crushed red chile

1

teaspoon

cumin seeds

1

cup

water, plus more warm water as needed

1 1/2

cups

white vinegar

2

sterilized quart-sized jars with lids and bands
Instructions
Slice the zucchini into 1/4-inch round slices. Divide the garlic, dill, salt, peppercorns, mustard seeds, crushed jalapeño or red chile, and cumin seeds between the two jars. Pack the sliced zucchini into the jars.

In a medium saucepan, combine the water and vinegar and bring to a boil. Evenly pour the boiling liquid into each jar, filling any remaining space with warm water, leaving 1/2 inch of headspace. Put the lids on the jars and give them a good shake.

Place the jars in the refrigerator. The zucchini will be ready in 4 hours, though their flavor will only improve after a couple more days.

The zucchini will last refrigerated for 1 month.
Notes
This recipe can be easily doubled, tripled, or cut in half. While I prefer round pickle slices, you could also cut the zucchini into spears, if you prefer.