This is the season of giving, and one of my favorite things to give is candy. Texans have a long tradition of making and sharing candy at the holidays, and my family is no different. When I was young, a Christmas visit wasn't complete until a tin of homemade candy had been passed around, and we'd enjoy everything from pralines to divinity.
One of my favorite candies, however, is nut brittle. Typically in the past, I've usually made it with peanuts. This, of course, is the traditional nut brittle and it's no wonder as those nuts go very well with the crisp candy coating. That said, there are a couple of people on my list this year who can't have peanuts because of allergies, and so I decided that my nut brittle this year would have to be made with something else instead.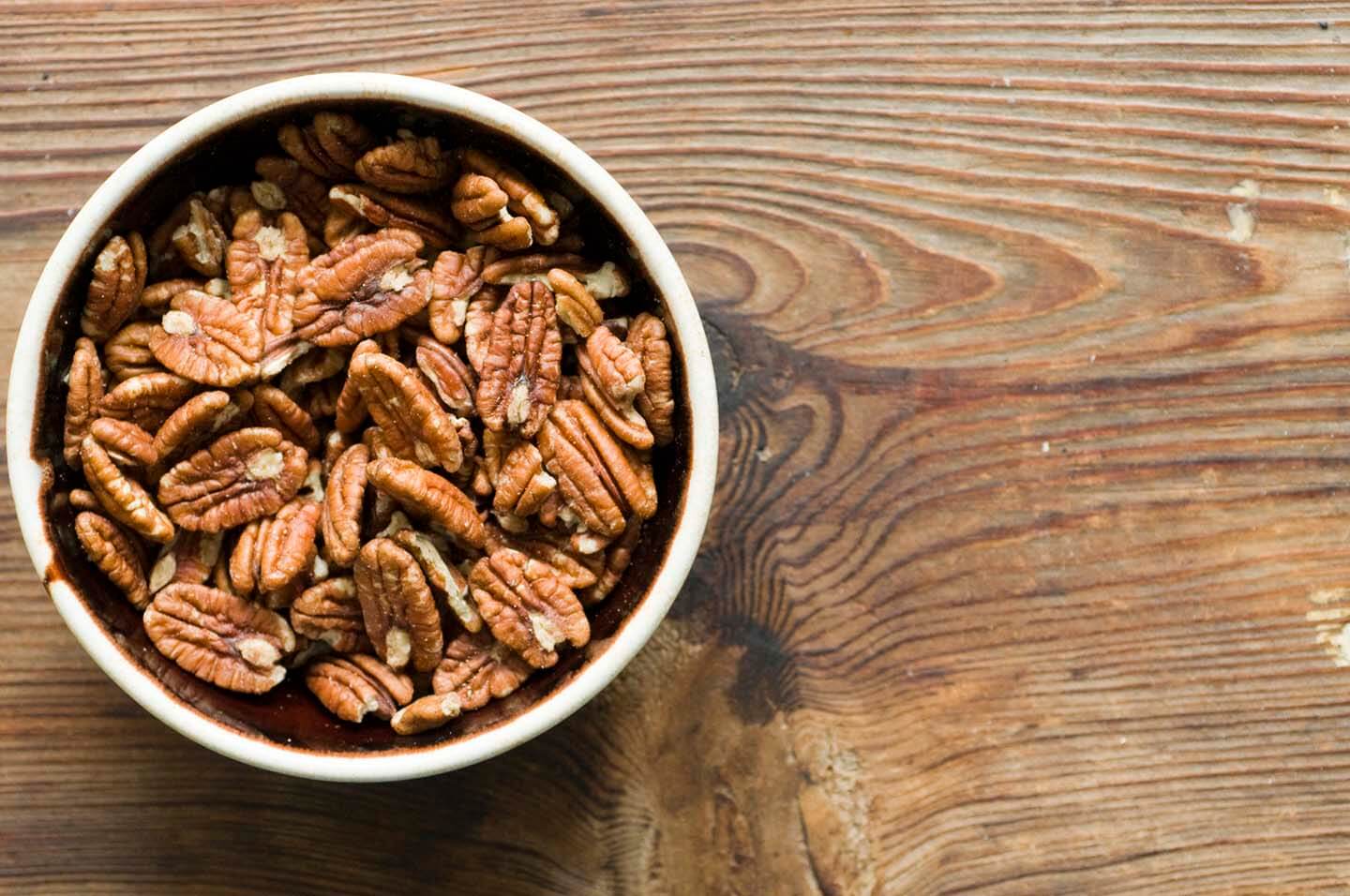 Texas's state nut is the pecan, so it didn't take me long to decide to make pecan brittle. While you don't see it quite as often as you do peanut brittle, pecan brittle definitely has its place in the pantheon of Texan confections. Matter of fact, when I was doing research I found a host of candy-store advertisements from the late 1800s and early 1900s, and whenever they mentioned pecan brittle, they showcased it as an especially rare treat.

Besides candy, one of my preferred ways to prepare pecans during the holidays is to toss them with warm, earthy spices such as cinnamon, smoked paprika, and cumin. This makes the nuts both savory and sweet, so I decided to add those same spices to my batch of brittle as well, which gave the candy an added depth. And to finish, I sprinkled my brittle with flaked sea salt, as I love the combination of salty and sweet.
If you've never made candy, it's not that difficult and pecan brittle is especially easy. The most important thing is to have a candy thermometer as this makes the job pretty straightforward, as the thermometer will let you know when the candy is ready. Besides a thermometer, when you make the candy it should be a cool, dry day, otherwise the brittle may not set up properly.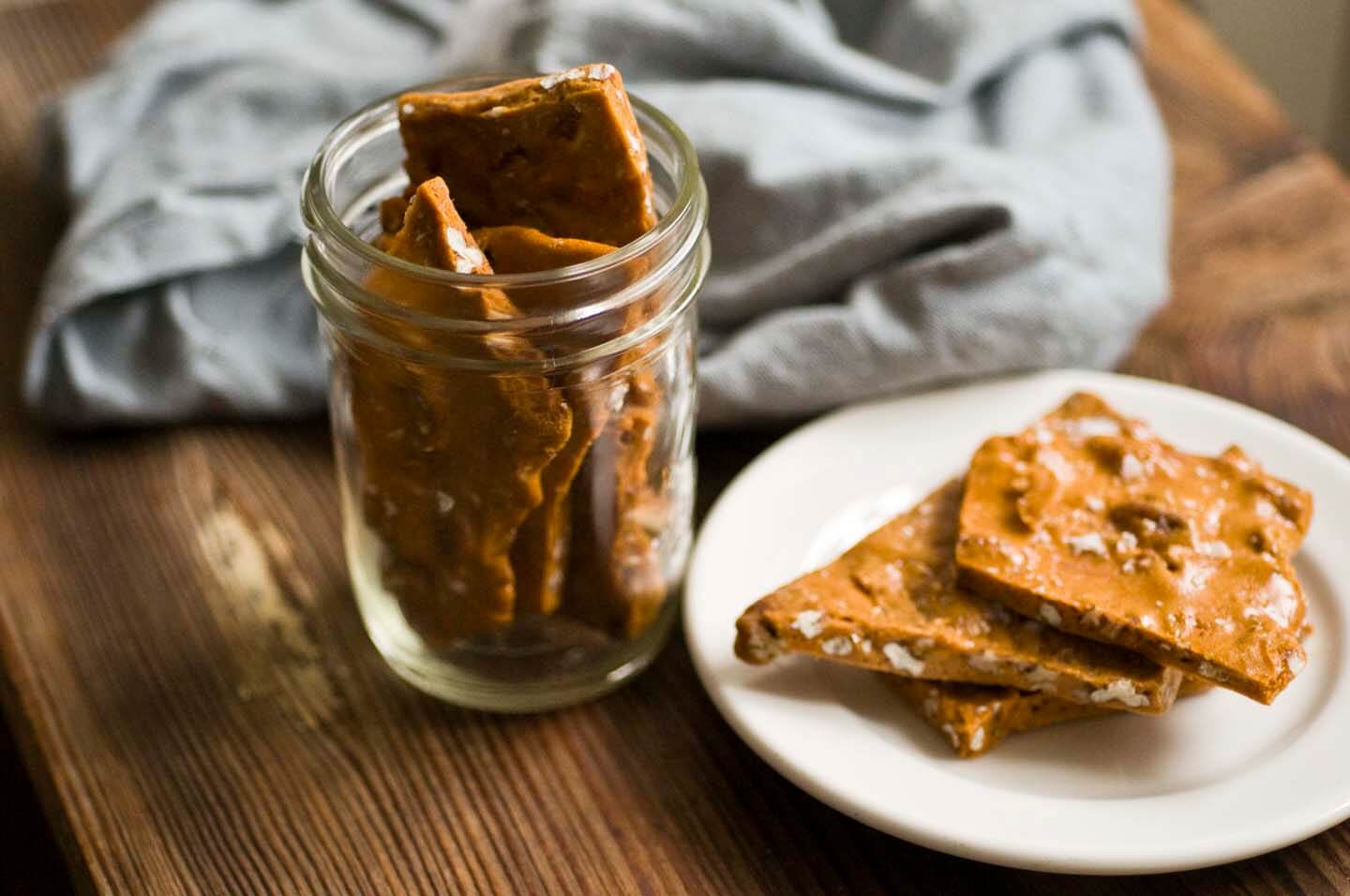 This spicy pecan brittle has been very well received so far, and I'm looking forward to packing tins and sending it to those that I love. That said, if you're like me, the only problem you'll have with the brittle is making sure you have enough to share as its salty, spicy, sweet flavor is so good you might be tempted to eat the whole batch yourself! Just remember if that happens to you—it's always better to give than receive!
Spicy pecan brittle
Ingredients
1

teaspoon

kosher salt

1

teaspoon

ground cinnamon

1/4

teaspoon

smoked paprika

Pinch

ground cumin

Pinch

cayenne

1

teaspoon

baking soda

1

cup

granulated sugar

1/2

cup

light corn syrup

1/4

cup

water

4

tablespoons

butter

room temperature

1

cup

chopped raw pecans

don't use roasted as they will burn

1

teaspoon

vanilla

Flaked sea salt

Special Equipment:

Candy thermometer
Instructions
Line a large baking sheet with parchment paper or lightly grease. Place in the oven at 250° F for 10 minutes.





In a bowl, whisk together the salt, cinnamon, smoked paprika, ground cumin, cayenne, and baking soda. Keep the bowl close by as you will need this mixture later in the candy-making process.

In a saucepot on medium heat, stir together the sugar, corn syrup, and water until well combined and let it come to a boil. Attach the candy thermometer, and while occasionally stirring, cook the sugars until it reaches 300°F, or the hard crack stage, about 10-15 minutes. When the temperature reaches 275°F, remove the baking sheet from the oven if you haven't already, and be sure that it's close by as you'll need to act quickly when the candy is done.

(While I highly recommend using a thermometer, if you don't have one, to test if the candy has reached the hard crack phase is to spoon a little into a glass of water. If the candy turns into threads and is hard and brittle when removed, it is at the hard-crack phase.)

As soon as the sugar reaches 300°F, remove from the heat and stir in the butter, the pecans, and the vanilla. Keep stirring. When the butter has melted, stir in the spices and baking soda. Continue stirring, and the candy should turn a lighter color and get a little puffy, after about 5 to 10 seconds. This means the candy is ready to be turned out to cool.

Working quickly, spoon the candy onto the prepared baking sheet, and spread it thin. Sprinkle over the candy the flaked sea salt, and allow to cool, about 1 hour. Once cool, break into pieces.
Notes
If you have a silicone spatula, I recommend stirring and spreading with it as it will be easier to clean, but you can also use a wooden spoon, too. To clean your pot, thermometer, and spoon, fill the pot 2/3 of the way with water and a bit of dish soap, place the pot with the thermometer and spoon inside of it on the stove, and bring to a boil. When the water is hot, the hardened candy will clean off the pot, thermometer, and spoon.