A couple of weeks ago, a friend in North Texas sent me a picture of her strawberry plant. "I have strawberries," she announced and indeed it was chock full of plump white and green berries that would soon turn ripe and red.
This was the first batch of Texas strawberries I'd seen this year, and while the ones at the grocery store are still hailing from other places, I am confident that soon there will be an abundance of locally grown strawberries, as well.
Now, for some asparagus or wild onions are the mark of spring. But for me it's the arrival of strawberries. (Bluebonnets and baseball are my other two hallmarks of the new season.) There are many ways to enjoy this tart, juicy fruit, such as in shortcakes, cobblers, scones, and kolaches. But last summer, when visiting my strawberry-growing friend, I started making strawberry frozen yogurt, a refreshing cool treat.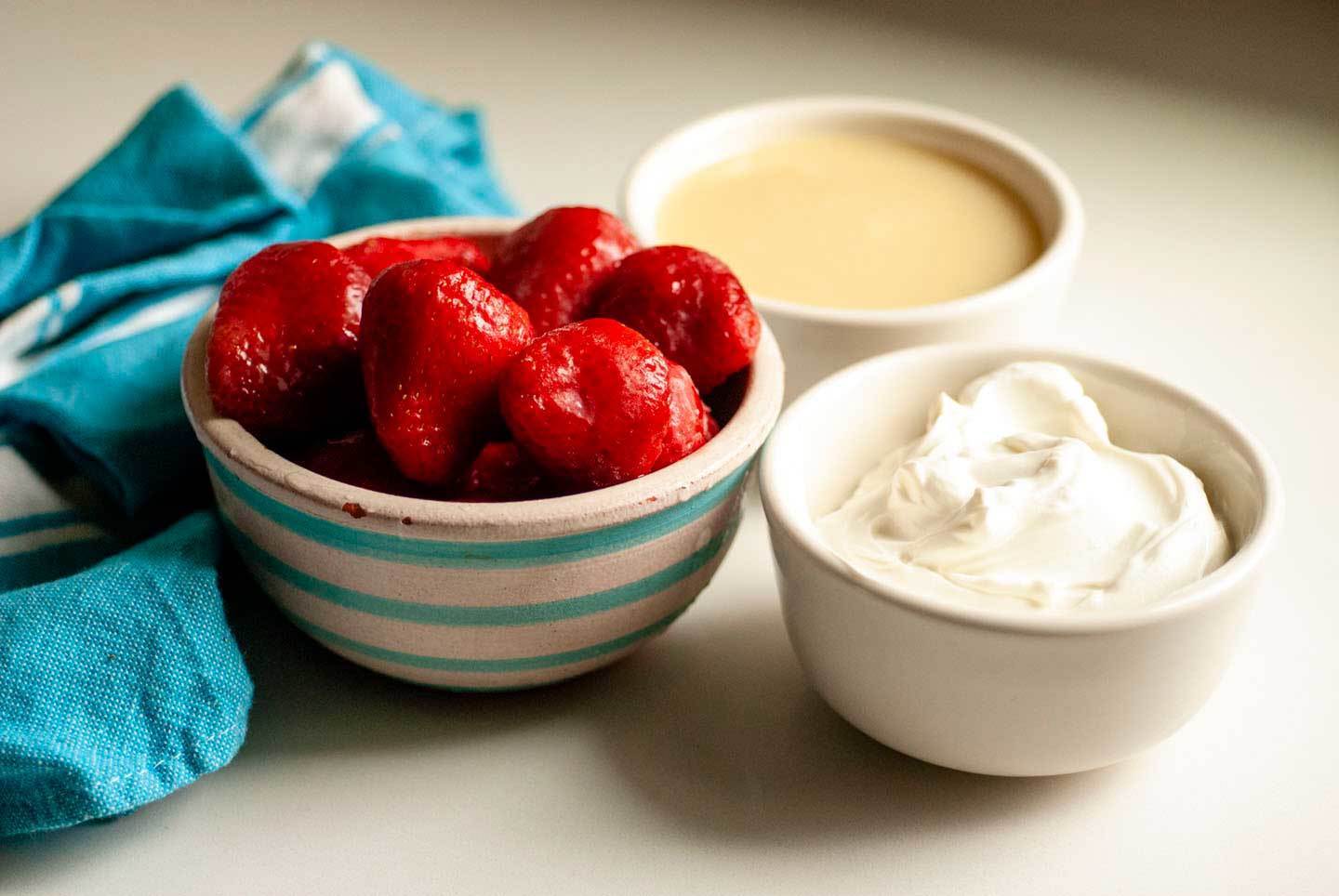 On that visit, we were talking about the on-going popularity of frozen yogurt shops. In fact, I'd taken my nephews to one in Houston recently and they went wild with all the flavors. I mentioned that while it was fun to go out for dessert, it wasn't completely necessary as making frozen yogurt at home was a cinch. In fact, you don't even need an ice-cream maker.
For proof, I pointed towards my mango frozen yogurt recipe and asked if she'd like for me to make some. She did and since they had strawberries on hand, that was the flavor I chose. At the time, I used fresh strawberries, but the dessert was such a hit with her family that every time I visited it was requested I make a batch. If fresh berries weren't available, I learned that frozen strawberries worked just as well.
To make the strawberry frozen yogurt, you take the berries and place them in a blender along with thick, full-fat yogurt such as Greek or Icelandic skyr, a can of sweetened condensed milk, a dash of vanilla and cinnamon, and then blend until smooth. Freeze until hardened, either immediately in an ice-cream maker or in just the freezer in about five to eight hours. Grab a spoon (it's so good you may choose to forgo a bowl and dip right into the container) and enjoy.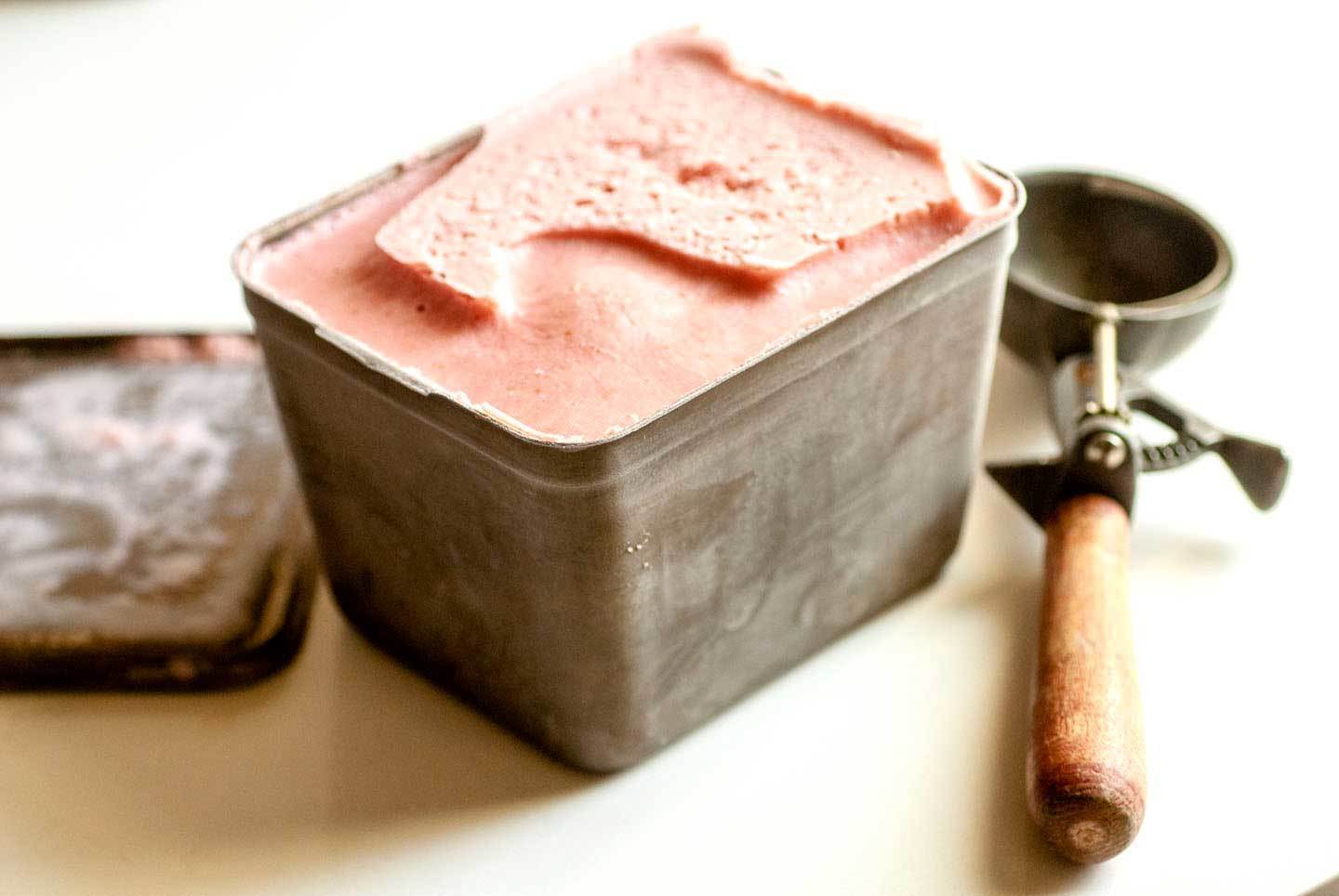 Indeed, if you can make a smoothie, you can make this frozen yogurt, and I find that the pop of the strawberries lends itself well to the tangy and slightly sweet yogurt base. Though, it's also fine with mangos, of course, as well as peaches, pineapples, or whatever else you may choose. And as the days grow longer and warmer, cooling off with this effortless frozen treat will make you and your loved ones smile.
—————
Would you like more Homesick Texan? Well, I've started offering additional recipes for paid subscribers to help with the costs of running the site. While I'm not taking anything away, if you'd like to support Homesick Texan and have access to exclusive, never-seen-before subscriber-only posts, please consider becoming a member; annual subscriptions are as low as $25. Thank you for reading, your consideration, and your support!
—————
Strawberry frozen yogurt
Ingredients
1

pound

frozen strawberries, thawed, or 1 pound fresh strawberries, hulled

1

14-ounce can sweetened condensed milk

8

ounces

plain Greek-style yogurt, preferably full fat

1

teaspoon

vanilla extract

1/4

teaspoon

ground cinnamon

1/4

teaspoon

kosher salt
Instructions
Place the strawberries, sweetened condensed milk, yogurt, vanilla, cinnamon, and salt in a blender and then puree until creamy and smooth. Taste and adjust seasonings.

Freeze according to your ice-cream maker's instructions. Or you can place the puree in freezer-safe container, and allow it to freeze for 8 hours, stirring the puree a couple of times in the first two hours of freezing.