Birthdays at the office used to be grand affairs with cakes, cards and parties thrown for each person on their special day. Unfortunately, a couple of years ago the birthday budget was slashed and no longer was there an endless stream of cupcakes, ice cream, and/or pizza provided on the company dime.
Not to be deterred, my colleagues and I are a friendly bunch and decided to take matters into our own hands, either buying or making sweets to commemorate one's birthday. Ice-cream cakes purchased at the local Hallmark store spent a long period in vogue, as one colleague noted, "What's not to love—it's cake and ice cream all in one package." Meanwhile, some of the more kitchen-friendly folks have been known to whip up their own creations, such as one man's recent offering of a triple-layer lemon-curd cake to celebrate his gaining another year of experience.
On my birthday, our lovely deputy art director brought in an array of cupcakes, sourced from a delicious bakery near her home in Forest Hills. The large box was filled with flavors ranging from German chocolate to red velvet. I was extremely touched, most especially since I've become one of those "I'll just keep my birthday to myself" kind of people and reckoned no one would remember I was gaining another year. So when her birthday rolled around recently, I wanted to return the generosity.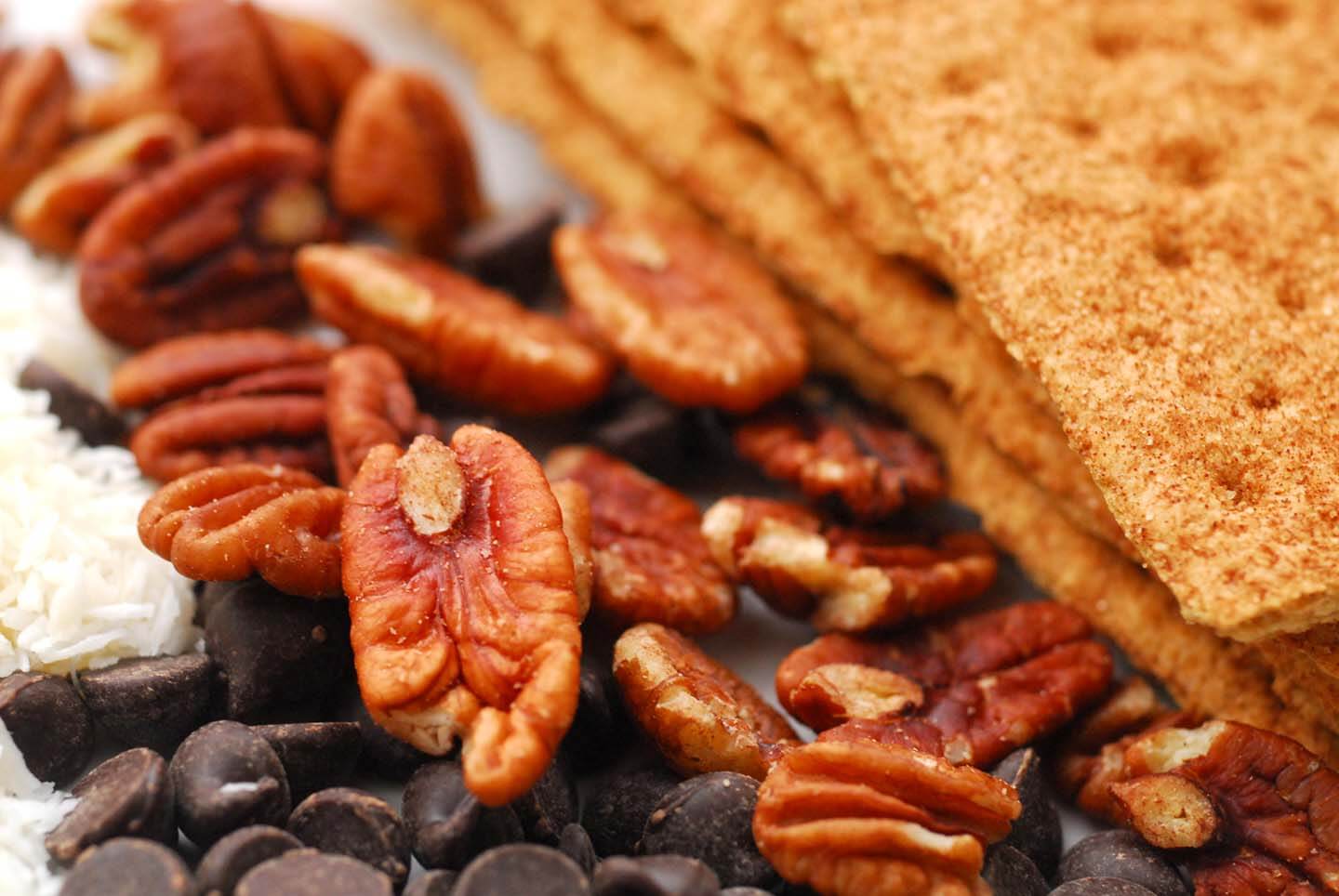 There's no shortage of bakeries in my neighborhood, and I contemplated buying her a cake. But when I eyed certain ingredients I had on hand, namely cinnamon graham crackers, shredded coconut, chocolate chips and sweetened condensed milk, I decided instead to make Hello Dolly bars.
Hello Dolly bars are probably the first dessert I ever baked. When I was nine, I had a super-cool grown-up babysitter named Sarah, and when she was in charge of me, fun things always happened. Whether it was ice skating at the Houston Galleria, taking me to see silly movies such as Donny and Marie Osmond's "Goin' Coconuts," or just baking in her kitchen, she was always a blast.
Her specialty was Hello Dolly bars (also known as magic bars or seven-layer bars, but does anyone know how they gained the musical moniker?), and almost every time she babysat me, we'd whip up a batch of these simple yet delicious treats. Since there was little work involved, save for melting some butter and measuring out ingredients, it was a terrific recipe for a kid. When she moved away from Houston, I asked her to give my mom the recipe, and for a few years my enjoyment of dolly bars (I decided to drop the "Hello" because I was tired of bursting into song whenever I said their proper name) continued.
Over time, I lost my super-strong sweet tooth, and when I baked I focused more on breads. But when trying to decide what to bring into the office last week, I realized it had been too long since I'd eaten these childhood treats and my decision was made. Plus, the great thing about these bars, especially on hot days, is they take little time to prepare, are in the oven for about 30 minutes, and can be easily transported to another location. And while they're a cinch to make, the marriage of coconut with chocolate and a caramelized sweetened-condensed milk topping belies their simplicity. Trust me, they are a guaranteed crowd pleaser!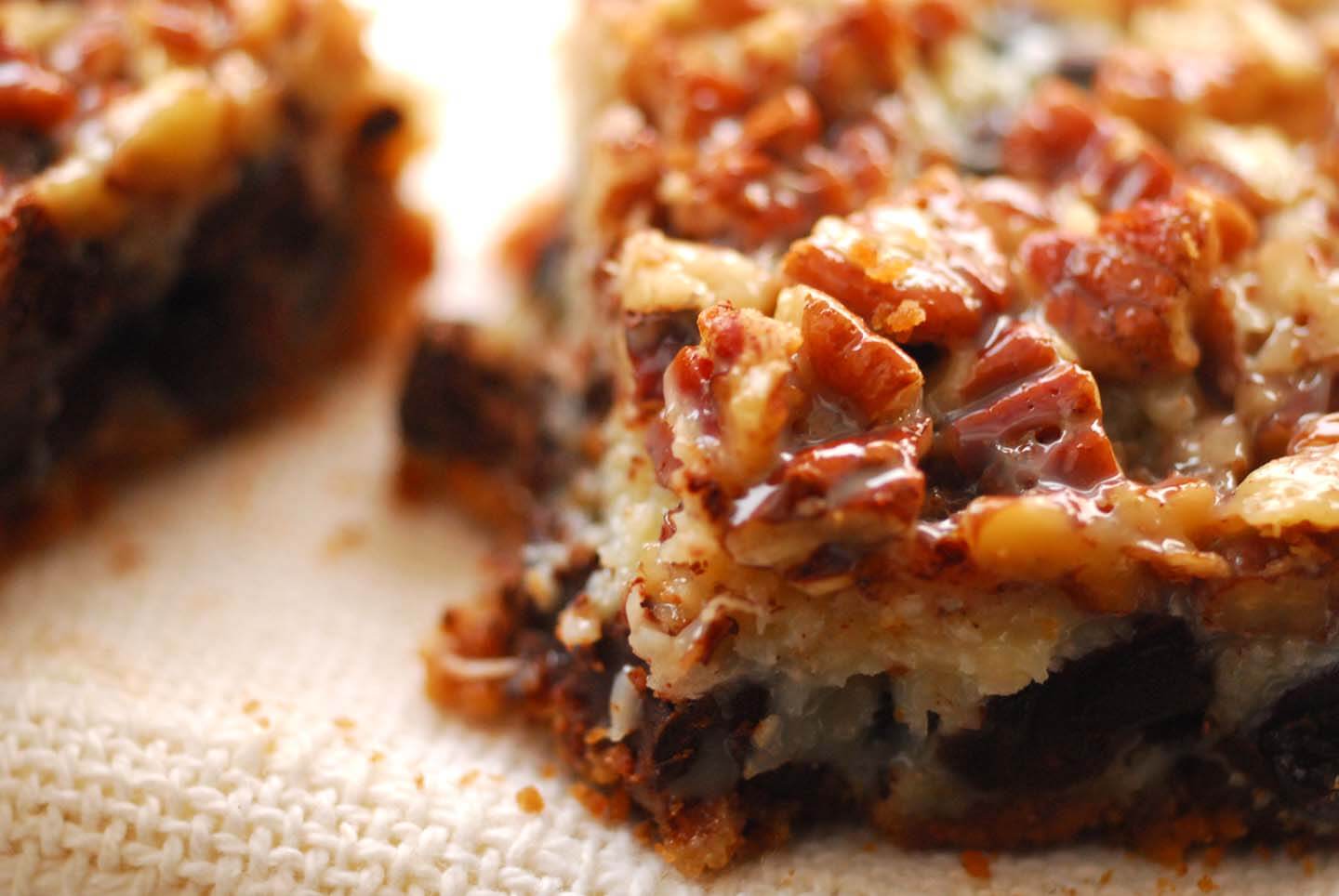 I figured everyone else in my office had grown up with dolly bars as well. But I was surprised at my work friends' response: "What are these?" they'd ask, while proceeding to eat another and another and another. Yes, they're addictive, and it didn't take long for my box of dolly bars to empty. So by special request from my colleagues (who all said, "Please! Post the recipe on your blog!") I present to you dolly bars—so easy a kid can make them, so scrumptious an adult can't stop eating them.
—————
Would you like more Homesick Texan? Well, I've started offering additional recipes for paid subscribers to help with the costs of running the site. While I'm not taking anything away, if you'd like to support Homesick Texan and have access to exclusive, never-seen-before subscriber-only posts, please consider becoming a member; annual subscriptions are as low as $25. Thank you for reading, your consideration, and your support!
—————

Hello Dolly bars
Ingredients
1/2

cup

unsalted butter

1 1/2

cups

crushed cinnamon graham crackers (about 8 graham crackers)

2

cups

of chocolate chips

1 1/2

cups

shredded coconut

1 1/2

cups

chopped pecans

1

14-ounce can sweetened condensed milk
Instructions
Preheat the oven to 350° F.

Melt the butter in a saucepan on low heat. Pour the melted butter into an 11×7 or 8×8 cake pan. Sprinkle the graham cracker crumbs into pan, and mix well with the melted butter to form a crust.

Layer on top of the graham-cracker crust the chocolate chips, coconut, and pecans. Evenly pour sweetened condensed milk over everything.

Bake for 25 to 30 minutes or until the top is light brown. Let cool in pan for at least half an hour, then cut into bars and serve.
Notes
Some recipes use butterscotch and chocolate chips. Likewise, you can use walnuts or any other nut you like as well. I used cinnamon graham crackers because that's what I had in my pantry, and while plain graham crackers are more traditional, I thought the cinnamon added a nice touch.