One of my dearest friends recently gave up eating meat. As we were talking about her new lifestyle, I asked if she was enjoying lots of beans. She replied that she wasn't. "Can beans even be cooked without meat?" she asked.
Now, like most Texans, beans are a mainstay in my diet. For instance, on Sundays I'll prepare a big batch of pintos and eat them throughout the week. And while I often do add meat, I also have no problem making them vegetarian as they're just as good.
When my friend wondered how that was even possible, I realized that the classic ways of cooking beans in Texas usually involves adding bacon, salt pork, sausage, or smoked brisket. But it doesn't have to be this way.
First, I pointed her to my black bean recipe, which are not only smoky and flavorful but also vegetarian. Though her query got me thinking about other ways to enjoy beans without meat.
Indian cuisine, for instance, incorporates lentils into many dishes. They are typically cooked with spices, chiles, and aromatics for seasoning, and while they are vegetarian they are always packed with depth and flavor.
Though another plus for lentils is how quickly they cook. You can have a pot of lentils done in under half an hour. They also require no soaking, which makes them a quick weeknight or last-minute meal.
Here is my recipe for an Indian-inspired bowl of red lentils cooked with jalapeños for kick and finished with lime juice for brightness. The official name for this dish is dal, with the term meaning "to split," and it refers to legumes such as lentils and split beans that don't need to be soaked before cooking.
The lentils (which start out red but end up yellow), are also cooked with onion, garlic, and warm spices such as turmeric, cumin, cinnamon, and ginger. There's also cilantro and a bay leaf added, too.
The cumin, cilantro, and jalapeño give these a familiar Tex-Mex flavor, and while they can be served as a soup or over rice, I take a nod from the Indian flat-bread know as roti, which is a flour tortilla by another name, and scoop my lentils into warm tortillas.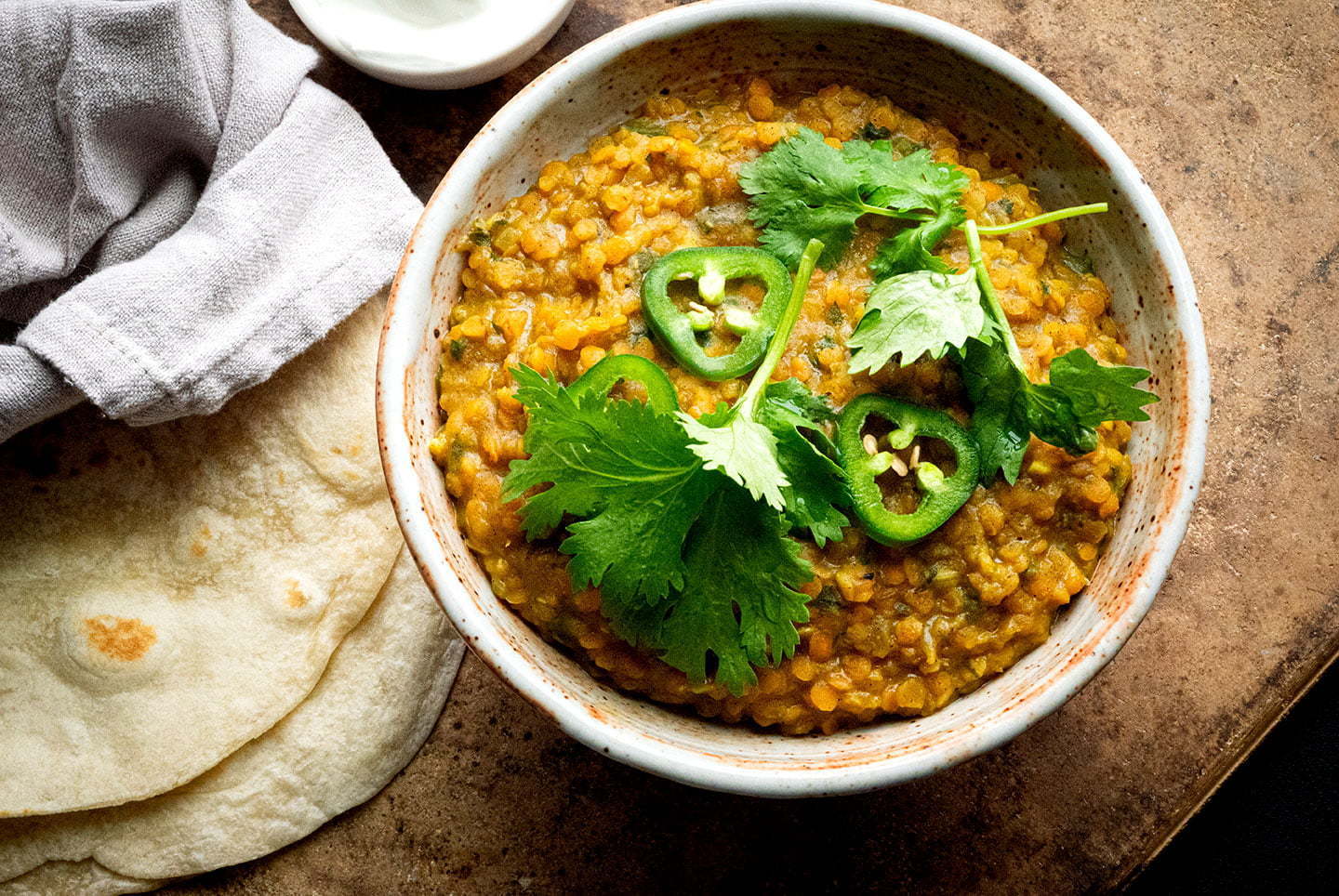 I then top with sour cream (Greek yogurt would work, too), hot sauce, and more cilantro to make a round of Texas-Indian tacos, making what may seem new at first completely familiar to all.
Red lentil with jalapeños and lime
Ingredients
2

tablespoons

olive oil

1/2

medium yellow onion, diced

2

jalapeños, seeded and diced, plus more for serving

6

cloves

garlic, minced

1

teaspoon

ground turmeric

1

teaspoon

ground cinnamon

1

teaspoon

ground cumin

1/4

teaspoon

ground ginger

Pinch

cayenne

2

cups

red lentils

4

cups

water

1

bay leaf

1/2

teaspoon

kosher salt

1/2

teaspoon

chopped cilantro, plus more for serving

2

tablespoons

freshly squeezed lime juice

Warm flour tortillas or Indian roti, for serving

Sour cream or plain Greek yogurt, for serving

Hot sauce such as Cholula, for serving
Instructions
Heat the oil on medium-low in a pot and add the onions and jalapeño. While occasionally stirring, cook until softened and fragrant, about 5 minutes. Stir in the garlic and cook for 30 seconds.

Stir in the turmeric, cinnamon, cumin, ginger, and cayenne then pour in the lentils and water. Add the bay leaf, salt, and chopped cilantro.

Turn the heat to high and bring to a boil, then turn the heat to low and simmer until lentils are softened, about 10-15 minutes. You may serve them this way, or if you're like me, you may at this point pour another 1/2 cup of water into the pot and continue to cook until they're even mushier.

Stir in the lime juice then taste and adjust seasonings. Serve warm with flour tortillas, sour cream, and hot sauce.
Recipe Notes
This recipe is very forgiving and can easily be modified. For instance, sometimes I'll throw in diced tomatoes while cooking. Or I'll stir in cauliflower, spinach, or kale. And while they're vegetarian, cooked chicken or shrimp stirred into these are tasty, too.