Avocado-coconut ice cream
If your mom is anything like my mom, then she probably loves avocadoes. While everyone in my family enjoys this tropical fruit, I most identify it with my mom, as when I was growing up it seemed that she ate an avocado every single day.
Her favorite lunch was a batch of nachos, and with these nachos she'd mash an avocado with hot sauce and lemon juice for a quick and easy guacamole. When she wasn't making nachos, she'd also dice avocadoes and then toss them into salads, or slice them into thin slivers and then serve them with fish or tacos.
Of course, my recollections may be hazy and perhaps she didn't eat them every day, but it sure does seem like there was always a bowl of ripe avocados sitting out on the counter, waiting to be peeled, pitted, sliced, and served.
Now here's the sad thing. I didn't like avocadoes when I was a kid. I'm not sure if it was the soft texture or if it was because they were green, but it wasn't until I fell in love with Ninfa's green sauce that I became a fan.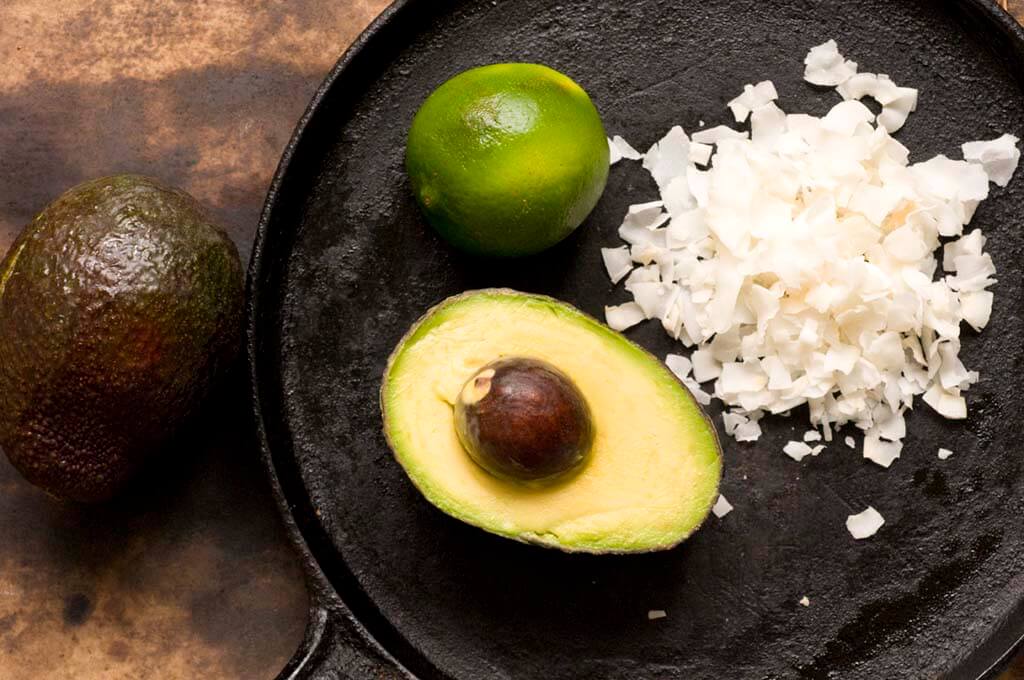 Apparently, I'm not alone. When I was reading Gaby Dalkin's new book Absolutely Avocadoes, she also admits she thought she wasn't a fan of avocadoes, at least until she, too, had a transformative moment with avocadoes at a Mexican restaurant in Arizona.
She's since made up for any lost time, and is now very passionate about the fruit. As she says in her intro, writing this book was a dream assignment since she loves avocadoes so much, and you can feel that love as she shares all that she knows.(It's also a beautiful book as fellow Texan Matt Armendariz took the photos.)
Most people associate avocadoes with savory dishes—I know that I do. But lately, I've been hearing more people talk about using avocadoes in sweet dishes, too. A friend showed me a picture of an avocado chocolate cake she'd made, and while if you squinted, you could maybe see a slight green tint, she said otherwise it didn't taste like avocadoes—their addition just made the cake more tender.
Then a friend mentioned that avocado ice cream was his new favorite thing. He'd had it at Amy's Ice Cream in Austin and said it was surprisingly good. "Does it taste like avocadoes?" I asked. He said that the avocadoes were present, but it wasn't strange and the ice cream was very pleasing.
At the time, I was intrigued. But as we don't have Amy's in New York, I didn't pursue it until I was flipping through Gaby's book. And there it was, a recipe for Avocado Coconut Ice Cream. I knew what I was going to make first.
The ice cream is simple to make, as it's avocadoes, coconut milk, sugar, and cream all whirled in a blender and then churned in an ice cream machine. Gaby's recipe calls for lemon extract, but not having that on hand I used lime juice and lime zest instead. After a spell in the freezer, you serve it with toasted coconut, for added flavor and crunch.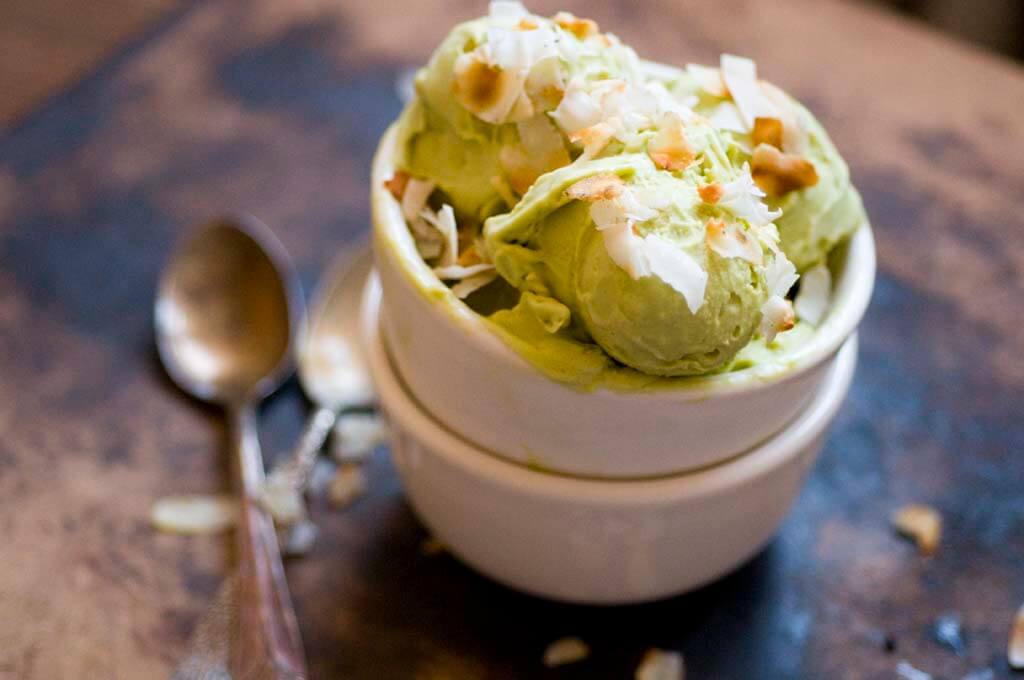 I will admit that it's a little unusual, but that's what makes it so appealing. It's also creamy and smooth without being heavy, another plus. And though you feel slightly virtuous as you eat it, it still tastes like a treat. But most importantly, it's cool and refreshing, which is just what you want during these longer days.
Avocado-coconut ice cream
Ingredients
2

Haas avocadoes

1

14-ounce can coconut milk

1/2

cup

heavy cream

3/4

cup

granulated sugar

1

tablespoon

lime juice

1

teaspoon

lime zest

1/2

cup

coconut chips
Instructions
Cut each avocado in half lengthwise, remove the pit, and scoop out the flesh into a blender or food processor. Add the coconut milk, heavy cream, and sugar. Blend on low until completely smooth, about 2 minutes. Stir in the lime juice and zest.

Transfer the mixture to an ice cream machine, and churn according to the manufacturer's directions. Cover and freeze for at least 2 hours before serving, so the ice cream can become more firm.

Meanwhile, add the coconut flakes to a dry skillet heated to medium. Cook the coconut while frequently stirring until the edges begin to turn brown, about 2 minutes. (Keep a close eye on the coconut, as you don't want it to burn.) Remove immediately from the heat. Allow it to cool and then sprinkle over the ice cream for serving.
Notes
Gaby's original recipe called for 1/2 cup sugar, but I like things extra sweet. Her recipe also calls for 1 teaspoon lemon extract instead of the lime juice and zest, but I didn't have that on hand so I made the lime substitution.