Blue cheese scalloped potatoes with chipotle and bacon
Now, if you're watching your weight you should stop reading right now, as these blue cheese scalloped potatoes with chipotle and bacon are not exactly waistline friendly. But believe you me—they are luxuriously good.
The inspiration for these came from a quick trip to Texas last week. It had been a few years since I'd seen the bluebonnets, and when a cheap, last minute fare to Austin presented itself to me, I immediately booked a flight.
My vague notion was that I would drive around Central Texas, and would be blown away by all the wildflowers. The reality, however, was a bit less spectacular as the weather had been dry and not many flowers had popped out of the ground just yet.
As I spoke to people in the various small towns I visited, I heard that the best bluebonnets were to be found in North Texas, with an exceptionally fine showing in Ennis. So even though my plan had been to spend my brief time in Texas in the Hill Country, I changed course and headed north.
After a night's rest, I woke up before dawn and drove to Ennis, arriving just as the sun was rising. I'd found a map of the bluebonnet trail, and began to make my way to the areas marked as being especially lush. The reports did not lie—I'd never seen such a spectacular showing of bluebonnets.

Narrow, winding roads curved around farms with rolling hills and pastures blanketed in blue. I don't know if the area's farmers plant seeds or if these bluebonnets are wild, but the display was breathtaking. At one point, I stepped out of the car and could see nothing but fields and flowers for miles and miles. Save for an occasional house or cow, there were no other signs of civilization—I felt like the pioneers must have felt when the first saw Texas in all of its wild, unfettered glory.
Before heading back to Austin for my flight home, I stopped at a small-town café—the kind of place where the walls are covered in football uniforms, and the waitress greets you with a hearty, "Hey, Hon'!" On the board, cream potatoes were listed as one of the vegetables of the day. I ordered them, thinking that the potatoes would be sliced potatoes baked in a creamy sauce. But instead, they were just mashed potatoes, though very good mashed potatoes as they were full of lovable lumps, which told me they were made from scratch.
But you know when an idea gets into head and you can't shake it out? Well, that's how it was with the potatoes—I suddenly had a crazy craving for scalloped potatoes. So when I returned to New York, my first order of business was to at last make the creamy potatoes that I had hoped to eat in Texas.
In my fridge, I had some blue cheese so I added that to the potatoes. And as I always have bacon and chipotle chiles, I also threw them in, as I figured they'd play well with the other ingredients. It took a couple of tries to get this right (I don't recommend putting heavy cream in a blender with garlic and chipotle chiles unless you want to make chipotle-garlic butter), but once I figured it out, I was extremely satisfied.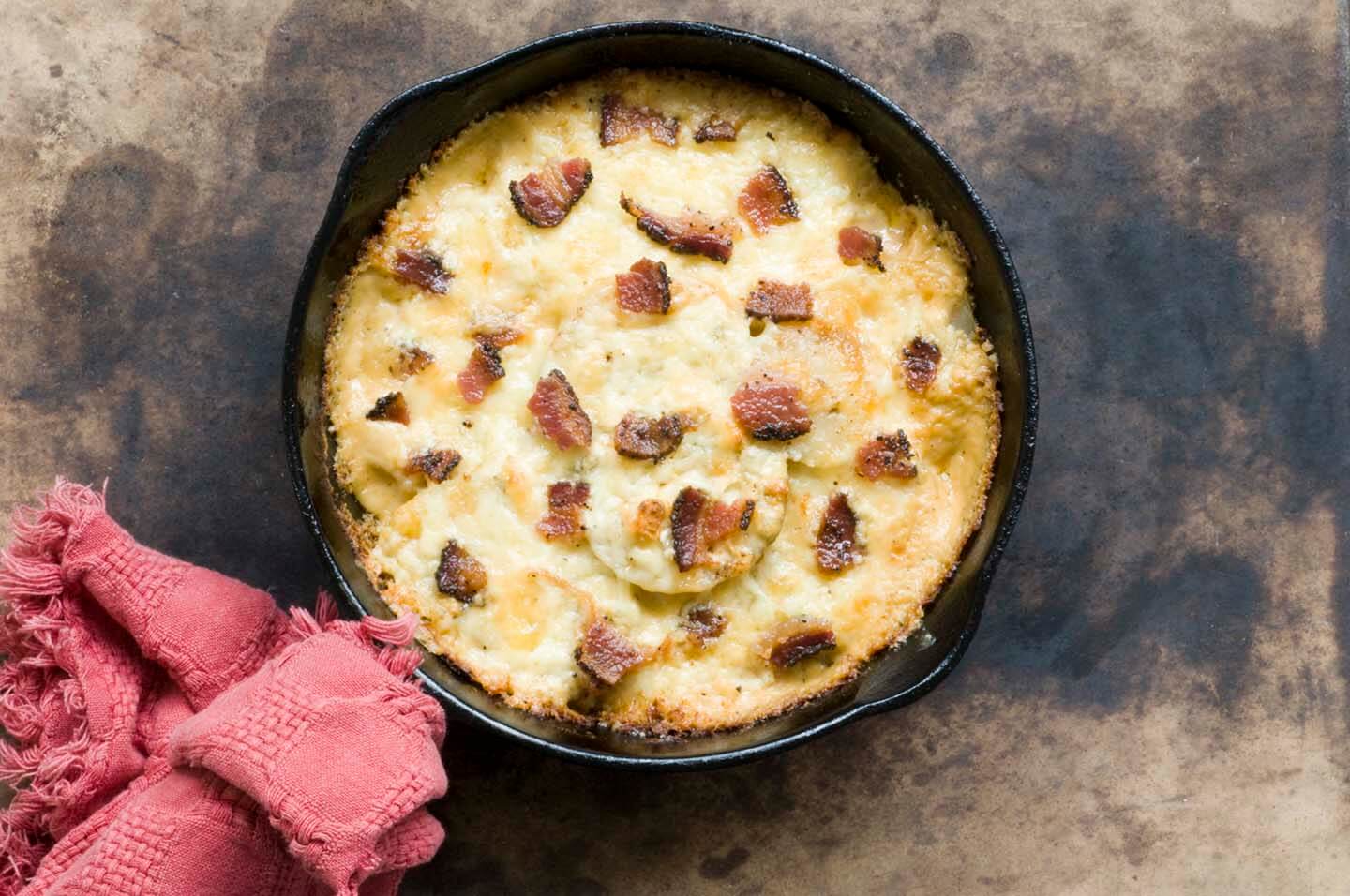 As I said earlier, this is a dish that is probably best saved for special occasions, such as Easter or other family gatherings. That said, it takes little time to prepare and if you're looking to live a little large, you can't go wrong with these potatoes made just a little fancier with blue cheese, chipotle and cream.
Blue cheese scalloped potatoes with chipotle and bacon
Ingredients
1

teaspoon

vegetable oil

1/2

cup

half-and-half or whole milk

4

ounces

blue cheese, crumbled and divided

2

cloves

garlic, chopped

1

canned chipotle chile

Pinch

of nutmeg

2 1/2

cups

heavy cream

2

pounds

russet potatoes, peeled and cut into 1/8 inch round slices

Salt and black pepper to taste

8

ounces

sharp white cheddar, shredded

4

slices

cooked bacon, crumbled
Instructions
Preheat the oven to 400° F. Lightly grease a 10-inch ovenproof skillet, such as cast-iron, with the oil.

Pour the half-and-half into a blender and add half of the blue cheese (2 ounces), the garlic, chipotle chile and nutmeg. Blend until smooth. Pour the blender contents into a bowl. Add the heavy cream and whisk the two together.

Arrange half the sliced potatoes on the bottom of the skillet. Lightly season the potatoes with salt and black pepper. Pour half of the cream mixture over the potatoes. Top with half of the remaining blue cheese crumbles (1 ounce).

Layer on top the remaining potato slices. Lightly season the potatoes with salt and black pepper. Pour the rest of the thickened cream mixture on top, and top with the rest of the blue cheese (1 ounce).

Cover the skillet with foil and bake for 40 minutes. Remove the skillet from the oven, take off the foil and arrange on top the shredded cheddar and the crumbled bacon. Bake for 20 more minutes uncovered or until brown and bubbling and the potatoes are soft.