After a full day in the kitchen, I like to take a walk to clear my head. On a recent stroll, I spotted a friend holding court in a neighborhood Southern restaurant. He had just moved to New York and as I hadn't seen him in a while, I popped inside and said howdy. We decided to order some light snacks and saw deviled tasso listed on the menu. What's that, we wondered? We ordered it and after one bite, I realized it was nothing more than a variation on my old favorite, deviled ham.
Deviled ham also made an appearance at a Derby Day party. A friend had found a can of Underwood's Deviled Ham and brought it to share with the other guests. She'd never eaten it before but was intrigued by the iconic white can with the grinning devil. (Does anyone know what deviled, when applied to food, actually means?) I hadn't seen that can in years, but I instantly remembered how much I loved deviled ham and pickle sandwiches when I was young. I decided it was time to make a batch of my own.
I didn't have to look far for a recipe.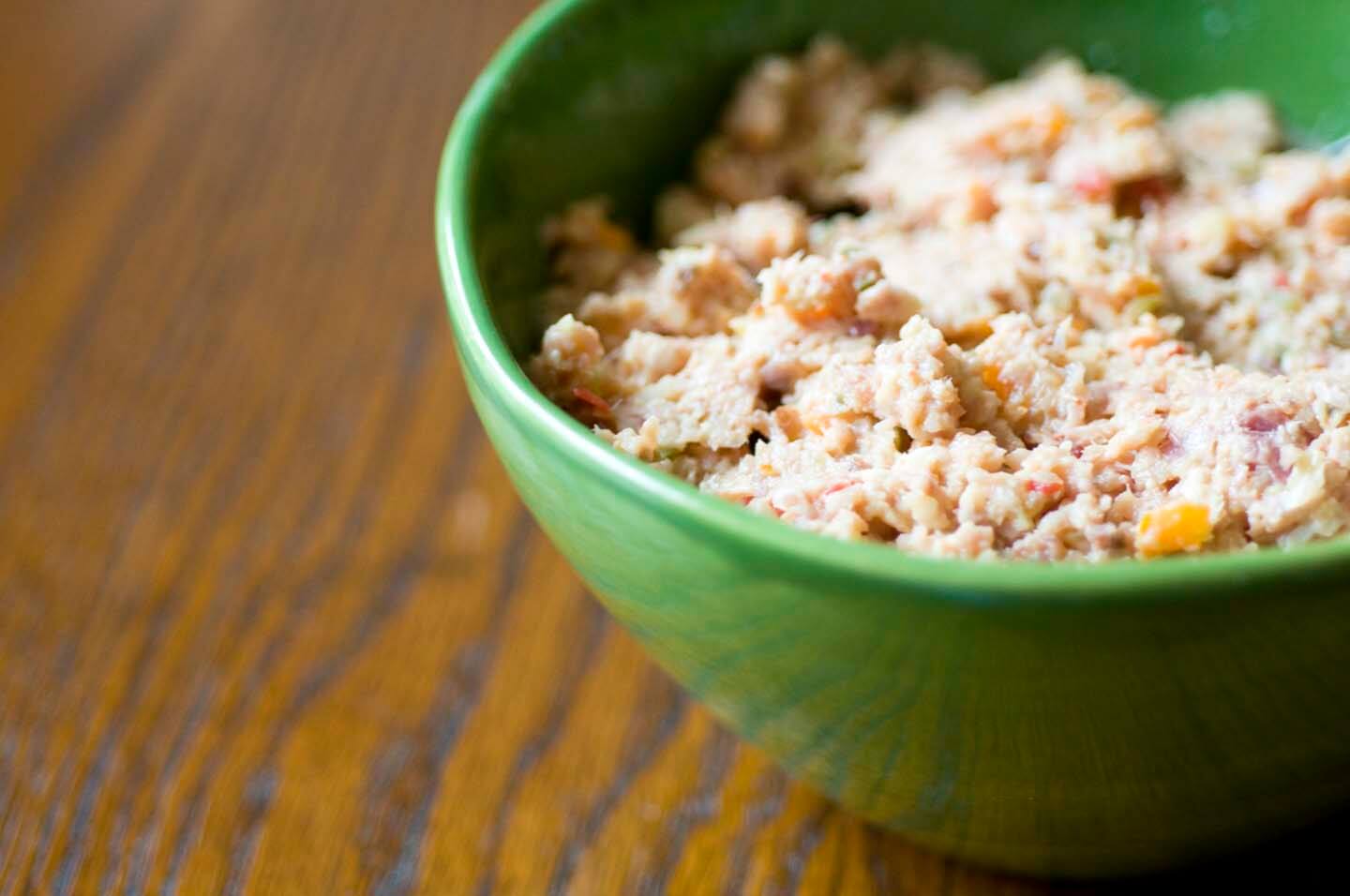 At Christmas, my cousin Susan brought her famous ham salad to our family gathering and the big bowl of it was gone in about a minute. We spread it on buttery crackers, a perfect vehicle for the ham salad that was filled with flavors spicy, tangy and sweet.

I asked her for the recipe and she laughed and said she didn't have one. Of course, she didn't! That happens so often in my family—we just throw together ingredients and taste until everything is balanced. And I'm not complaining—that's certainly my favorite way to cook.
She did, however, give me her list of ingredients. There was ham, of course, along with pickles, mustard, and peppers. And like a detective I took these clues and tried to solve the mystery of her famous ham salad. It actually wasn't difficult—if you have any experience making protein-based salads such as tuna salad, chicken salad or even pimento cheese, you get a feel for how much of each ingredient should belong. This time, however, I kept notes of just how much I was adding so I could pass it on to you.


Ham salad is versatile as you can stuff it into celery, spread it on crackers, scoop it onto an iceberg wedge, or layer it on buttered bread. And while it's perfect for warm days, I find that it's pretty much appreciated at any time of year.
Deviled ham salad
Ingredients
2

cups

chopped ham

1/4

cup

chopped red bell pepper

1/4

cup

onion, finely diced

1

large dill pickle, diced

1

jalapeño, seeded, stemmed, and diced

3

tablespoons

mayo

3

tablespoons

mustard

1

teaspoon

pickle juice

Salt

Black pepper
Instructions
In a food processor, mix all the ingredients together until blended but not too smooth as you want a bit of texture. Taste and adjust any seasoning or add more mayonnaise and mustard if you like. Keeps in the refrigerator for a few days.