Chicken-fried steak with red chile gravy
One summer day, while driving along the Rio Grande from Laredo to McAllen I began to get hungry. As I passed through the town of Zapata, I spotted a sign that said, "El Paraiso: Home of the Chicken-Fried Steak." Chicken-fried steak paradise? Say no more. I pulled into the parking lot and came to a stop.
When I entered the restaurant, it was spacious and inviting. The hour was around noon and there was a mix of families, business people, and solo diners having lunch. The waitress lead me to a table by a window and handed me a menu.
I asked her if the chicken-fried steak was as good as advertised and she said nodded and said yes. Then I looked around and saw that other tables were eating it, and I took that as an affirmation. Besides the steaks, most of the restaurant's offerings were Tex-Mex. So, when I spotted one of the ways they offered their chicken-fried steak was enchilada style, smothered with red chile gravy and cheese, I decided to give that a try.
After I ordered, the waitress brought me salsa and a basket of tortilla chips along with a small cup of fideo, a tomato and chicken-broth soup loaded with thin noodles. (My first book has a similar recipe.) The chips were crisp and salty and both the salsa and soup were well-seasoned and refreshing. It was a promising start. Then the waitress walked over with the main event—my chicken-fried steak.
Now, if you are a lifetime lover of chicken-fried steak, you develop an eye for quality. Indeed, I can easily spot if a steak has been hand-breaded or if it came from the freezer. Restaurants that sell pre-formed steaks make me sad, as it shows such a lack of care and concern.
Fortunately, El Paraiso's steak had all the hallmarks of one made on site, with its odd-shaped surface and peaks and valleys in the crust. The glorious steak was topped with chile gravy along with a healthy blanket of melted cheddar cheese. It took up most of the plate, though there was some room leftover for fries, rice, and refried beans. It was a thing of beauty.
The waitress asked if I needed anything else, but since I had enough food to feed a family, I laughed and said I was fine. Then I picked up my knife and fork and got to work. The first bite was tender and crunchy with the earthy flavor of the chile gravy going quite well with the peppered steak. The strings of hot cheese were certainly fun to eat, too. It was an incredible meal.
In Texas, cream gravy is the traditional accompaniment to chicken-fried steak, but you will sometimes see it served with queso, salsa verde, or beef chili. This, however, was the first time I'd seen a meatless red chile gravy. Since it's an uncommon dish, if you'd like to experience this non-traditional Tex-Mex indulgence yourself and don't have immediate plans to visit Zapata, I suggest making it at home.
It's not too difficult, though chicken-fried steak—between the pounding, dredging, and frying—can be a messy production; this isn't quick weeknight fare. Though if you have a special occasion or extra time to spend in the kitchen it's well worth the effort.
For mine, I start with my usual chicken-fried steak, adding a bit of cumin and oregano to the breading. At first, I had the ambition of preparing an elaborate chile gravy from a variety of red chiles, as is my preferred method these days. After wrangling with the steaks, however, I decided to keep it simple and stirred up a gravy with the pan drippings, much like my cream gravy but with broth, aromatics, and chili powder instead of milk. While not complex, the gravy was familiar and good with its echoes of vintage Tex-Mex. As for the cheese, I went with a combination of mild yellow cheddar and Monterey Jack.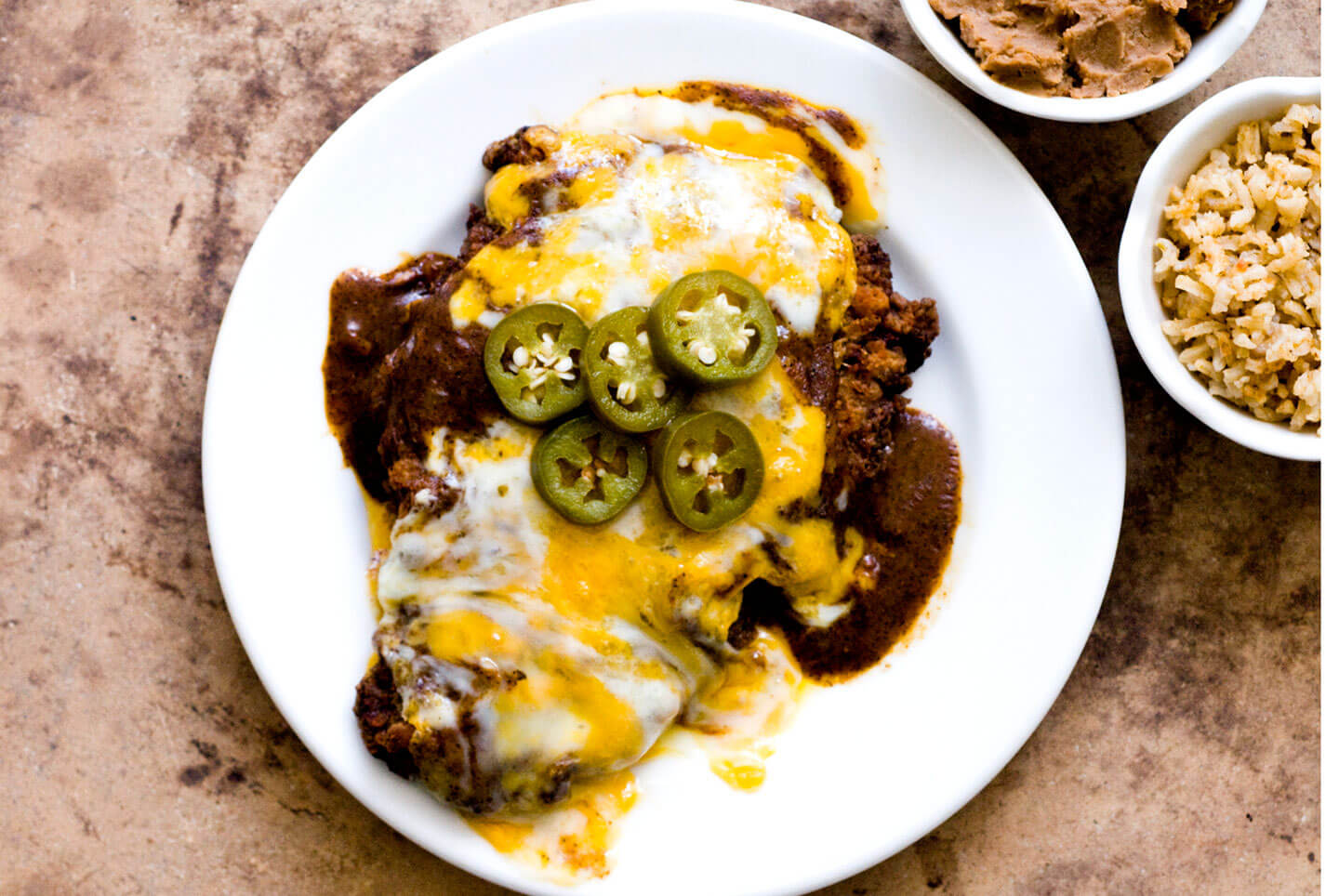 Now, chicken-fried steak served with anything other than the classic cream gravy is considered by some to be heresy. In my latest book, for instance, I featured one with queso, and while it was well received by most, there were a few who called blasphemy.
I suppose this set would also not welcome a chicken-fried steak smothered in red chile gravy and molten cheese. That's okay, as it leaves more of this Tex-Mex fusion of steak and sauce for me. And if you're an adventurous sort who doesn't mind bucking tradition, then I know you will enjoy this border-style taste of chicken-fried steak, too. Paradise indeed!
Chicken-fried steak with red chile gravy
Ingredients
For the steaks:
1 1/2-

pounds

beef top-round steak

1

teaspoon

kosher salt

1

teaspoon

black pepper

1/2

teaspoon

ground cumin

1/2

teaspoon

dried oregano

1/4

teaspoon

cayenne

1 1/2

cups

all-purpose flour

2

large

eggs

1/2

cup

whole milk

Vegetable oil, for frying

4

ounces

(1 cup) mild yellow cheddar, shredded

4

ounces

(1 cup) Monterey Jack, shredded

Pickled jalapeño slices, for garnishing
For the red chile gravy:
¼

cup

pan drippings, oil, or bacon grease

1/4

cup

diced onion

2

cloves

garlic, minced

¼

cup

all-purpose flour

2

cups

beef or chicken broth

3

tablespoons

chili powder

2

teaspoons

ground cumin

1

teaspoon

dried oregano

1

teaspoon

black pepper

1

teaspoon

jalapeño pickle juice

Salt

Refried bean, for serving
Mexican rice, for serving
Instructions
To make the chicken fried steak, cut the steak into 4 evenly sized pieces. Pound each piece with a meat tenderizer to about a 1/4-inch thickness and almost doubled in surface area. Lightly season the steaks with salt and pepper.

For the breading, whisk together the flour, salt, pepper, cumin, oregano, and cayenne. Beat the egg and milk in a bowl wide enough to accommodate the steaks. Coat both sides of one piece of steak with the flour mixture, dip into the egg mixture, dredge in flour again, and place on a second large plate. Repeat with remaining steaks.

Preheat the oven to 200°F and line a baking sheet with aluminum foil.

In a large skillet over medium-high heat, warm 1 inch of oil to 300°F. Working in batches, gently place the steaks in the skillet in a single layer. There will be a lot of popping and hissing, so be careful. After 2 to 3 minutes, or when juices start bubbling out of the top of the steak, use tongs to gently flip the steaks and continue to cook until lightly browned, about 3 more minutes. Transfer the steaks to the prepared baking sheet and place in the oven to keep warm. Repeat with the remaining steaks.

To make the chile gravy, reserve 1/4 cup of oil from the skillet, then drain the rest and wipe out the skillet with a paper towel. (If your oil is too burnt tasting, you can use fresh oil or bacon grease.) Return the oil to the skillet and warm over medium-low heat. Add the onion and while occasionally stirring, cook until softened, about 5 minutes. Add the garlic and cook for 30 more seconds.

Whisk in the flour to the skillet until everything is well combined. Cook for a minute or until just beginning to brown, then stir in the broth, chili powder, cumin, oregano, and black pepper. While stirring, cook until the sauce has thickened, about 5 minutes. Stir in the jalapeño pickle juice then taste and adjust seasonings, adding salt if needed.

Remove the steaks from the oven. Turn on the broiler, position a rack 6 inches from the heating element, and place each steak on an oven-proof plate. Evenly pour over the steaks the gravy, then top with the cheese. Slide the plates under the broiler (depending on the size of your oven, you may need to do this in batches), and cook until the cheese has melted, about 1-2 minutes. Garnish the steaks with pickled jalapeños. Serve immediately, with refried beans and rice, if you like.
Notes
If you have the time and inclination and would like to try making a chile gravy using whole chiles, this is a good gravy recipe. You can also substitute ancho chiles for the pasilla chiles if you prefer.