Dr Pepper ribs: sticky, spicy and sweet
I've been on a rib kick lately. I usually like my ribs simple—seasoned with nothing but a salt, cayenne and black pepper rub, smoked low and slow over post-oak wood. But when I'm trying to make outdoor fare inside, I tend to change my tune. Take my Dr Pepper ribs. These are sticky, spicy and sweet, which is the exact opposite of how I like my barbecue. And yet, I love my Dr Pepper ribs so much that I could eat a whole rack by myself.
Now if you know me well, you are aware that I'm a staunch opponent of sauce on barbecue. And yes, these ribs are wet and messy, so much in fact that if you don't have a stack of napkins nearby you should probably wear a bib. So what changed my mind and why did I decide to make saucy ribs?
We Texans love to cook with Dr Pepper. I love to use Dr Pepper in my peanut brittle and a Dr Pepper chocolate cake is wonderful as well as it always turns out so moist. But I'd never tried using Dr Pepper with meat and I was curious if it would make that much of a difference.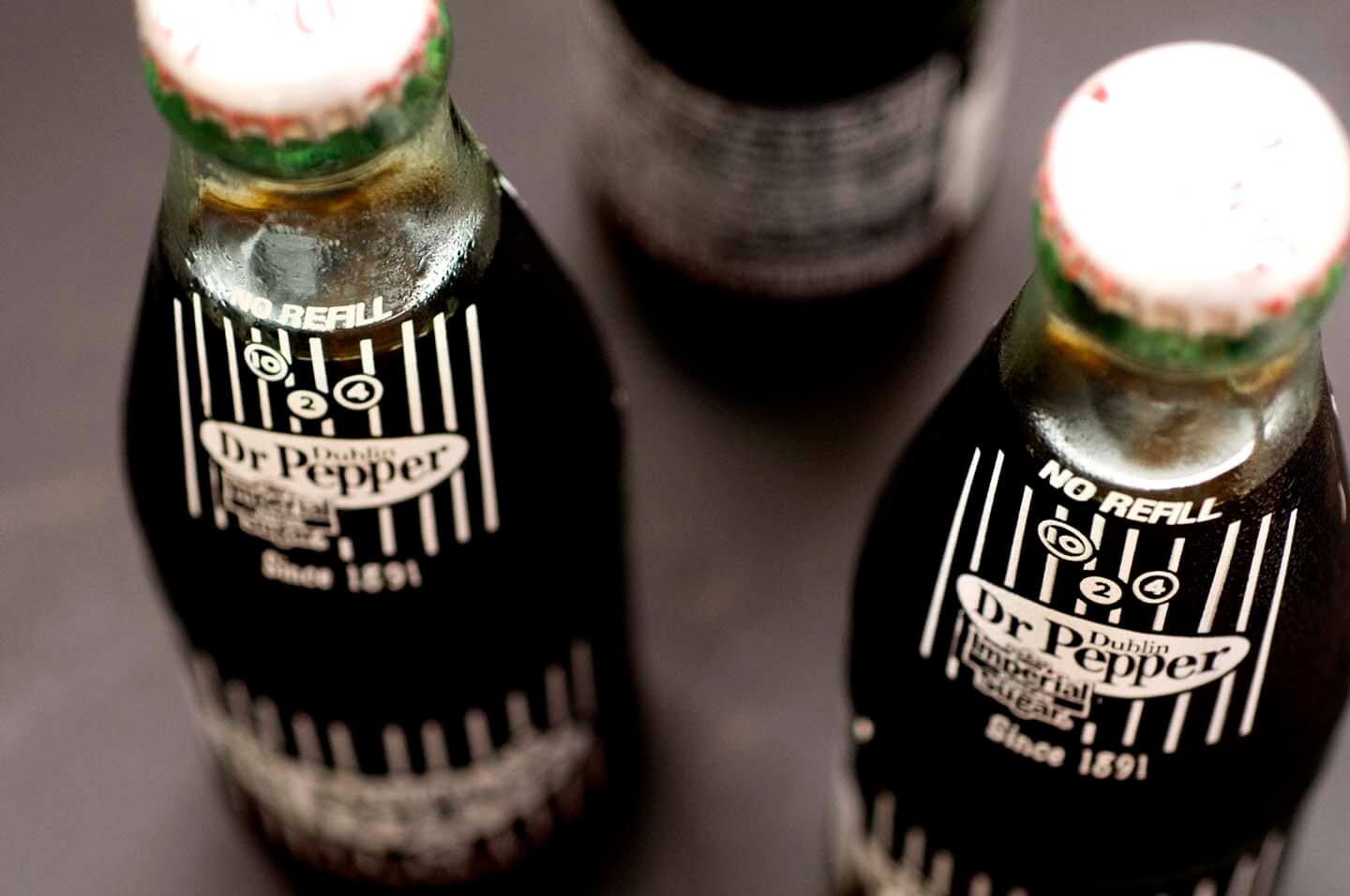 I've tried making meat with my stove-top smoker in the style that I like it, but save for fish and vegetables, the results haven't been great. So when it comes to oven-baked ribs, I decided to eschew outside authenticity and instead shoot for lots of flavor. Enter the Dr Pepper.

At first I tried making my ribs savory, using the Dr Pepper as only a tenderizer. This was wrong as the ribs were soggy with a strange flavor. It wasn't, however the Dr Pepper's fault—it was mine for pretending that the drink was something it wasn't. So I decided that I would embrace the Dr Pepper's inherent sweetness and try to compliment that with flavors that balanced it instead of fought it.
I coated the ribs in a smoky, sweet dry rub made with chipotle powder and brown sugar and let them rest for a few hours. I then made a glaze with my chipotle ketchup, Dr Pepper, mustard, vinegar, molasses and allspice. I baked the ribs in a low oven for a little over an hour and then started applying my Dr Pepper glaze. After another hour and a stint under the broiler, the meat was tender and each bite was coated in a sticky glaze both fiery and sweet.
Now because these ribs are messy, you may be tempted to eat these with a knife and a fork. Don't. A year ago, the family was gathered for Thanksgiving at my grandmother's farm and her neighbor brought over some ribs. Because we were having a sit-down dinner, I started to eat my ribs with a knife and a fork. "What are you doing?" said my uncle. "You don't eat ribs with silverware! Use your hands like a Texan."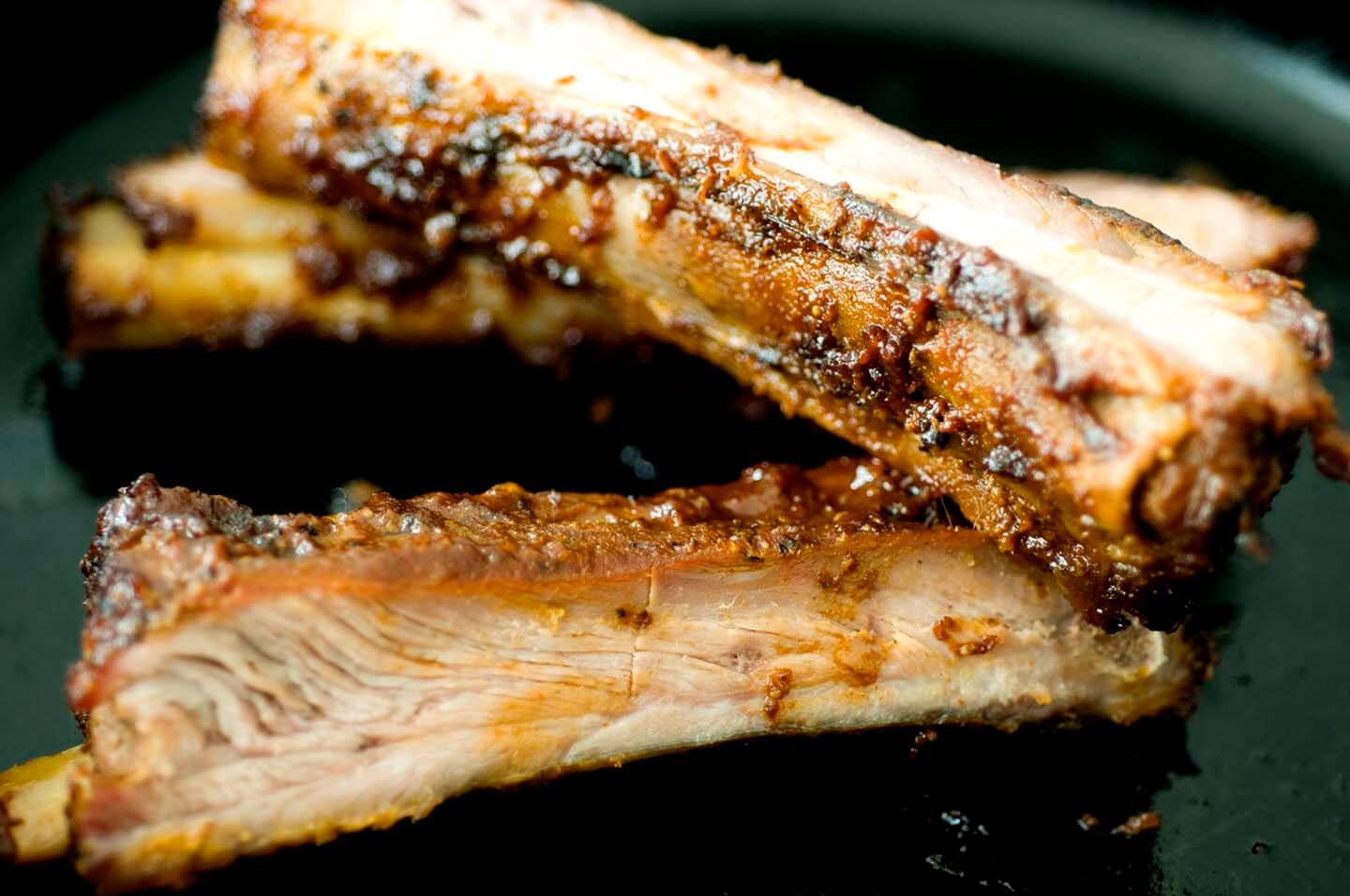 You won't find wet, sticky ribs at a Hill Country barbecue joint, so you could argue ribs such as these aren't authentically Texan. But that's just silly. Why? Because there's nothing more Texan than Dr Pepper, chipotle peppers and eating meat with your hands!
What do you like to make with Dr Pepper?
Dr Pepper ribs
Ingredients
Ingredients for the ribs:
1/4

cup

kosher salt

1/4

cup

black pepper

1/4

cup

brown sugar

4

teaspoons

mustard powder

2

teaspoons

chipotle powder

1/2

teaspoon

allspice

1/2

teaspoon

cayenne

2

racks

pork ribs, St. Louis cut

1/4

cup

Dr Pepper
Ingredients for the glaze:
2

cups

Dr Pepper

1

cup

ketchup

1/2

cup

mustard

1/4

cup

apple cider vinegar

2

tablespoons

molasses

2

teaspoons

chipotle powder
Instructions
To make a rub, stir together the salt, black pepper, brown sugar, mustard powder, chipotle powder, allspice, and cayenne. Coat the ribs with the rub on both sides, wrap in plastic, then place in the refrigerator for at least 4 hours.

Heat the oven to 300° F and bring the ribs to room temperature.

In a foil-lined large baking or roasting pan, arrange the ribs with the meat side up, pour in 1/4 cup of Dr Pepper, cover pan tightly with foil and place in the oven.

Meanwhile, to make the glaze, place the Dr Pepper, ketchup, mustard, apple cider vinegar, molasses, and chipotle powder in a pan, bring to a boil and then simmer for 20 minutes until thick and syrupy.

After an hour and a half, take the ribs out of the oven and spread some of the glaze on each side of the racks. Place back in the oven, meat side up and cook uncovered for 30 minutes.

After 30 minutes, take out the ribs and spread more glaze over them and cook for 30 more minutes or until ribs are desired tenderness.

At this point, take the ribs out of the oven, spread more glaze on them and then cook each side under the broiler for four minutes.

Divide and serve!
Notes
You can use my chipotle ketchup instead of regular ketchup for the glaze. I used cane sugar Dr Pepper though you can also use regular Dr Pepper, just don't use diet!